How to rent a car and drive on Jeju island (as a foreigner)
While planning your trip to Jeju island, you probably asked yourself the following two questions at some point or another. Do I really need a car to explore Jeju island? And if yes, what is renting a car and driving on Jeju island like for foreigners?
During our six-week South Korea trip, we explored Jeju island with a rental car for a total of 5 days. While it is not that different from other places where we rented a car before, we did encounter a few things you might want to know before you set off on your road trip around the island!
In this guide we answer the question of whether you truly need a rental car to explore Jeju island. But, we also delve into what the renting process looks like, what to look out for while driving and give you all the information you need surrounding the process of renting a car on Jeju island for foreigners!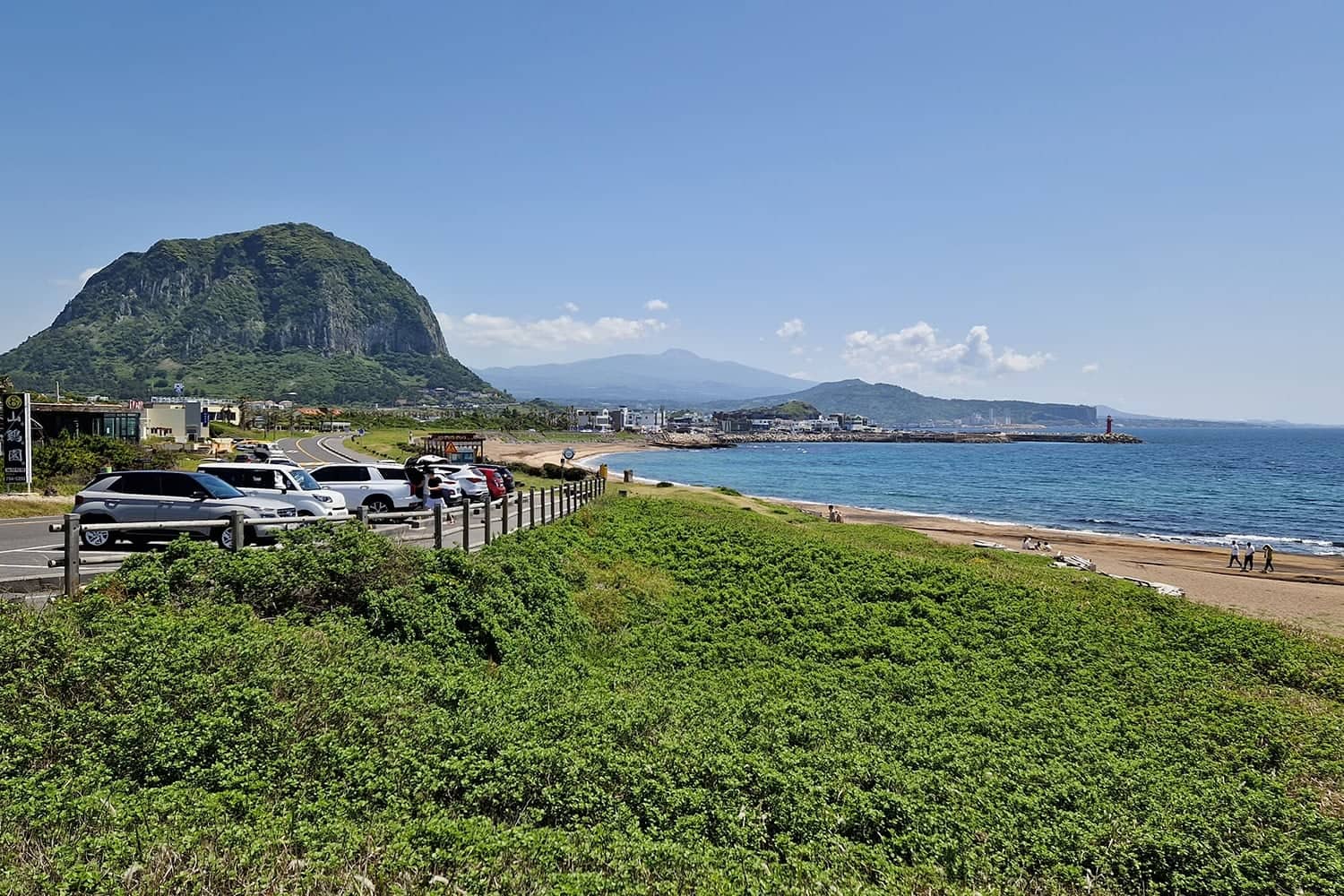 Note: We use affiliate links in this post. They are marked by an *, so you can recognize them in advance. By interacting with these links, you can support us and our website at no extra cost to you! For more information, read our Disclaimer.
A Guide to renting a car and driving on Jeju Island (for foreigners)
Jeju Island is a stunning volcanic island located south of mainland South Korea's shores. Many know it as the 'Hawaii of Korea' and it is a very popular tourist destination within South Korea. With South Korea becoming a more popular travel destination among foreigners over the last few years, it is no wonder that Jeju island's popularity skyrocketed as well.
In this guide we gather and share with you all the information you might need in order to successfully rent a car and drive on Jeju Island!
So, let's start with the first question we feel like needs to be answered before going on with this post!
Do you need a rental car to explore Jeju Island?
While Jeju does have quite a decent bus system, the island's infrastructure is definitely aimed quite a lot towards people having and using a car.
Just to paint a better picture, nearly all fast food chains have a drive-through on Jeju island and most cafés and restaurants have their own private parking lot. It is also quite time-consuming to get to a lot of the nature sights especially in the east and west part of the island, when only relying on public transport.
The only places where you do not really need a car are the cities. While exploring Jeju-City as well as Seogwipo, it is probably even easier to not have one. We actually preferred to use the bus to get around here and found it to be way less stressful.
But, if you wish to explore Jeju Island more in depth and would like to stray further away from the island's cities, we would say that yes it is easier to travel around Jeju island if you rent a car.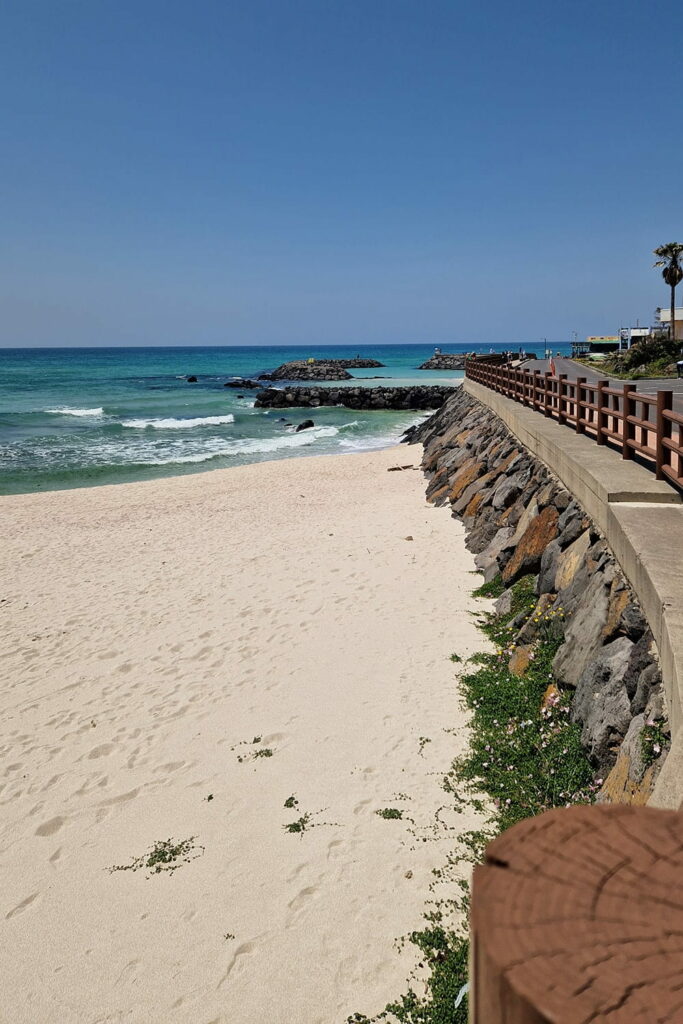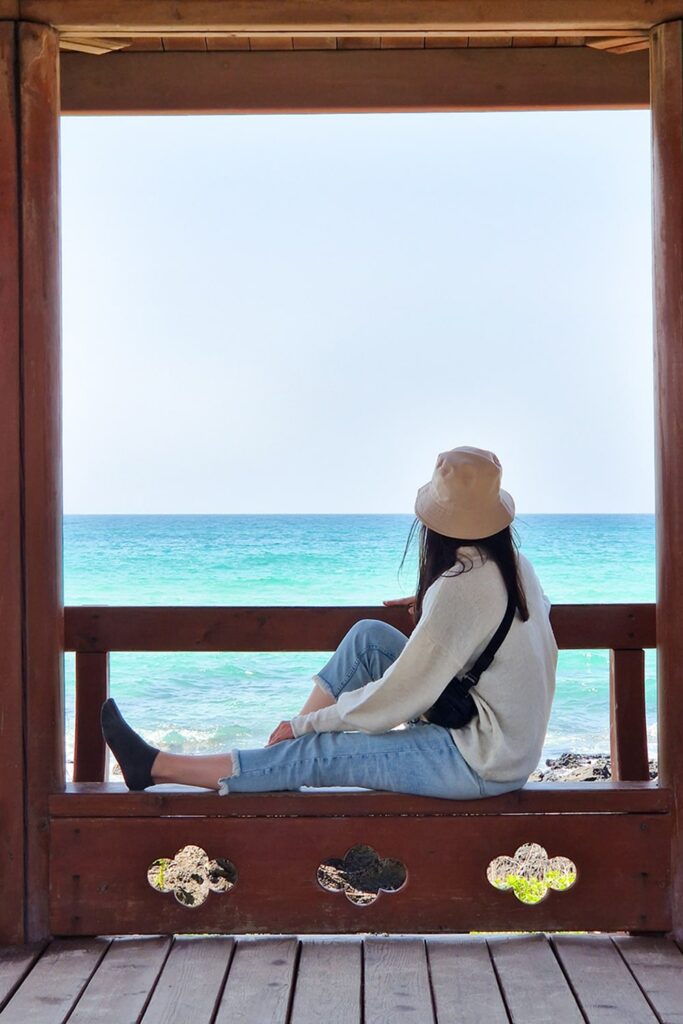 What are the requirements for renting a car on Jeju?
So, now that we know that it is better to rent a car on Jeju island, let's start off by going through the requirements you must meet in order to be able to rent a car on Jeju island! We organized them in sort of a Q&A down below so you can more easily find the question you are most interested in.
Do I need an international drivers license?
Yes, it is mandatory for foreigners who plan on driving on Jeju Island (or South Korea in general) to have a valid international drivers license that is in accordance with the Geneva or Vienna convention. Before going on this trip we got ourselves a translation of our domestic drivers license and you will need one too, if you are trying to rent a car in South Korea.
We read that you would need your domestic drivers license as well, however, they did not ask to see it. Nonetheless we would recommend you bring it with you, because the international permit is only valid in combination with your domestic drivers license.
Do I need a Korean phone number in order to rent a car?
This is a tricky one. When booking the car we didn't get any notice whatsoever that said we would need one. We also did not find anything about this beforehand. However, at the rental place they did insist on getting a number they could contact us under. Since we got ourselves a Korean Sim Card, we did have a Korean number. They even tested it out, to see if our phone would ring at the counter.
I don't think you necessarily need a Korean phone number, but you probably need some sort of contact for them to reach you. This might also depend on the rental company. But in any case, be prepared for it.
How old do I need to be, to rent a car?
You need to be 21 years of age to be able to rent a car. Ideally you are over 25, if you don't want to pay any additional young drivers charges. Also your domestic drivers license should at least be older than one year.
Checklist for renting a car on Jeju Island:
Your Passport/ID
International drivers license (and domestic one)
Credit Card on the drivers name (in case you need to pay a deposit)
a phone number so the rental company can contact you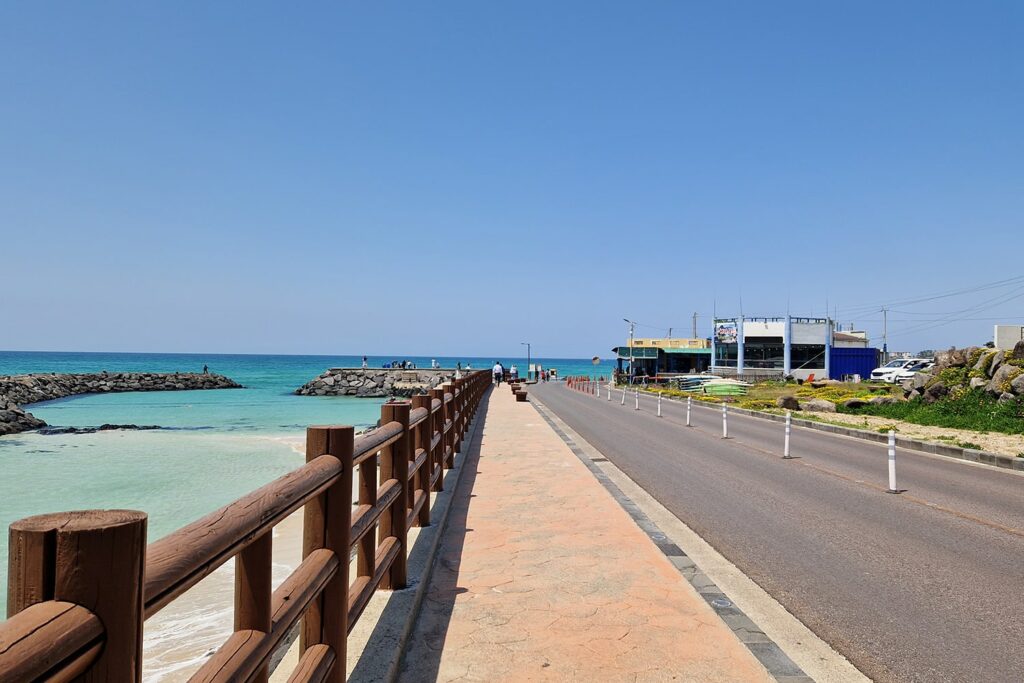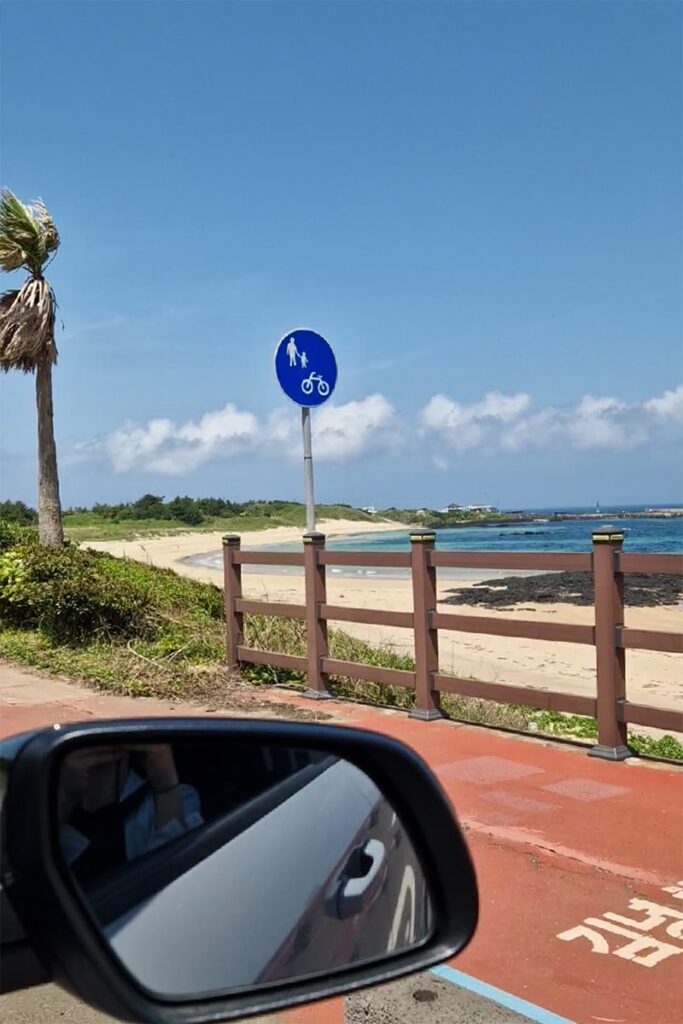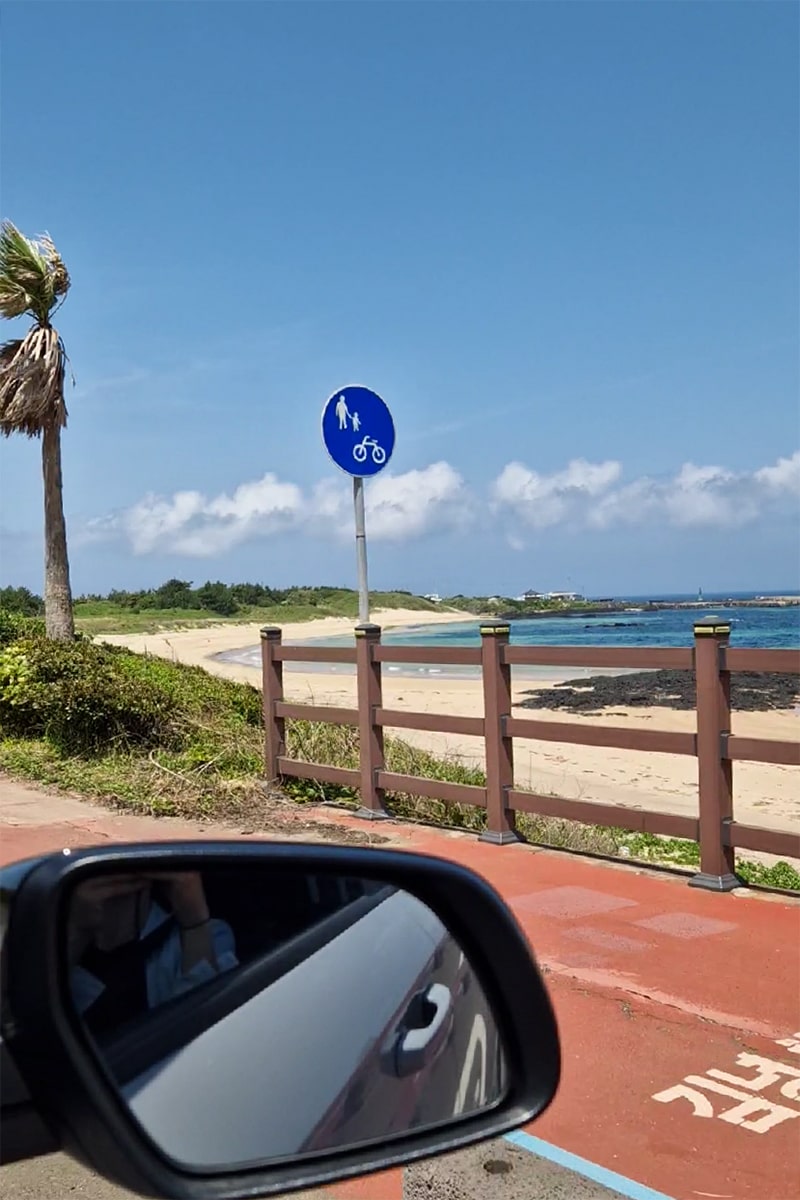 Where to book your rental car?
The company we rented our car from is called Jeju Rent A Car Co Ltd. However, we booked the car online through Rentalcars.com*. All-in-all we were quite happy with them, we had no problems and everything from pick-up to drop-off went quite smoothly.
When booking a car you will notice that most of the rental cars on Jeju are automatic cars, ours was too. It came equipped with a navigation system even though we did not specifically book one. In the end it was quite helpful though because it kept warning us every time a speed limit sensor approached. We did not book any additional insurances since those were covered by the credit card we booked the car with.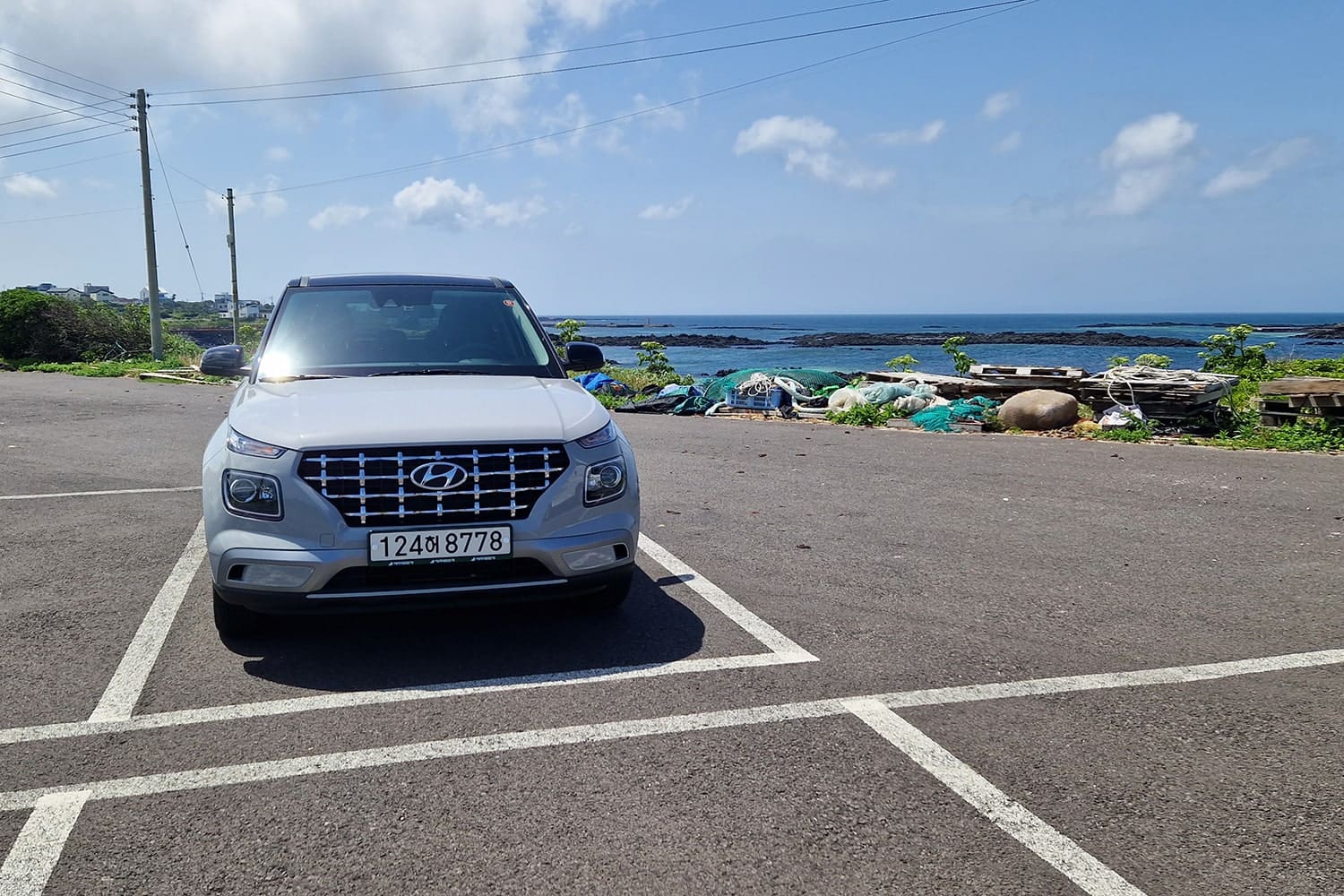 Renting a car at Jeju Airport (Pick Up & Drop Off)
Now that we got the basics out of the way, let's get into the details of getting the car once you arrive on Jeju Island. I assume that most of you will be renting your car from Jeju Airport, as did we. Since the process of picking up your car is a little different at Jeju Airport, we give you a complete run-down, so you know where to go and what to do straight away!
Where to go for Pick Up?
Usually when we rent a car from a company at the airport, they would have a counter somewhere in the arrivals hall or close to it, where you go to pick up your keys. At Jeju Airport that was a little different. There were no rental car counters at the airport. Instead you need to make your way to a small bus terminal where all the rental companies will have a bus to pick you up and bring you to their headquarters.
To get to said bus terminal, follow the sign with 'rental car' on it. Jeju Airport has several floors and the arrivals hall is on the first floor (ground floor). There are several exits marked as exit 1-5. Make your way to exit 3, then cross the road and follow the footpath that will lead you to some sort of bus terminal.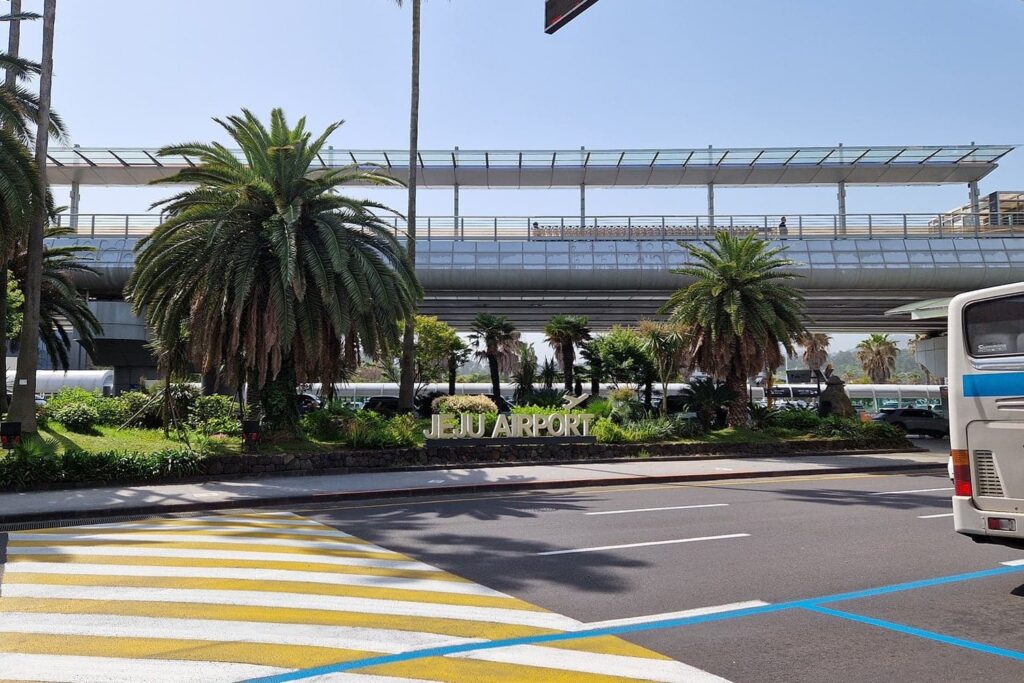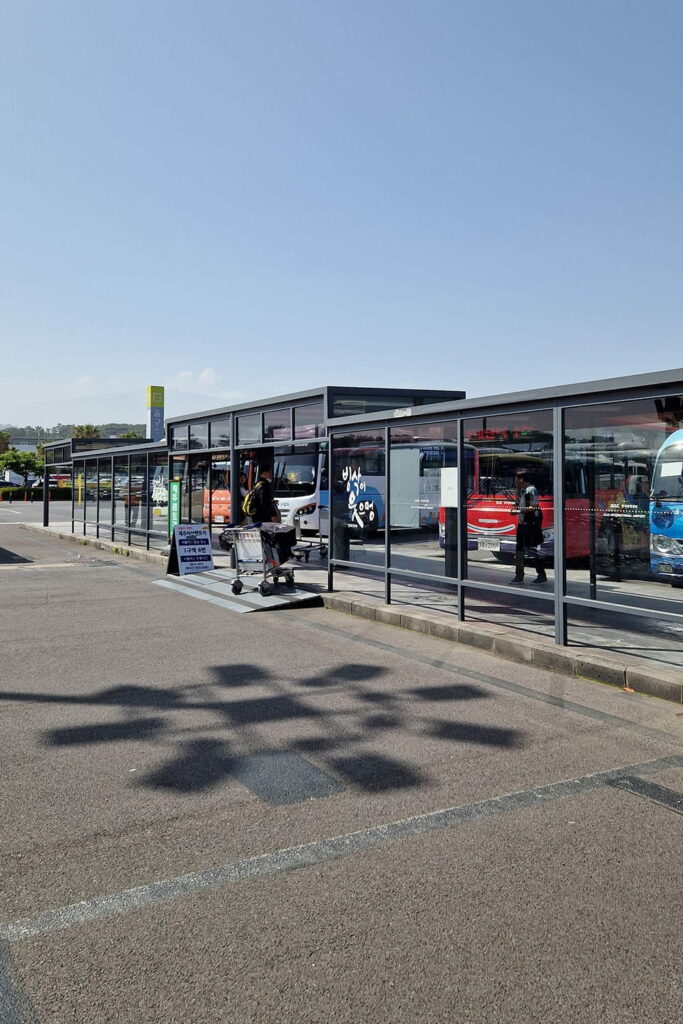 Before reaching the bus terminal building there is a sign with a list of names of different rental companies and a gate number allocated to them. Find your rental company and go to the designated gate. The bus driver from our rental company had a list of names. He checked our name before we could board the bus. Once at the rental company you go through the usual steps to get the keys to your car.
Where to go for Drop Off?
When you drop off your car, you just drive back to the headquarters of your rental company. It's business as usual, they check the car, give you the okay and you are good to go. The same bus that brought you here on the day of pick up will bring you back to the airport.
This time it doesn't stop at the bus terminal though, but will drop you off close to the departure hall of the airport, which is on the second floor (and yes there are roads to get to the first and second floor of the airport).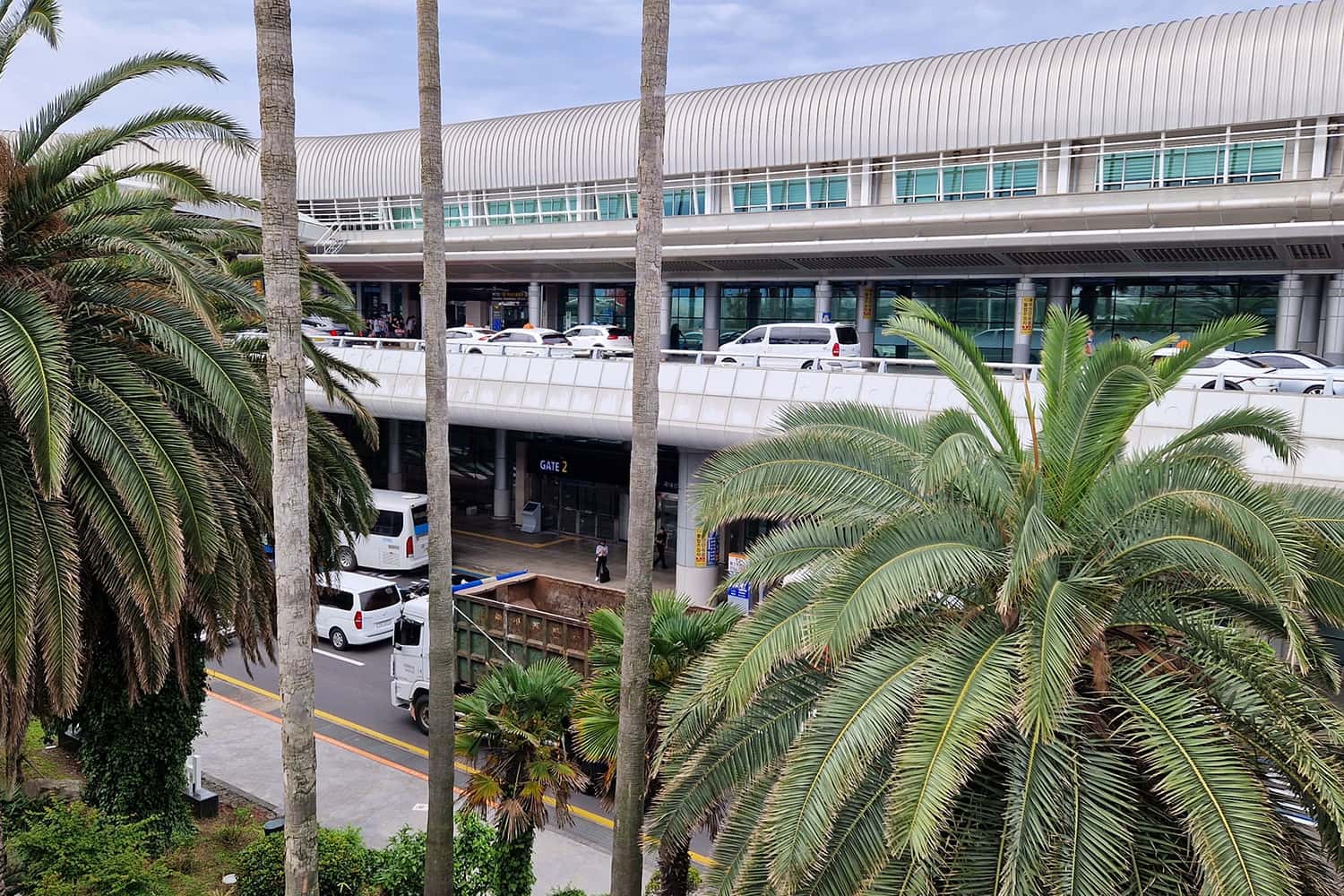 What foreigners should know before driving on Jeju Island
Now that you got your car and are ready to drive off, there are a few things you might want to know before throwing yourself our there. So, in this section, we will share a few things that we think foreigners should know before driving on Jeju Island as well as a few tips we have gathered along the way.
1. Plan enough time to circle the island!
While planning our Jeju Island road-trip, we looked at some of the distances between towns and thought: oh wow, everything is really close. So, we kind of assumed that it would be quick to drive between sights and places. While this is true if you stay in a certain area, don't plan to drive across half the island in one day!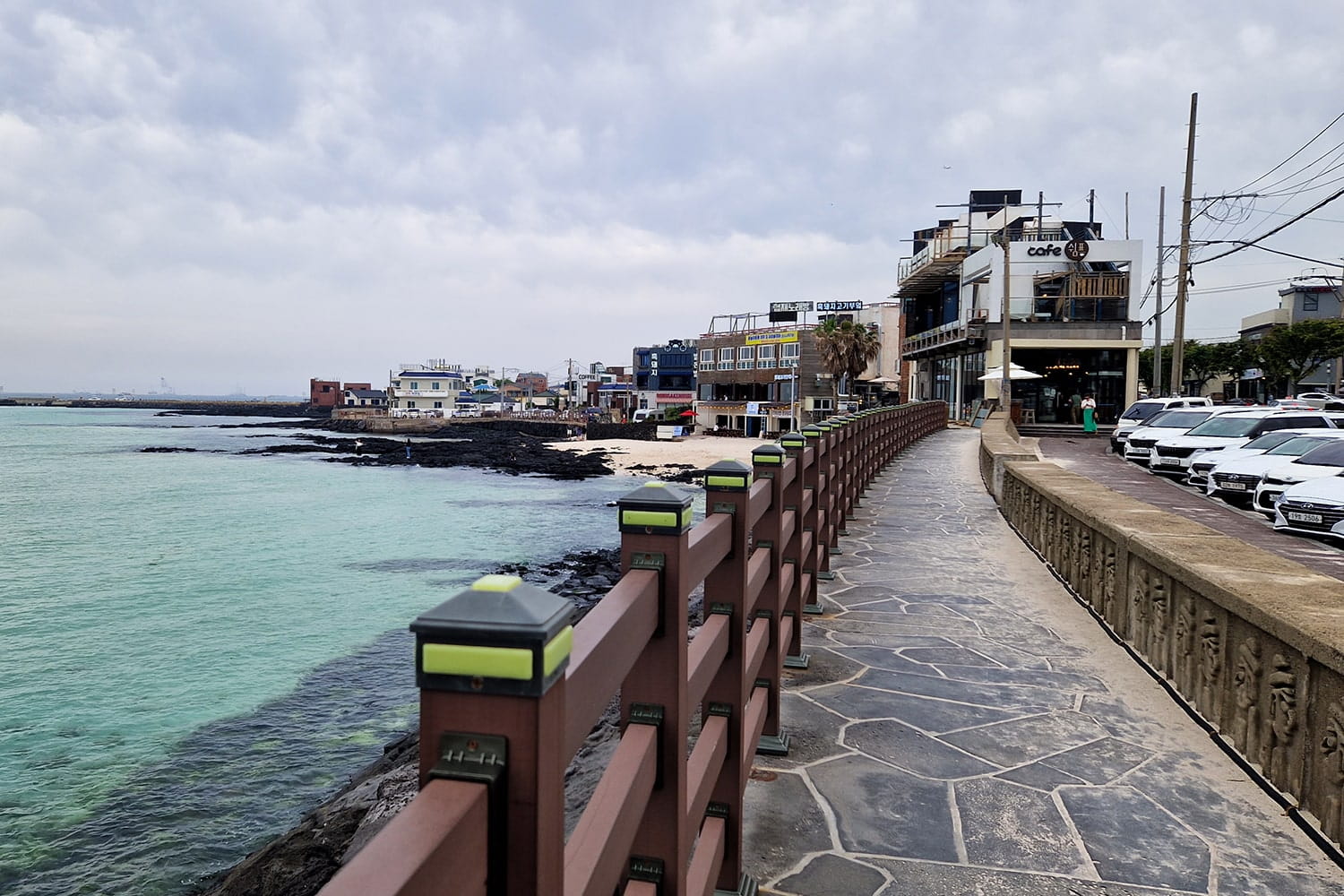 What we did not factor in where the speed limits. There is not really a motorway that goes around the island, so for the most part you will be stuck driving on main roads.
There are some sections where you can go up to 70km/h. But, most of them will be 50-60km/h since you will be driving though towns. Additionally, Jeju Island has a lot of 30km/h zones, which are usually child protection zones near schools.
Also there are a lot of crossroads and therefore red lights you will have to stop at. So between all these different factors, driving long distances will take quite a lot of time. Just keep that in mind!
2. There are a lot of speed control cameras!
And when we say a lot, we really, really mean a lot. Many 30km/h zones will have them, but we saw them pretty much for any speed limit. Usually these cameras are mounted at crossroads next to the traffic lights.
Our rental car came with a navigation system that would warn us every time a speed control camera came up, which was really helpful. You can however also see them on Naver Maps. If you haven't heard of the latter, it is an App we used for navigation around South Korea and you should too!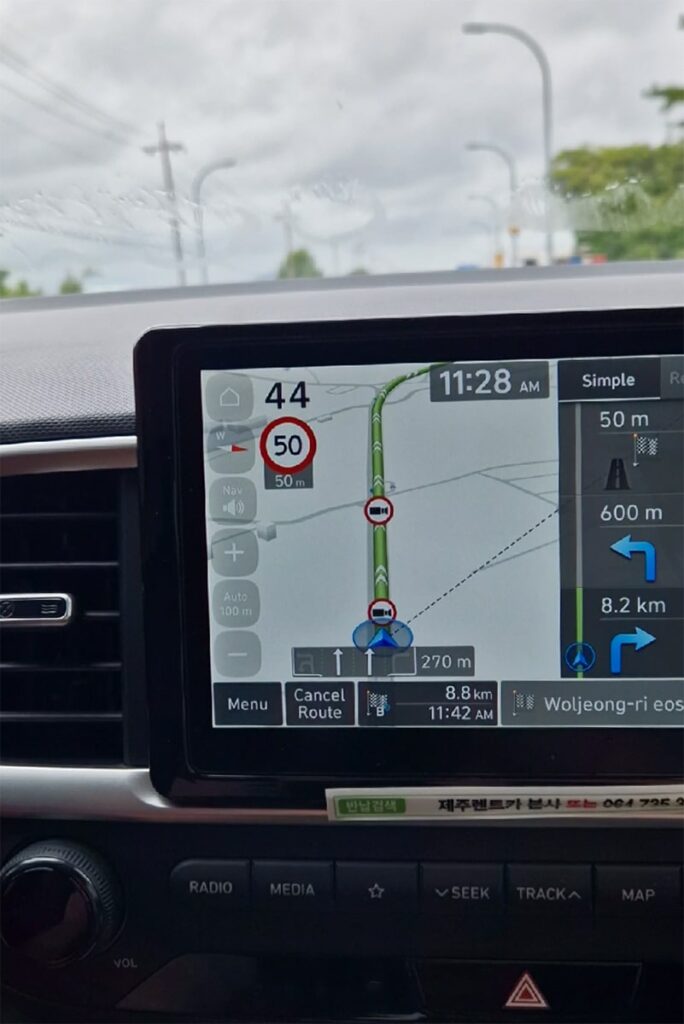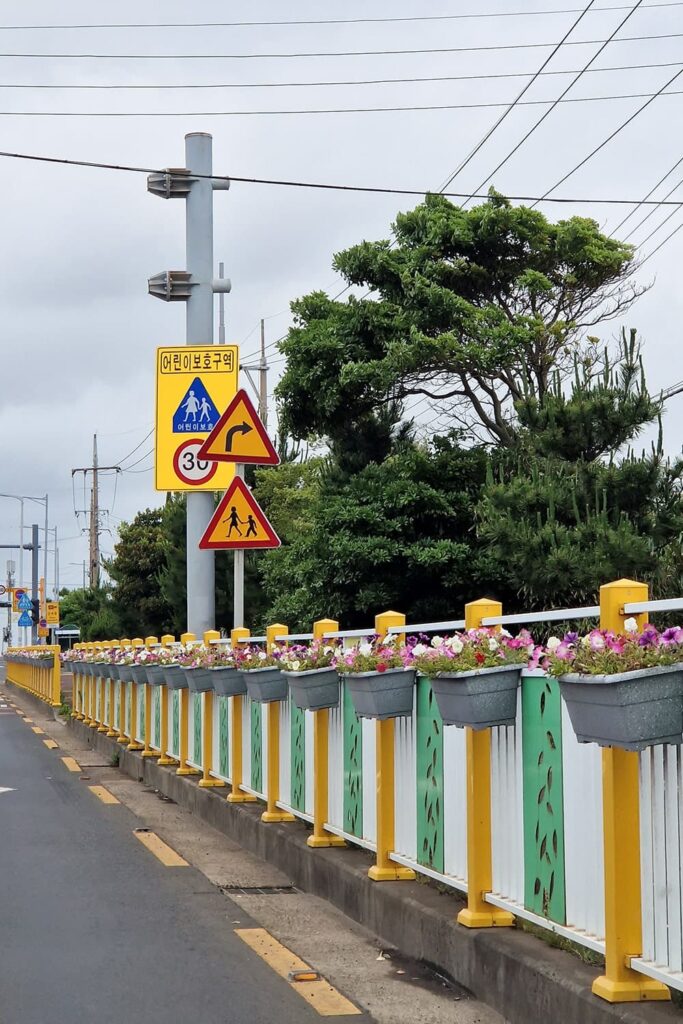 Useful tip: If you have a navigation system in your rental car and are looking for a specific restaurant or accommodation etc., try searching for it by typing their phone number!

We tried this out after having read it somewhere on the internet (not sure where though anymore) and it truly worked. So, we thought we would pass this on to you as well.
3. Usually there is free parking available
Near every major sightseeing spot – be it beaches, parks, viewpoints, you name it, we saw free parking lots. On weekends it can get crowded though so be prepared to wait a little longer for a parking spot. We observed that in these situations some Koreans start to just park anywhere.
It is also not uncommon to see cars parked at the side of the street, four blinkers on, whose drivers have gone into a convenience store to quickly grab a few things.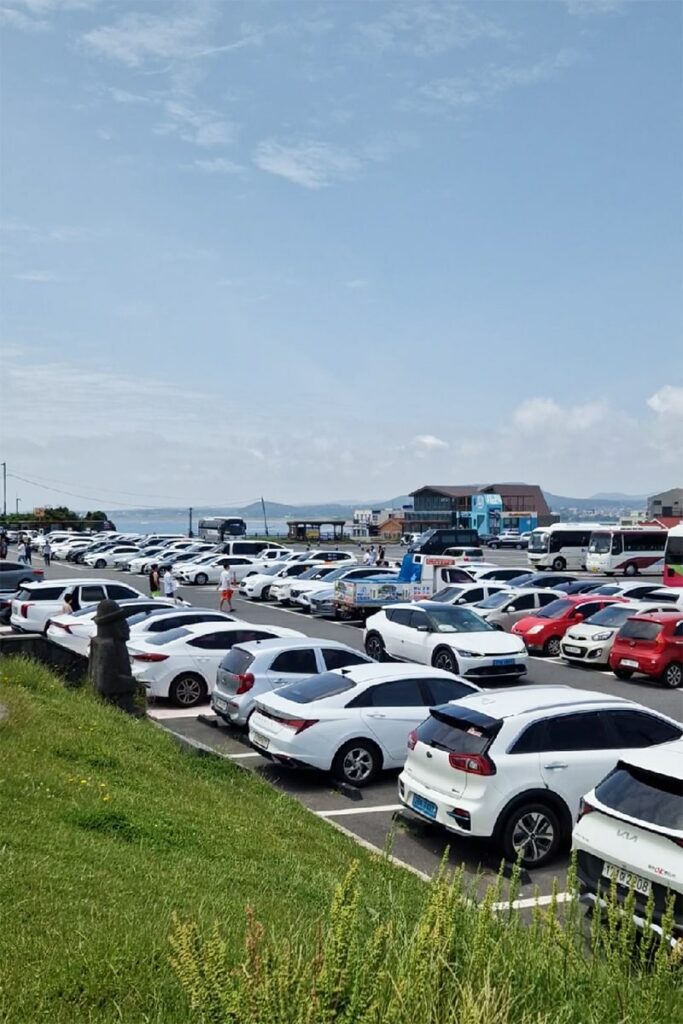 The only location where we had trouble finding free parking was in Aewol. There were tons of parking lots that either belonged to cafés and restaurants or where paying parking lots. After touring the area for a while, we ended up choosing one of the latter, which was a big mistake.
Most of the paying parking lots have unmanned gates and they only accept payment by card. As such – no problem. However, none of the machines would accept our foreign credit cards. Which is how we found ourselves stranded in a parking lot, unable to get out! We had to ask for help from others that ended up paying with their card at the gate for us and we handed them the money in cash. So maybe a heads up here!
Some of these gates would accept Samsung Pay. If you have Samsung Pay, that might be an option.
4. Some driving rules you might want to know
This is by no means a complete list of driving rules. It is rather a compilation of a few things we picked up on while driving a car here ourselves, so treat it as such. Also this is from our perspective, coming from Western Europe. We might mention things that are completely normal in other areas of the world – just uncommon for us. So here it goes:
In South Korea they drive on the right side of the road.
The traffic lights have four distinct lights: one for red, one orange, one green and then one which is essentially an arrow. The latter lights up green when you are allowed to turn left on a crossroad. And you are only allowed to turn left when you see that green arrow lit up!
Usually you can turn right at a crossroad, even if the traffic light is red. That is why cars on the right lane often expect to be able to turn right at the next crossroad. If you want to continue straight ahead, maybe use the other lanes to not block cars from being able to turn right at a red light. This is however not always the case. There will be a sign though that indicates that it is not allowed. You can turn right as soon as the traffic light turns green in these cases.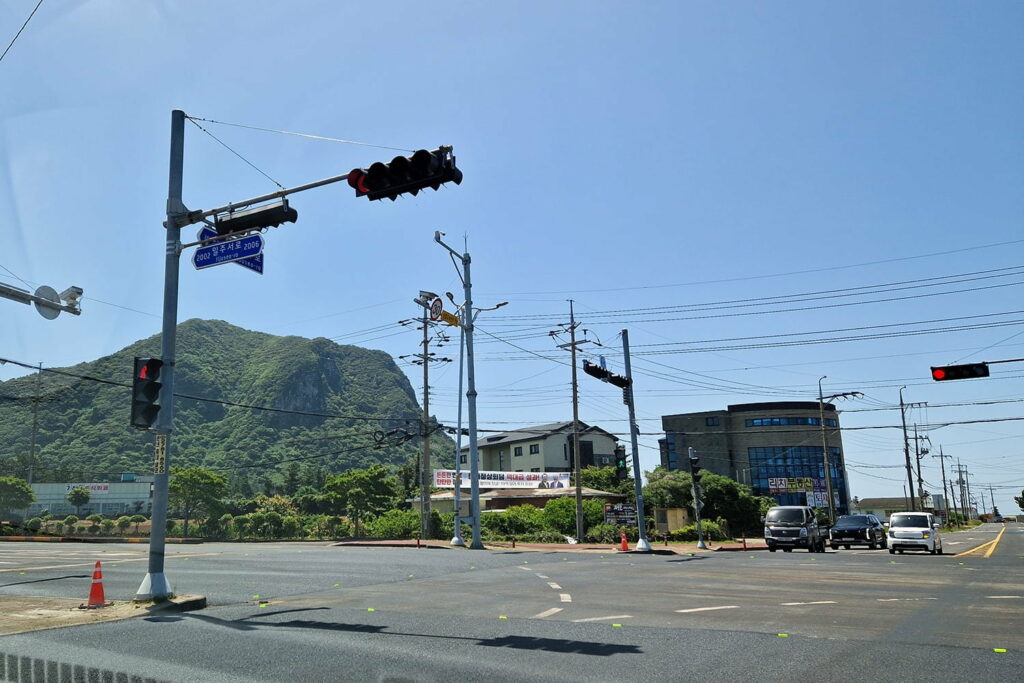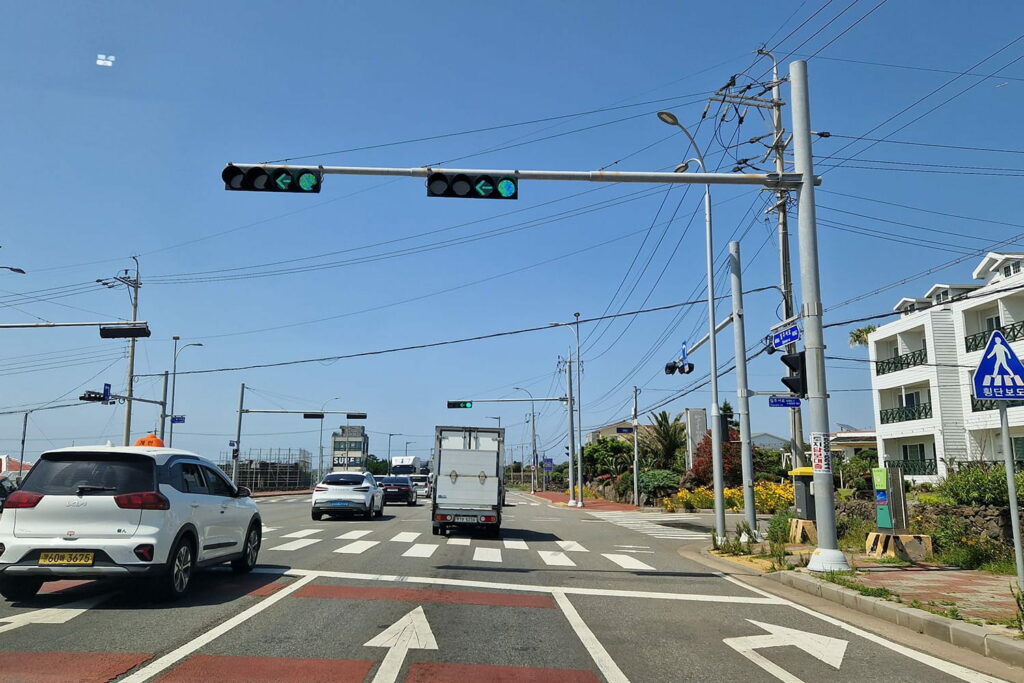 A lane separated by blue lines from the other lanes is usually a bus lane. Sometimes there is a sign with time intervals on it. The latter indicates that that specific lane is a bus lane between certain times of the day.
This is not a driving rule, but be extra careful when trying to change lanes. Often other drivers won't give way to you. The same goes for when others are changing lanes. Quite often they just start changing the lane even if there might be a car on the other lane still!
What does it cost to rent a car on Jeju Island?
Compared to what we are used to pay in Europe to rent a car, the rental fees for our car on Jeju were not cheap. Which is why we also decided to only rent a car for 5 days instead of the 11 days we actually spent on the island.
And still, our rental fees for the car ended up being pretty expensive when comparing them to the rest of our Jeju Island cost. So, take it from us, don't leave booking your rental car for Jeju to the last minute!
So in total we spend 346€ to rent a car on Jeju Island for five days. This amounts to around 69€ per day! We got fuel once before returning the car, which were another 42.000KR₩ (or ~29€). For parking we only had to pay once which was a total of 4.000 KR₩ (2,81 €).
DON'T leave booking a rental car on Jeju Island to the last minute!
Book your rental car* for your upcoming trip to Jeju Island now!🚗
Final thoughts on driving on Jeju Island (for foreigners)
Even though renting a car on Jeju Island is not that cheap (especially if you are traveling a bit more on a budget), we absolutely think that it remains the best way to explore this stunning island. Having a car gives you so much more flexibility and the opportunity to see Jeju way more in-depth!
All-in-all it is definitely not that hard to drive on Jeju island as a foreigner. And, now that you have a better idea of what awaits you, we are sure you will do absolutely fine! Enjoy your road trip!
Want to save this post for later?