How much does a trip to Jeju Island cost? – Full Breakdown of the Budget you'll need!
Are you in the process of planning your South Korea Itinerary and would like to know if a stop-over on Jeju Island can be done within your budget? Or are you in general curious how much a trip to Jeju island might cost?
In 2023 we explored the South Korean island of Jeju as part of our multi-month trip to Asia and spent a total of 11 nights on Jeju. That is way more than the average traveler does. But that way we gained a pretty good understanding of what you can expect in terms of travel expenses when visiting the 'Hawaii of Korea'!
So in this post we delve into all things cost and give you a breakdown of all the different categories you should consider when budgeting for your trip to Jeju island. We share the average cost for each of them, based on our own experience traveling through Jeju!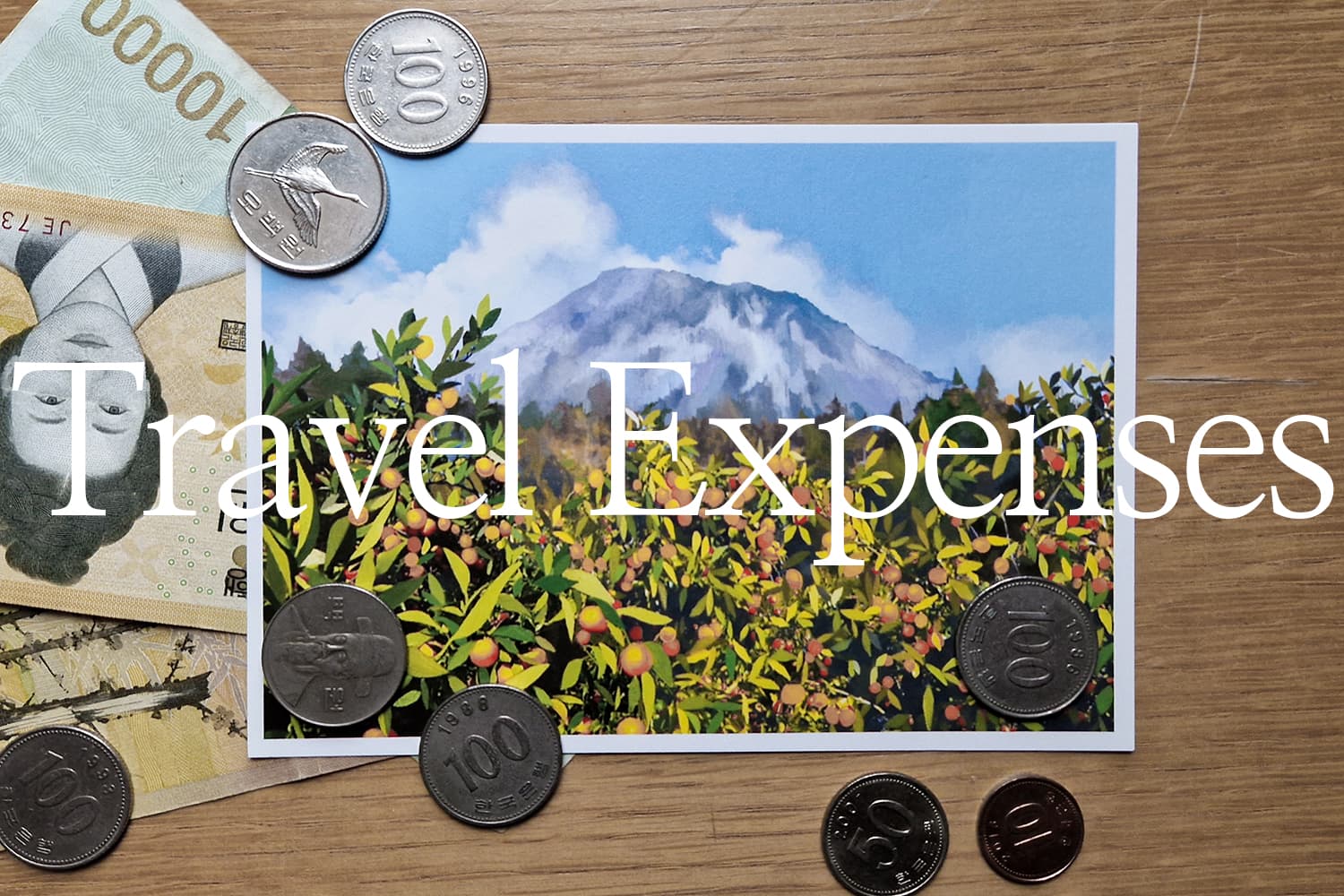 Note: We use affiliate links in this post. They are marked by an *, so you can recognize them in advance. By interacting with these links, you can support us and our website at no extra cost to you! For more information, read our Disclaimer.
How much does a trip to Jeju Island cost?
Jeju Island is a volcanic island located South of mainland South Korea. It is a pretty popular destination among South Koreans and oftentimes referred to as the 'Hawaii of Korea'.
But, what does a trip to this unique destination cost? That's what we want to find out in this post. Before we delve into this topic, we would like to clarify a few things though.
Who is this post for? This post is mostly aimed at what we call 'mid-range-budget' travelers. We will tell you exactly what we mean by that in the next section.
In South Korea the currency is Korean Won (KR₩). However, we will also share travel expenses in Euro (€) since the latter is the currency we pay in. Current conversion rates to your preferred currency can for instance be found on the Oanda Currency Converter.
And finally, the travel expenses shared in this post are a snapshot of what traveling Jeju Island cost in 2023. Prices are prone to changes, so the same trip might have slightly different prices in the future. But still, you should get an idea of how much your trip to Jeju Island might cost.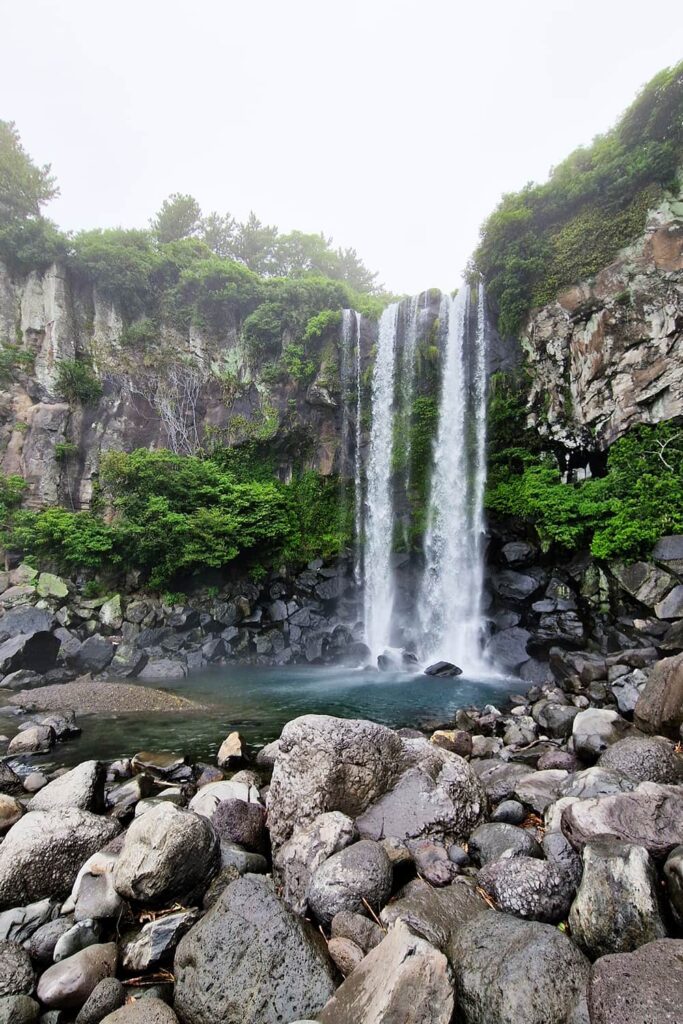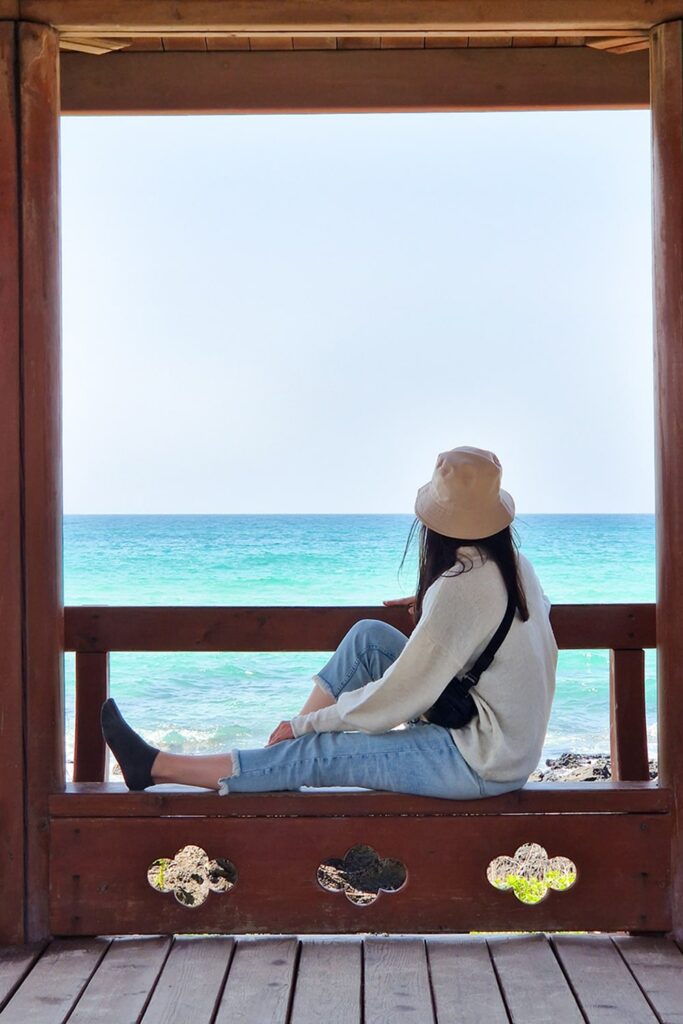 Traveling Jeju Island as a 'mid-range-budget' traveler
As already mentioned, this post is aimed at people that we would describe as 'mid-range-budget' travelers. But, what do we mean by that?
Essentially we mean people that mostly look for budget double rooms to stay in, be it in a hotel or a hostel, while still making sure that the accommodation abides to a certain standard, i.e. clean, good reviews and not in the middle of nowhere.
People that like to occasionally eat out, but also cook their own meals if possible and if it is cheaper than eating out. In East Asia the latter probably won't be the case very often and rather translates to being no stranger to buying your meals at a convenience store.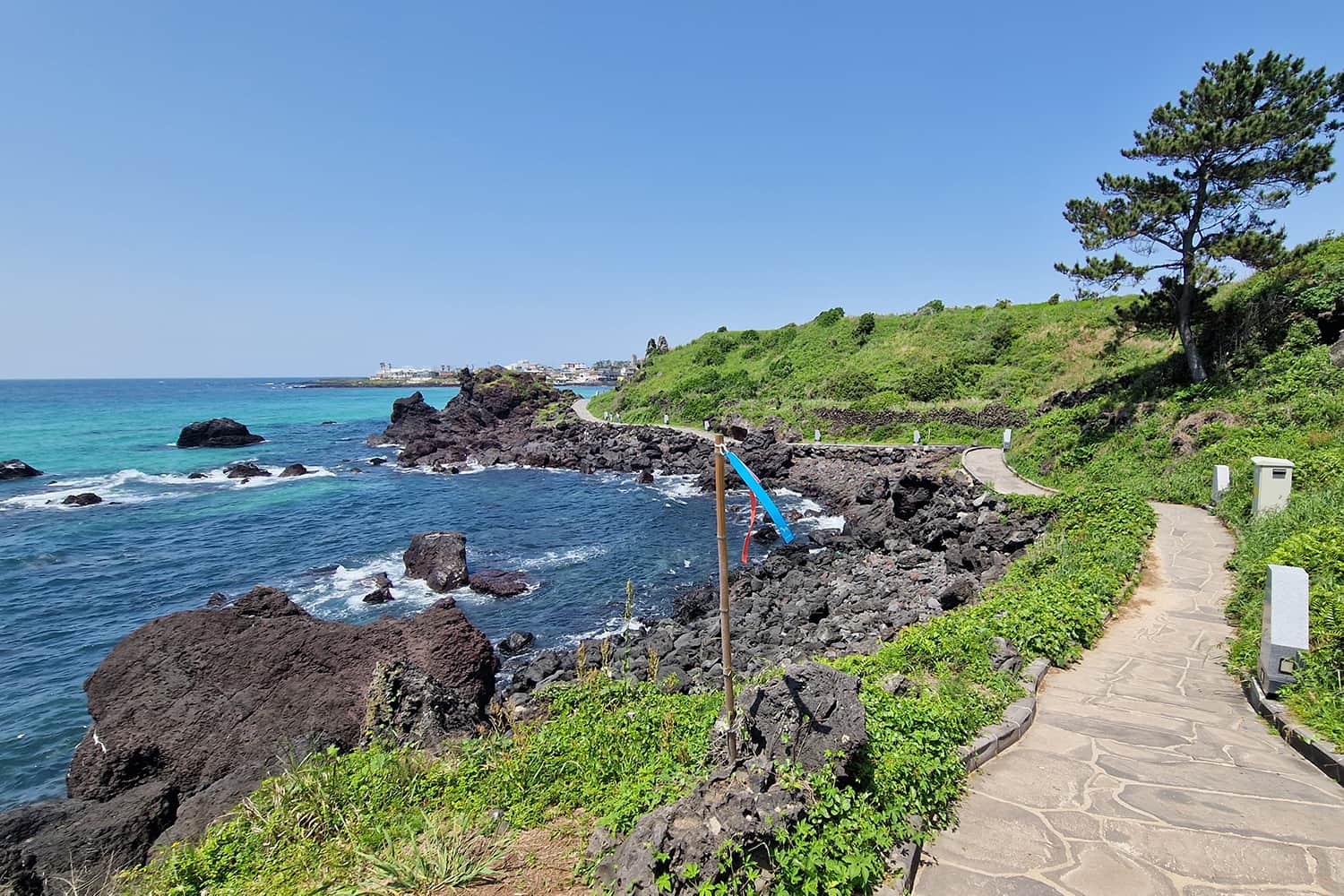 And finally, people that in general keep to their budget, but also don't shy away from paying a little extra if it is for an experience that they deem as worth the extra cost.
If this resonates with you, then great, let's get into it! If not, you might still find one or the other great info, even though your trip might end up costing a little more or a little less than what we share.
Breakdown of the Travel Expenses Categories
In the following few sections, we will break down the expenses you need to budget for into various categories. We then share what you can expect as an average cost for each of these categories from our experience as well as some things to look out for while budgeting for each of these categories.
How much do flights to Jeju island cost?
Usually we don't include flights into our budget breakdown. However, this time we figured it would make sense, since most of you planning this trip will probably take flights from mainland South Korea to Jeju Island in some form or another.
There are numerous South Korean low-budget airlines that offer flights from various cities such as Seoul, Busan and Daegu. Prices for the latter vary roughly from 30-90€ per person, depending on the time you wish to fly and whether you have a checked bag.
Check out the current flight prices to Jeju Airport and book your flights to Jeju* now!✈️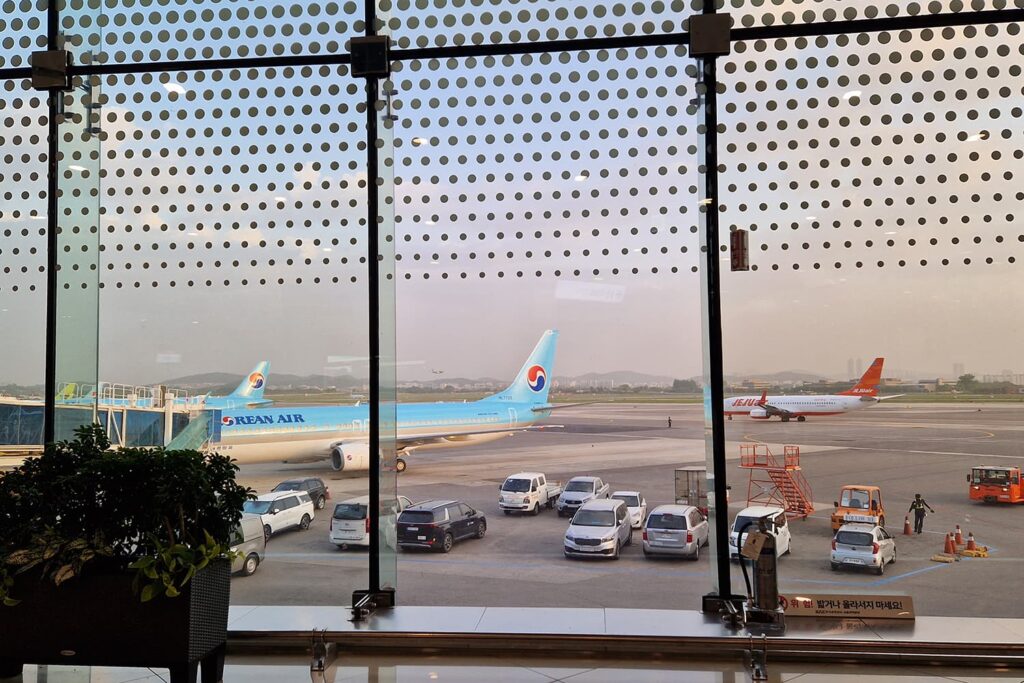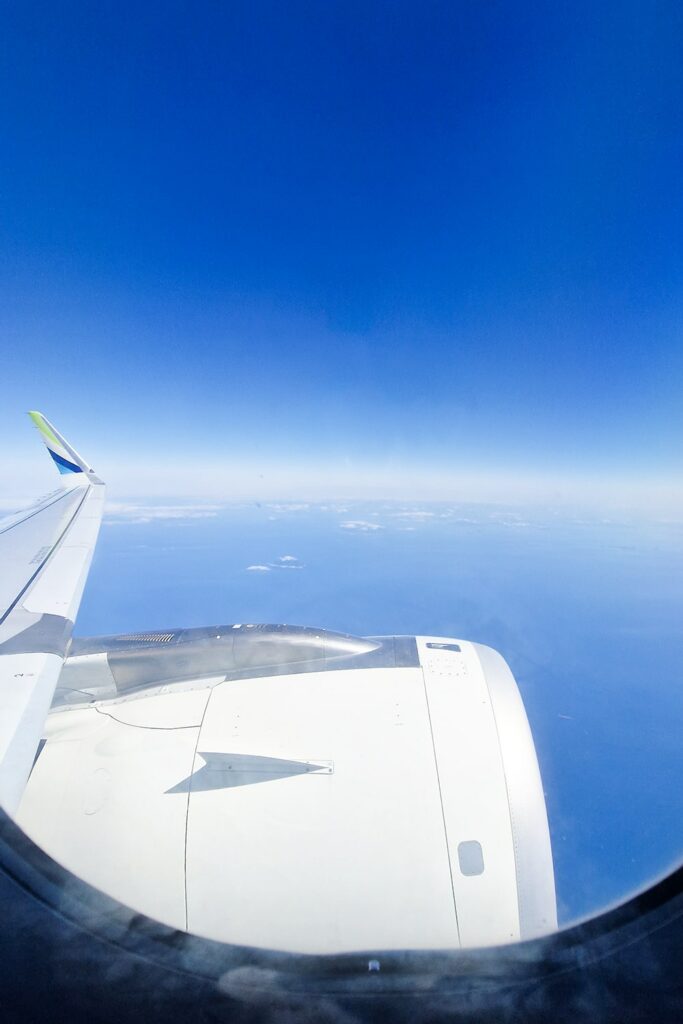 In general, flights leaving very early in the morning as well as later in the evening tend to be the cheapest. Also when looking for cheap flights, try not to fly on Fridays. Jeju is a very popular weekend destination in South Korea and flight prices reflect that;).
As an example: To get to Jeju Island, we flew Jeju Air from Seoul. To get back to mainland South Korea, we flew Air Busan to Busan. Both are low-fare airlines and in total both of these flights cost us 158,53€ including a checked bag (max. 15kg). This ends up being 79,27€ per person.
How much does it cost per night to stay on Jeju Island on a budget?
As already mentioned, we spend most nights in double rooms either inside guesthouses or low-budget hotels/pensions. The cheapest we spend per night was 22€, the most expensive 45€ per night.
On average we paid around 33€ per night for the both of us for a standard double room. Breakfast was rarely included. In general the rooms were always clean and we never really ran into a serious problem. Most of our accommodations were booked 1-2 months prior to our trip.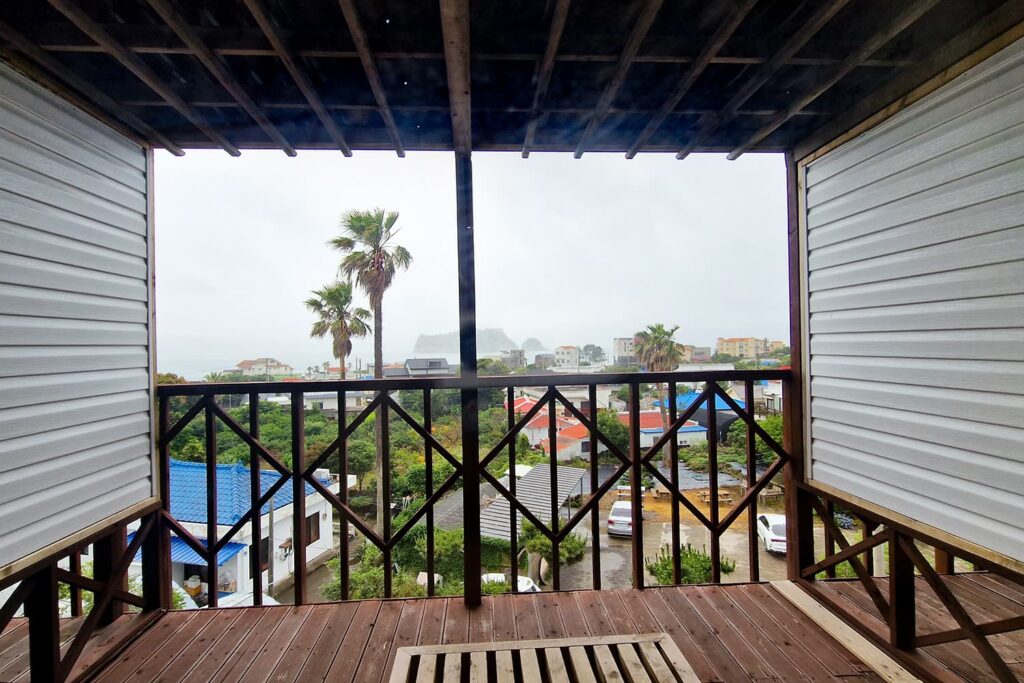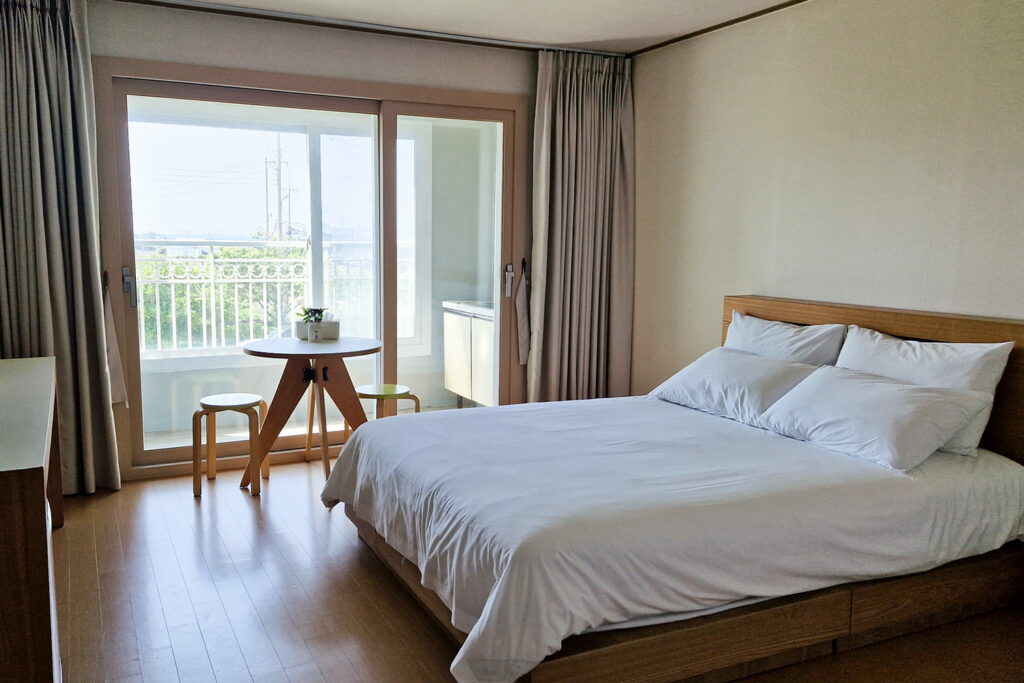 We stayed in many areas and different accommodations all over the island. But, the following three accommodations were definitely our favorite ones:
Where to stay:

🏨 Check out Galeum Guesthouse* near Seogwipo
   You can find deals for around 39€/night | Reviews: 8.8 on Agoda
   We payed 39€ per night.

🏨 Check out Playce Camp Jeju* near Seongsan Ilchulbong
   You can find deals starting at 31€/night | Reviews: 8.7 on Agoda
   We payed 33€ per night.

🏨 Check out Nadia Pension* in Aewol
   You can find deals starting at 33€/night | Reviews: 7.9 on Agoda
   We payed 39€ per night.
How much does it cost to rent a car on Jeju Island?
Renting a car is actually the category that ended up being the most expensive for us when looking at the cost per day. We also go into more detail on all our costs related to renting a car as well as whether you need a car on Jeju Island in our dedicated post on driving in Jeju Island as a foreigner.
But essentially, at the time of booking, the cheapest rental car option available ended up costing a hefty rental fee of 69,25€ per day. Coming from Europe, this is to-date the most expensive car we have ever rented.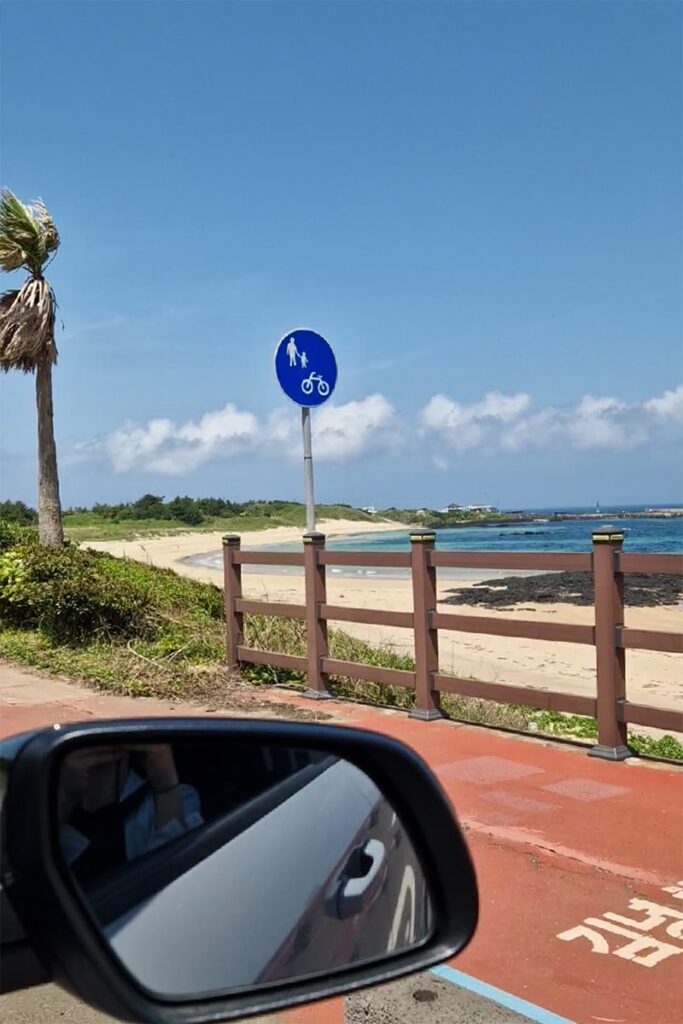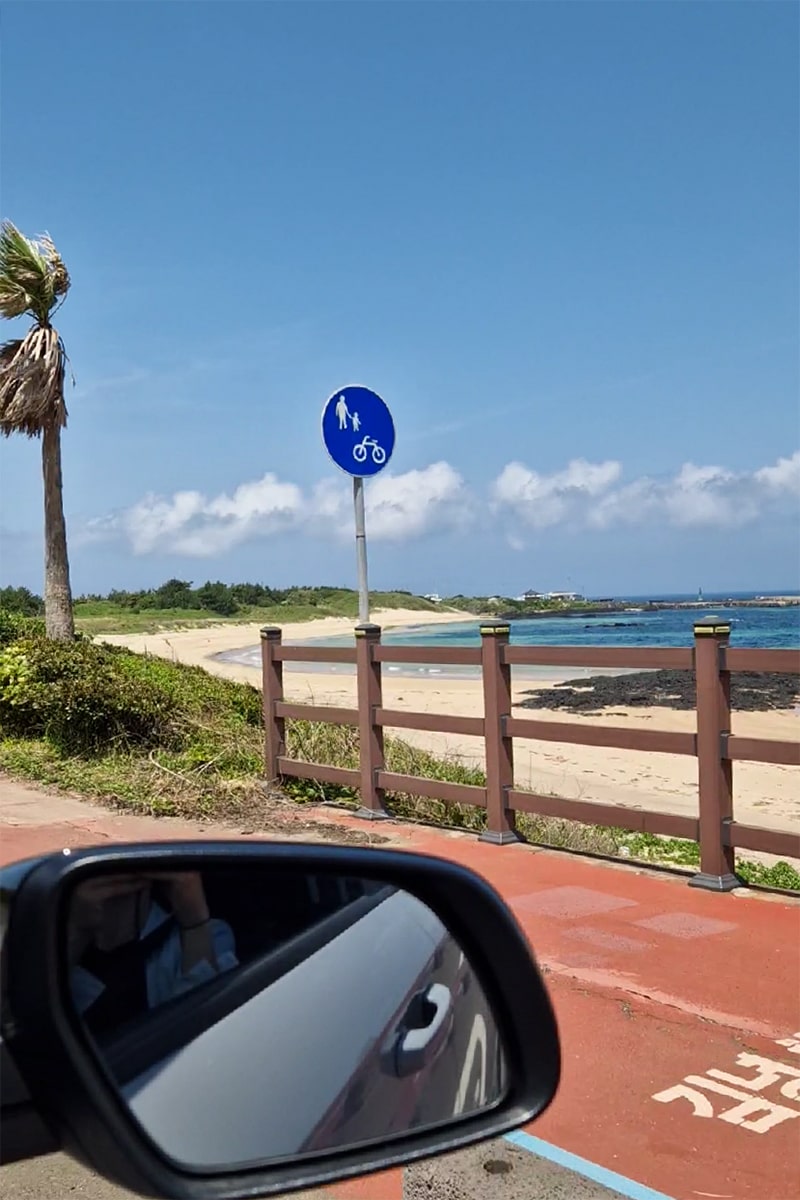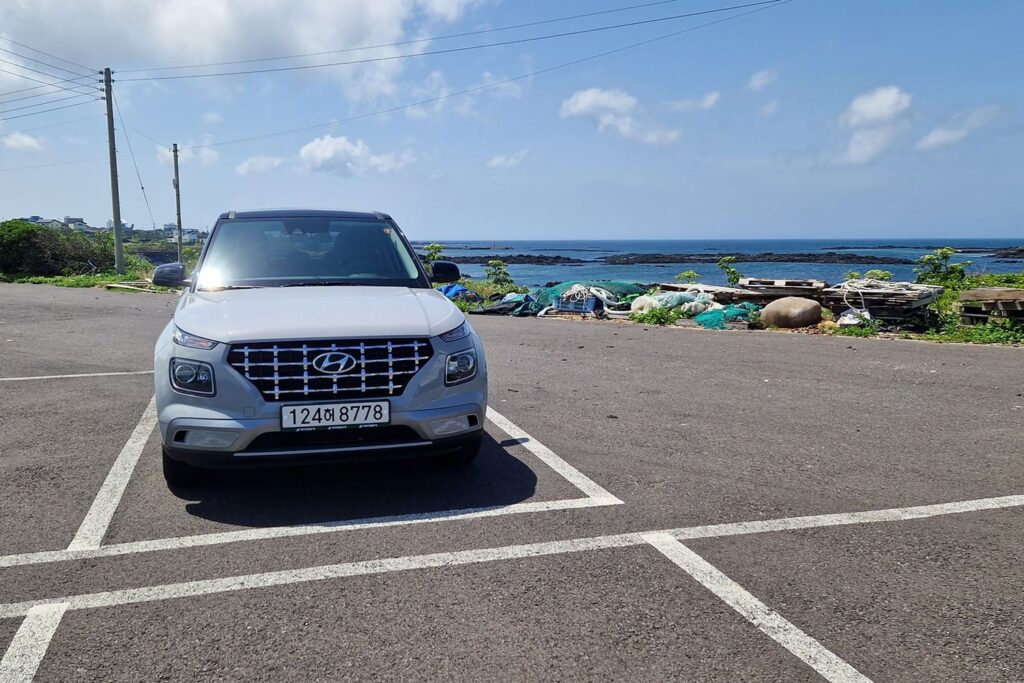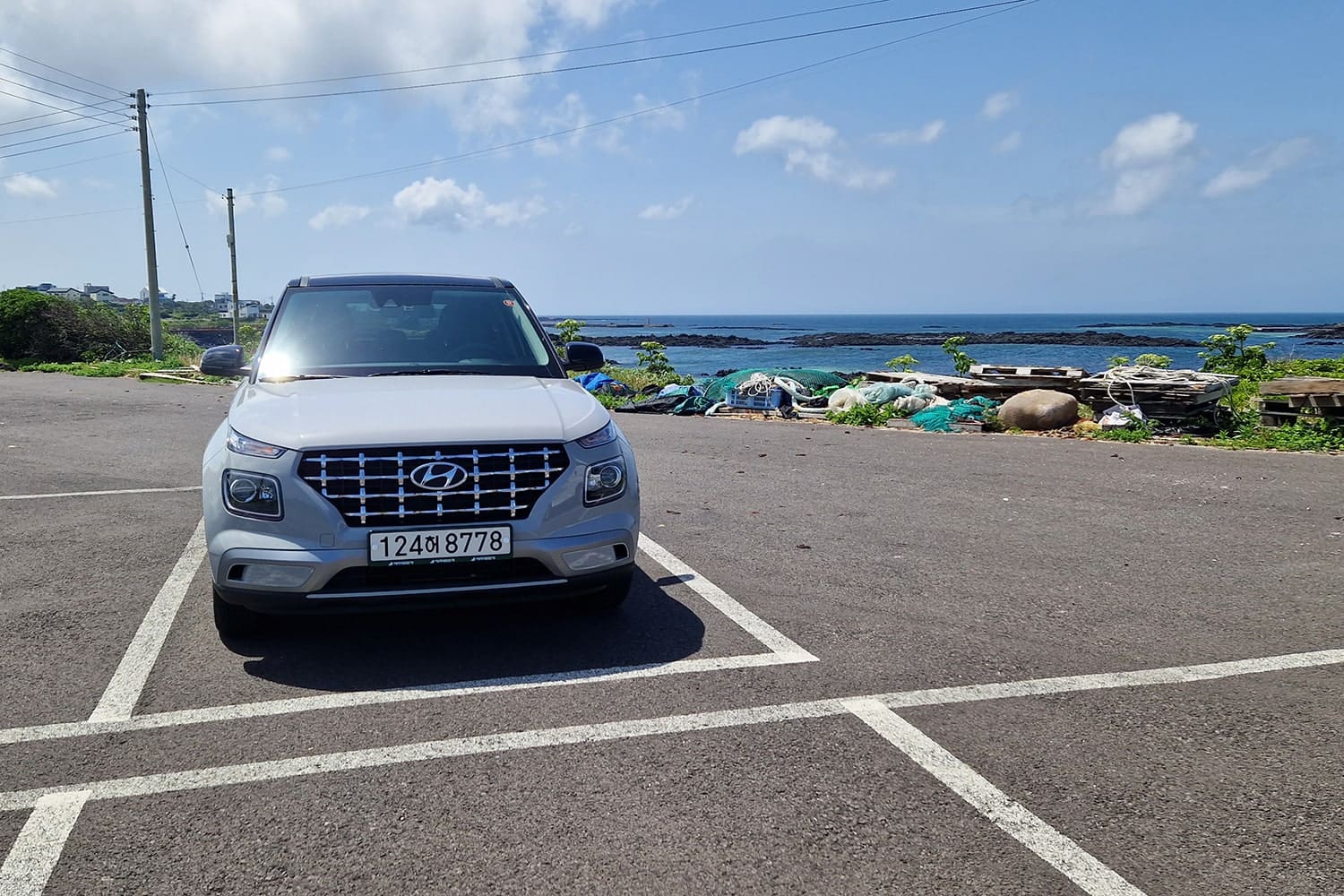 To be fair, in general you can definitely find cheaper options! We were just pretty unlucky when booking our rental car, which we admittedly did quite last minute.
So, take it from us and DON'T leave booking a rental car on Jeju Island to the last minute!
Find better deals by looking for your rental car* for Jeju Island now!🚗
Other costs related to the rental car were pretty low. There is free parking in most locations and we only had to stop and get fuel once in five days. But, the latter did end up adding nearly 6€ (or 8,400KRW) to our daily budget.
Even though renting a car on Jeju Island is not that inexpensive, we do think it is the best way to explore Jeju Island for a maximum of flexibility!
What does public transportation cost on Jeju Island?
If you decide to make your way around the island by using public transportation, there is a good bus system as well. Especially if you stay close to the cities and bigger towns on the island, i.e. Jeju City, Seogwipo and Seongsan. An overview map of major bus routes can be found on the Visit Jeju website.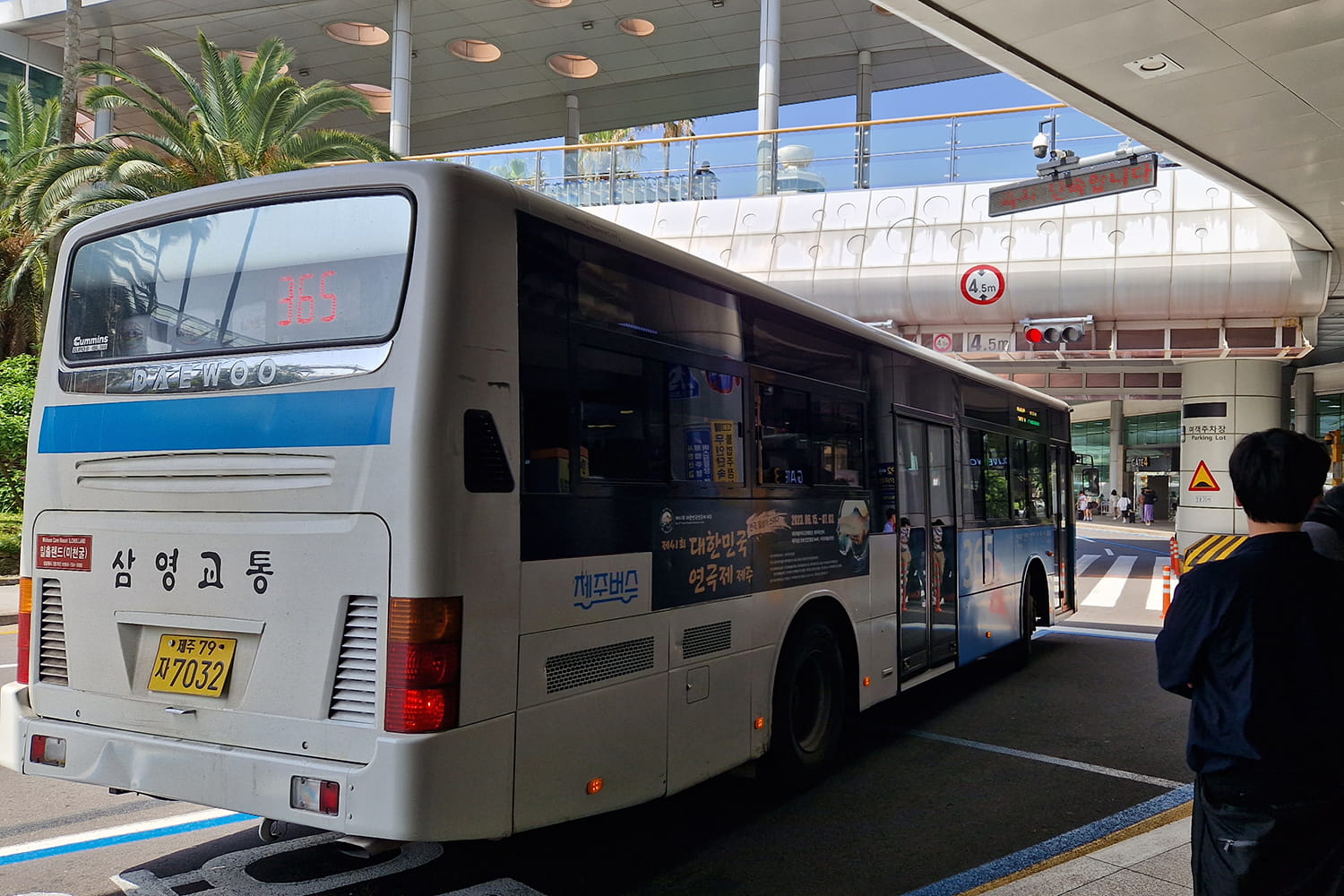 For instance, there is an airport limousine bus that takes you from Jeju Airport to Seogwipo for 5.000KR₩ (~3,43€) one-way per person. Another option are Express busses like for instance the 181 and 182, running between Jeju-City and Seogwipo. Or the 112 and 111 running from Jeju-City towards Seongsan. Both will cost you 2.800KR₩ (~1,92€) per person one-way.
In South Korea you usually pay per bus trip and not so much for the distance you actually traveled. That means a short bus trip will usually cost the same as a long one. On Jeju Island you can expect to pay 1.150KR₩ (~0,79€) per bus trip on a local bus.
What does food cost on average on Jeju Island?
Since most of our accommodations did not provide cooking facilities, we ate out most of the time while on Jeju island. However, this also includes take-away meals as well as quite some convenience store visits. The latter is something you'll get familiar with if you plan on traveling around East Asia on a budget.
Down below you can find a quick overview of average prices you can expect to pay related to food. These prices are based on what we encountered on our trip in 2023 (Conversion rate used: 1€ ~ 1458KR₩ – Aug. 2023)
Quick overview of food prices:
Local Restaurant: 9.000 – 15.000KR₩ / ~6-10€ p.P.
Take-Away Coffee (Americano): ~2.000KR₩ p.P. / ~1,40€ p.P.
Fancy Coffee: 5.000-7.000KR₩ / ~3,43-4,8€ p.P.
Convenience Store Gimbap: ~1.800KR₩ / ~1,23€ p.P.
Food Market: 5.000-9.000KR₩ / ~3,43-6€ per item
Water 1.5L: ~1.500KR₩ / ~1,03€ per bottle
Before sharing our average food cost per day on Jeju Island, we want to first paint a better picture of what we typically eat in a day. That way you'll know what is realistic for you based on the prices above.
Usually we eat two meals per day (lunch and dinner) and then sometimes snacks here and there in between meals. We drink black coffee every morning, mostly take-away and sometimes instant coffee if provided at our accommodation.
Our daily food expenses on Jeju Island came around to about 29€ per day for the both of us. That means, 14,50€ per person per day.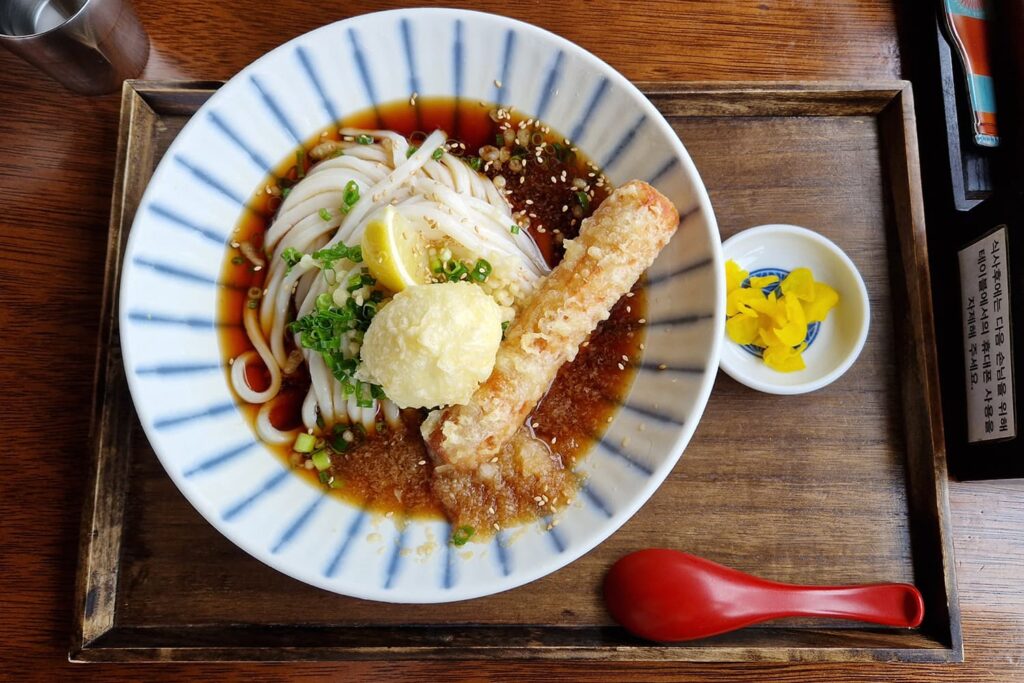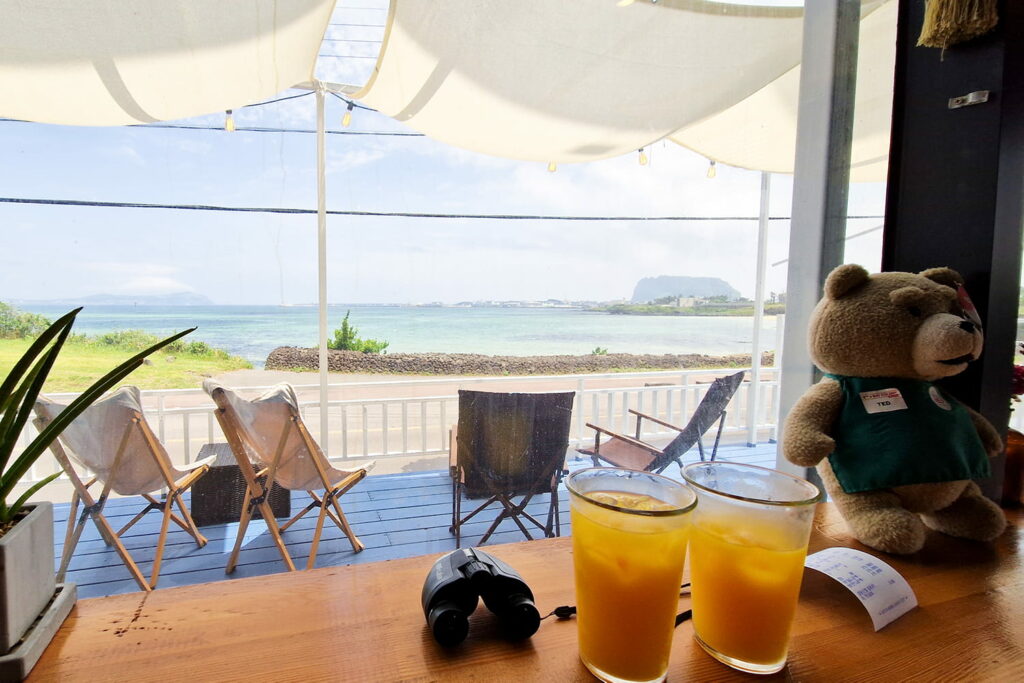 How much should you budget for activities and entrance fees?
This category can actually be as expensive or as inexpensive as you want. Because, it really depends on what you wish to see and do while on the island.
Jeju Island is home to numerous themed parks and attractions that all cost an entrance fee. So visiting a bunch will naturally skyrocket your expenses by quite a bit. But if there are some that you absolutely need to see, you can quite easily factor the entrance fees into your budget.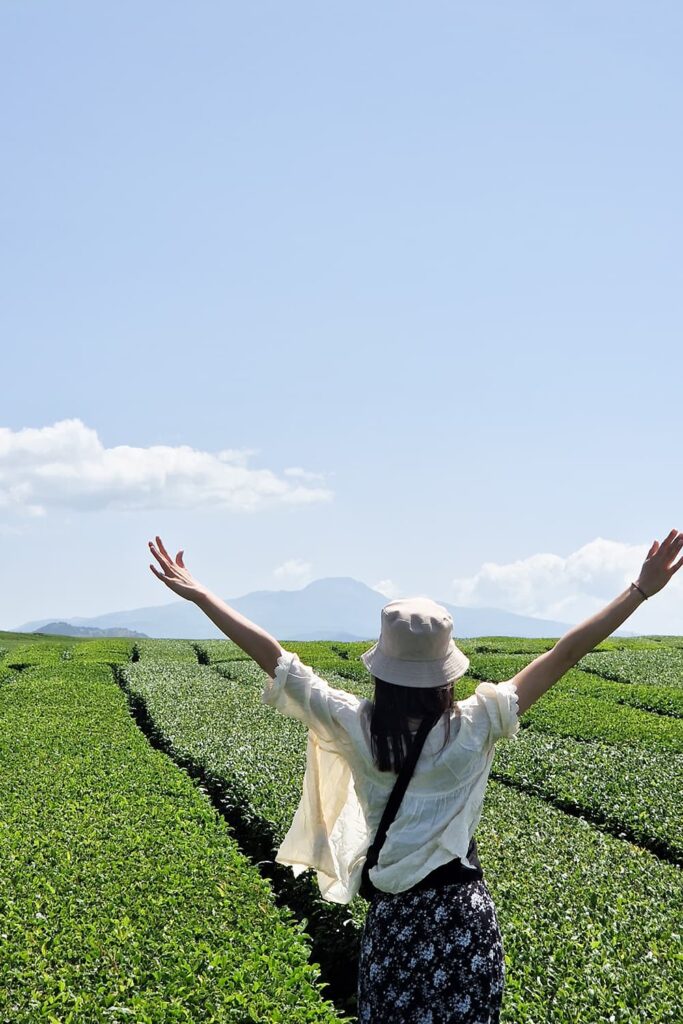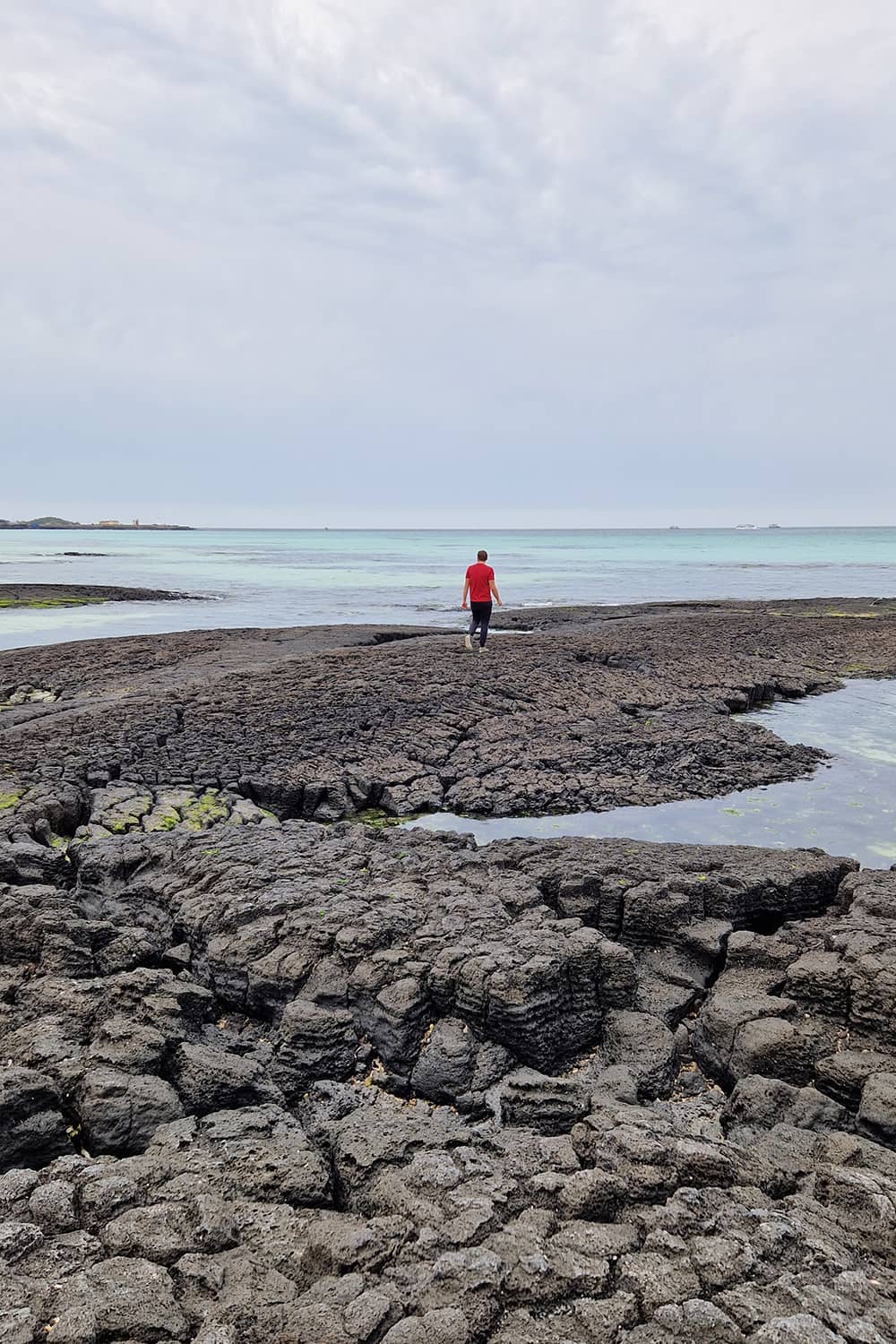 Some of the nature sights, especially waterfalls and some of the more popular sights cost an entrance fee as well. Down below you can find a list of some of the more popular attractions on the island with their respective price tag.
Popular Themed Parks on Jeju Island
Hallim Park: 15.000KR₩ p.P.
Jeju Love Land: 12.000KR₩ p.P.
Ecoland: 14.000KR₩ p.P.
Jeju Folk Village: 11.000KR₩ p.P.
Popular Nature Sights on Jeju Island
Cheonjeyeon Waterfalls: 2.500KR₩ p.P.
Jeongbang Waterfall: 2.000KR₩ p.P.
Manjanggul Cave: 4.000KR₩ p.P.
Seongsan Ilchulbong: 2.000KR₩ p.P.
Popular Free Attractions on Jeju Island
O'sulloc Tea Museum
All Beaches
All Coastal Walks
How much do you need to budget in total for your trip to Jeju Island?
So, where does this get us in the grand scheme of things? How much is your Jeju Island trip going to cost you?
Living expenses on Jeju island are really not that high if you stay away from fancy cafés and restaurants. So for accommodation and food you can easily get away with 65€ per day for 2 people. If you wish to visit a more fancy café at least once per day, simply add that cost to your daily budget.
Transportation is where the real cost comes in. Let's say 80€ per person for flights. And then if you decide to rent a car, around 60€ per day in car rental fees plus maybe 6€ per day in additional costs (fuel+parking).
If you decide to stay on Jeju Island for 5 days as a couple with a rental car (without factoring in entrance fees), you should then budget about: 5*65€+5*66€+2*80€, which end up being a little over 800€ for the two of you. Or 400€ per person for 5 days.
Final thoughts on the cost of a Jeju Island trip
When comparing the cost of a trip to Jeju Island with the cost of traveling mainland South Korea, the latter is a little cheaper. But again, that can mainly be tied to the cost of the rental car, so you need to decide what is more important to you: budget or seeing the most in a short amount of time.
Jeju Island can definitely be visited on a budget. But it is a place where it is also really easy to spend quite extravagantly.
Nonetheless, traveling Jeju Island is something that we think is absolutely worth it. We don't necessarily think it is that similar to Hawaii, but it is stunning in its own way. And the combination of nature with Korean culture makes for a really interesting time on this beautiful volcanic island.
Want to save this post for later?