Ultimate Jeju Island Road Trip Itinerary (5-Day Itinerary)
Jeju Island is known by many as the 'Hawaii of Korea'. Located south of mainland South Korea, this volcanic island has it all – stunning beaches, awesome hikes, lava caves and not to forget, tangerines! There is so much to see and do that you probably feel a little overwhelmed by what you should include in your 5-day Jeju island itinerary and what not.
But, we are here to help you out! During our 6-week South Korea trip, we spend 11 days on Jeju island and drove around the whole island in our rental car. After having done so and seen quite a bit of this stunning island, we crafted what we consider our ultimate 5-day Jeju island itinerary that we share with you today!
This itinerary includes our top-pics of things to see and do, where to stay as well as some recommendations of where to eat while on the island! So, grab your notebook or whatever tool you use to plan your trips and let's get into it!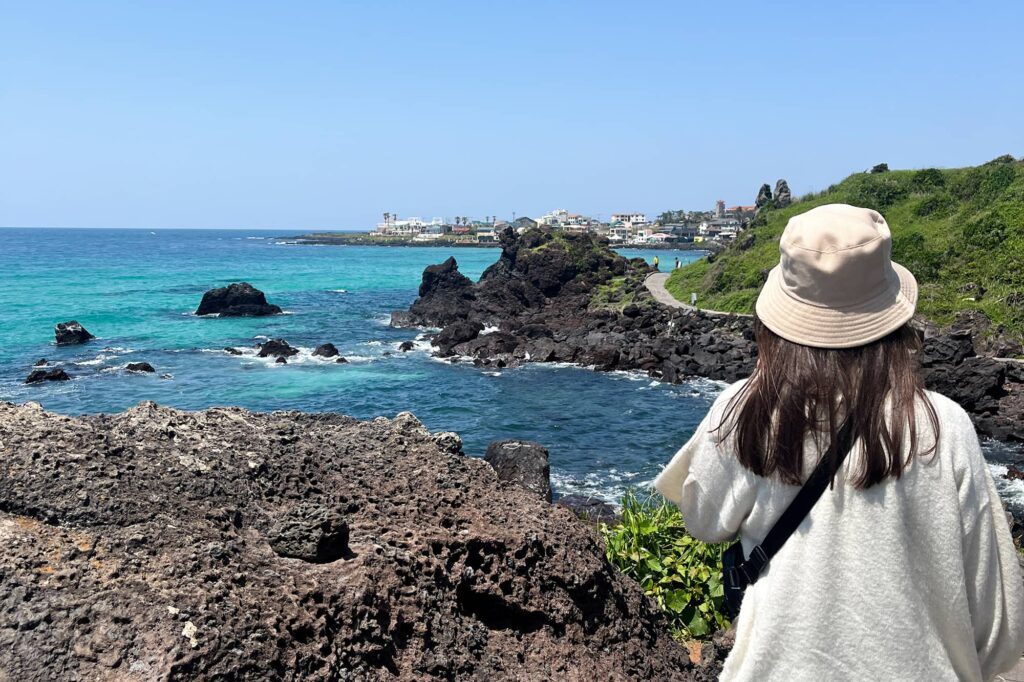 Note: We use affiliate links in this post. They are marked by an *, so you can recognize them in advance. By interacting with these links, you can support us and our website at no extra cost to you! For more information, read our Disclaimer.
5-Day Jeju Island Itinerary
Who is this itinerary for? Since we love being in and around nature, this itinerary is very much focused on seeing as much as possible of the natural beauty Jeju Island has to offer. Meaning, it includes beaches, stunning rock formations, coastal walks as well as waterfalls and everything in between!
You will be driving a loop around the whole island and see some of the best spots in the north, south, east and west of Jeju island! While a visit to Hallasan is not included in this 5-day Jeju island itinerary, we give you an option to extend your trip to be able to hike Mt. Hallasan at the end of your road trip. Which we highly recommend!
We are aware that there are a ton of theme parks of all kinds on Jeju island. However, we will not feature very many of them in this particular itinerary. For us personally, we were not interested in them enough to justify paying the entrance fee.
But, if you wish to include one or two, you can of course always tweak this itinerary to your liking!
How to get to Jeju Island?
So, where do we start? Right, at the beginning! How do you get to Jeju island? While there is the option to take a ferry, we recommend you fly to Jeju island for the following three reason. It is fast, cheap and convenient.
Fast, the flight to Jeju-City from Seoul takes about 45-50 minutes, so you won't loose too much precious time on your trip. Cheap, when flying with one of the many South Korean low-budget airlines, prices will typically range between 30-90€ for a one-way flight depending on the time of day.
And convenient, because coming from Seoul or Busan there is literally a flight going towards Jeju-City every 20 minutes or so. This gives you quite some flexibility on when you wish to fly. Also, when landing at Jeju Airport, you can walk straight to where you will be picking up your rental car.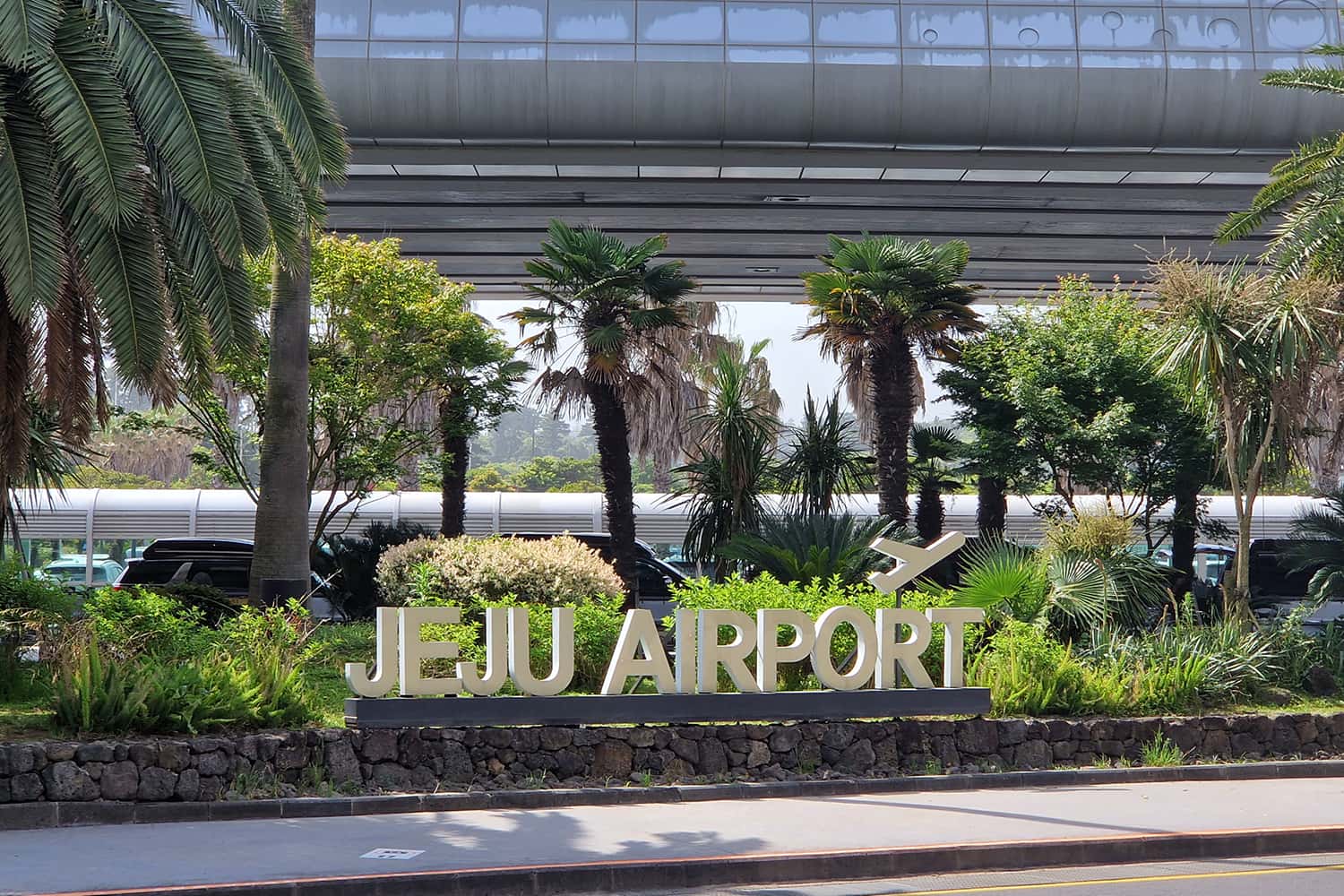 As a tip: When booking your flights you might be tempted to book the cheapest option, which typically leaves later in the evening. But, if you are traveling to Jeju island for a road trip and wish to make the most of your time in South Korea, take it from us, don't do it! Even though the flight is cheap, you will have to book a hotel in Jeju City for one night and then make your way to the airport again the next day to pick up your rental car. It's better to pay a little more and arrive in the morning or early afternoon instead!
Check out the current flight prices to Jeju City and book your flights to Jeju* now!✈️
How to get around Jeju Island?
This leads us to the next point. In order to follow this itinerary, you will need a rental car! Now rental cars on Jeju island are a bit more expensive than what we are used to from our Europe road trips. So, we definitely advise you to look for a rental car as early as possible!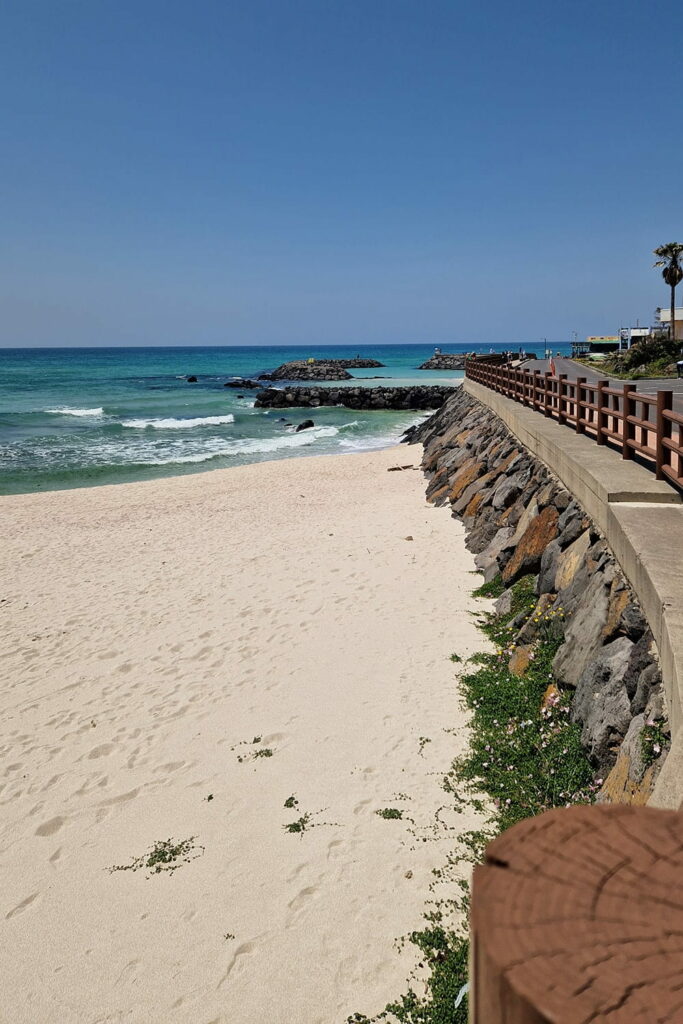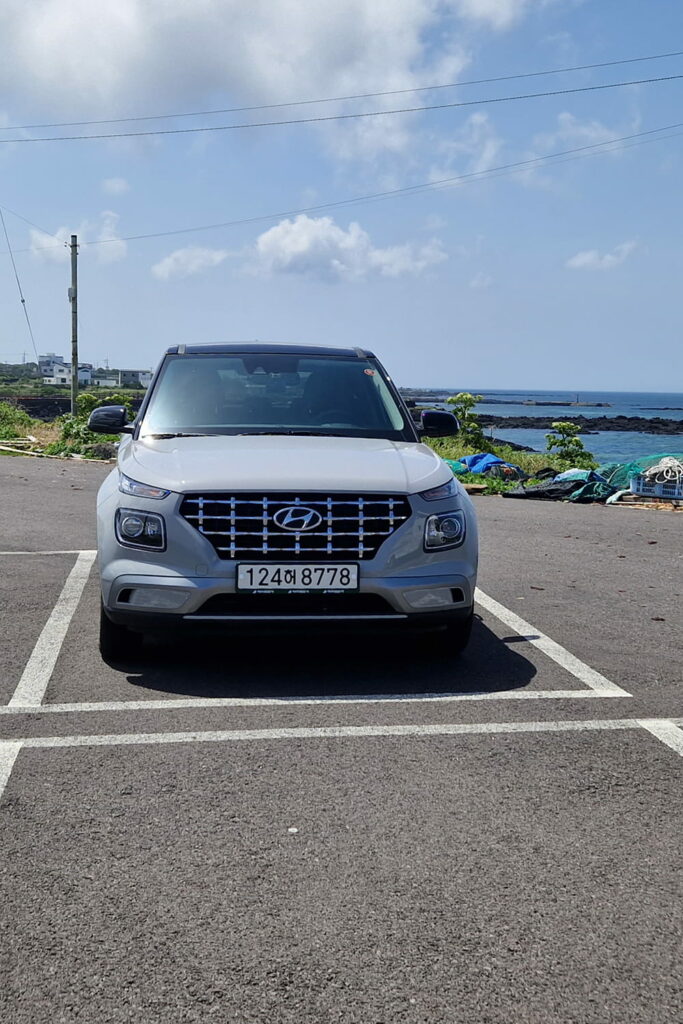 We wrote a separate guide on the process of renting a car and driving on Jeju island. If this is your first time driving in South Korea, we have some helpful tips in there that you might want to know before taking it to the streets!
Find a rental car on Jeju Island as early as possible to get a better deal! 
Book your rental car now*!🚗
Well, now that we have our flights and rental car sorted out, let's get into the ultimate 5-day itinerary for Jeju Island!
5-Day Jeju Island Itinerary Overview
Day 1: The Northwest. Explore Aewol Café Street, Handam Coastal Walk and Hyeopjae Beach.
Day 2: The West and Southwest. O'Sulloc Tea Museum, Sanbang Mountain and Jusangjeollidae.
Day 3: The South. Seogwipo and waterfalls!
Day 4: The East. Jeju Folk Village and Seongsan Ilchulbong.
Day 5: The Northeast. Manjanggul Cave and Woljeong Beach.
Optional: Day 6: Hike Mt. Hallasan!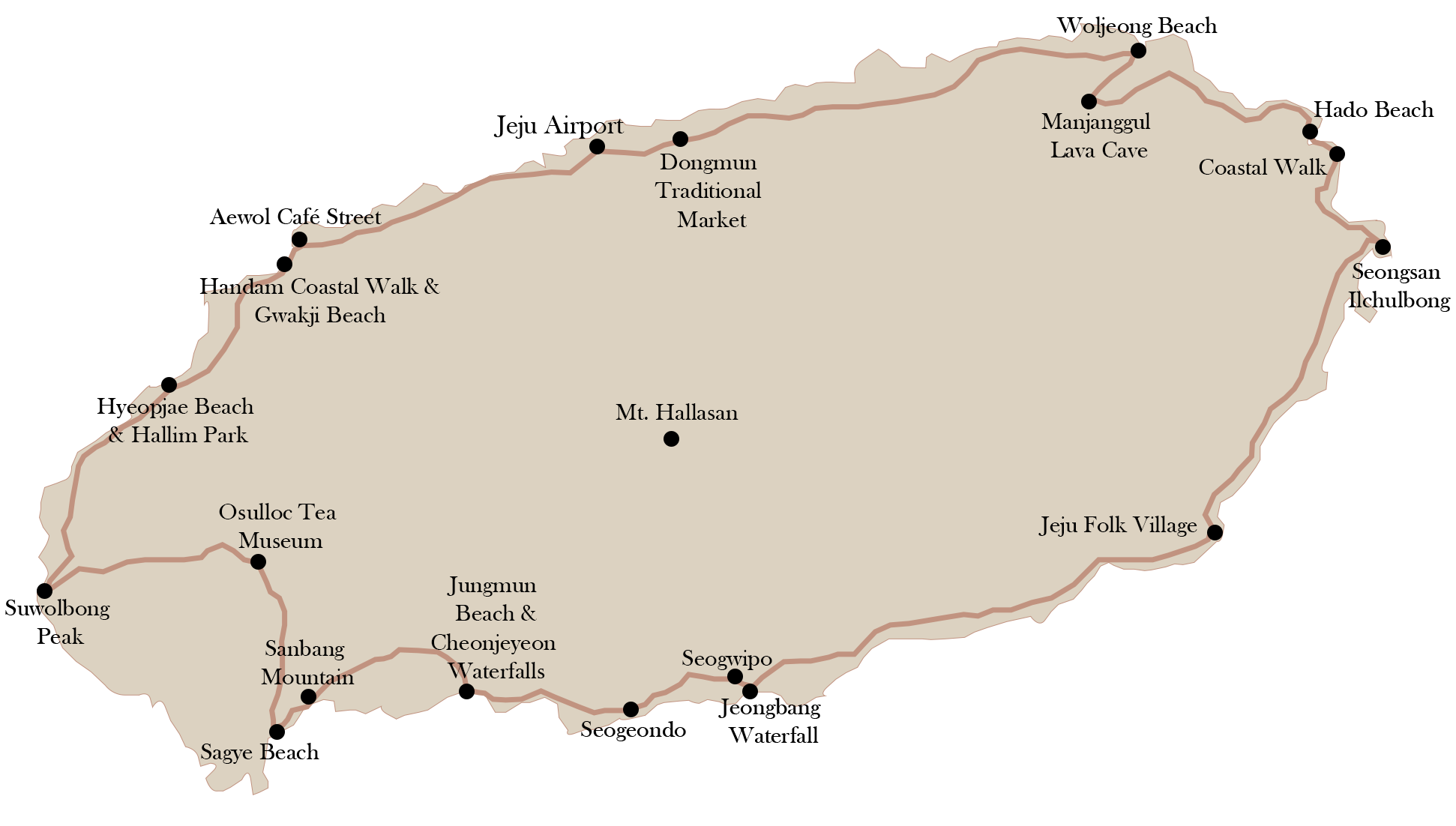 Activities and entrance fees included in this itinerary that your can budget for in advance:

Themed Parks:
- Hallim Park: 15.000KR₩ p.P.
- Jeju Folk Village: 11.000KR₩ p.P.

Natural Landmarks:
- Cheonjeyeon Waterfalls: 2.500KR₩ p.P.
- Jeongbang Waterfall: 2.000KR₩ p.P.
- Manjanggul Cave: 4.000KR₩ p.P.
- Seongsan Ilchulbong: 2.000KR₩ p.P.
- Jusangjeolli Cliff: 2.000KR₩ p.P.
- Yongmeori Coast & Sanbanggulsa Cave Temple: 2.500KR₩ p.P.


Note: If you wish to know what this Itinerary will cost you approximately, check out our Jeju Island budget breakdown!
Day 1: Aewol, Handam Coastal Walk and Hyeopjae Beach
Whether you decide to take the ferry to Jeju Island or arrive by plane, either way you will find yourself in Jeju City – the starting point of this trip. And, after picking up your rental car, it is time to venture west!
The itinerary of your first day naturally depends on when you arrive on Jeju island. We recommend you arrive early in the morning so you can make the most of day one.
Aewol Café Street
So, first things first, head to Aewol (about 40 minutes from Jeju Airport), where you'll find the Aewol Café Street. The latter is essentially a neighborhood filled with cafés located alongside the scenic coastline of this area! An ideal spot to start the morning with great coffee and get your first glimpse of the insanely blue water that will accompany you for most of your trip around Jeju island!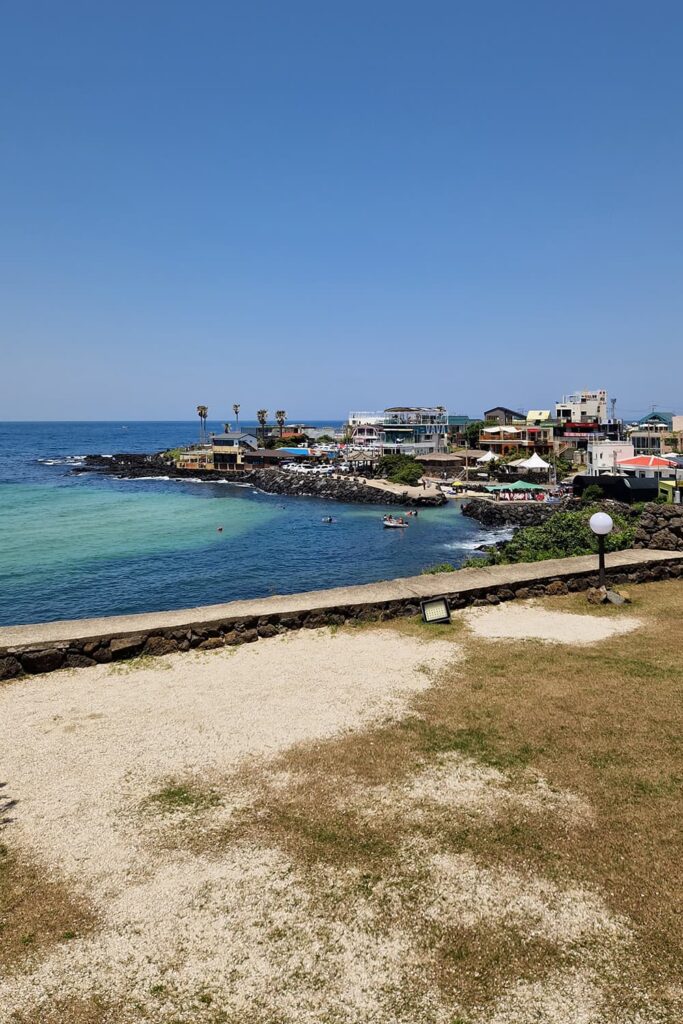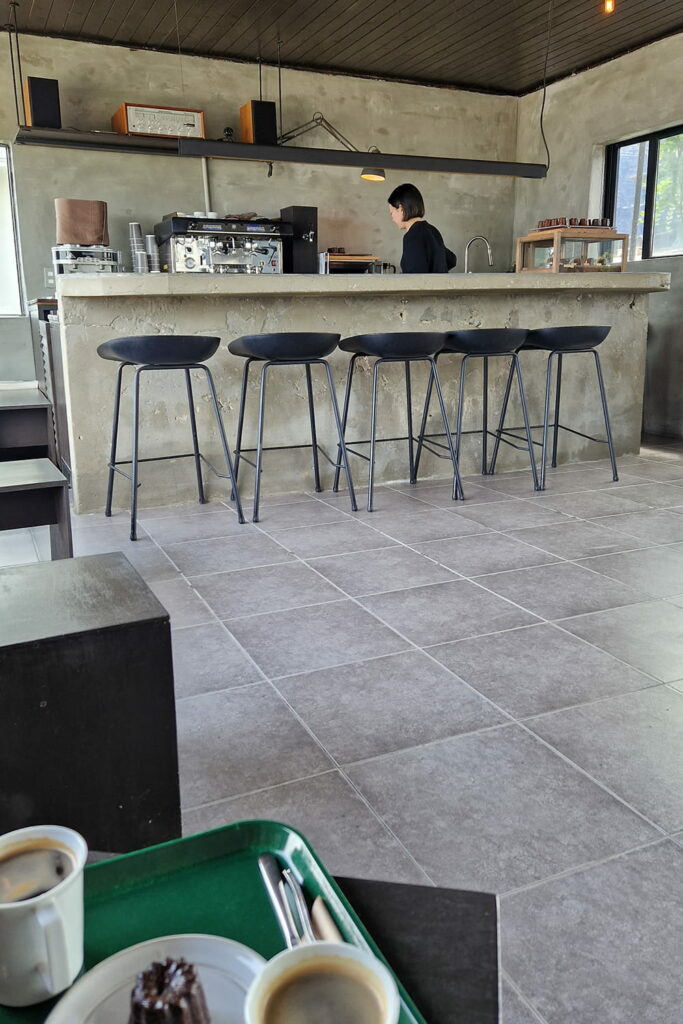 In terms of views, we can recommend 'Team Blow Café' (Address: 2474-3 Aewol-ri, Aewol-eup, Jeju-si, Jeju-do). For great coffee and canelé head to '토투가 커피' (Address: 3020-2 Gwideok-ri, Hallim-eup, Jeju-si, Jeju-do). But in general, you will not have problems finding awesome cafés, there are so many great ones here!
As a tip: This was the one spot on the island where it was harder to find free parking. So, maybe look up which café you would like to go to in advance. Most of them will have parking on their property. In our guide on driving in Jeju Island we explain why using the paid parking lots might not be such a good idea with a foreign credit card!
Gwakji Beach & Handam Coastal Walk
After you are fueled up with coffee, it is time to do some sightseeing! Handam Coastal Walk is a stunning walk alongside the coastline near Aewol. Depending on the parking situation, you have two possibilities.
Either you make your way towards a spot called 'Aewol Handam Park' (Address: 11 Aewol-ro, Aewol-eup, Jeju-si, Jeju-do). The latter is a free parking lot and if there are still spots available, park here. It is located just above the Handam Coastal Walk. Once on the coastal walk, you can make your way towards Gwakji Beach while soaking in the views of this stunning coastal stretch.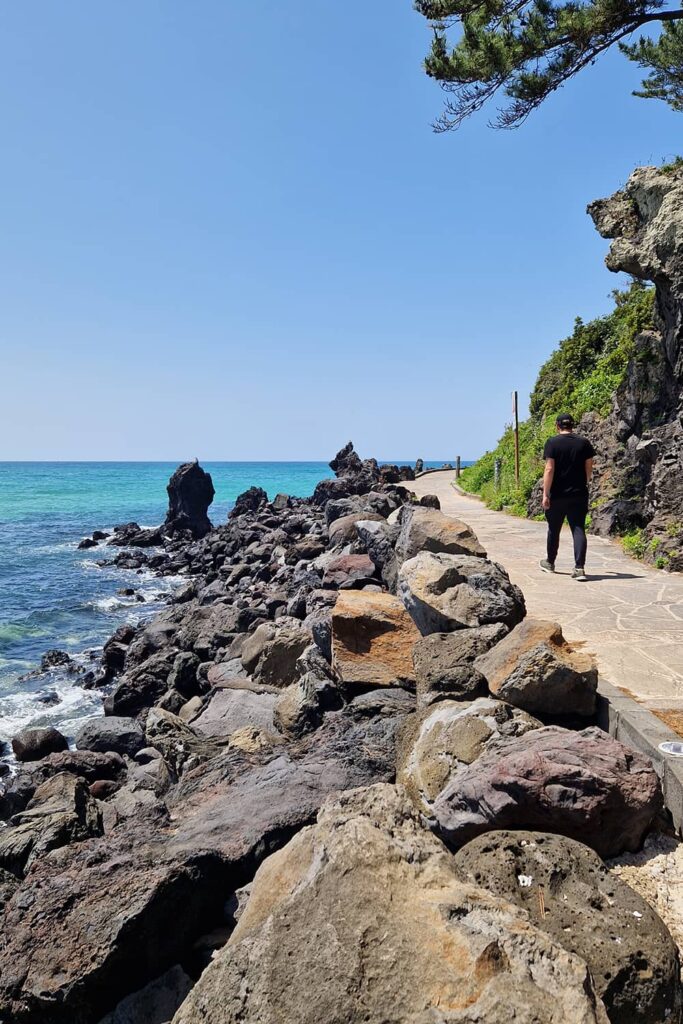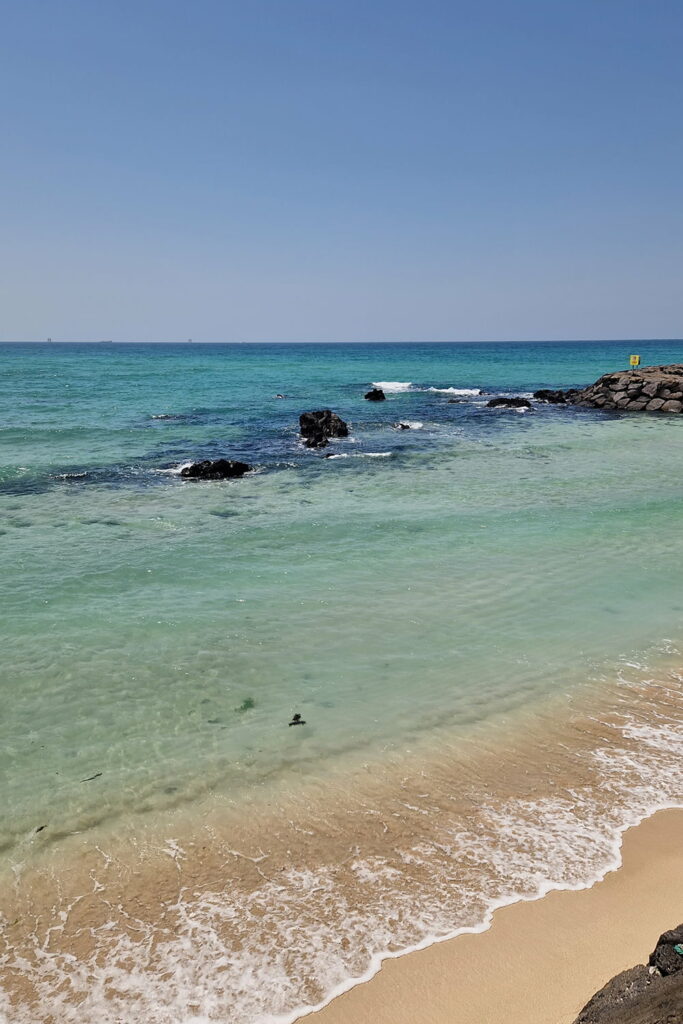 If, like us, you have no luck finding a spot, drive further south towards Gwakji Beach straight away. When walking north alongside the beach you can reach the Handam Coastal Walk as well!
Hyeopjae Beach
The last location you will be exploring on your first day on the island is Hyeopjae Beach! This beach is one of the more stunning ones we encountered on Jeju Island! Like most of the beaches on Jeju, it has beautiful white sand as well as black volcanic rocks against a backdrop of vibrant blue water! What makes this beach even more beautiful is Biyangdo island, which is located just a stone's throw away from the coast.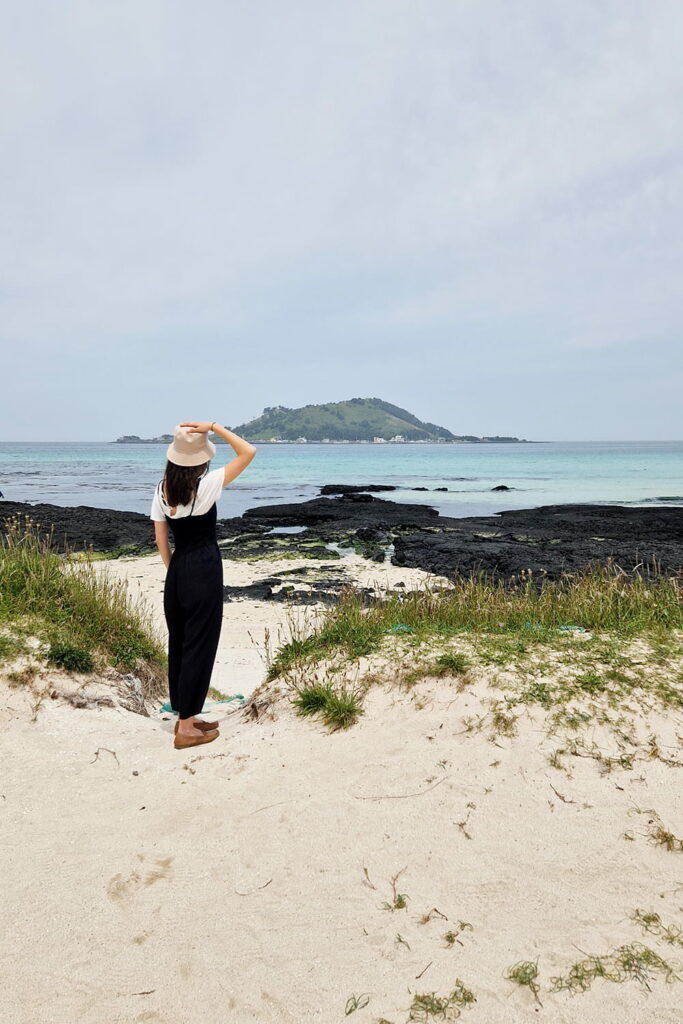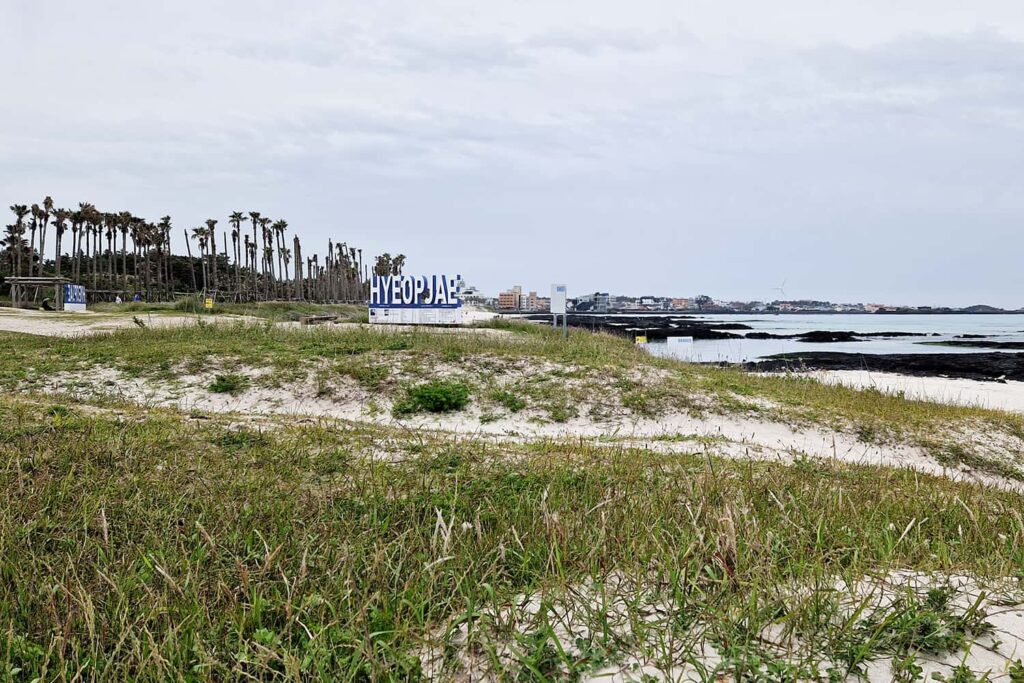 Spend the rest of the day relaxing on the beach or exploring this lovely beach town and its many restaurants and cafés. You can also opt to visit Hallim Park, a botanical garden located only a quick walk away from Hyeopjae beach!
Where to stay near Hyeopjae Beach:

🏨 Check out Starlightdrops Pension* 
   You can find deals starting at 32€/night | Reviews: 8.1 on Agoda
🏨 Check out Kai Resort* 
   You can find deals starting at 56€/night | Reviews: 8.5 on Agoda
Day 2: O'sulloc Tea Fields, Sanbang Mountain and Jusangjeollidae
On the second day of this 5-day itinerary around Jeju island, you will be covering quite a bit more distance. So, make sure to head out early!
The first stop of today is actually located only a few minutes further down the coast from Hyeopjae Beach. You will be visiting the Cactus Moon Colony. This is another stunning walk, but this time it leads through a coastal stretch made out of volcanic black rock, which is overgrown with thousands of cacti!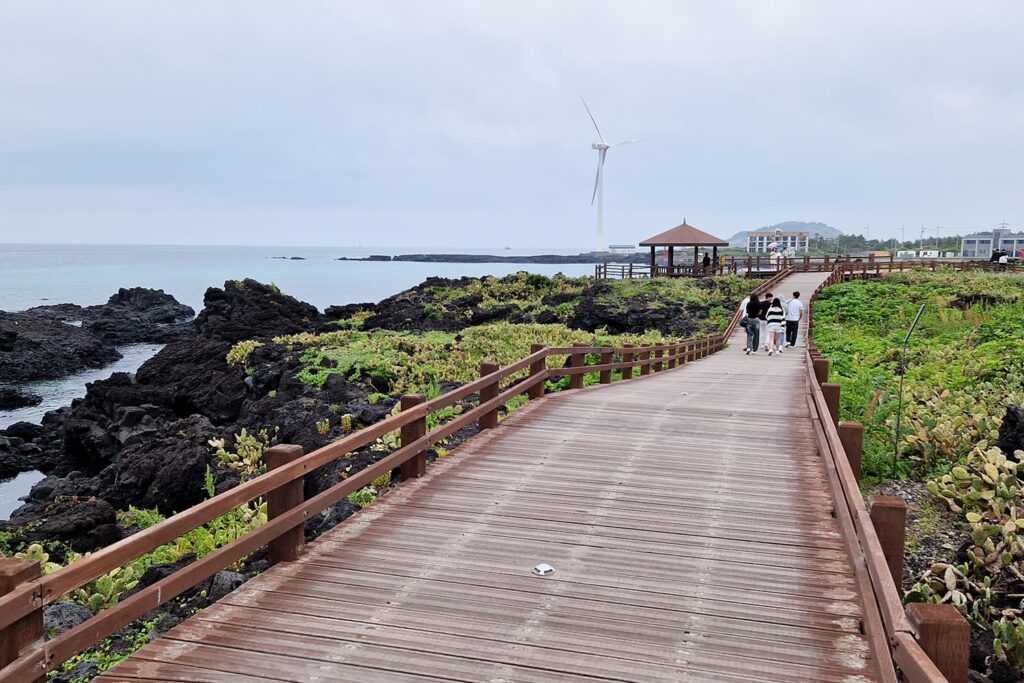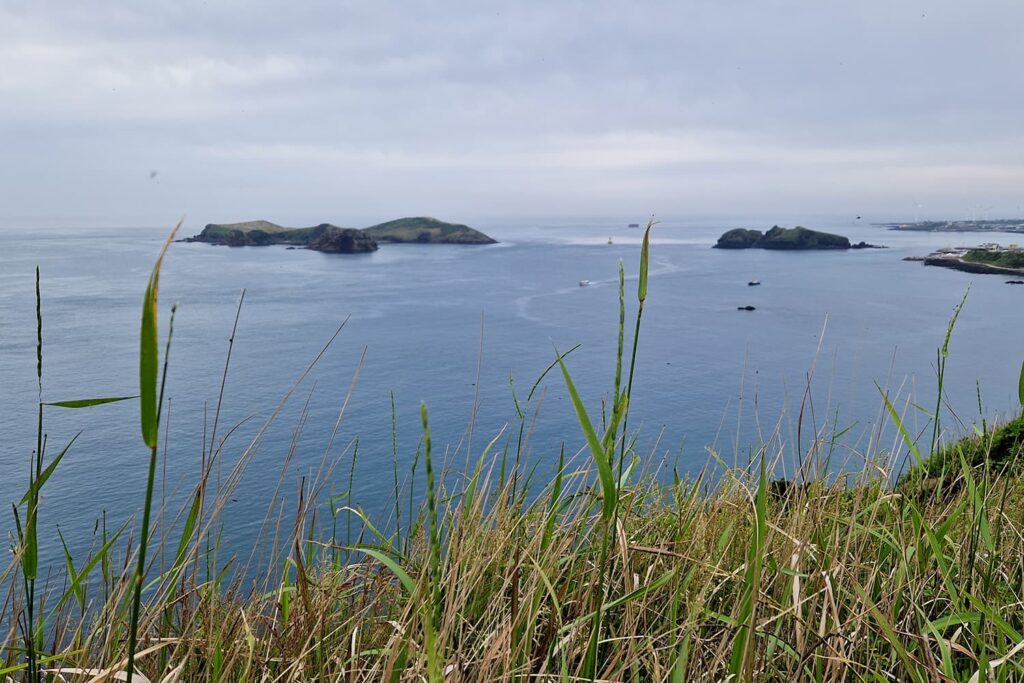 Next, make your way further south towards Suwolbong Peak. There is a small pagoda on top of the hill from where you have an awesome view over the surrounding land, the sea as well as Chagwido island. You won't have to climb Suwolbong Peak. There is a free parking lot right in front of the viewpoint, so you can simply drive up the hill.
O'sulloc Tea Fields
After having seen quite a few sights alongside the coast of Jeju island, it is time to head inland now! O'sulloc is considered to be South Korea's number one tea brand. Many of their teas have been certified as organic by various labels around the world.
On Jeju island, you get the opportunity to visit their tea fields as well as their tea museum. The museum part is rather small, however it is free and you get an insight into how they process the tea leaves in order to create their teas, including free samples!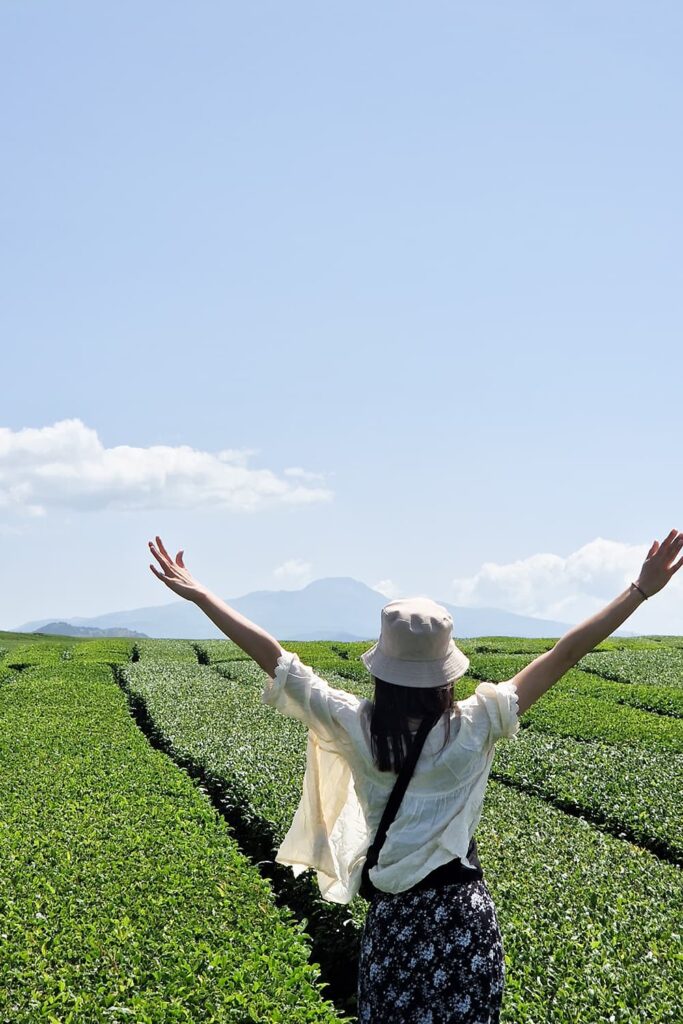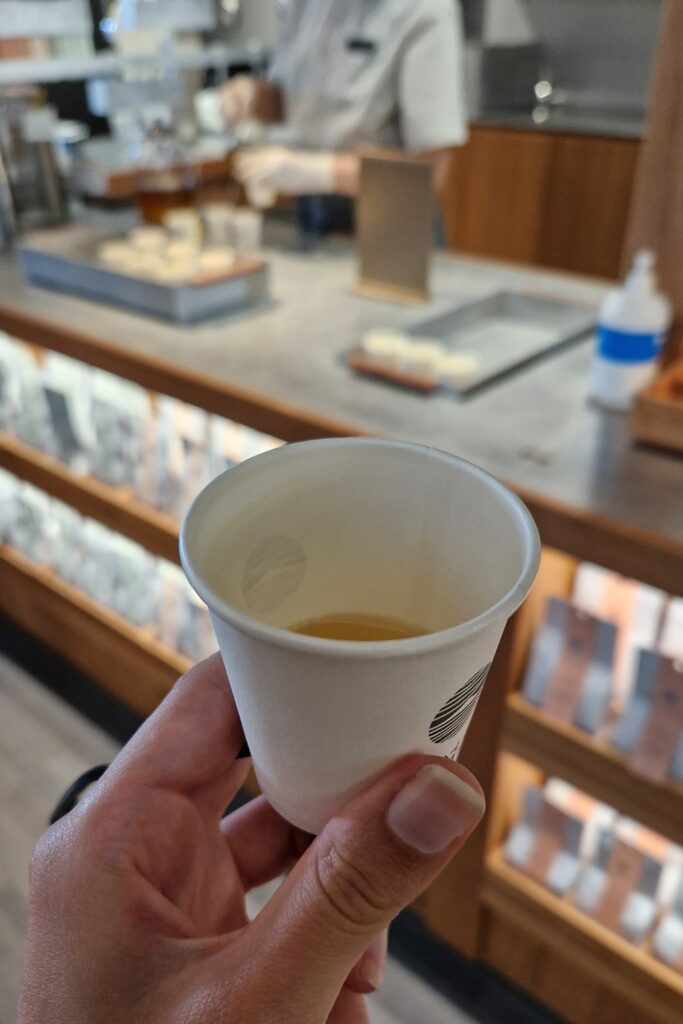 There is a shop on the grounds as well as a café. But what excited us the most were the stunning tea fields surrounding the whole property!
The site is not that huge, so planning an hour to see the museum, take some pictures in the tea fields and maybe drink something at their café will definitely be enough. There is also free parking available. Just be prepared, this place can get pretty crowded!
As a tip: If you are a fan of tangerines you are in luck. Jeju island is famous for its tangerines. That's why you'll see many tangerine plantations as you drive around the island. We saw numerous shops selling various kinds of tangerines alongside the road, especially in the southwest of Jeju island!
Sagye Beach, Yongmeori Coast & Sanbang Mountain
After your stroll through the tea fields, it is time to head back to the coast again. However, this time all the way south towards a pretty stunning beach, Sagye Beach! Compared to the beaches we have visited before on Jeju island, this one has a more rugged feel to it and it definitely does not win you over with its white sand or blue water.
What makes it so interesting is the combination of this more wild and natural beach with Sanbang Mountain in the background! This place was definitely one of the spots where we could see where the popular comparison of Jeju island with Hawaii came from.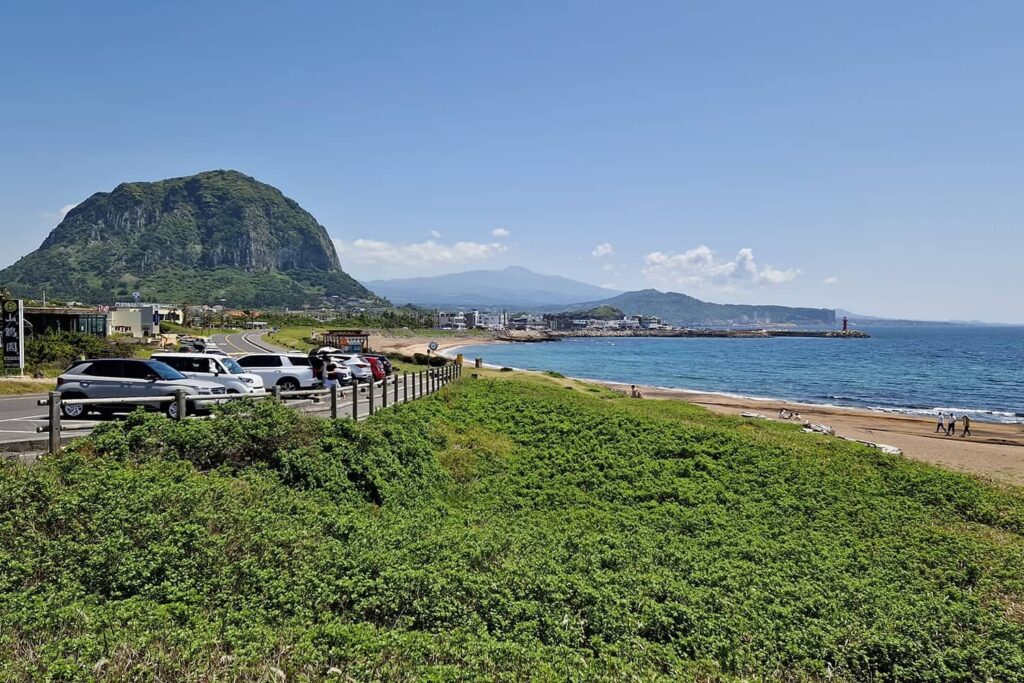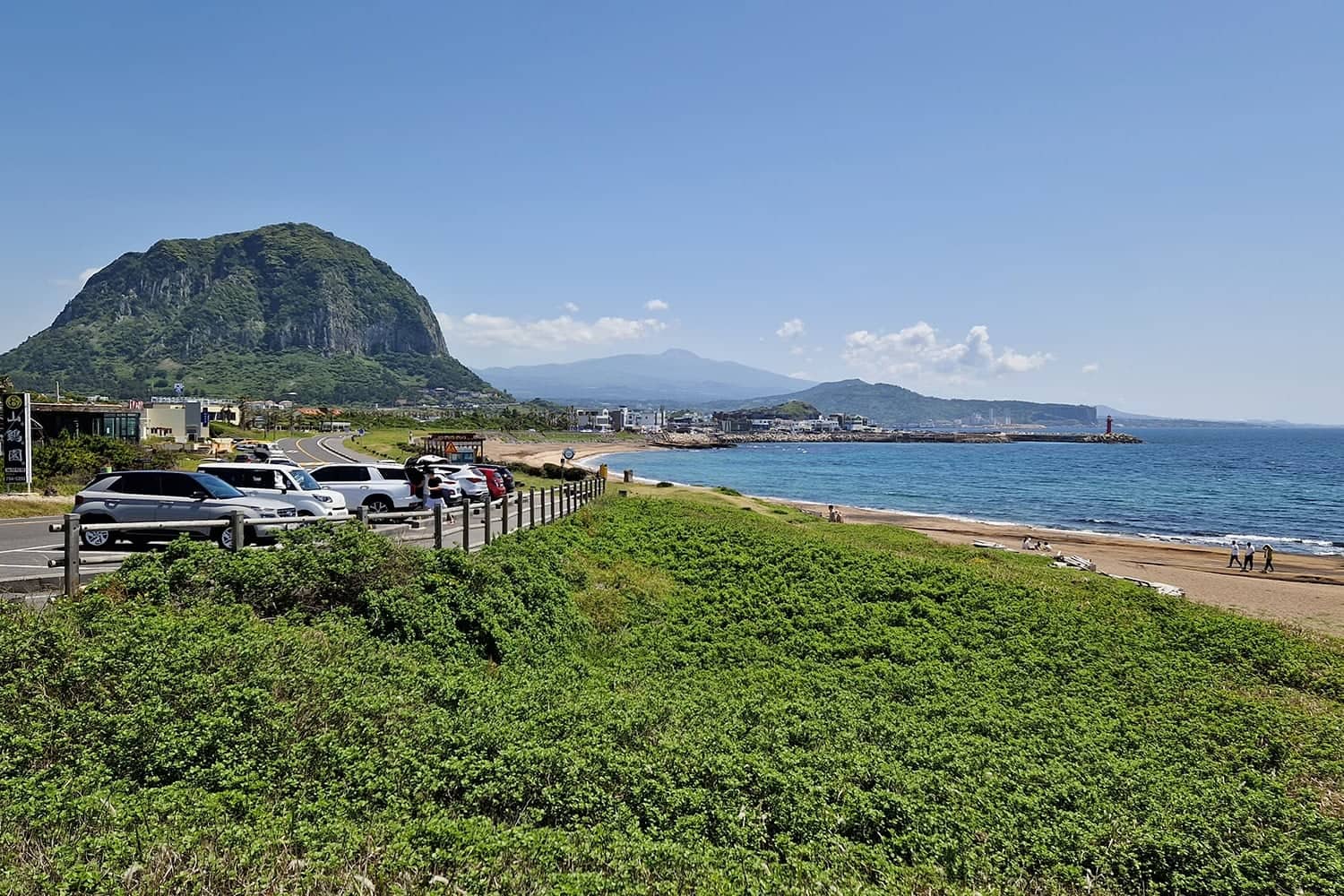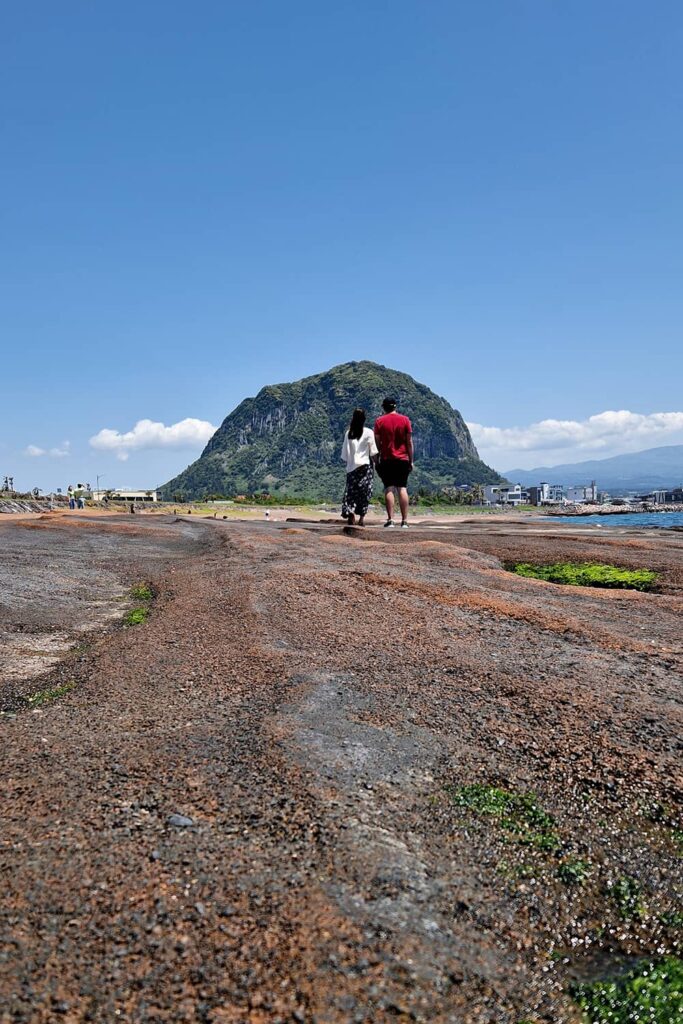 At the foot of Sanbang Mountain you'll find the Sanbanggulsa Cave Temple. The latter is pretty famous for its grotto and is located in a simply stunning spot. The whole temple complex is pretty big and definitely worth a visit. You'll have to pay an entrance fee of 1.000KR₩ for the grotto. Or you can purchase a combo-ticket for 2.500KR₩, which will also include access to Yongmeori Coast, also known as Dragon Head Coast.
Parking is free if you can secure a spot on the public parking lot across the road from the temple. From here you have a pretty awesome view over the whole coastal area as well! Another option is to park on the temple's private parking lot. However, here you'll have to pay a parking fee.
Jusangjeolli Cliff
And, just like that it is already time to head to the last spot on today's itinerary, Jusangjeolli Cliff! If you have never heard of them before, it is essentially a cliff that was created when lava flowed into the sea as Mt. Hallasan erupted. These cliffs are considered to be a cultural monument of Jeju island.
The site surrounding the cliffs can easily be explored via the numerous paved paths and wooden walkways that were installed on top of the cliffs. Entrance fee: 2.000KR₩.
Make your way further east and check in to your accommodation for the next two nights as you'll be exploring more of Jeju's South! And, one day of not repacking your suitcase, yay! We are certainly always excited about that.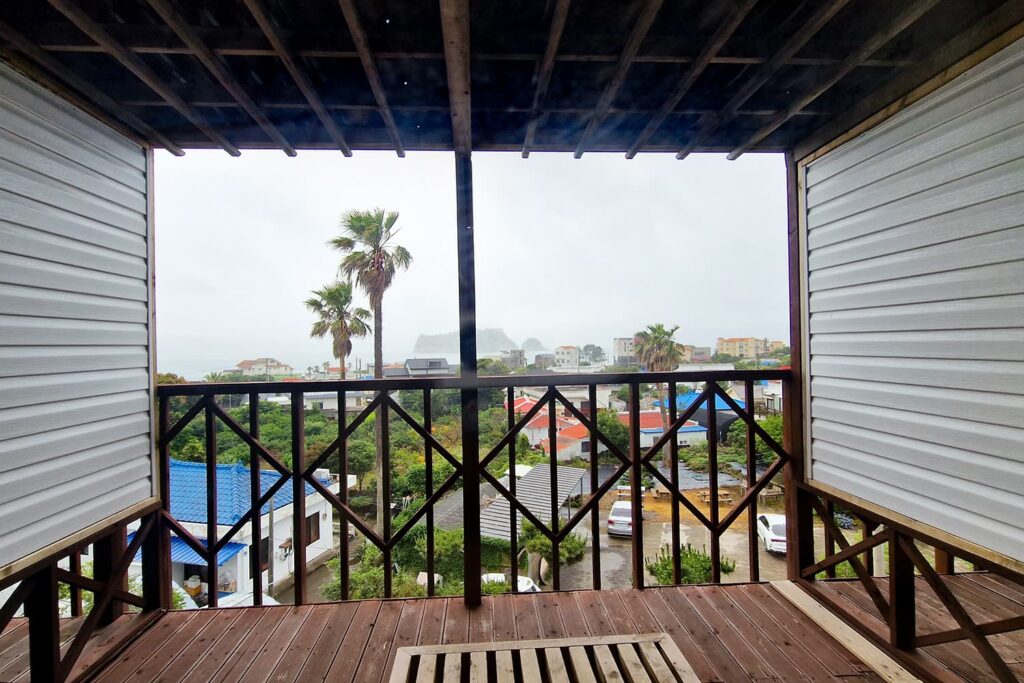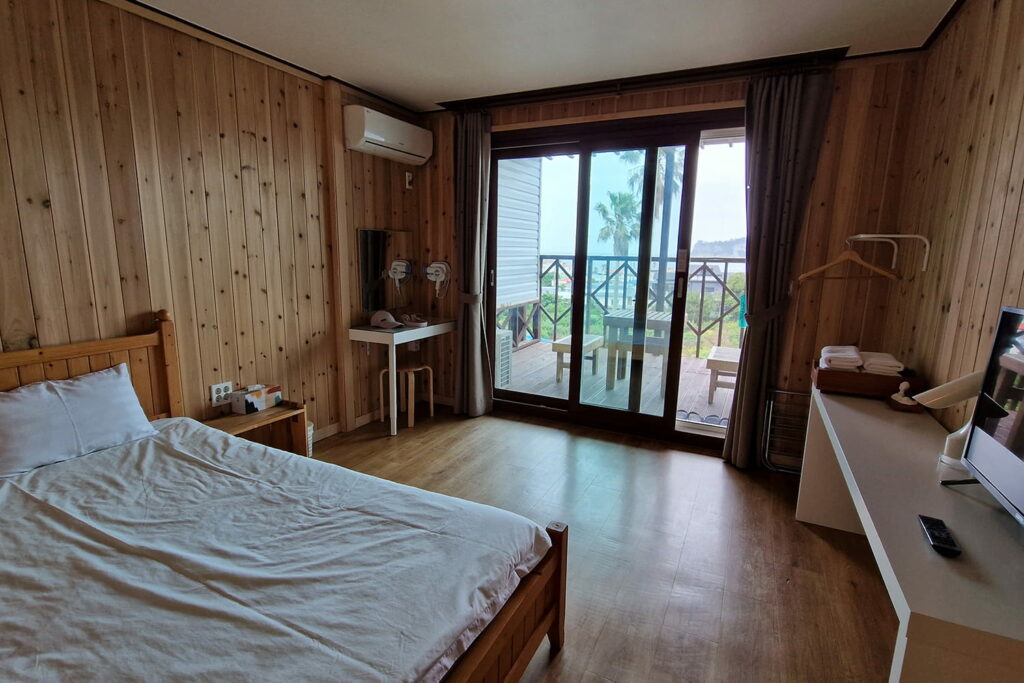 We stayed at the Galeum Guesthouse and really loved it there! You'll have an awesome view of Seogeondo Island from your room and the couple that runs the guesthouse are super friendly! However, if you would like to go with something a bit more fancy, there is another option you can check out as well.
Where to stay:
🏨 Check out Galeum Guesthouse* 
   You can find deals for around 40€/night | Reviews: 8.8 on Agoda
🏨 Check out Gladsheim Hotel* 
   You can find deals for around 60€/night | Reviews: 8.6 on Agoda
Day 3: Seogwipo, Cheonjeyeon & Jeongbang Waterfalls
After all the distance you had to cover on day two, day three definitely involves a little less driving. And, if your third day on Jeju island had a theme, it would definitely be waterfalls!
Jeongbang Waterfall
First thing in the morning, make your way towards Seogwipo. Your first stop of the day will however not be the city center just yet. Instead head straight towards the coast, where you will find Jeongbang Waterfall.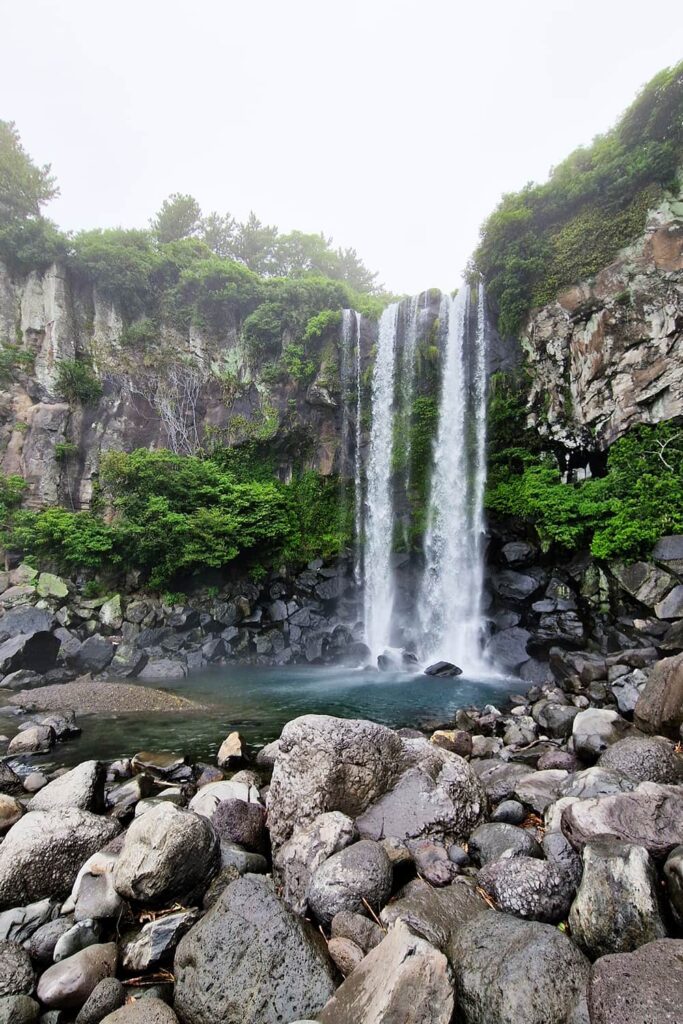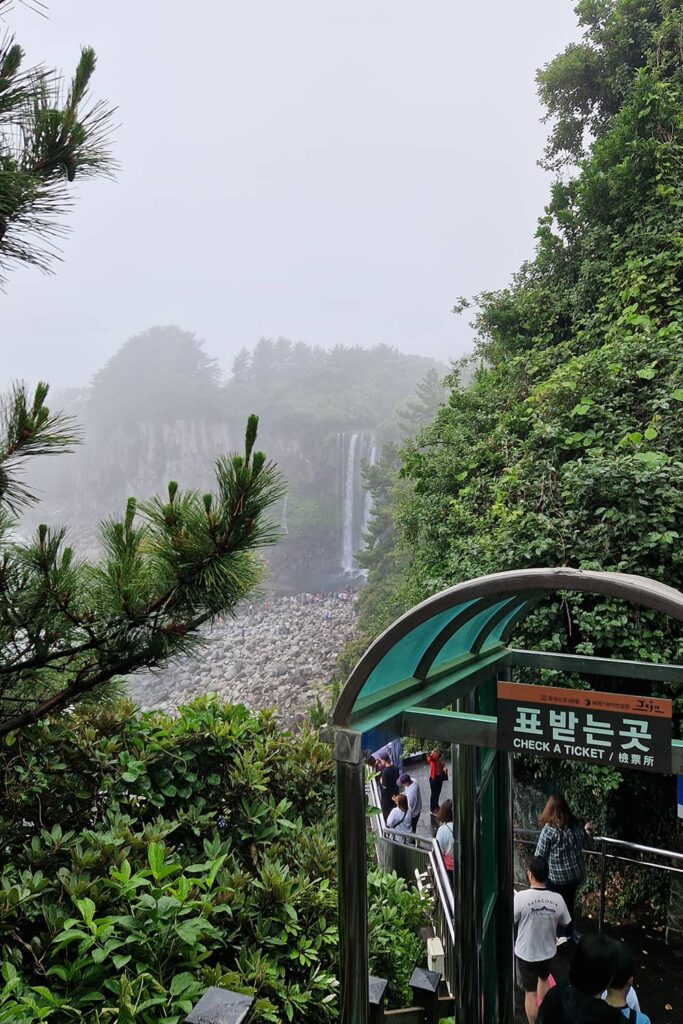 Jeongbang Waterfall is 23 meters high and located only a few meters away from the sea. It is a truly stunning sight! To get to the bottom of the waterfall, you have to go down a staircase. Once at the bottom of the cliffs, you can basically walk up to the waterfall. Be careful though, to get there you will have to navigate your way over some super slippery rocks! We definitely nearly fell once or twice! The entrance fee to access the site is 2.000KR₩.
Seogwipo
After heading back up the cliff, make your way towards the city center now. Head towards 'Lee Jung Seop Street', a lovely little street that is filled with small shops, selling mostly souvenirs. Even if you are not really interested in buying anything, it is on the route to get to your next stop: Seogwipo Olle Market.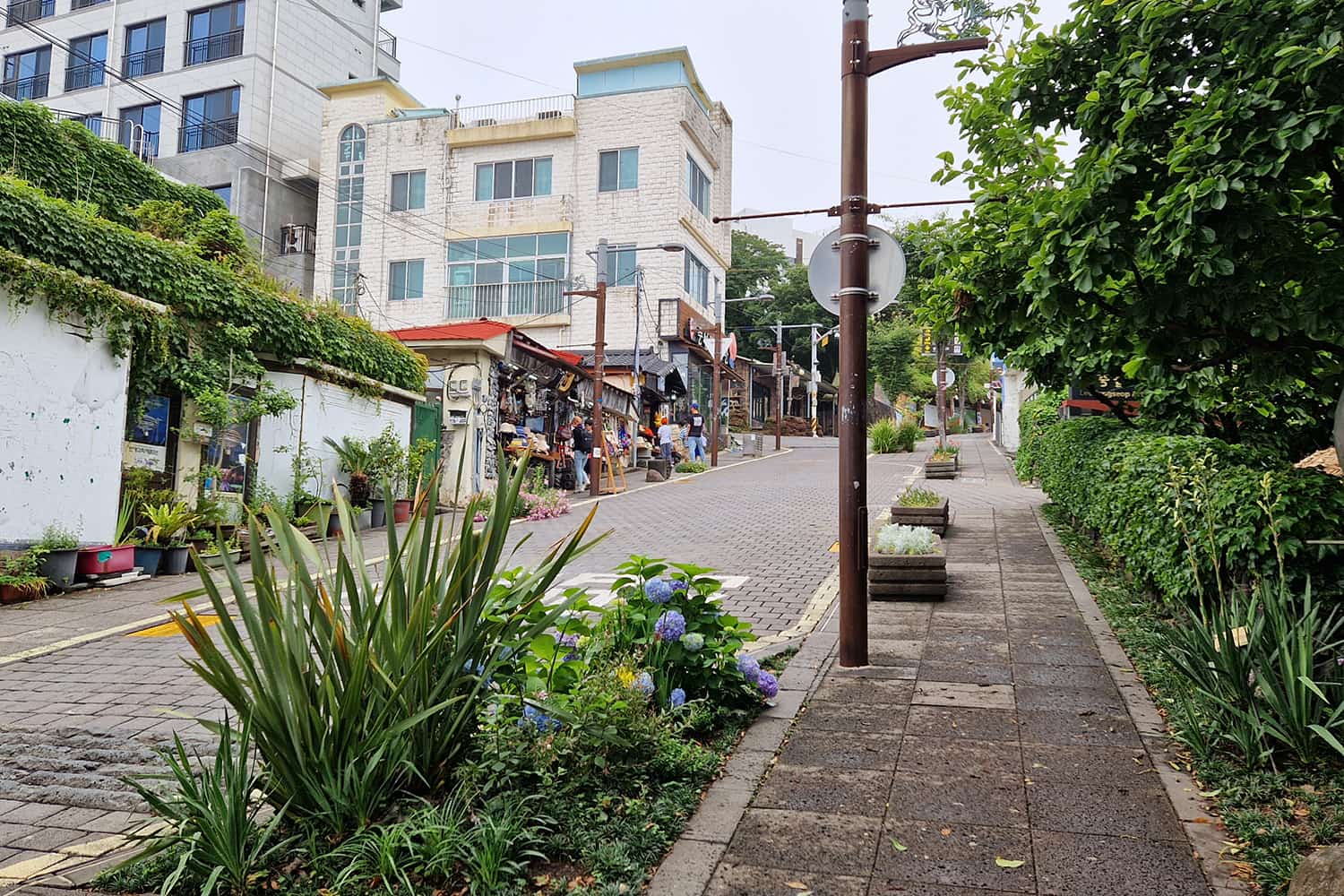 This market sells mostly fresh produce, street food as well as some souvenirs. If you haven't had the opportunity to get yourself tangerines so far, here is your chance! You'll not only find whole tangerine fruits and tangerine juice, but also mochi filled with tangerines as well as tons of tangerine flavored souvenir snacks.
It is a great spot to be on the hunt for some lunch. We opted to try tangerine-filled mochi as well as fried gimbap rolls and we can definitely recommend both!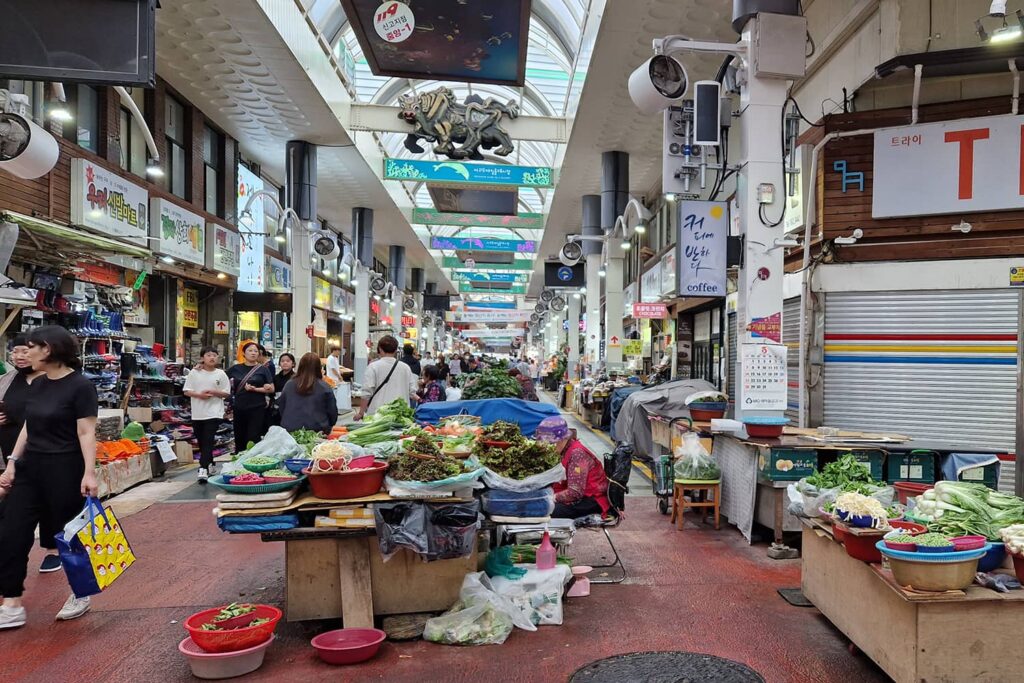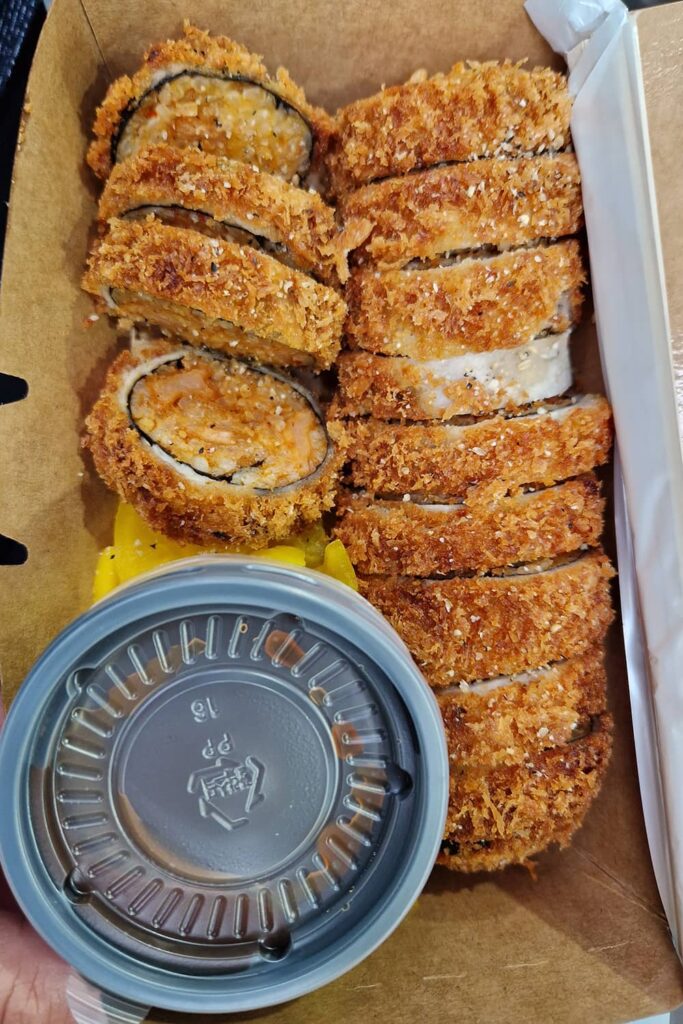 Cheonjeyeon Waterfall
In the afternoon, it is time to retrace your steps a little and head back west again. But don't worry, not to far. Your next destination is the Cheonjeyeon Waterfall, which are located a little less than 30 minutes west of Seogwipo.
What was surprising to us was the fact that the Cheonjeyeon Waterfall is actually located in the midst of massive all-inclusive hotels and tourist complexes. However when you are there, you actually can not tell! Because, the waterfall is located in a valley surrounded by woods which actually cover up the surroundings perfectly.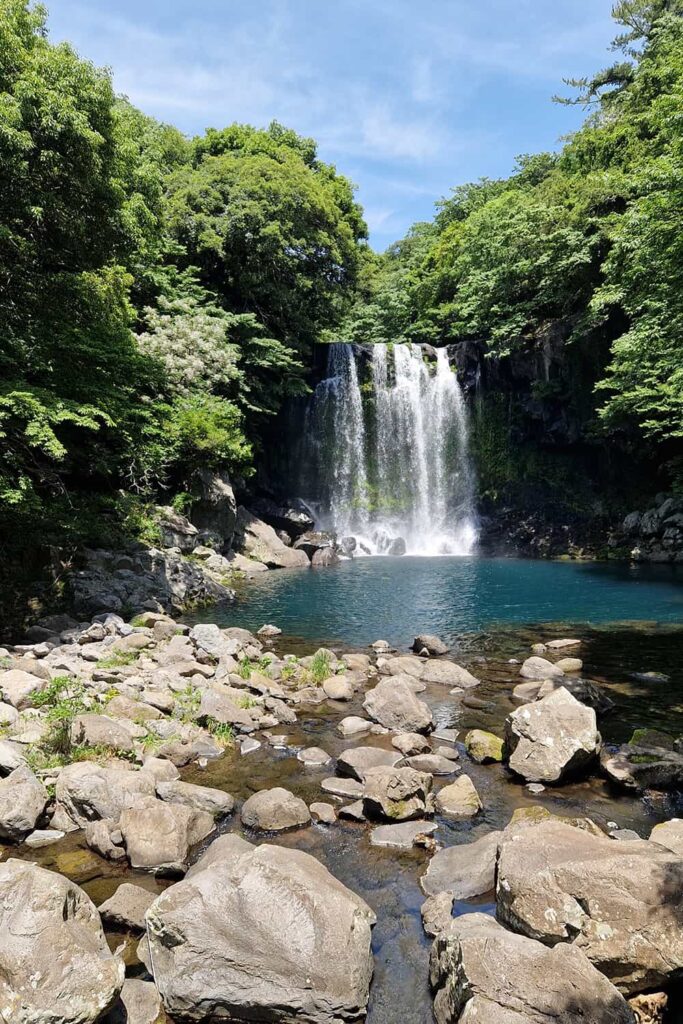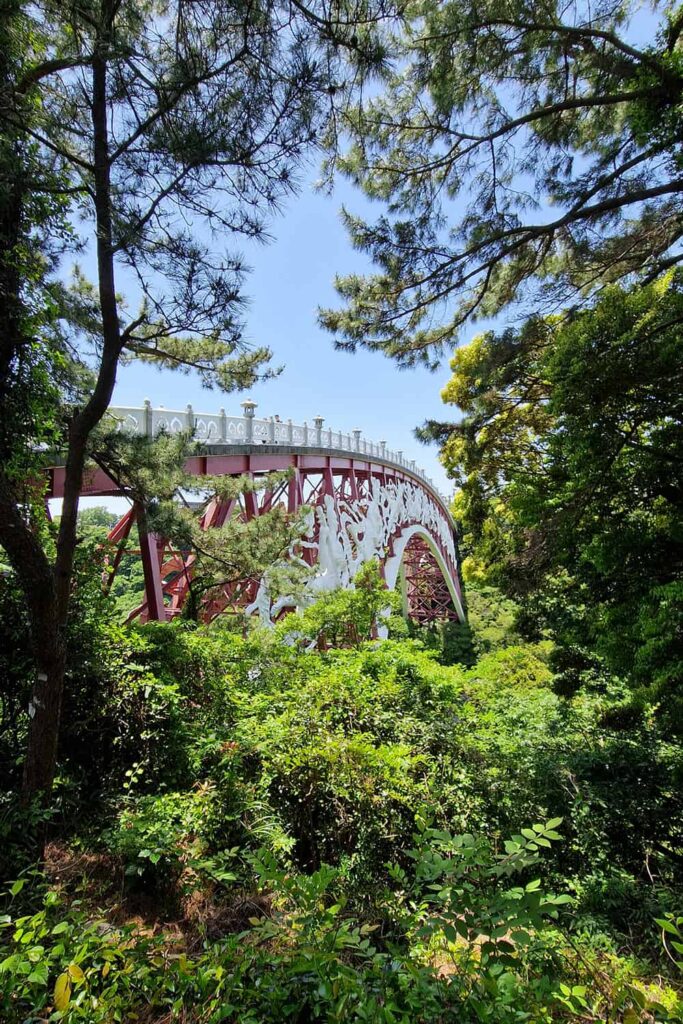 The Cheonjeyeon Waterfall is a three-story waterfall, however the first story actually only carries water after heavy rainfall. This does not take away from the experience though, because the other two waterfalls are quite beautiful. Access to the waterfalls is provided via wooden boardwalks. And, you should be prepared to take a few staircases as well.
Also, don't miss out on the gorgeous Seonim Bridge, which spans over the valley the waterfalls are located in. The entrance fee to see the Cheonjeyeon Waterfalls is 2.500KR₩ per person.
Jungmun Beach
The last stop of today is Jungmun Beach. If you ask us, this is the best beach on Jeju island to have a proper beach day. This beach is definitely completely different from all the other beaches you will find on the island. It is located at the bottom of a cliff and has beautiful yellow sand. Spend some time on the beach and let everything sink in that you have seen so far in your three days on Jeju island.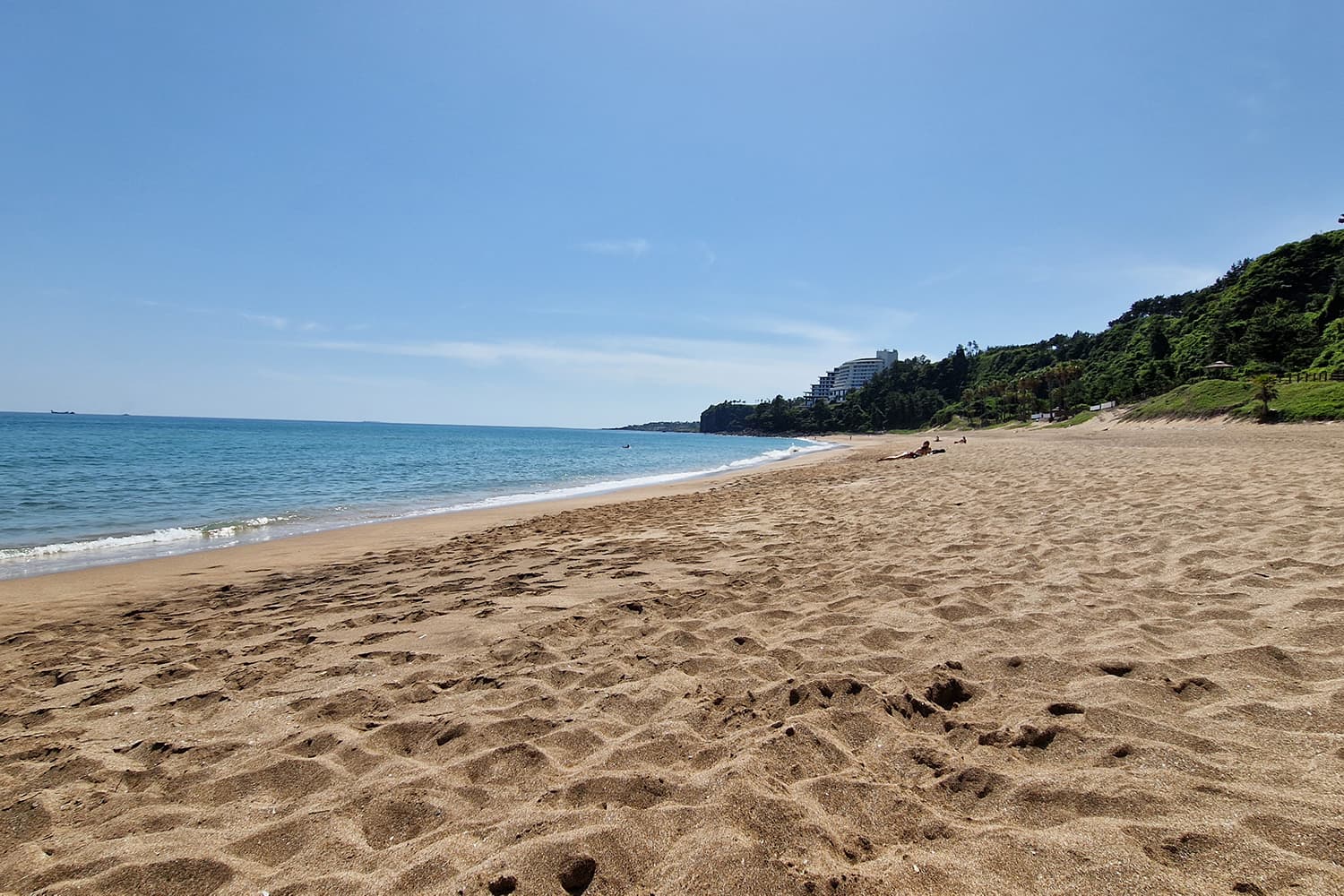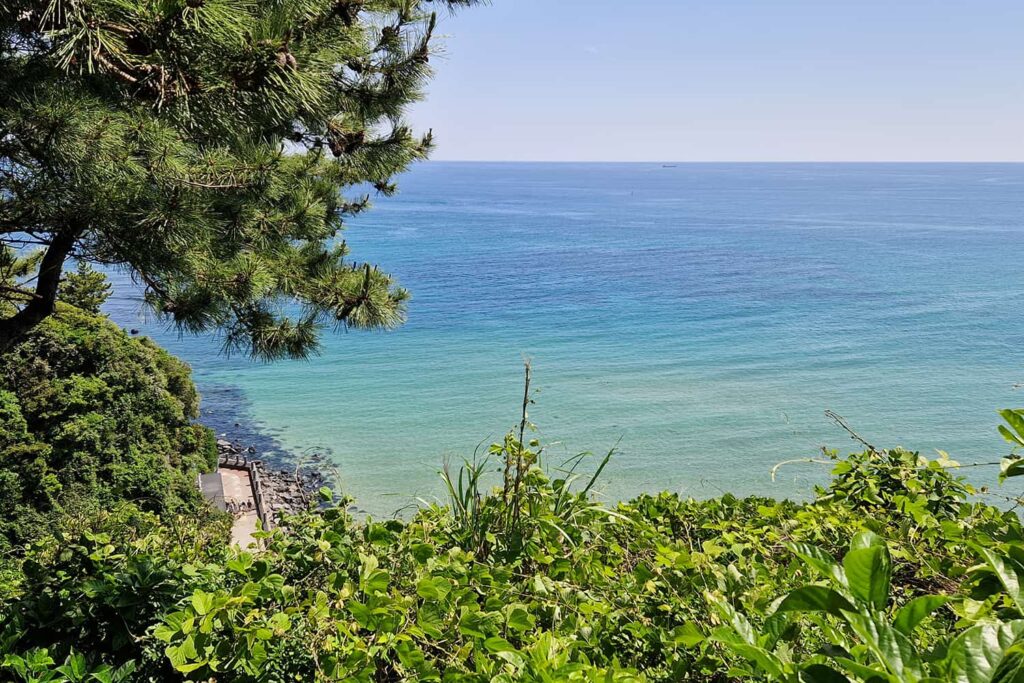 Since we had a hard time finding the entrance to the beach, we'll leave the address here for you, so you don't have to wander around aimlessly like we did to get there. There is a parking lot located here as well. Address: 154-17 Jungmungwangwang-ro, Saekdal-dong, Seogwipo-si, Jeju-do, South Korea.
If an afternoon on the beach doesn't sound like something you would like to do, consider visiting Oedolgae instead. The latter is a beautiful walk alongside the coastline with views of stunning cliffs and rock formations. Just make sure to head there before going to the Cheonjeyeon waterfalls, since Oedolgae is located right next to Seogwipo.
Where to stay:
🏨 Check out Galeum Guesthouse* 
   You can find deals for around 40€/night | Reviews: 8.8 on Agoda
🏨 Check out Gladsheim Hotel* 
   You can find deals for around 60€/night | Reviews: 8.6 on Agoda
Day 4: Jeju Folk Village, Haenyeo Women Divers and Seongsan Ilchulbong
The forth day of this 5-day Jeju island itinerary will give you the opportunity to learn a little more about the culture of this stunning island.
Also, today you'll have to do a bit more driving again. Your day starts off by making your way towards Jeju Folk Village. It is located about an hour away from Seogondo, where you have been staying for the last 2 nights.
Jeju Folk Village is a themed park, that will transport you back in time to what Jeju looked like in 1890, at the end of the Joseon dynasty. Here you can learn a bit more about the history of the island, what it was like to live here back in the day and get a glimpse into Jeju folk culture. Entrance fee: 11.000KR₩.
Since you are in the area, make a quick pit stop at Pyoseon Beach, before heading further east. Your next stop is located a 30-minute drive up the coast:
Seongsan Ilchulbong
Seongsan Ilchulbong is also often called 'Sunrise Peak' and was created, you probably guessed it, by volcanic eruptions. It is 182 meters high and you can hike up to the top. The climb will take about 20-minutes and involves a lot of stairs. But, the views once at the top are amazing!
At the foot of Seongsan Ilchulbong you will find a small bay where twice a day you can watch a performance of the famous Haenyeo. The latter are female divers that make their living by diving for things like sea weed and mollusks. They are an important part of Jeju culture, which is why they were enlisted on the UNESCO Intangible Cultural Heritage of Humanity in 2016.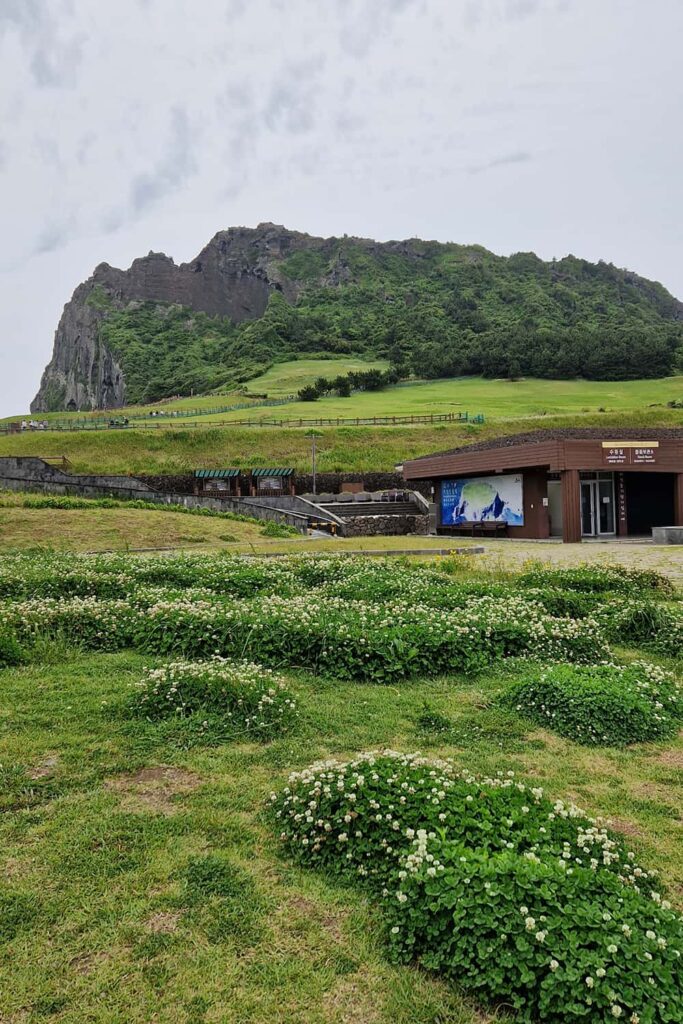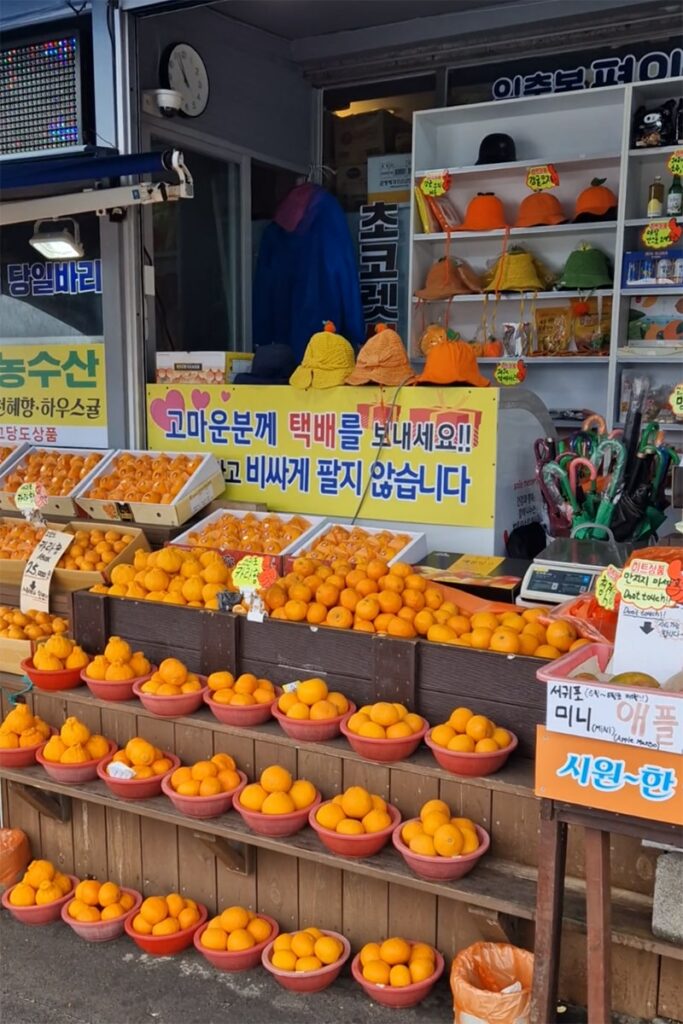 The performance takes place at 1:30 and 3:00 p.m. and is actually less of a show but more of an opportunity for tourists to observe the Haenyeo at work. So, if you are interested in getting a glimpse into this fascinating part of Jeju culture, make sure to be there for the 1:30 p.m. show, which should be very well feasible with this itinerary. Entry to the Seongsan Ilchulbong area costs 2.000KR₩ per adult.
Right in front of the site you will find a huge free parking lot, which does get quite crowded on weekends. There are also numerous souvenir shops here for you can buy tangerine themed items and foods, something Jeju Island is very well known for.
Explore the East coast of Jeju
Later in the afternoon, take some time to explore a little more of the east coast of Jeju island. From Seongsan Ilchulbong make your way towards Hado Beach by taking the coastal road. You will be met with some stunning views, so make sure to make a few stops along the way.
For instance, we stopped at a small café called 'View café' (Address: 208-5 Siheung-ri, Seongsan-eup, 특별자치도, Seogwipo-si, Jeju-do, South Korea) for some pretty amazing tangerine pizza. The shop is let by a lovely elder Korean woman, just be aware that they close at 4p.m.!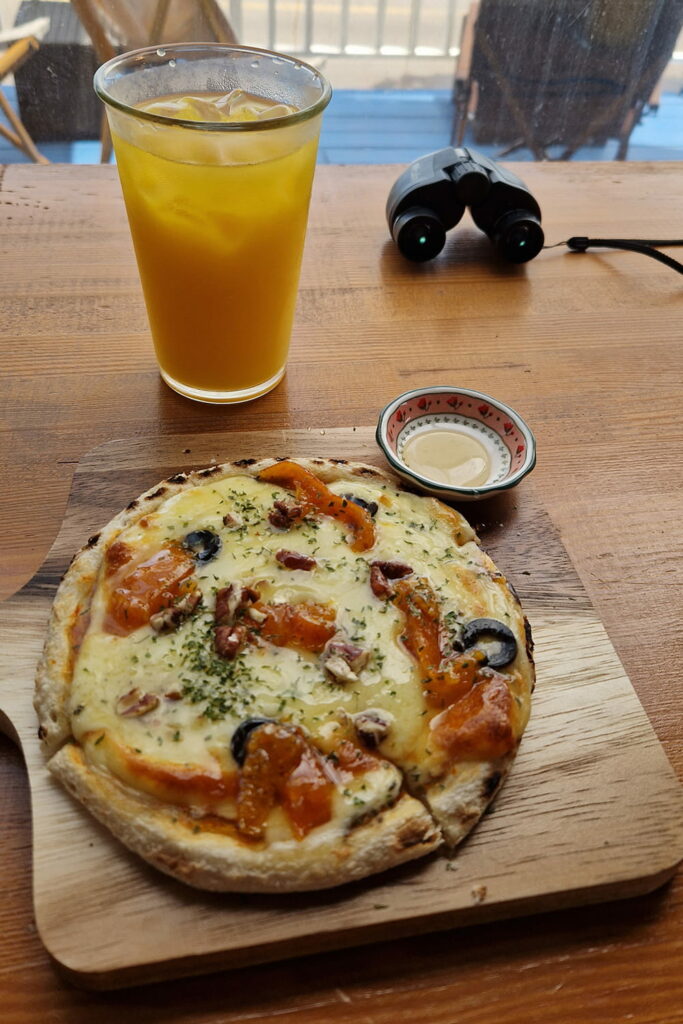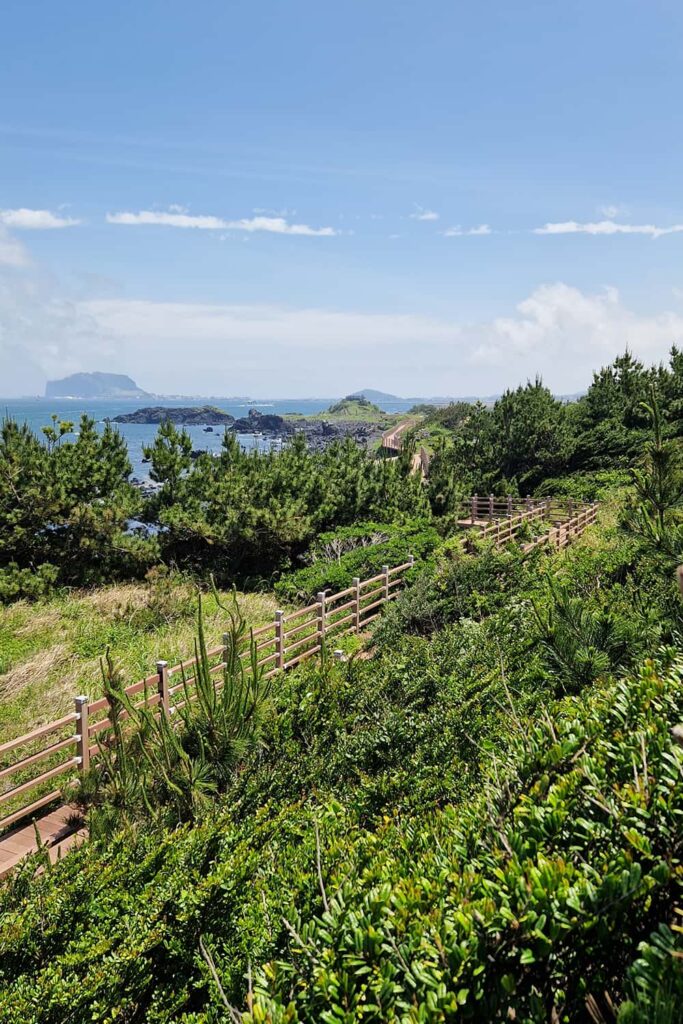 Then we made our way further up towards Jongdal Port and stopped afterwards at an absolutely stunning viewpoint, which we could not find the name of so here is the address (Address: 451-3 Jongdal-ri, Gujwa-eup, Jeju-si, Jeju-do, South Korea).
Finally we made it to Hado Beach. On the farther end of Hado beach, you'll find some sort of fishing village. It is not actually a village, but there is a small shop and a monument and it is one of the locations where Haenyeo women still work until today! So make sure to drop by.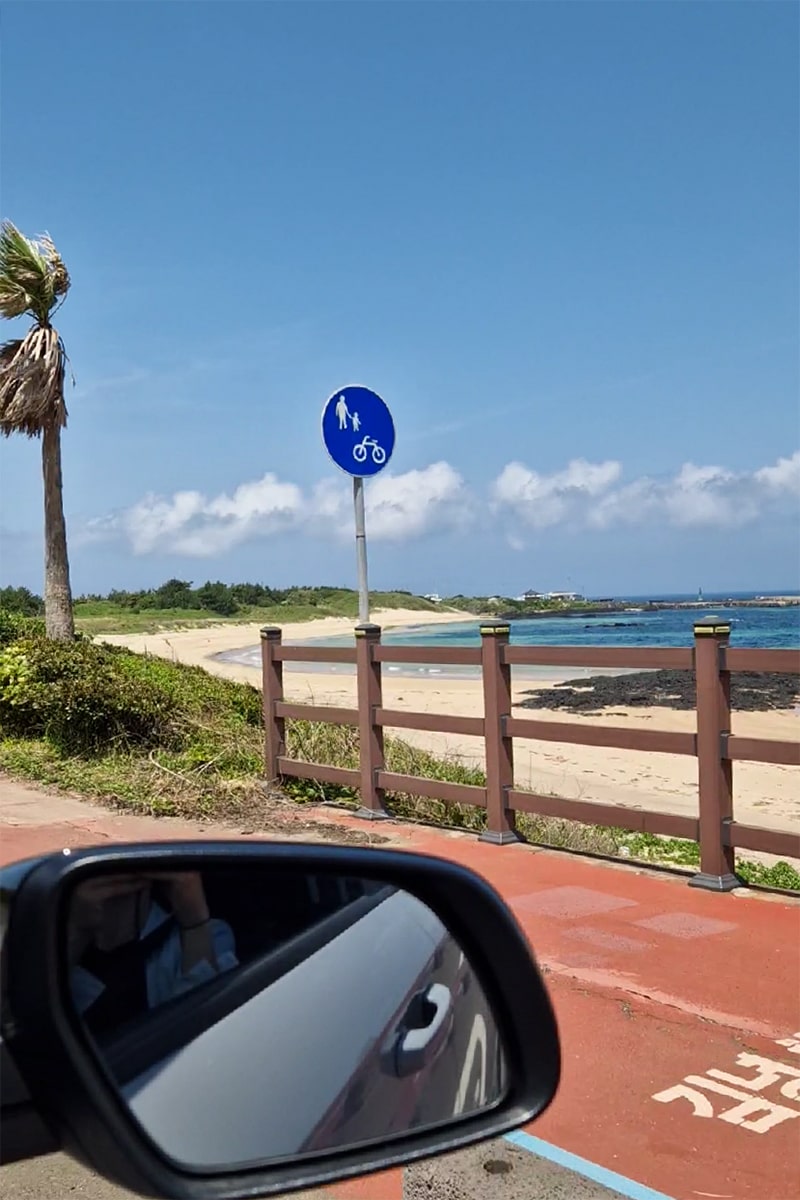 Now it is time to make your way back and check in to your accommodation. We stayed at Playce Camp Jeju, a modern yet pretty affordable hotel which, from what we saw, seems to cater a lot towards people in their 20's and 30's.
Where to stay:
🏨 Check out Playce Camp Jeju* 
   You can find deals starting at 31€/night | Reviews: 8.7 on Agoda
Day 5: Woljeongri Beach and Manjanggul Lava Tube (Optional: Dongmun Traditional Market)
If you do not wish to hike Mt. Hallasan, today is your last day on Jeju Island! So, today's focus lies on making your way back towards Jeju Airport. Depending on when your flight leaves, you will have more or less time to do so. However, make sure to not book a flight that leaves too early. Because, we still have two spots left to explore!
Manjanggul Lava Tube
This cave is actually a lava tube and a pretty impressive one at that. It is the 12th largest one in the world and was formed thousands of years ago! There is a 1-kilometer long area within the tunnel that tourists are allowed to go in to. Within the tunnel you'll also discover some interesting formations, such as the highest lava column in the world!
Visiting the Manjanggul Lava Cave will cost an entrance fee of 4.000KR₩ per person.
Woljeongri Beach
After spending some time admiring the cave, it is time to visit one last beach on this trip! Woljeongri Beach is located only a few minutes drive away from Manjanggul Cave. We would say that this beach is definitely a typical Jeju beach again. It has white sand, stunning blue water and volcanic rocks scattered along the coast. A perfect spot to end this trip!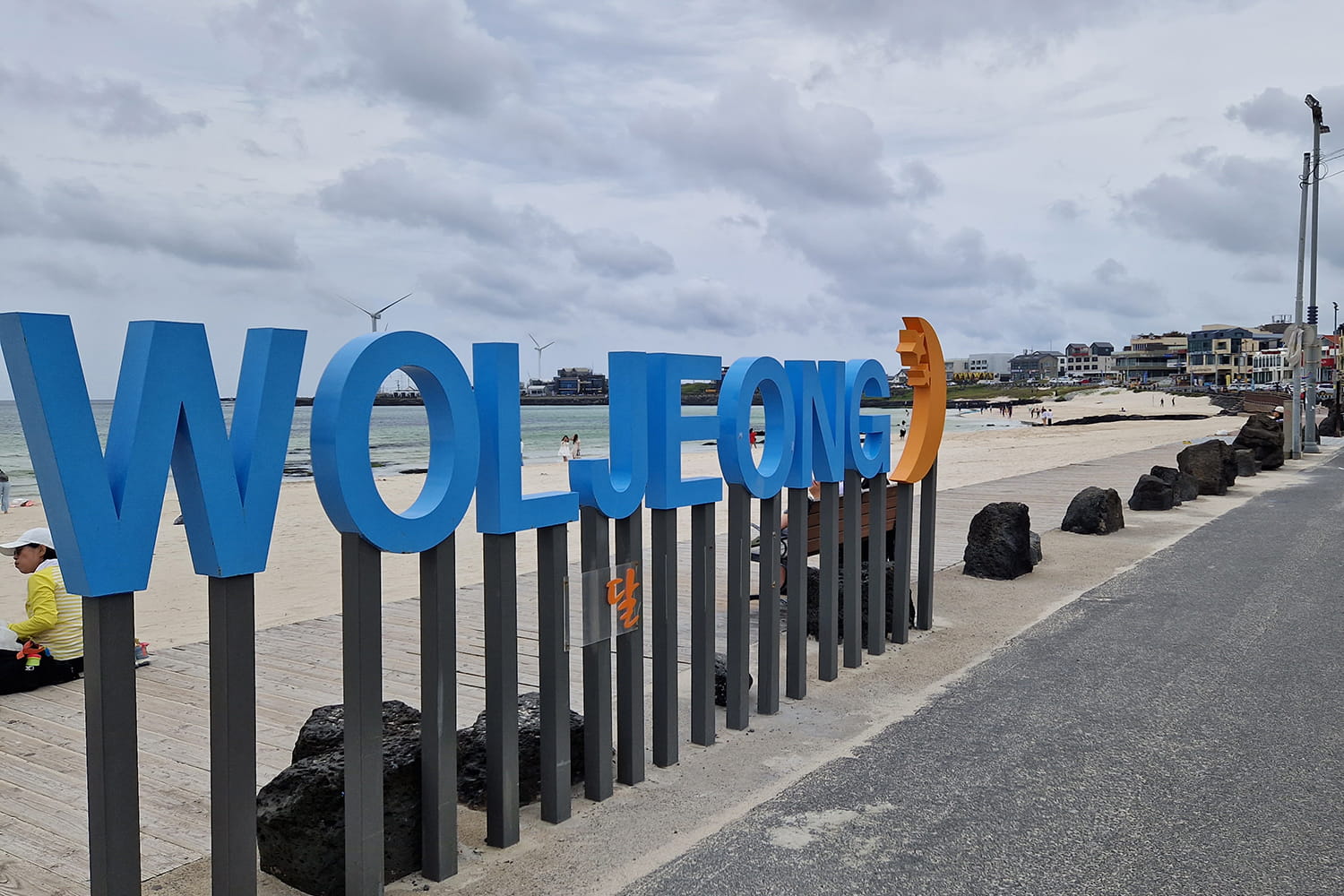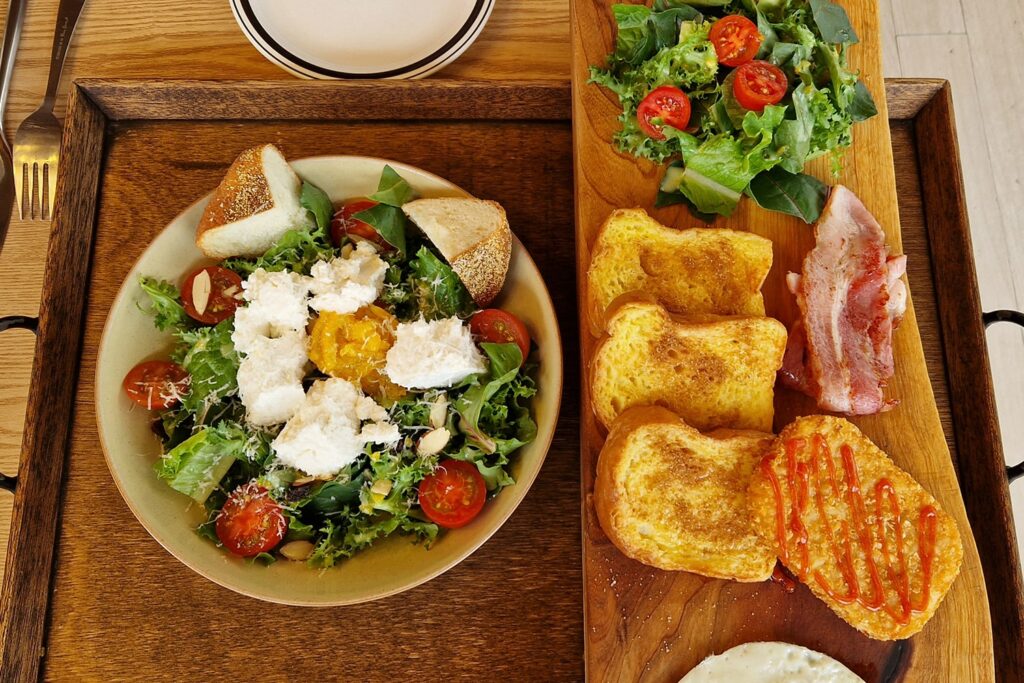 The beach is located inside a town, so it is an ideal place to find a late breakfast or early lunch, before taking on the one hour drive back to the airport where you will drop off your car.
Optional: Dongmun Traditional Market
For those of you that decided to extent their stay to hike Mt. Hallasan, you have two options. Either you drop off your rental car on day 5 and get to the starting point of the hike by bus. Or you keep your rental car for one more day and drive there yourself the next day.
Either way, tonight you will be staying in Jeju-City! Admittedly, compared to the rest of the island, Jeju City does not have that many exciting things to do, however there is one thing you should not miss though: Dongmun Traditional Market. This market is huge – way bigger than the one you already visited in Seogwipo.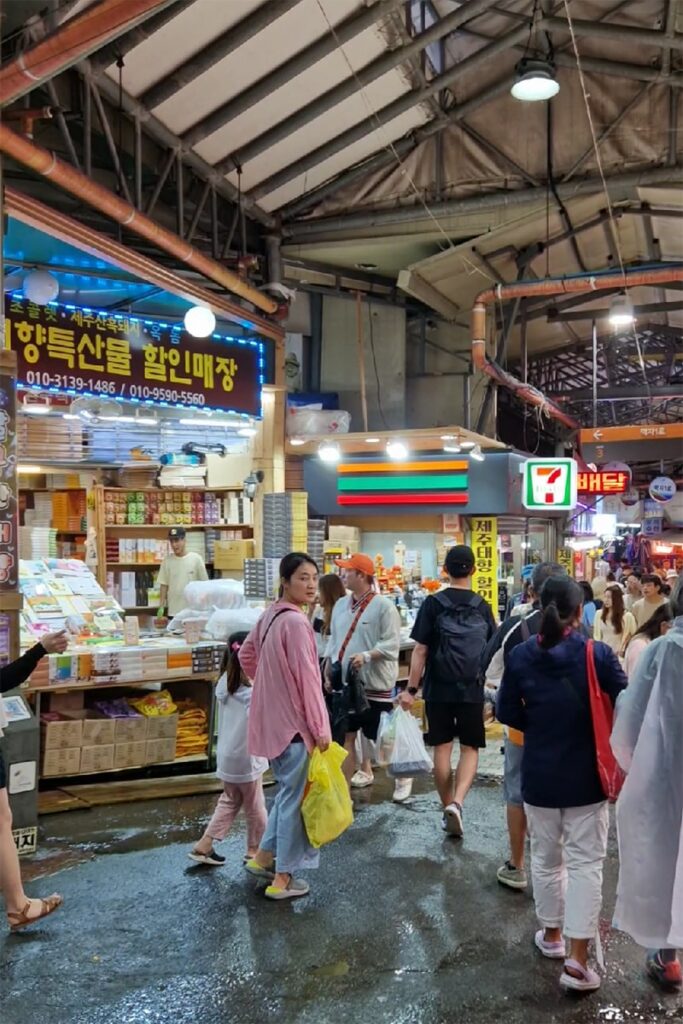 You will find all sorts of produce here: fresh fruit, sea food, spices, nuts, vegetables, tons of kimchi and other fermented vegetables. It is a great place to stroll around for a while and observe the locals doing their daily shopping!
The most interesting part though is probably the night market. Around 7p.m., when other sections of the market close down, one section of Dongmun Market really comes to life: the street food section.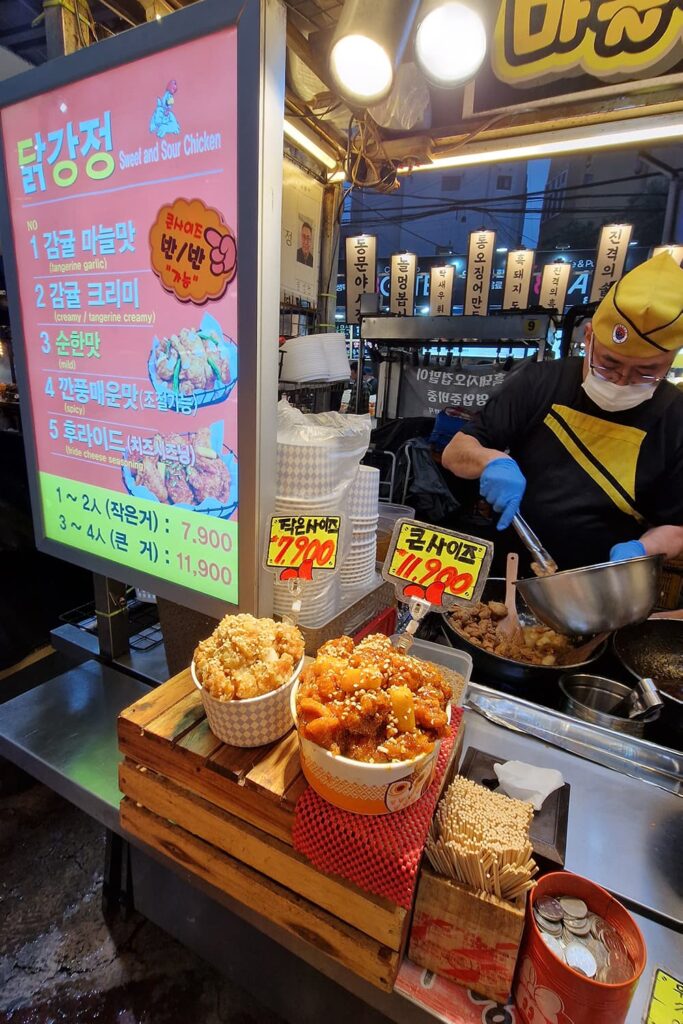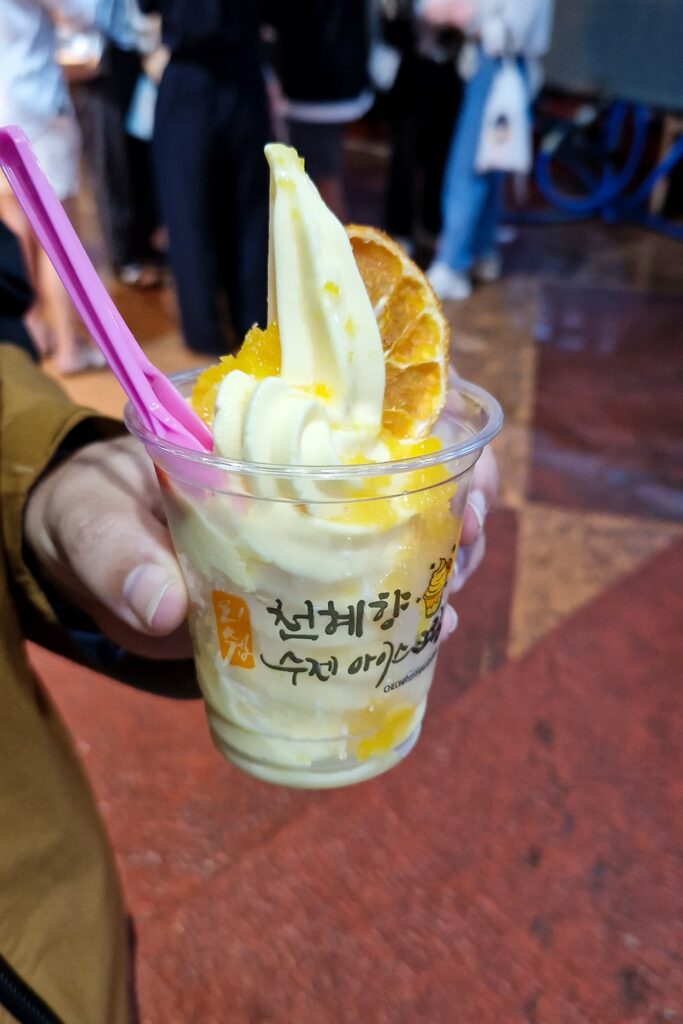 It is not that huge, but you definitely will not have trouble finding some amazing street food to end the day. Since we visited on our last day on Jeju island, we went all-out with the tangerine themed foods. We got ourselves tangerine flavored fried chicken, tangerine ice cream as well as tangerine juice. But there is a big variety of other things to try as well.
Before heading back to your accommodation for the night, make sure that you have everything you need for your hike up Mt. Hallasan the next day.
Optional: Day 6: Hike Mt. Hallasan
Mt. Hallasan is actually a volcano that sits in the center of Jeju island. With its 1950 meters of height, it is the highest peak in all of South Korea and today, you will stand on top of it!
However, since Day 6 is optional and not technically a part of this 5-Day Jeju Island itinerary, we won't go to much into the details of hiking Mt. Hallasan here.
For those that wish to do so or if you are curious what it is like to hike Mt. Hallasan, we wrote a complete separate guide on hiking Mt. Hallasan. In there we touch on how to properly prepare for this hike, how to get there, where to stay and what documents you need to organize in advance. So go check it out!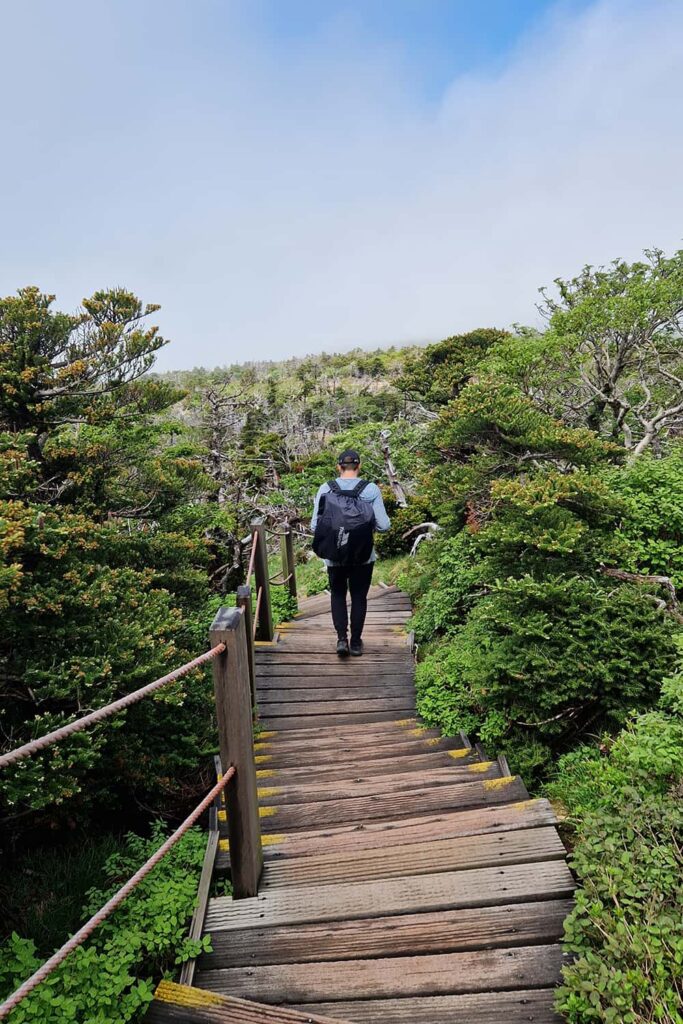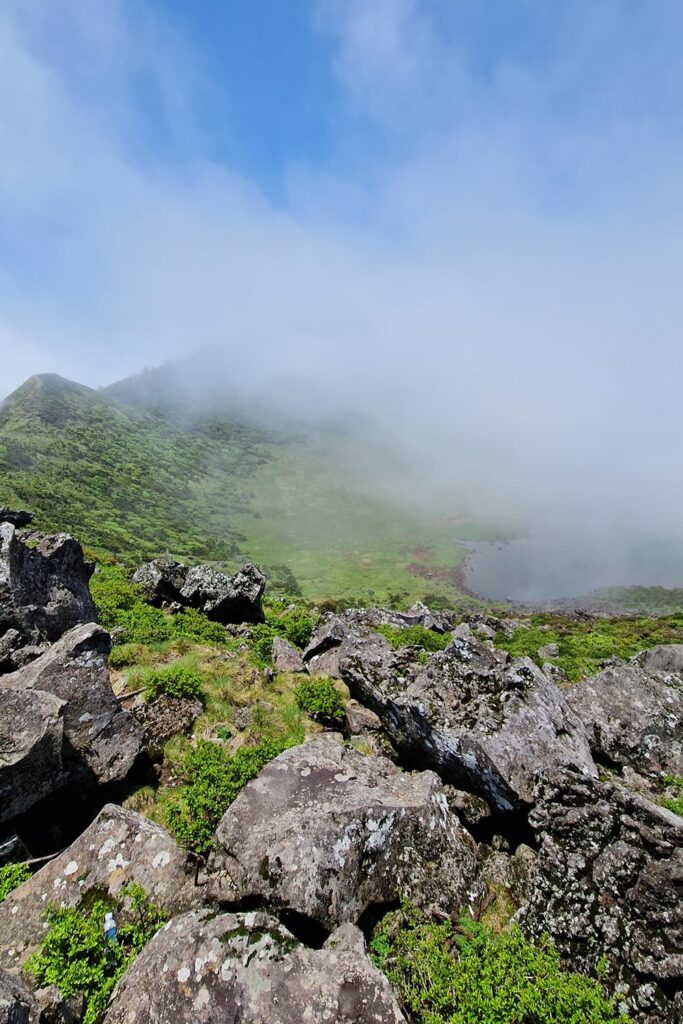 Final thoughts on this 5-day Jeju Island itinerary
In our opinion, five days is a good amount of time to circle the whole island of Jeju. It will allow you to see most of the major sights on the island, while still being able to not rush through everything.
If you do not have that much time to spare, rather than compacting everything into less time, leave out one part of the island you are least interested in. This will spare you a lot of time wasted on driving and give you more time to explore the places you do visit.
Jeju Island is truly a stunning island. And since it is so different from mainland South Korea, it makes for a perfect addition to your South Korea trip!