10 Awesome Dishes you Need to Try in Jeonju Hanok Village
We spend two full days in Jeonju Hanok Village and having read about Jeonju's reputation of being one of the best places when it comes to food and gastronomy within South Korea, we were pretty exited!
So, over the next few days of our stay, we kind of made it a mission to eat our way through Jeonju Hanok Village. And, we were not disappointed!
In this post we share with you the best food we ate in Jeonju Hanok Village and aim to give you inspiration on what to eat on your next trip. We will not only share what we ate, but also where to find these specific dishes and how much they cost, in case you want to try them for yourself!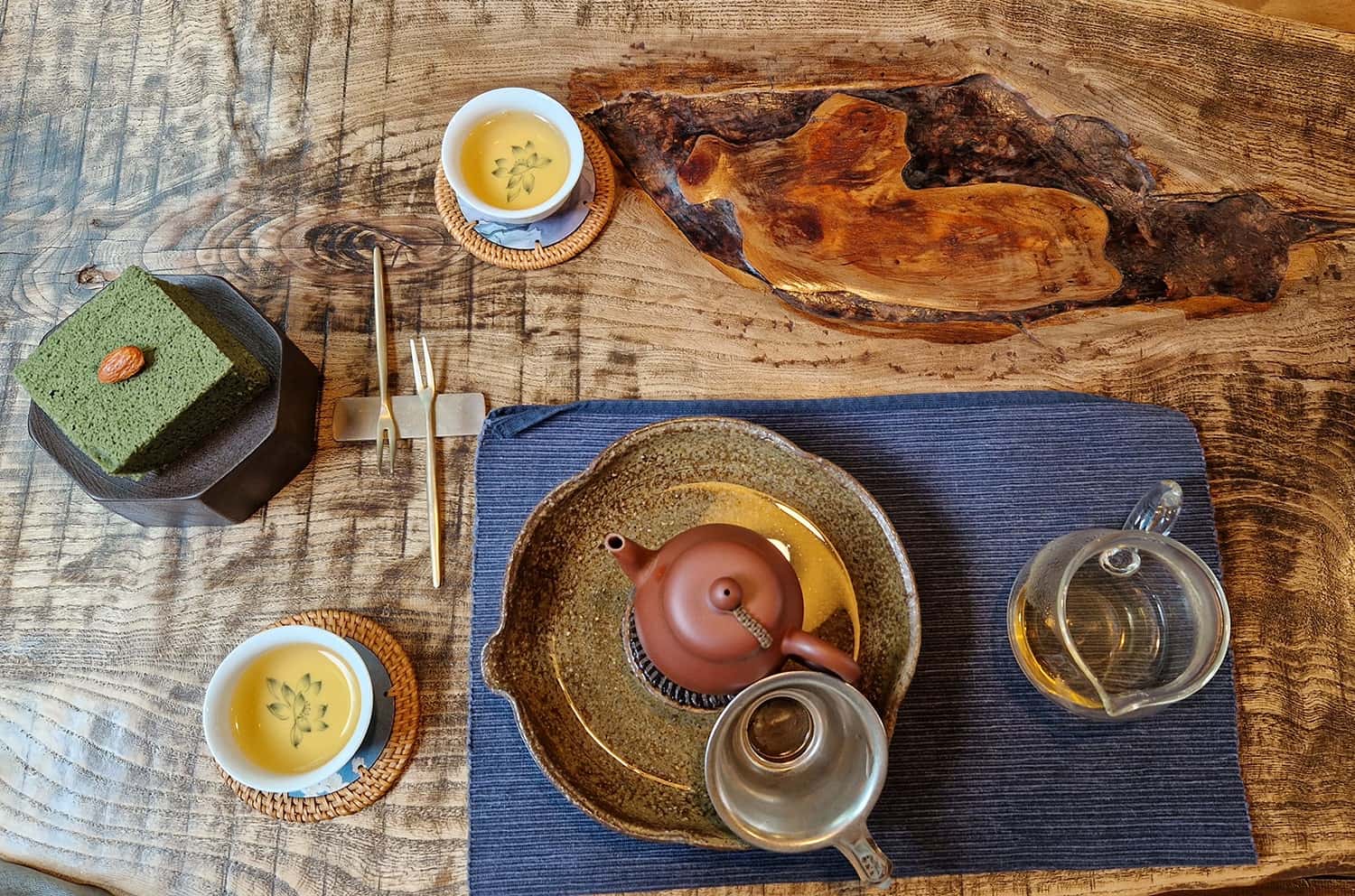 Our Top 10 Best Food to Try in Jeonju Hanok Village
Before we get in to this list, there are a few things we would like to quickly address. First, we want to put an emphasis on the fact that we spend nearly the entirety of our time in Jeonju Hanok Village. The city of Jeonju itself is much bigger and in this post we will only cover dishes you can find inside the cities' Hanok village!
Second, this post is by no means a compete food guide to the city of Jeonju. It is more of a snapshot of what we ate based on our interests and preferences while staying in Jeonju Hanok Village. And maybe you will like some of these dishes as well!
Now that that's out of the way, let's get started!
1. Bibimbap
Bibimbap is actually the most popular Korean dish among foreigners. And, we definitely get where this comes from, because it is among our favorites as well.
Typically bibimbap consists of rice that is then topped with a variety of vegetables, gochujang sauce, sometimes meat and an egg. Before eating you mix everything well together.
Jeonju is very well known for its bibimbap, which is one more reason why you need to go eat it. Apart from the fact of course that the dish is truly delicious. Like always in South Korea, the dish is typically served with several banchan. And, at the restaurant we ate at, there were actually quite many!
Where? Gyodong Ttoekgalbi (Address: 73-2 Pungnam-dong 3(sam)-ga, Wansan-gu, Jeonju-si, Jeollabuk-do, South Korea)
How much? 12.000 – 15.000KR₩ per bibimbap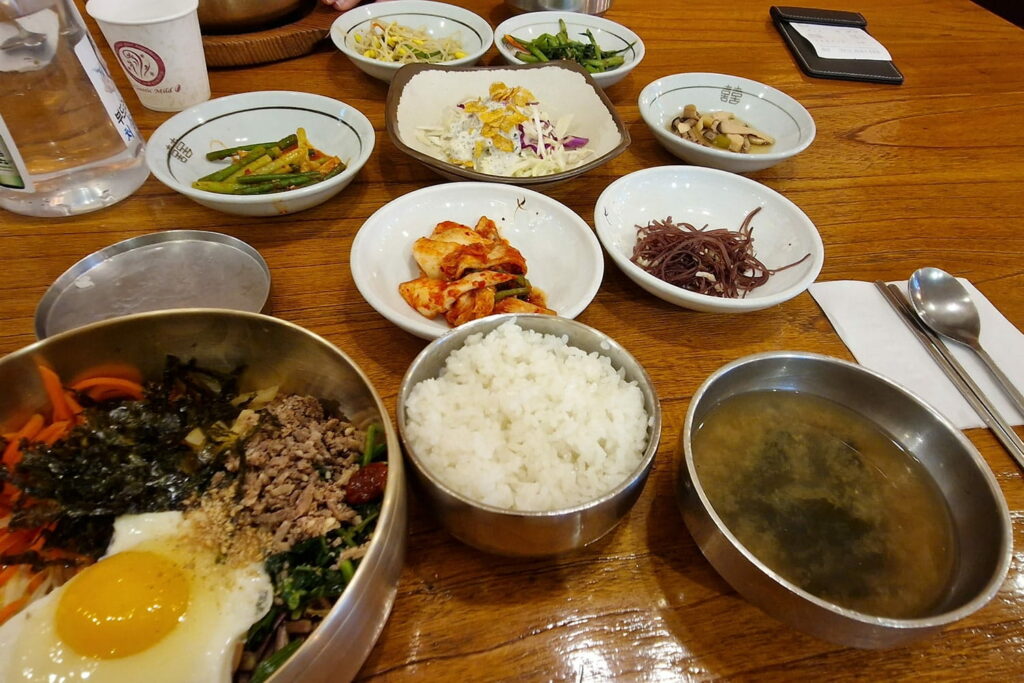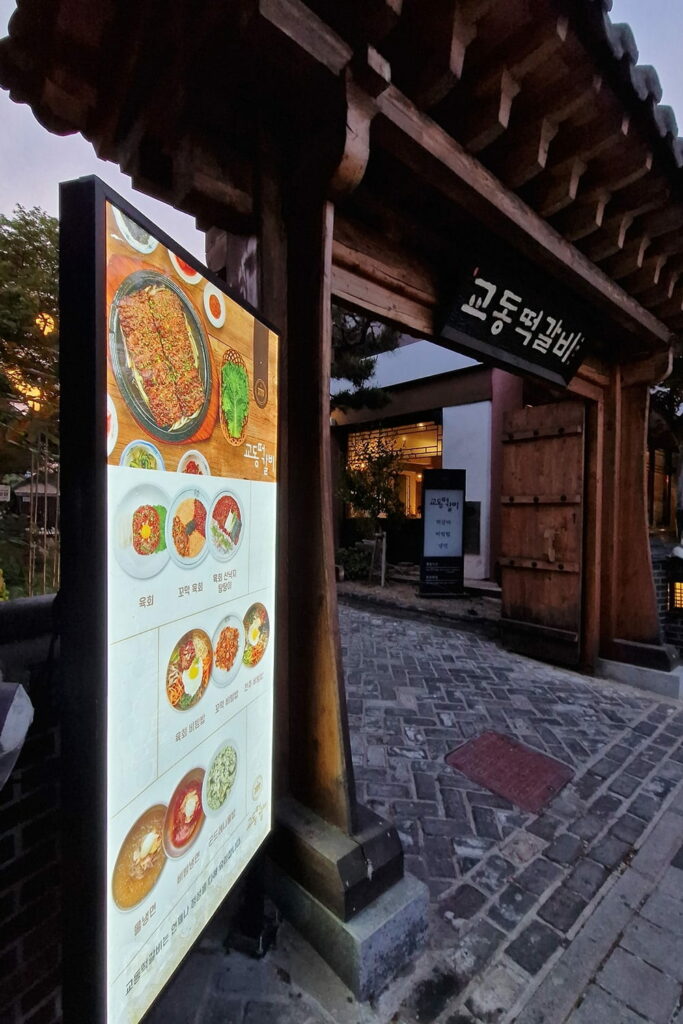 2. Mul-Naengmyeon and/or Bibim-Naengmyeon
Naengmyeon is a Korean noodle dish. It actually consists of cold thin chewy wheat noodles that are served in a cooled beef or radish water kimchi broth. The broth is cooled with crushed ice, which is still inside the broth at the time of serving.
There are two variations of the dish, Mul-Naengmyeon and Bibim-Naengmyeon. I (Florence) ordered Mul-Naengmyeon which were cold noodles inside a radish water kimchi broth, topped with cucumber, pickled radish and a cooked egg. Andy chose Bibim-naengmyeon, which is the spicy variation of the dish as they add gochujang (chili-paste) to it.
The dish is super refreshing and great to eat during the summer! Just be careful not to choke on the noodles. When they say chewy, they really mean it! You should be given some scissors when ordering this dish, so make sure to cut the noodles to an appropriate size for you to eat them.
Where? 교동사랑 (Address: 완산구 교동 216-3번지 1호 전주시 전라북도 KR or R562+MP Jeonju-si, Jeollabuk-do, South Korea on Google Maps)

How much? 7.000KR₩ per bowl of Naengmyeon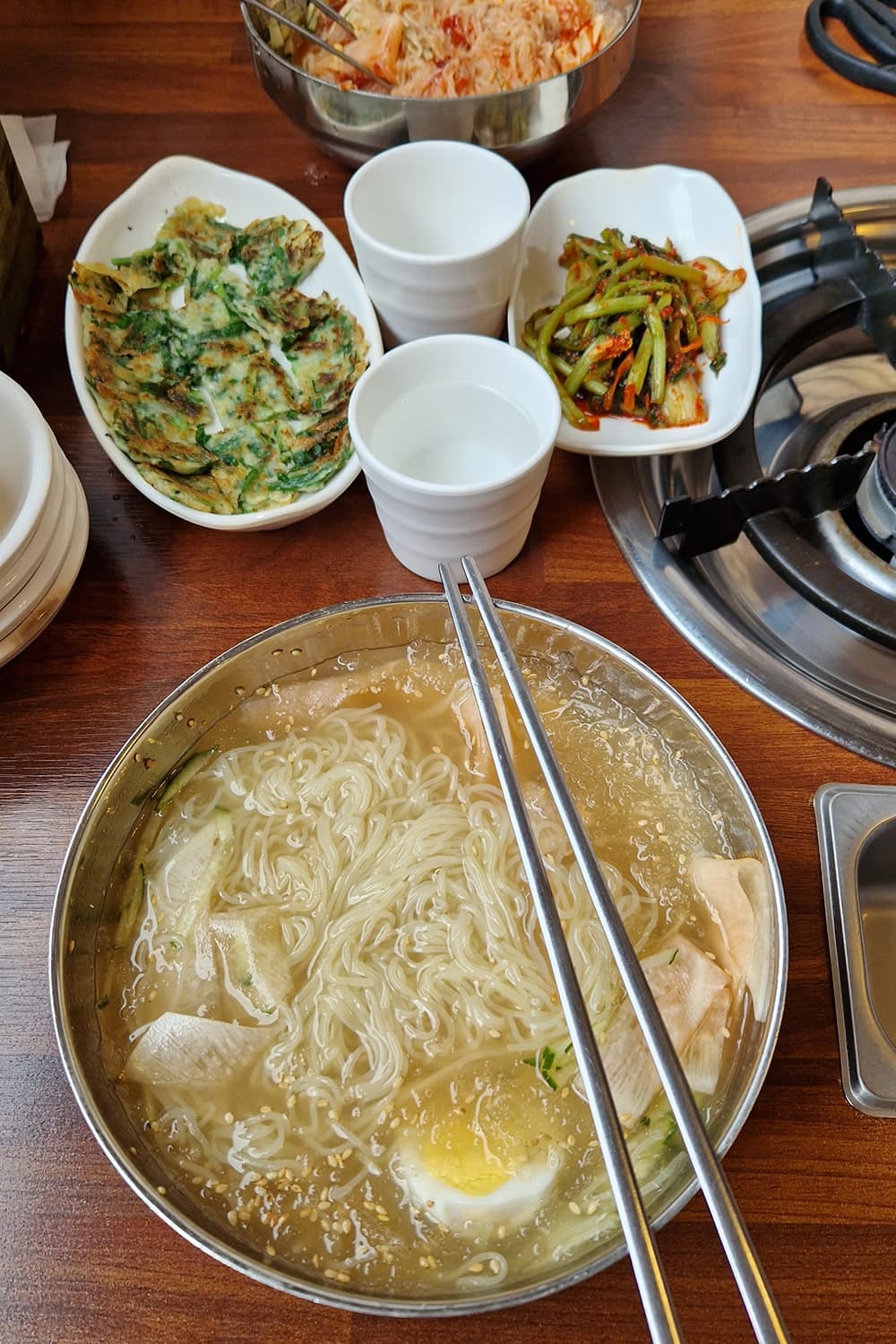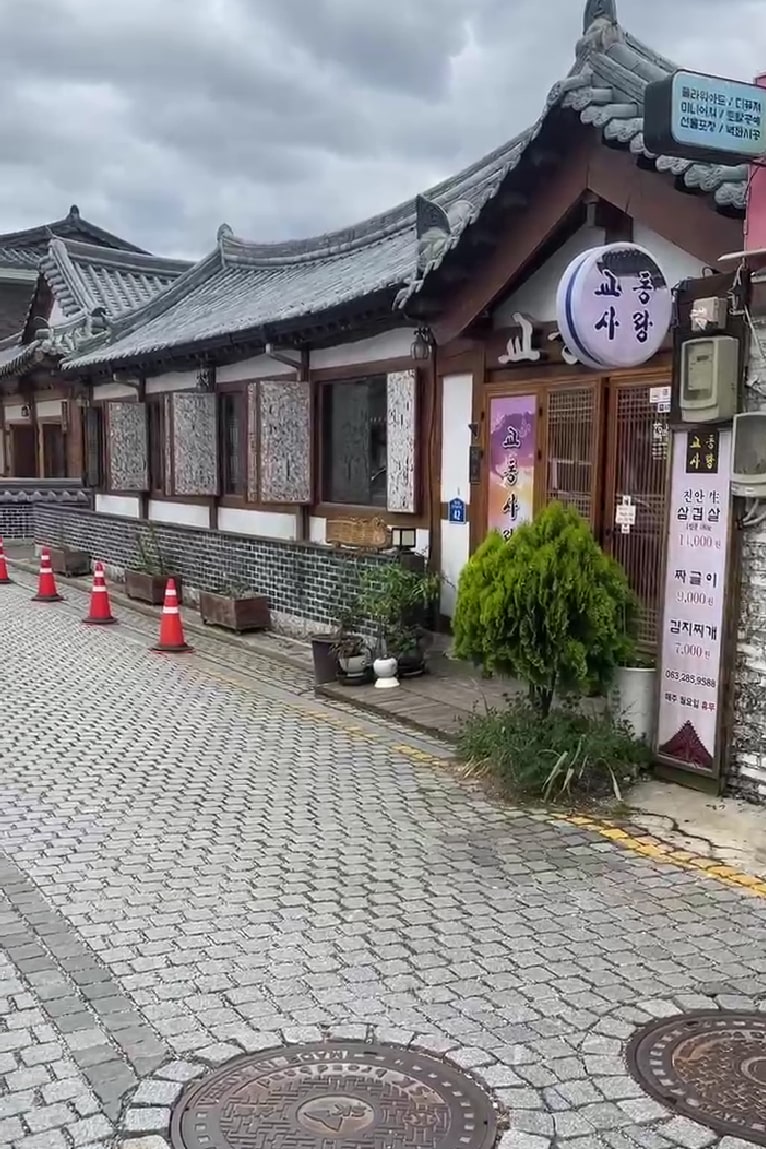 3. Bibimbap Waffles
This dish was actually more of a chance encounter while strolling through the Jaman Mural Village. So technically it's not inside Jeonju Hanok Village, however this is located right next to it. It is actually a small shop/restaurant, run by this lovely lady that basically puts the ingredients of a bibimbap into a savory waffle roll. And from a taste-point-of-view, this works really well!
We are not the first ones to stumble upon this gem though, the lady has posters of TV-shows and YouTubers, that discovered her shop somewhere in 2016 I believe, plastered to the side of her shop. The latter is quite common in South Korea we have found. We have seen numerous shops and restaurants using this as advertisement.
Where? Cafe Dulmo (Address: 54-44 Gyo-dong, Wansan-gu, Jeonju-si, Jeollabuk-do, South Korea)
How much? 6.000KR₩ for one waffle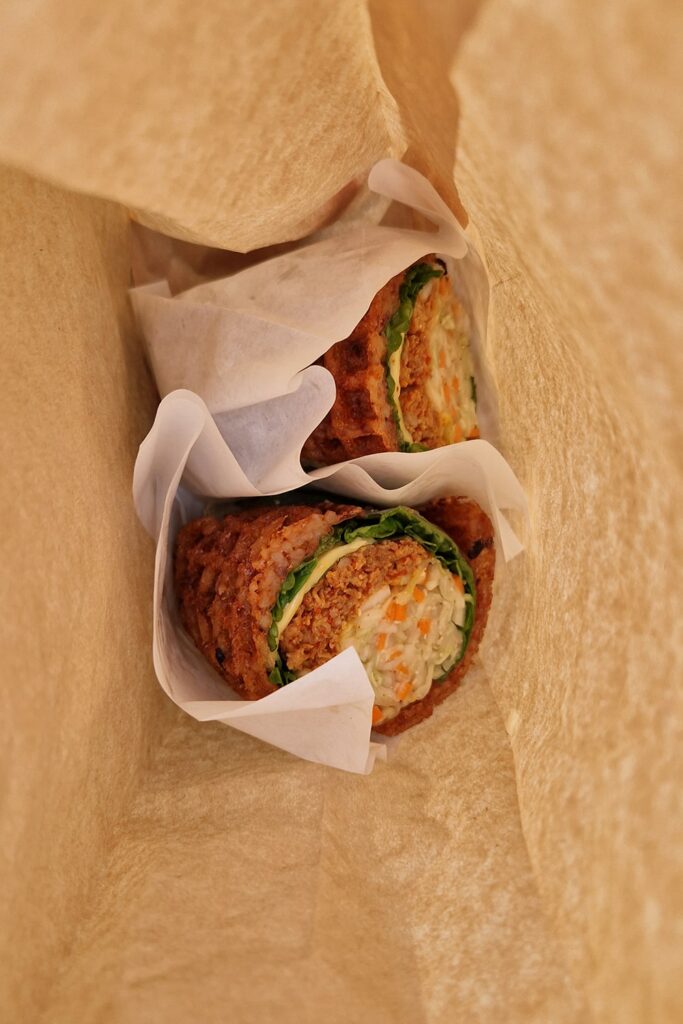 4. Dumplings
Right in front of Gyeonggijeon (a shrine inside the Hanok village), there is a shop selling all sorts of dumplings. They did not necessarily have Korean dumplings (Mandu), but many of them were inspired by Korean ingredients. We tried the fried dumplings with japchae, shrimp dimsum as well as the oven-backed vegetable dumpling. The latter was definitely our favorite!
Where? Dawoorang (Address: 269-2 Gyo-dong, Wansan-gu, Jeonju-si, Jeollabuk-do, South Korea)
How much? Prices vary between 2.000-4.000KR₩ per dumpling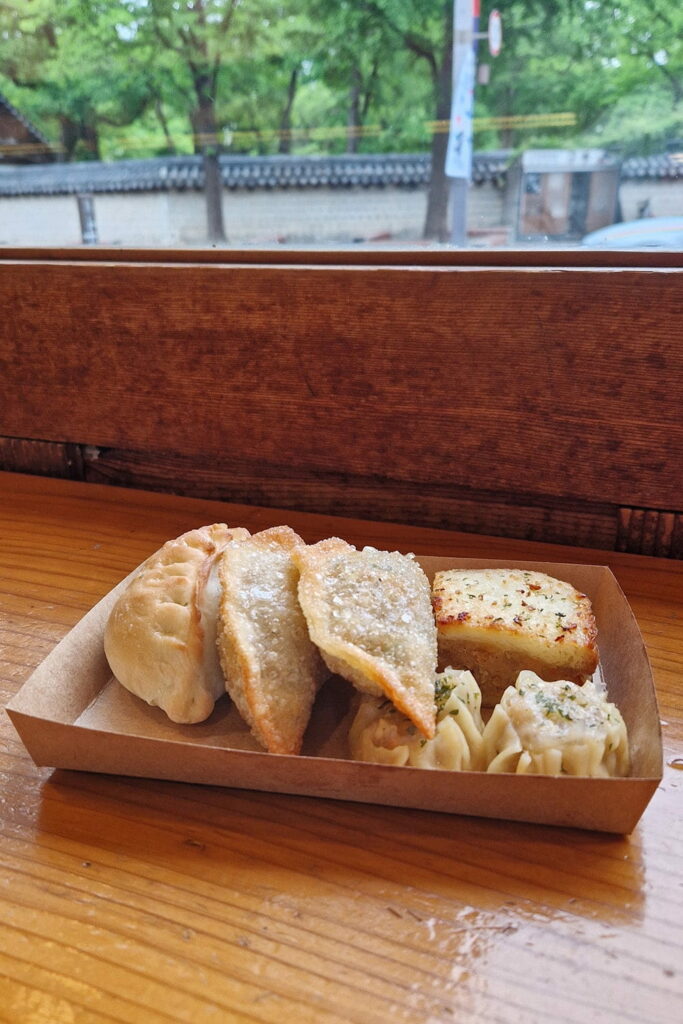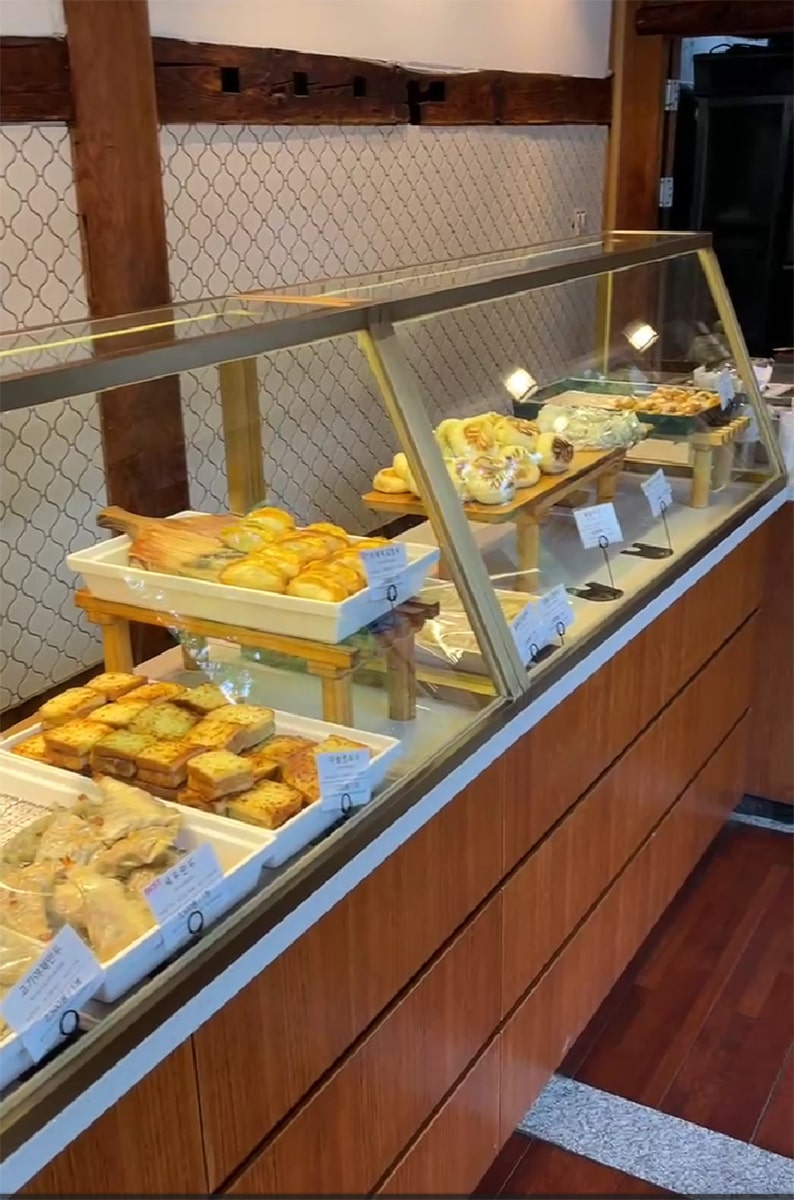 5. Gamjajeon
A Gamjajeon is a type of jeon or Korean pancake. The Gamjajeon specifically is usually made by frying grated potatoes. So, all of this to say that it is essentially a potato pancake. It was really delicious though and a great snack to share for in between.
Where? We can't find the restaurant on any map, however if we are correct, it should be at the following address: 69-4 Gyo-dong, Wansan-gu, Jeonju-si, Jeollabuk-do, South Korea
How much? 15.000KR₩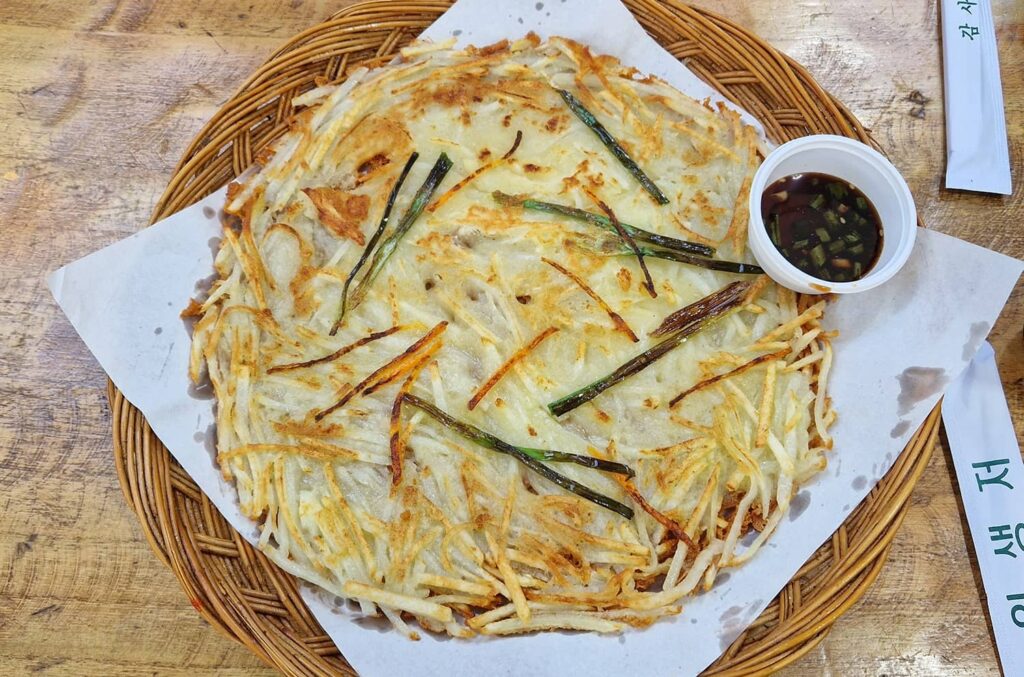 6. Tteok-galbi
Tteok-galbi is a dish that is traditionally made with minced beef short ribs. There is a story that says it was created in the royal court cuisine because it was not appropriate for kings to nibble on normal grilled short ribs. Today the dish can also be prepared with a mix of beef and pork or just pork.
Where? Gyodong Tteokgalbi (Address: 73-2 Pungnam-dong 3(sam)-ga, Wansan-gu, Jeonju-si, Jeollabuk-do, South Korea)
How much? 12.000KR₩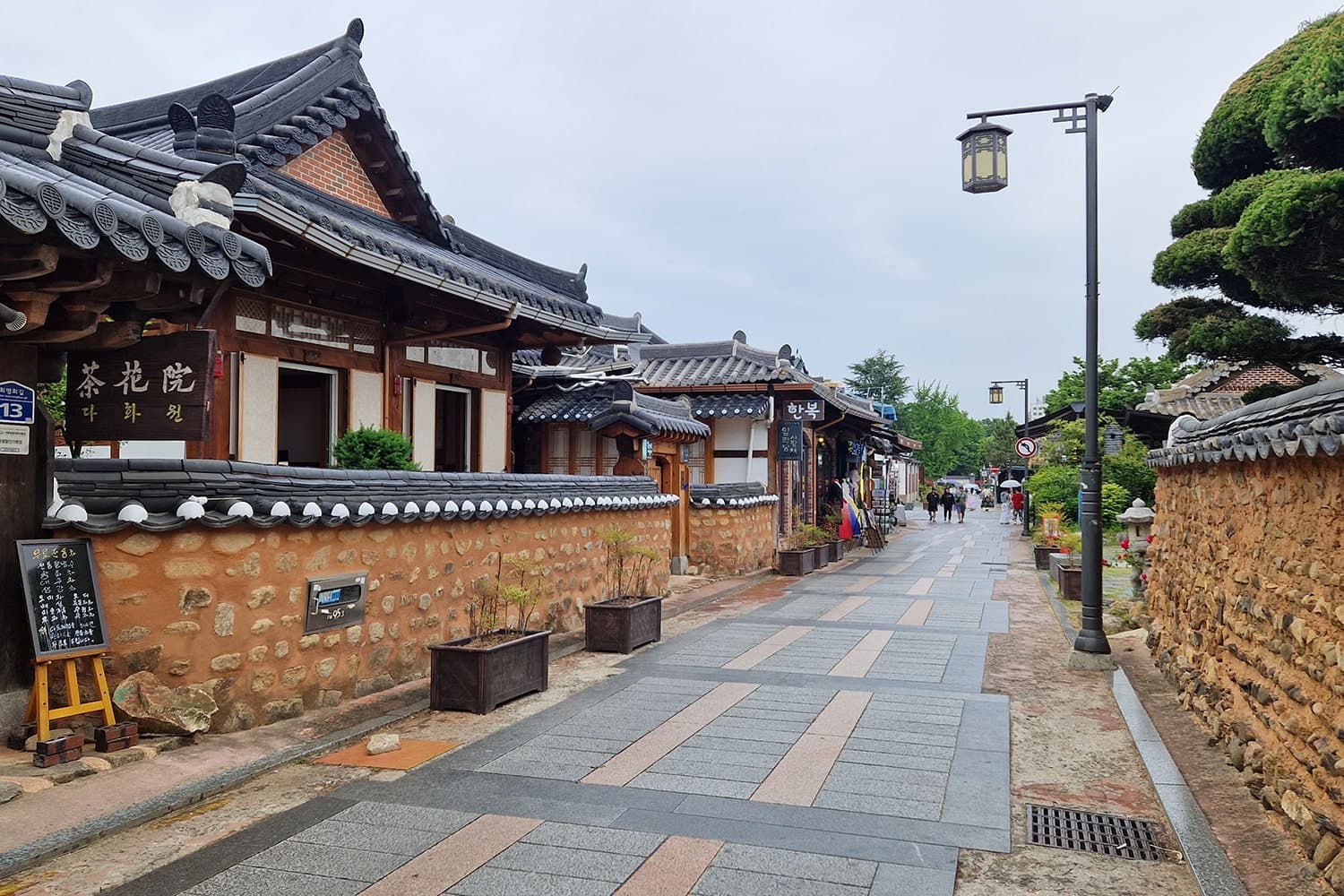 7. Jajangmyeong
Jajangmyeong is a Chinese-Korean noodle dish. It is quite recognizable due to its black color that comes from the chunjang (black bean paste) sauce. Often the noodles are served with meat and vegetables.
From what we gathered through our research, there is a Jeonju variation of this dish called Mul-Jajangmyeong. The latter differs from the traditional dish by using seafood instead of meat. Also it does not have the black color of the traditional Jajangmyeong.
This is the only dish on this list that we didn't get around to trying. So we actually don't have a place we can recommend you to go to. We still wanted to include it though, because then maybe you get to try it!
8. Traditional tea with mugwort sponge cake
Now, on to dessert! During a rainy afternoon, we were looking for a place to escape the weather for a bit and what we found was a real gem.
Gyodong Tea Garden is hidden away in a side alley, which makes it nearly impossible to find when walking on the main street. The Tea Garden has a beautiful wooden interior and in combination with the rainy afternoon, it had a really welcoming and comfortable atmosphere to it.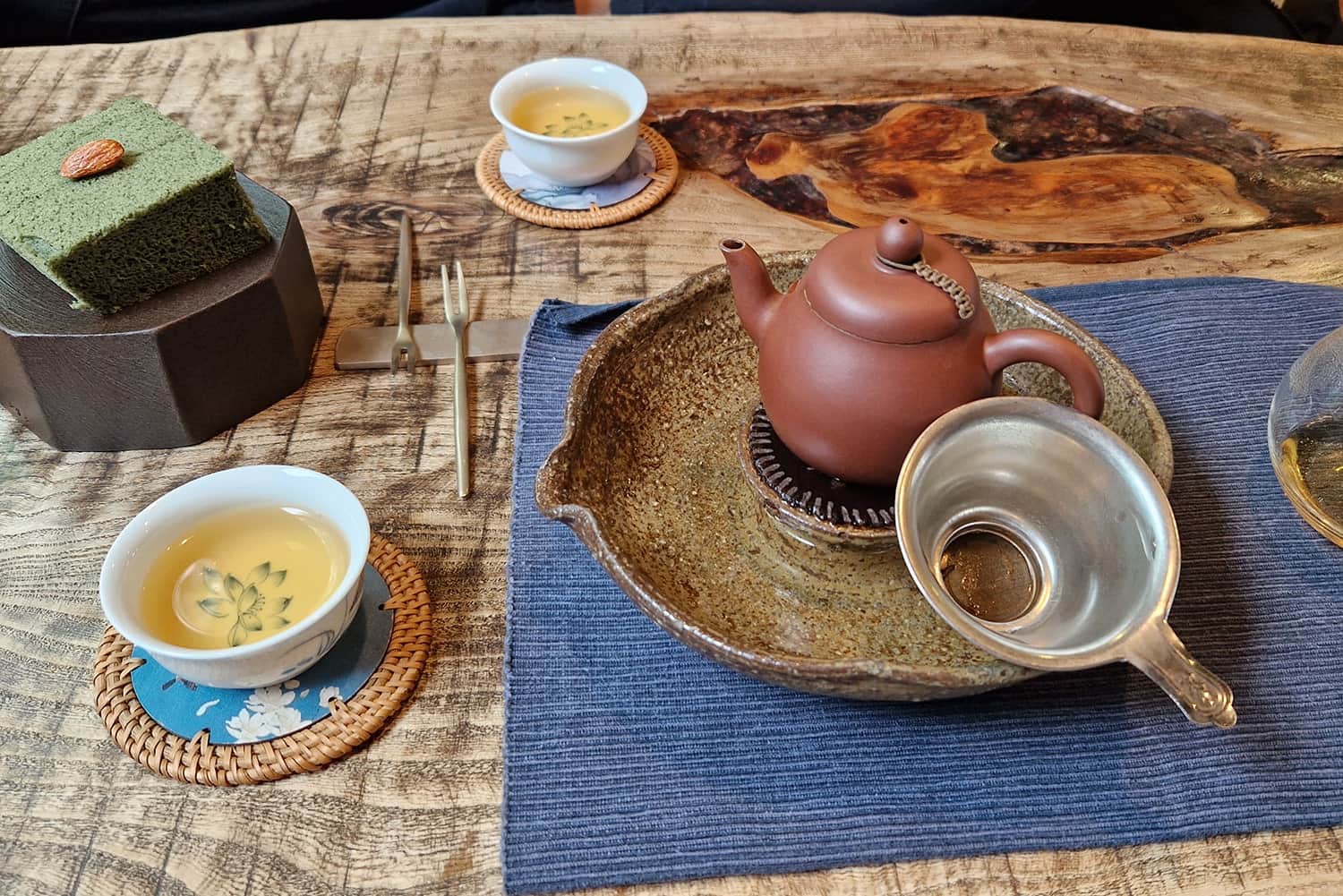 The waiter recommended us to try their Golden Tea, which we did. He brought us a thermos jug with hot water, a small traditional ceramic tea pot with the tea leaves inside, a glass jar and a filter to put on top of the glass jar. Then he showed us how to pour the tea.
How to pour Korean tea:
You pour a little bit of hot water over the ceramic tea pot, apparently this enhances the flavor of the tea. On the picture down below you can see that the tea pot is placed on some sort of bowl, which is meant to catch the water you just poured over the tea pot!
Then you open the lid, pour the hot water into the ceramic tea pot and put the lid back on.
Put the filter on to the glass jar and then pour the tea from the ceramic tea pot into said glass jar. This is done by turning the ceramic tea pot over and then placing it on top of the glass jar, spout facing downwards. When turning the tea pot over, make sure to place your finger on the lid so it does not fall off. For this there is a thin woven cord on the lid, put your finger there, otherwise you will burn yourself.
Leave the tea pot in place and wait for the tea to flow into the glass jar.
When the tea pot is empty, you can take it back out and place it back on its original spot.
Remove the filter from the glass jar and pour the tea from the latter into the small cups provided for drinking!
Enjoy
After the demonstration, you get to have a go and you will have to pour the tea yourself for the rest of your stay! We also ordered a mugwort sponge cake to enjoy alongside the tea!
Where? Gyodong Tea Garden (Address: South Korea, Jeollabuk-do, Jeonju-si, Wansan-gu, Eunhaeng-ro, 65-5 KR)
How much? 6.500KR₩ per person for the tea and 4.500KR₩ for the mugwort sponge cake.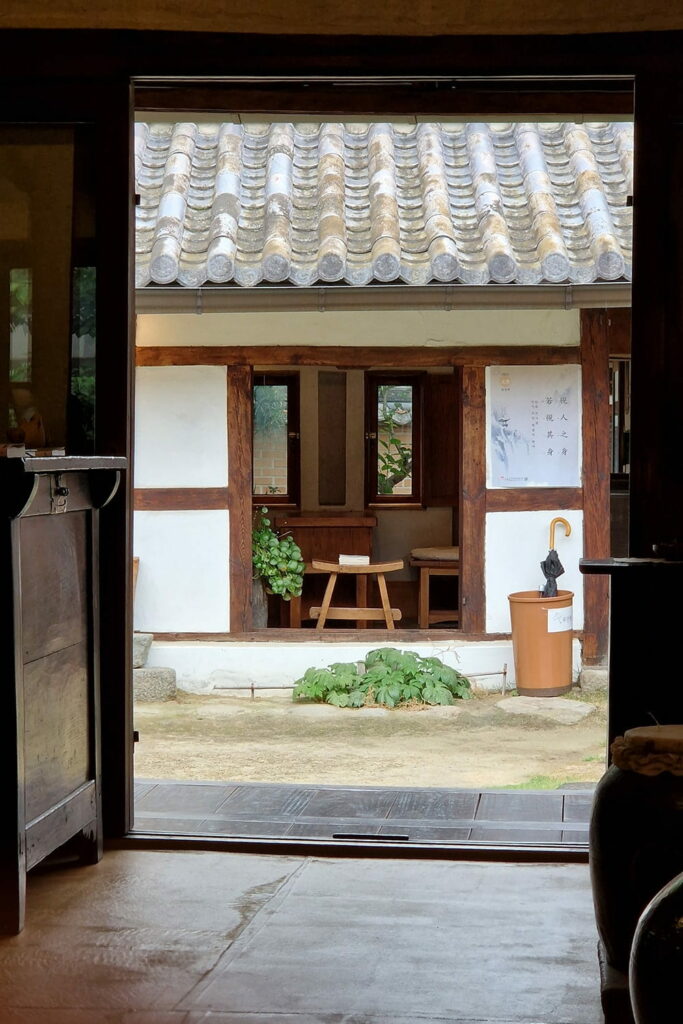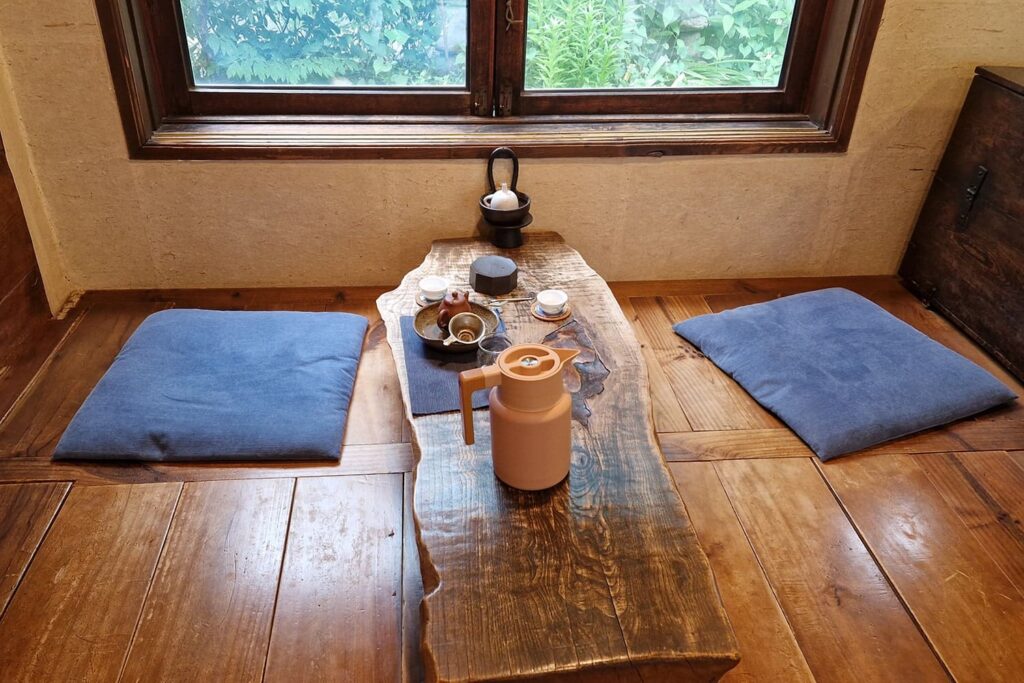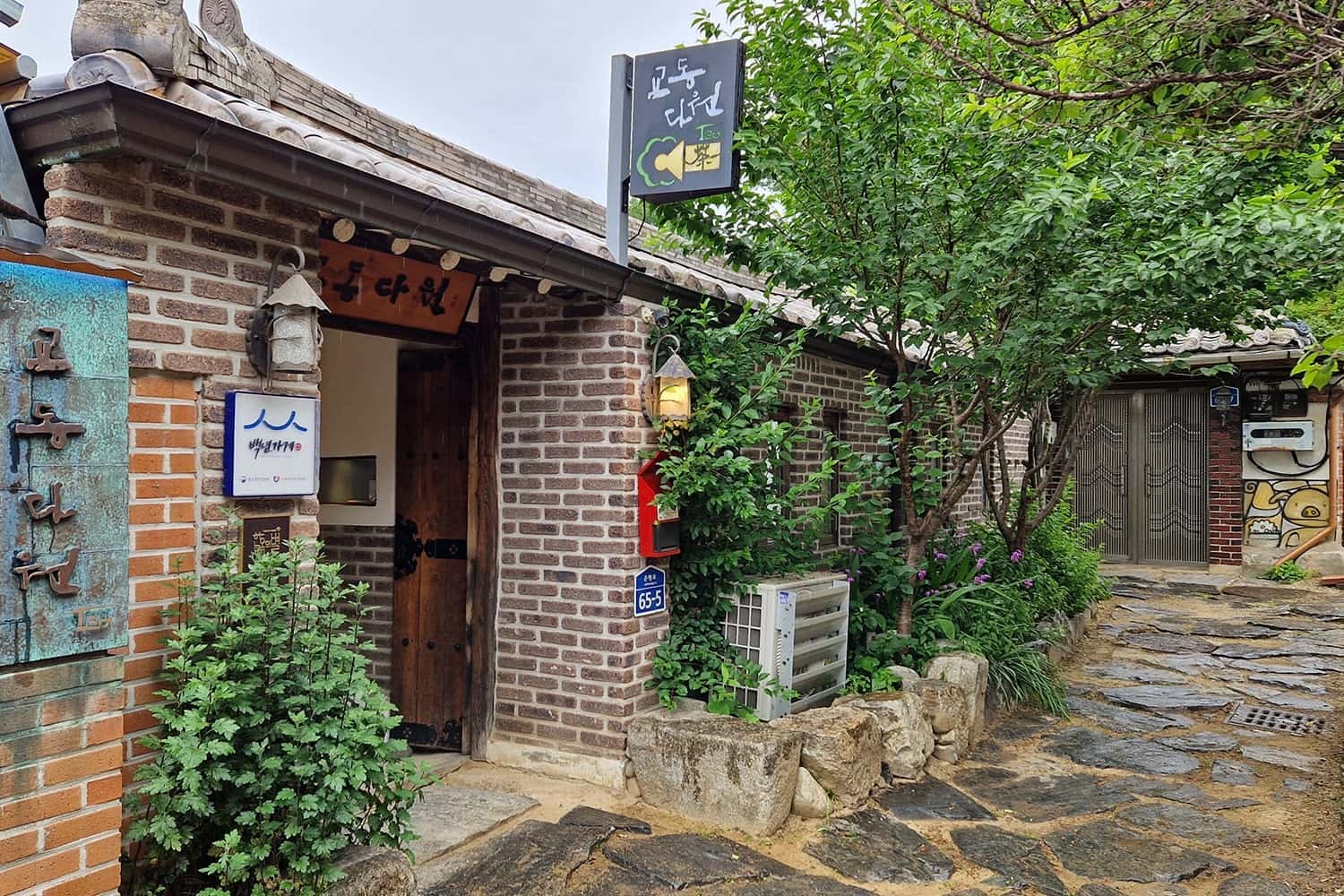 9. Jeonju Choco Pie
Jeonju is quite famous for its Choco Pies! These treats are actually quite simple, they consist of two firm chocolate cake parts that are sandwiched together with cream in the middle! There are a number of different variations of this treat.
A very well known bakery to buy this treat from is the PNB bakery. It is so well known that most tourist in Jeonju view it as part of the must-do things in Jeonju! There are a number of other bakeries selling their variations of the treat as well.
Where? PNB bakery Main (Address: 180 Paldal-ro, Wansan-gu, Jeonju-si, Jeollabuk-do, South Korea)
How much? 2.000KR₩ per choco pie
10. Candied Strawberries
The candied strawberries can be found all over Jeonju Hanok Village! After seeing them so often and being a sucker for strawberries anyway, I (Florence) had to get them in the end. They were delicious, but quite deadly for your teeth – the sugar is really sticky. Do I regret them? Not as such, maybe a little for the price we paid.
Where? Literally everywhere inside Jeonju Hanok Village
How much? 5.000KR₩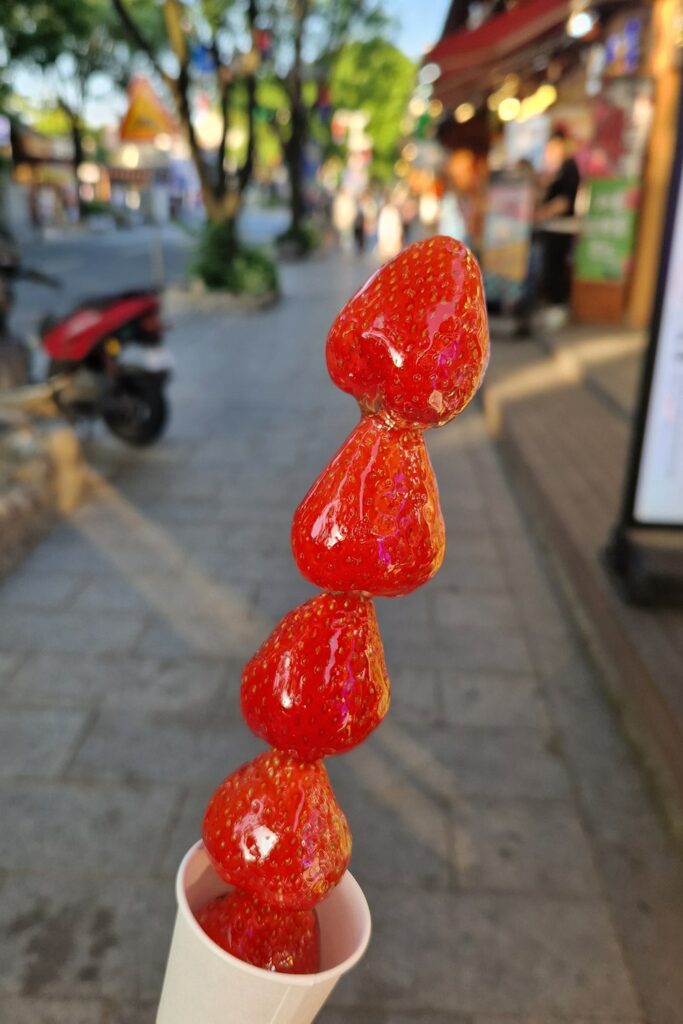 Final thoughts
And, here we are at the end of our list of the Top 10 best food to try in Jeonju Hanok Village! To be honest the food in Jeonju was definitely an absolute highlight of our stay inside the Hanok Village.
So, if you are going to visit Jeonju, we highly recommend you look around a little and try some of their amazing and sometimes interesting food options! And if you find something we should absolutely try on a future trip, let us know in the comments!
Want to save this post for later?