What to see and do in Connemara, Ireland
Connemara is a region in western Ireland that should absolutely make its way into your Ireland itinerary. And in this post we will show you why, by presenting you 10 awesome things you can see and do in Connemara in Ireland!
Connemara is part of the County Galway and located on the Atlantic Ocean. Some of you might know the famous french song called "Les lacs du Connemara" by Michel Sardou? Well, that song actually talks about this region of Ireland! Also, this region is home to the only native pony breed in Ireland: the Connemara Pony!
But aside from these interesting anecdotes, the Connemara region offers really beautiful landscapes and sights as well as some awesome activities that you absolutely should not miss on your next road-trip!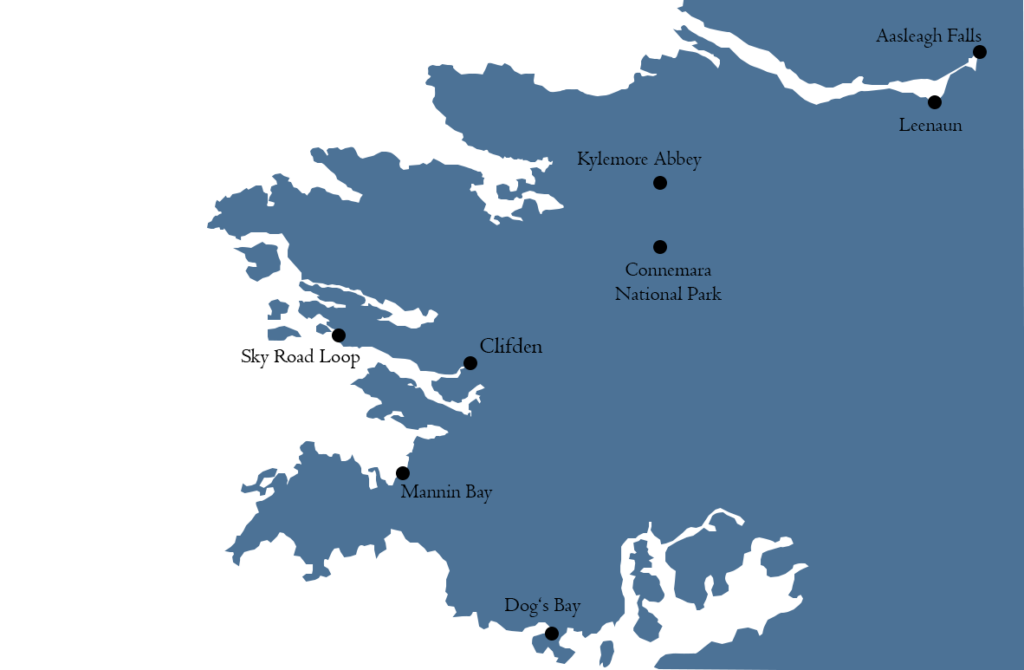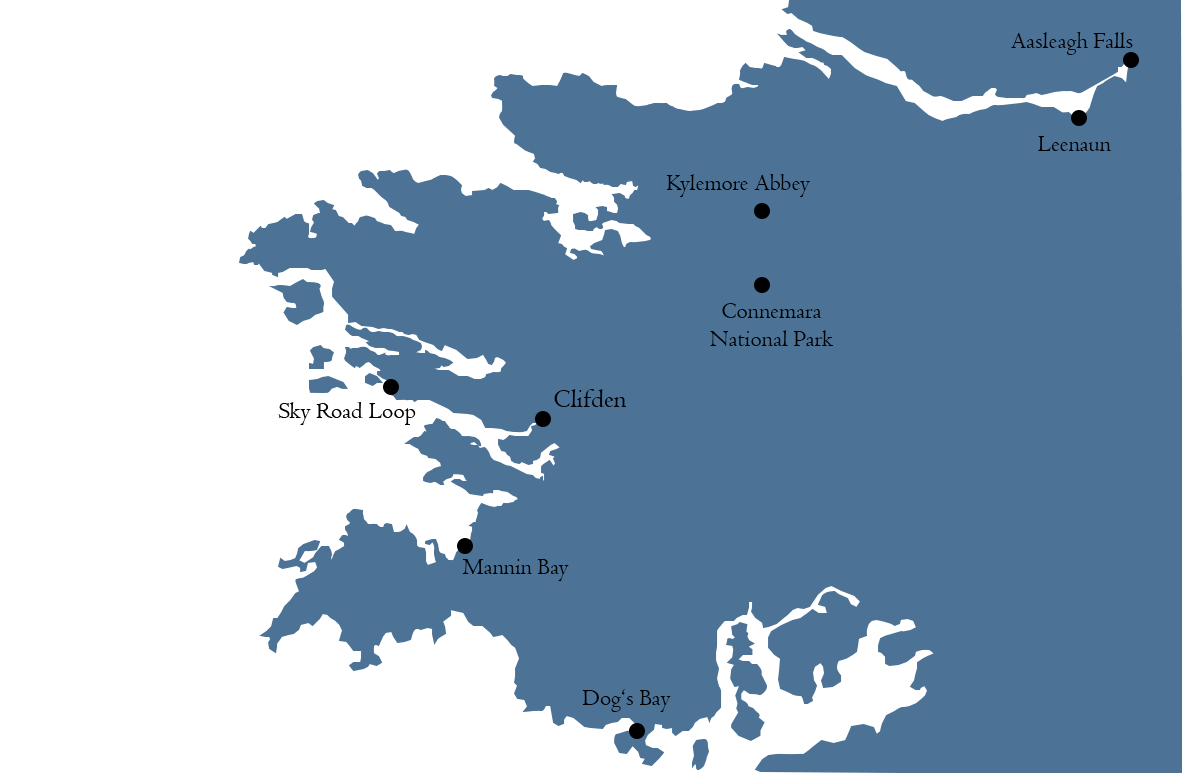 Note: We use affiliate links in this post. They are marked by an *, so you can recognize them in advance. By interacting with these links, you can support us and our website at no extra cost to you! For more information, read our Disclaimer.
When is the best time to visit Connemara region?
Let's start with the basics. When should you visit the Connemara region? While we visited in October, we think the Connemara region is actually best visited during the summer months! And here is why.
This part of Ireland offers lots of great outdoor activities. From hikes to kayaking to beautiful beaches, there is something for everyone! But what most of these activities have in common is the fact that they are best appreciated during good weather!
While there are some activities that can be done in any season, most activities related to water or the sea will typically run during the summer months and usually get cancelled during bad weather. Just keep that in mind when visiting during another season of the year!
How many days should I spend in Connemara?
This mostly depends on what you plan on doing when in Connemara and what season you visit in.
If you visit during the summer months and wish to go hiking, do kayaking and spend some time on the beach, we think 2-3 days are a good amount of time to not rush through this region and still see most of it.
However if you visit during shoulder season when less outdoor activities are available or if you do not wish to do outdoor activities 1-2 days are probably enough.
10 Awesome things to do in Connemara, Ireland
Now, let's get into the interesting part of this article and what you all came here for: all the fantastic things you can do in Connemara in Ireland!
1. Hike the Diamond Hill Trail inside Connemara National Park
Connemara National Park has a surface of 2.000 hectares and is one of the six Irish national parks. And, it is home to some amazing hikes.
The most famous hike is probably the Diamond Hill Trail. It starts in Letterfrack and takes you up Diamond Hill and down in about 7 kilometers. Compared to other hills inside the Connemara region it is only of moderate size, however it is rather popular due to the amazing views you get from its top.
If you can't or don't want to rent a car while in Ireland, you can also book a tour* from Galway that will take you to the Connemara National Park and give you the opportunity to hike the Diamond Hill Trail!
We planned on hiking the Diamond Hill Trail. However, during our trip the stormy October weather crossed our plans. We were really bummed about that, but swore to come back during the summer and do it next time!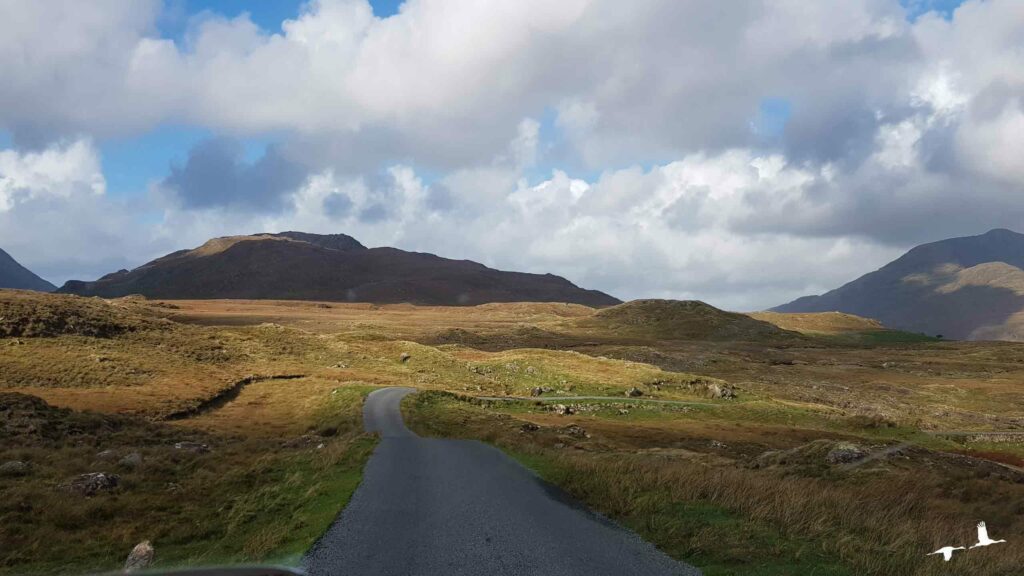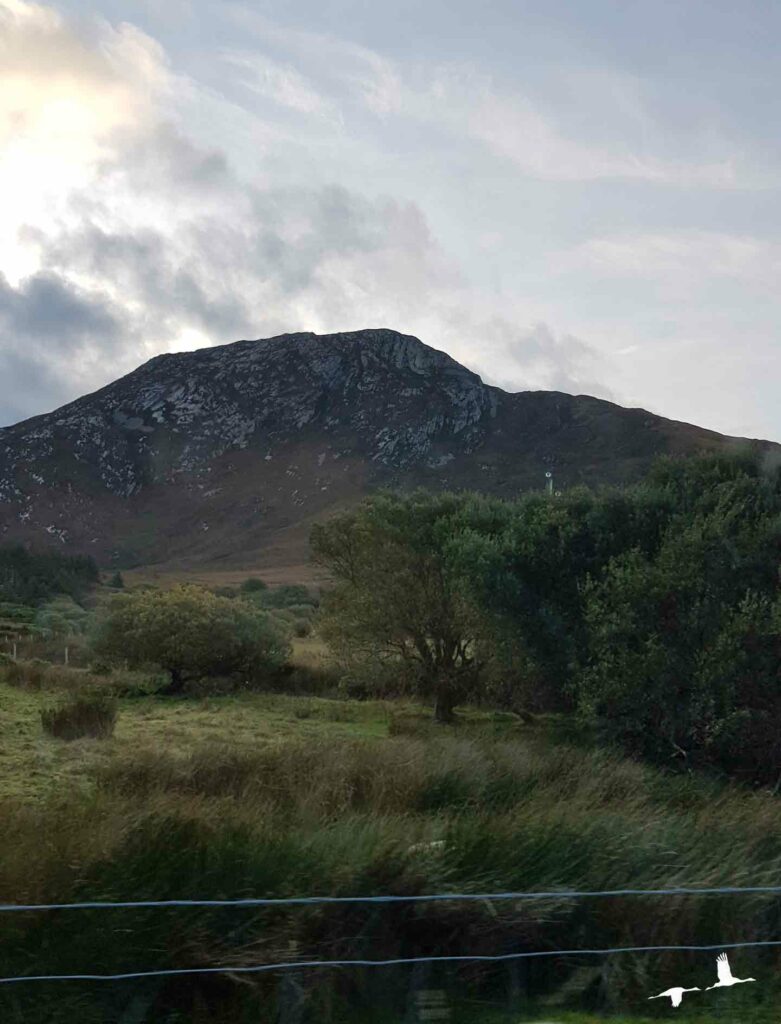 2. See the Killary Fjord from the water
Killary Fjord is the only glacial fjord in all of Ireland. A great way to see this 16-kilometer long fjord is, you probably guessed it, from the water! Now, there is a more adventurous/sporty as well as a more relaxed way to do so.
If you are into the more adventurous side of things, try a 3-hour kayak tour on the Killary Fjord, where you can marvel at the cliffs and mountains while getting your exercise of the day in (for around 59€ per person)! Killary Adventure also offer various other activities for those interested!
If you prefer things to be more relaxed, book a 90-minute long cruise* with Killary Fjord Boat Tours and explore the fjord from the comforts of a luxury catamaran for around 25,50€ per adult.
Note: Due to the stormy weather this was another activity that fell through for us. I guess you get by now why we insisted in summer being the better time to visit…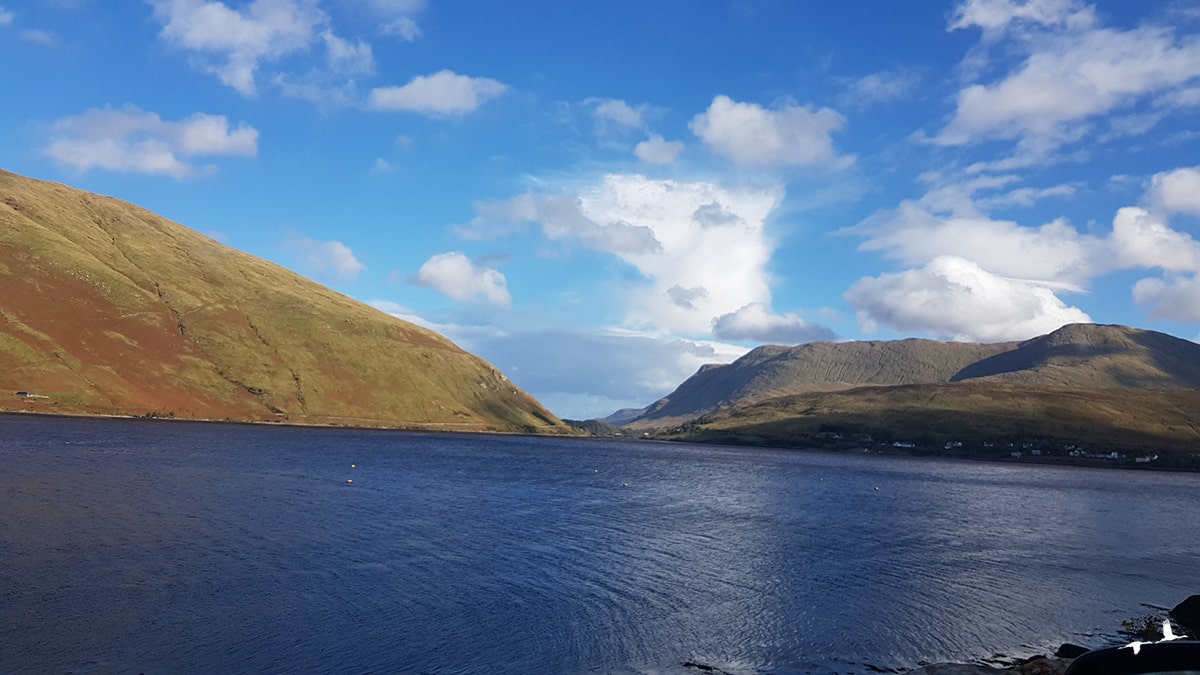 3. Marvel at Aasleagh Falls
Technically Aasleagh Falls are not located inside the Connemara region anymore. But since they are located only a 5-minute drive from Leenaun, we included them in this guide.
The amount of water that came through this waterfall when we visited was actually quite impressive. The Aasleagh Falls are mostly known for being one of the obstacles the Atlantic salmon has to face on its return journey from the Atlantic Ocean up the river Erriff.
When coming from Leenaun, there is a free parking lot just a little further up the street after you spot the waterfalls!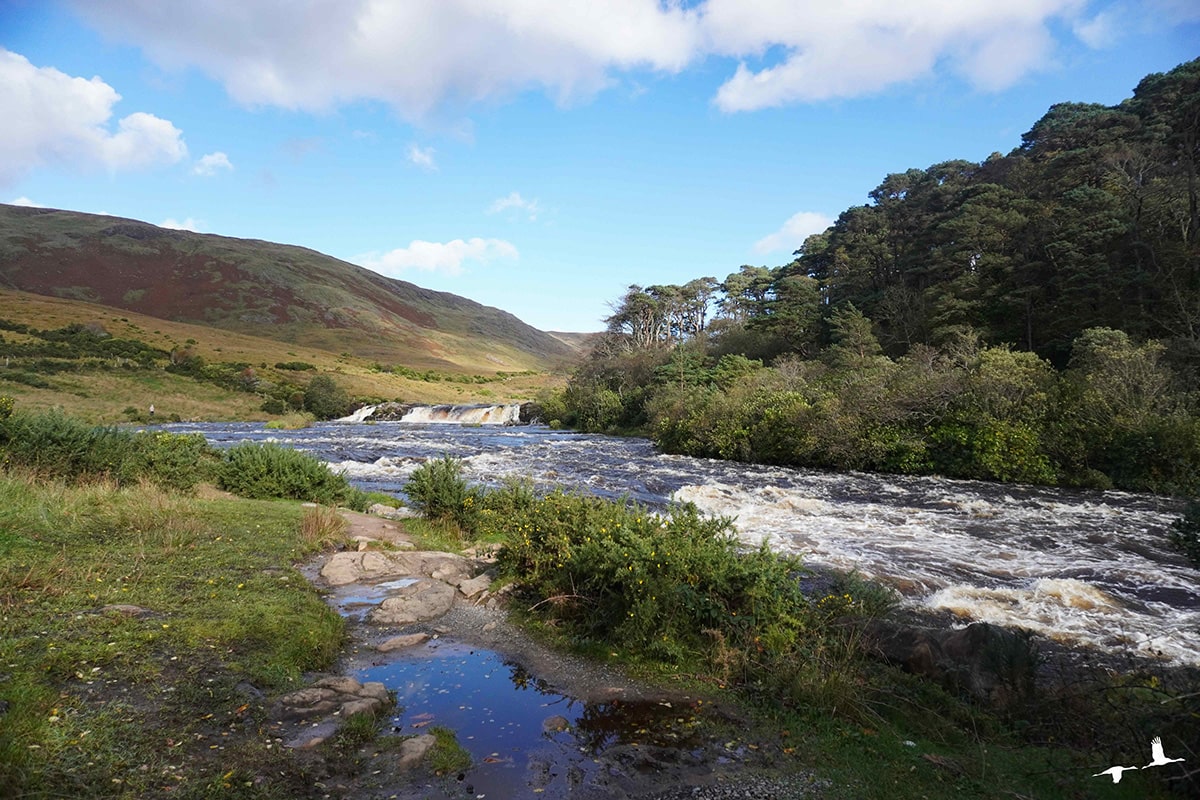 4. Visit Kylemore Abbey
Initially, Kylemore Abbey was built as a private home for a wealthy man from England. In 1920, Benedictine Nuns purchased the estate and they reside inside Kylemore Abbey until today. The Abbey is located on the shores of Pollacapall Lough, which actually makes for a really beautiful view.
The Abbey welcomes visitors from around 10 a.m. until 4 p.m., however opening hours seem to change slightly from month to month. So before your visit, make sure to check opening hours on the official Kylemore Abbey website.
The entrance fee for one adult is 16,00€.
5. Do some souvenir shopping in Clifden
Clifden is considered to be the capital of the Connemara region. It is a rather small town with several little shops, restaurants and cafés. This makes it a great place to stroll around for 1 – 2 hours and do some souvenir shopping.
We ate a quick lunch at the 'Upstairs Downstairs Cafe' before heading out to explore the stunning surrounding area of Clifden.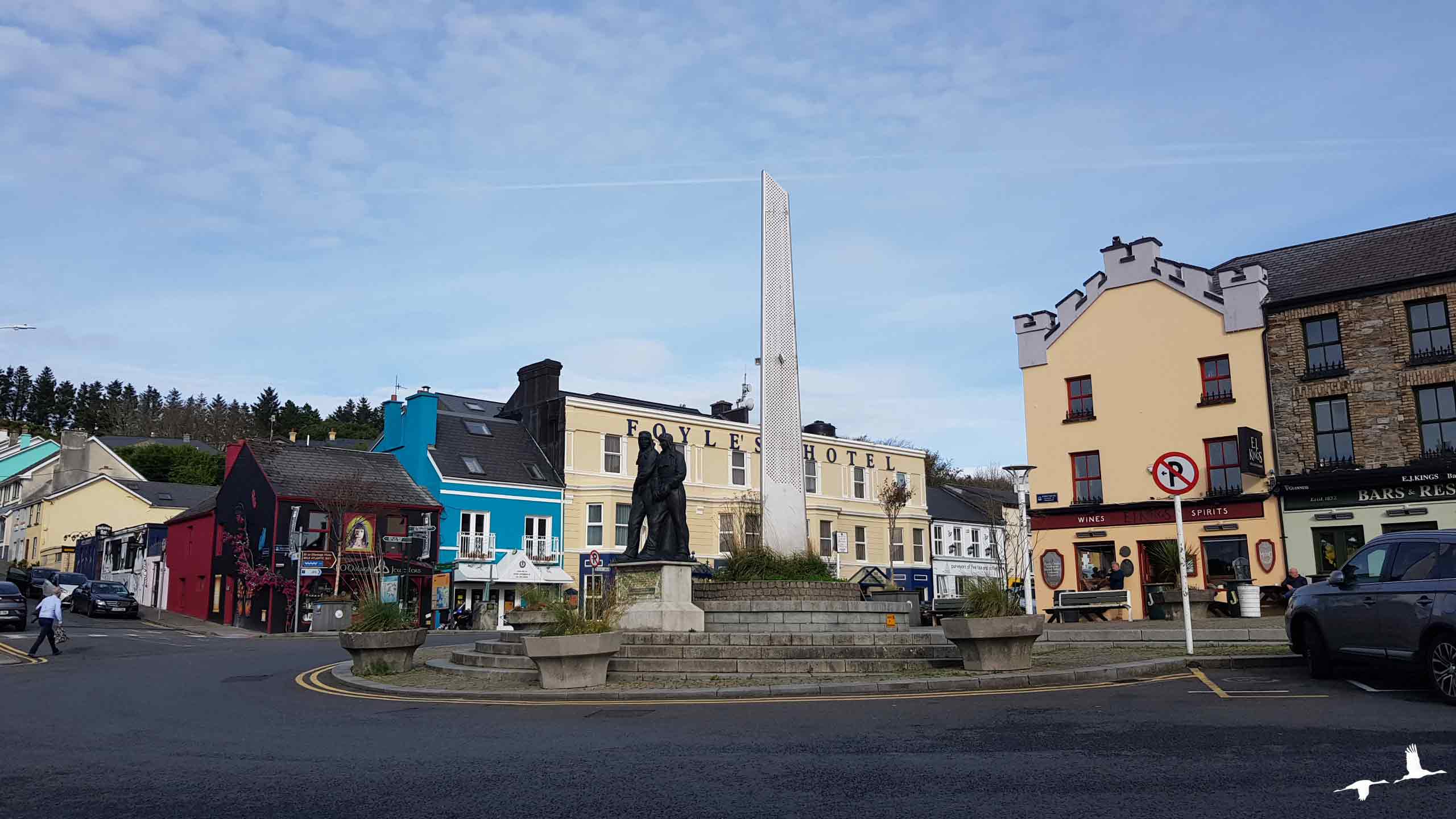 6. Drive the Sky Road loop drive
Starting in Clifden, there is a beautiful loop drive called Sky Road. The whole drive is really short, around 16 kilometers or a little less than a 30-minute drive without stops.
However we promise, it won't disappoint you! There are some really stunning views to be seen along the drive. Especially the "Pointe Amharc Atlantach Fiáin Sky Bothar" viewpoint (Google Maps: GW23+88 Clifden, County Galway, Ireland) is absolutely worth a visit!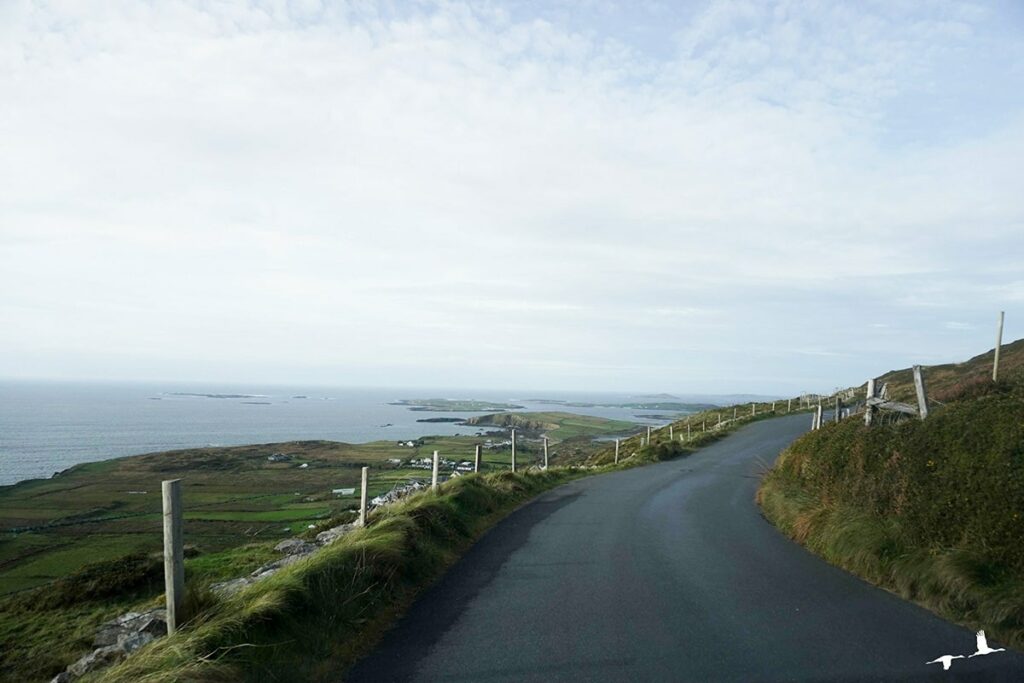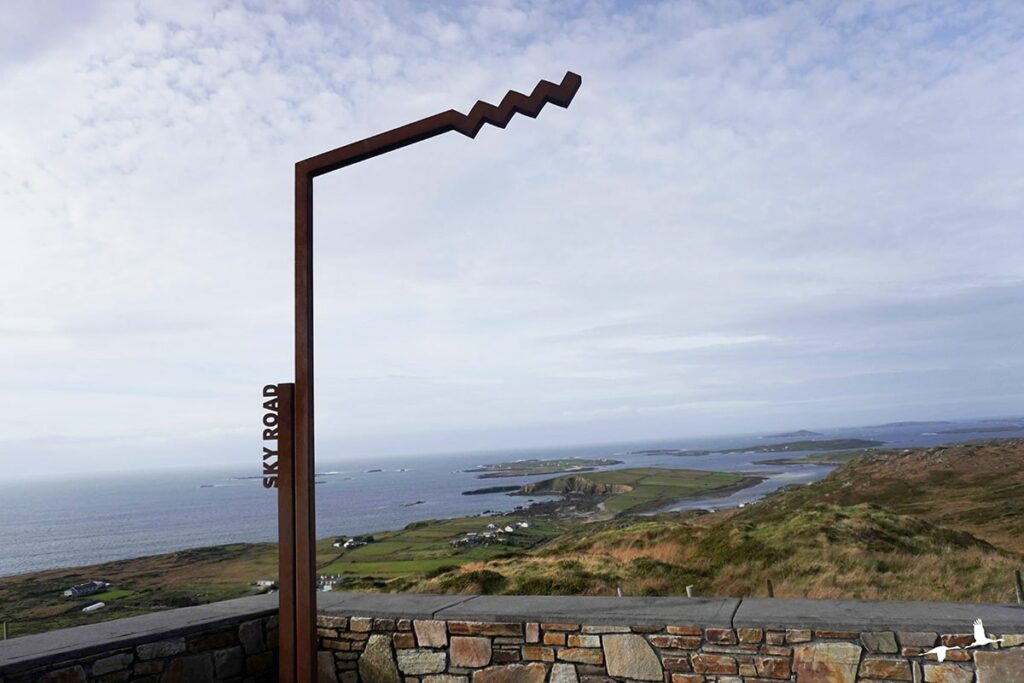 7. Take a walk on Dog's Bay beach
Another drive we can absolutely recommend is the drive from Clifden towards Dog's Bay. Starting in Clifden you can simply follow the R341 along the shoreline of the Atlantic Ocean towards Dog's Bay. After about 20 kilometers or a 26-minute drive you will reach your destination.
There is an absolutely stunning white sandy beach located inside the bay. On the other side of this small peninsula there is another beautiful sandy beach called Gurteen Beach. Both beaches are definitely worth checking out!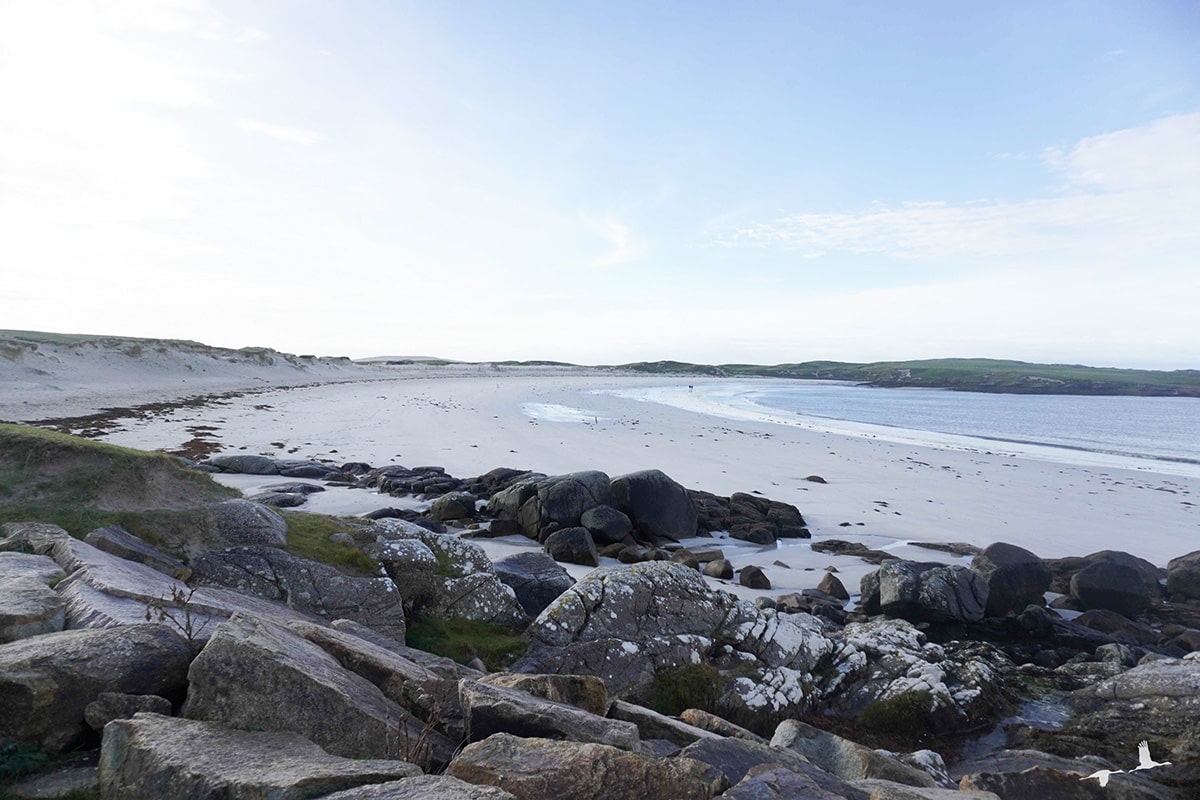 8. Go snorkeling in Mannin Bay
On our way back from Dog's Bay we stopped at a beach called "Mannin Bay". It is located very conveniently next to the R341 as well with a free parking lot just in front of it.
This beach is not a sandy beach, even if it appears to be so on photographs. Actually, the "sand" consists of many small pieces of coral! During the summer months this spot is great for snorkeling and kayaking.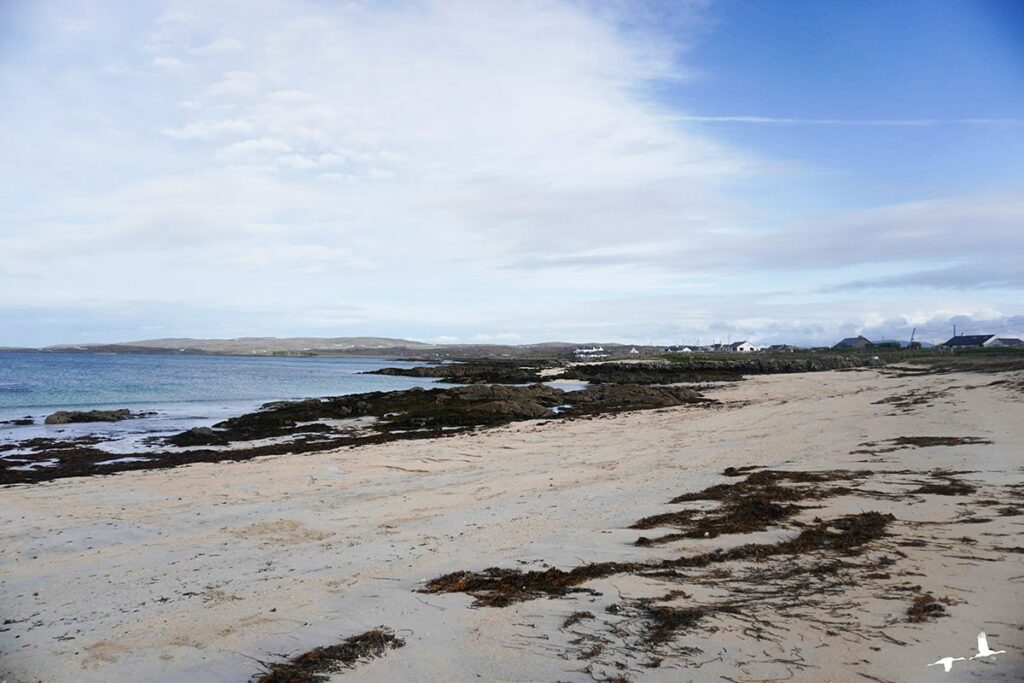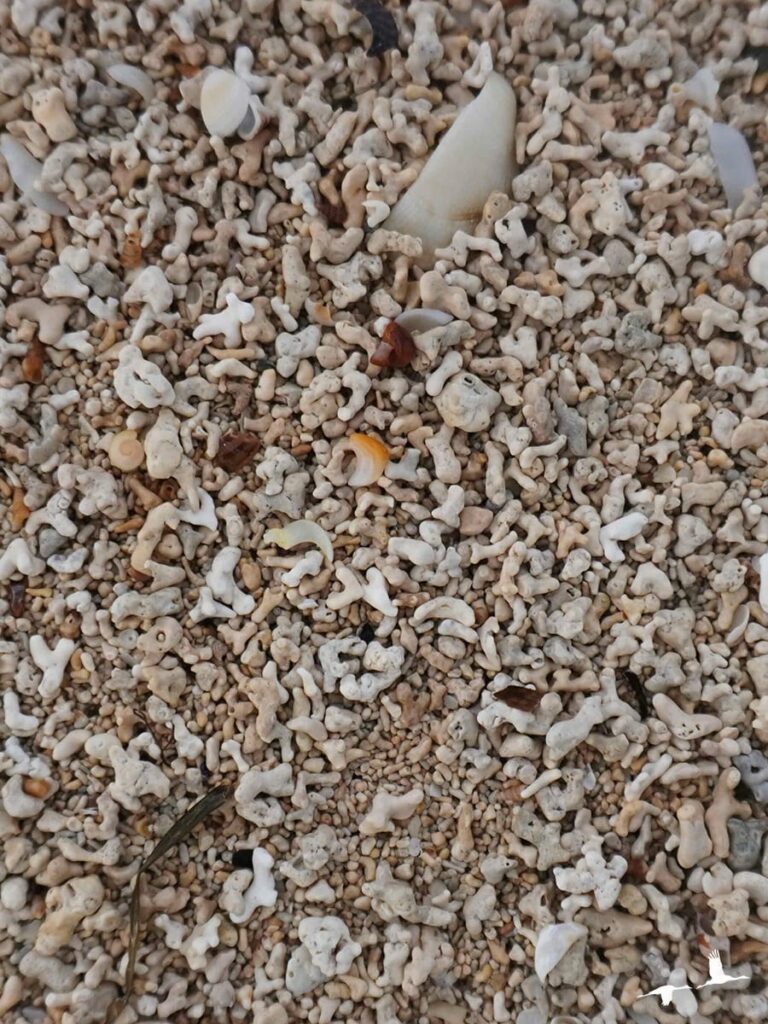 9. Take a Seaweed Bath
While driving through the small towns alongside the coastline of Connemara, we saw several signs for something that peaked our interest: Spa's that offer seaweed baths!
Upon a quick research we found out that indeed seaweed baths are absolutely a thing in the western region of Ireland and something you should not miss!
The bath is typically filled with seawater and infused with seaweed that is hand harvested. This spa treatment is said to have beneficial properties as the seaweed smooths and replenishes your skin!
10. Spend the night in a Castle
Ireland is home to more than 30.000 castles and some of them you can actually sleep in! When planning our stay in Clifden, we discovered that there is a castle hotel located only a 5-minute walk from the town center.
Abbeyglen Castle Hotel* is a family-run 4-star hotel, that was built in 1832. Since staying inside a castle in Ireland has been an item on our bucket list for quite a while, we decided to give it a go. And we were not disappointed!
The atmosphere inside the hotel is really welcoming and the staff super friendly! We wrote a more in-depth review of our stay in Abbeyglen Castle Hotel for those that are contemplating whether to stay here as well!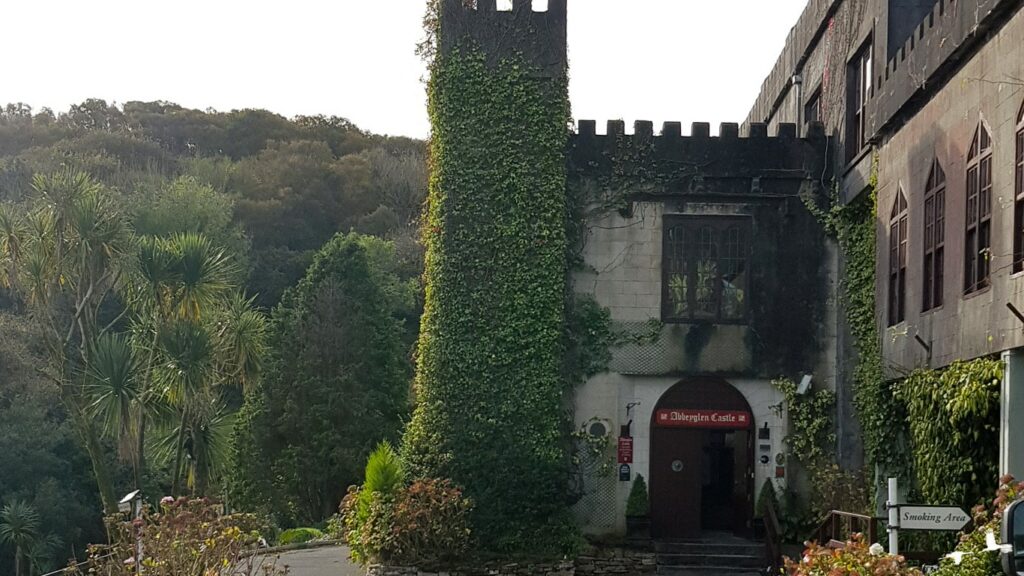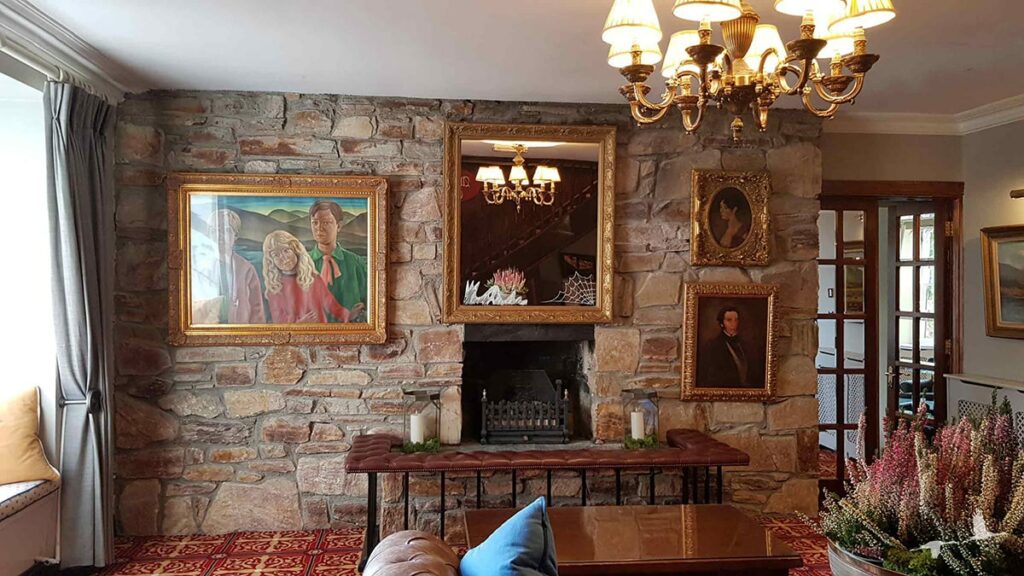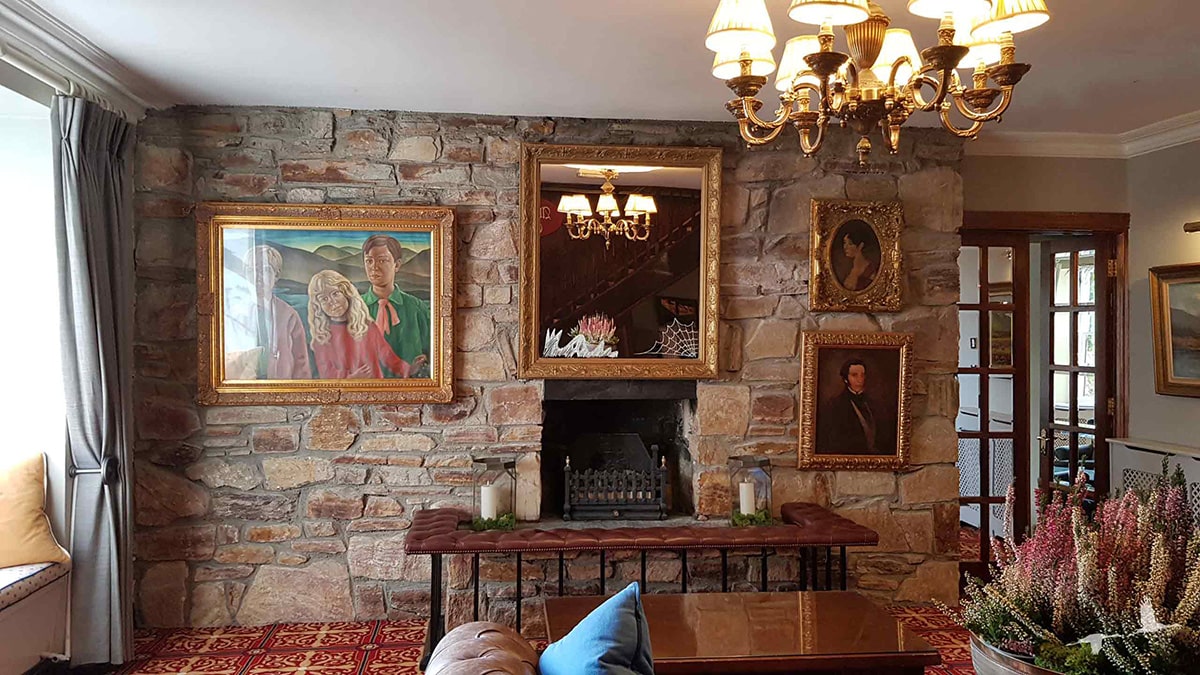 Final Thoughts on visiting Connemara
Connemara is actually a region that kind of took us by surprise. When doing research for our Ireland road trip, we stumbled upon a million posts and reviews of Blarney Castle, the Cliffs of Moher and the Ring of Kerry etc.
However, Connemara region seemed to be a little left out by many travelers! Which is a shame because it is definitely home to some absolute gems.
We hope this post was able to convey a little how beautiful this area actually is. And we hope that at least some of the things you can do in Connemara will make it into your Ireland itinerary!
Want to save this post for later?