How to visit the Cliffs of Moher: A quick Guide
How to visit the Cliffs of Moher: A quick Guide
The Cliffs of Moher are very well-known, 14-kilometers long seaside cliffs in Ireland. They are usually one of the first attractions listed, when looking up MUST-SEE attractions in Ireland. So, naturally we visited also visited this stunning natural landmark as part of our Ireland road trip. For more information on our road trip route, head to our Ultimate Ireland Road Trip Itinerary.
In this guide we will give you all the information you need to visit the cliffs' official visitor site. But, we also share a lesser known alternative, which was recommended to us by a local, and tell you for whom this alternative site might be interesting!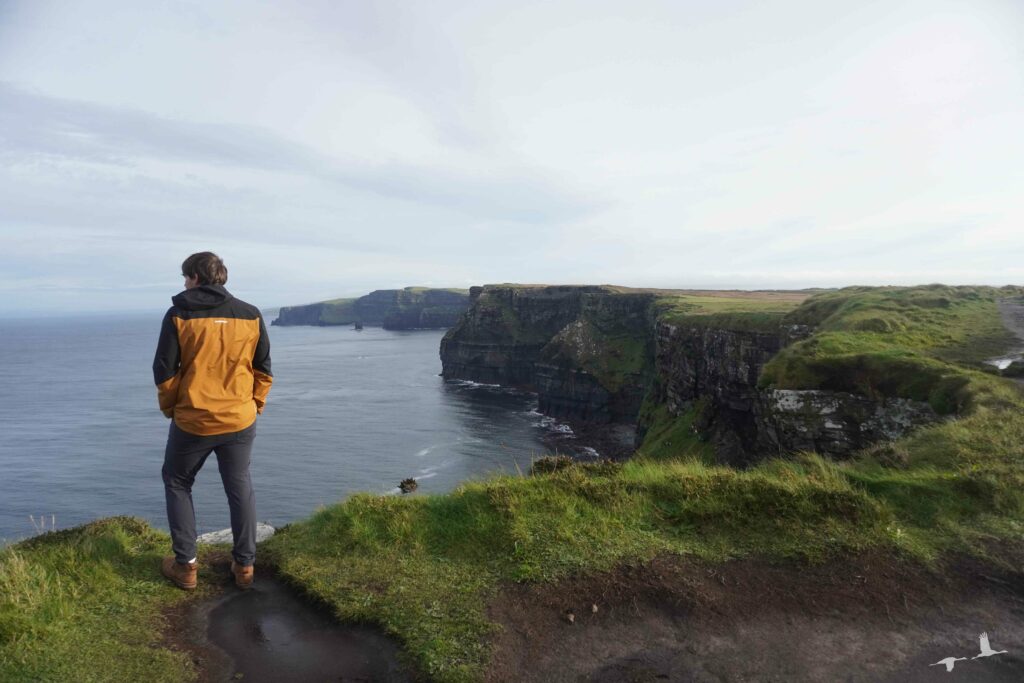 How to get there
The Cliffs of Moher are located in the County Clare about a little more than an 1-hour drive from Limerick or a 1h30 drive from Galway. The easiest way to reach the Cliffs of Moher is by renting a car. We rented a car at Dublin Airport for the duration of our 12-day road trip through Ireland. For more information head to our Guide on renting a car in Ireland.
You can also reach the Cliffs of Moher by bus. Public transportation-wise, the easiest way to get to the cliffs is from Galway. The bus route 350 by Bus Éireann will take you from Galway to the Cliffs of Moher in a little more than 2 hours without having to change busses. For more information on their timetables as well as ticket prices, head to their official website.
Another option would be to book a guided tour. For instance, GetYourGuide offer tours from several Irish cities towards the Cliffs of Moher. Most of them depart in either Dublin or Galway. For more information, head to their official website.
Opening hours
Opening hours to the Cliffs of Moher depend on the season. During the winter months (November – February), you can access the site from 9 a.m. until 5 p.m.! During shoulder season (March – April and September – October) opening hours are from 8 a.m. until 7 p.m. and in the summer months (may – august) the official visitor site is open from 8 a.m. until 9 p.m.!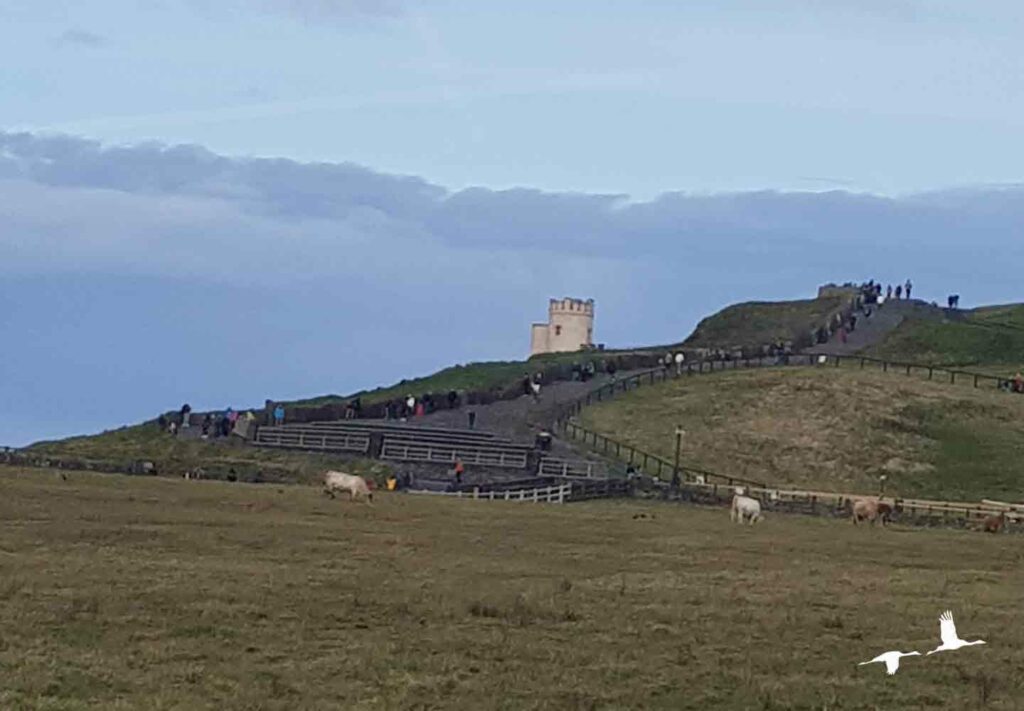 Entrance fee
The cost to enter the Cliffs of Moher depends on when you visit. Between 11 a.m. and 4 p.m. is what they consider "peak-times". During that period, the entrance fee for one adult is 10€. If you arrive before 11 a.m., you will only have to pay 7€ and if you arrive after 4 p.m., 8€. For more information on their admission rates, head to the official Cliffs of Moher visitor center website.
Note: Head to our Ireland Page to find all our Ireland guides including our itinerary, cost as well as sightseeing and hiking guides!
What to do
Included in your ticket price is an exhibition at the visitor center, access to O'Briens Tower as well as an Audio Guide for those interested. Parking is included in the price as well. The Cliffs of Moher are a great place to do some bird watching.
In addition there is a café on site as well as souvenir-shopping options.
An alternative way to visiting the Cliffs of Moher
We actually did not visit the official visitor center and observation deck to see the Cliffs of Moher. Instead we went to the Moher Tower at Hag's Head. This place is located south of the Cliffs of Moher and was actually a tip we got from one of our AirBnB hosts.
We parked at a small private parking lot which is called "Cliffs of Moher Liscannor Walk" on Google Maps (WGVW+97 Liscannor, Clare, Ireland). They charge 3€ per car. From there you can make your way up the street towards a small trail called "Cliffs walking trail". The trail will lead you through private land, so be respectful when walking on the trail that is provided. First the trail will lead you over some field boundary walls – Irish style – i.e. there are stepping stones around the wall that enable you to walk over it.
Then you head up towards Moher Tower. From here the trail runs along the edge of the cliffs, providing a great view of the Cliffs of Moher which are located further north.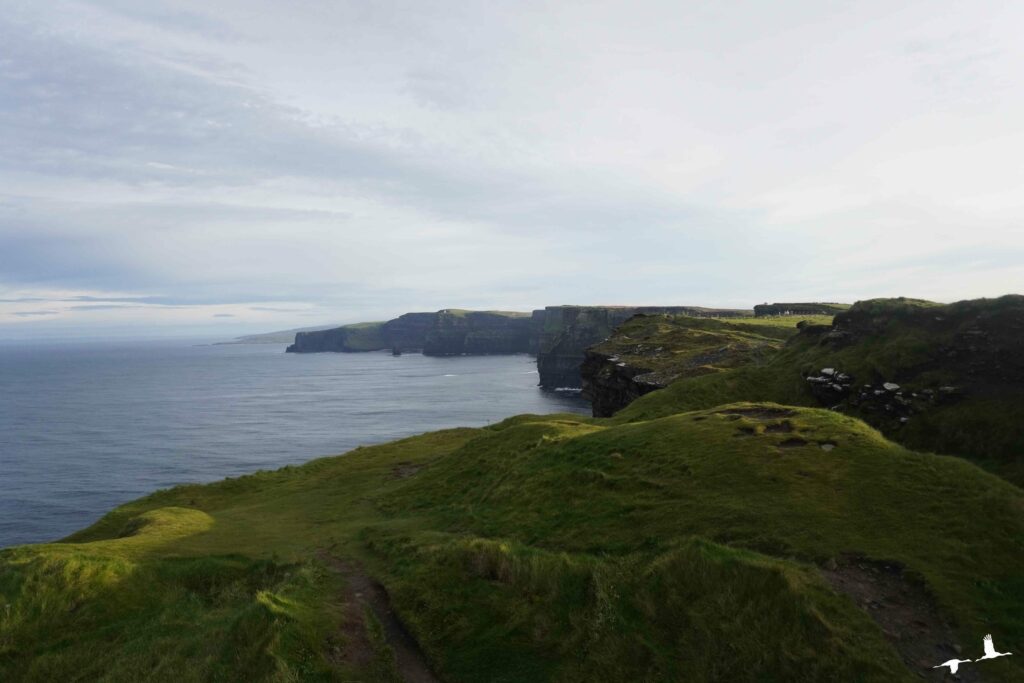 What is the best way to visit the Cliffs of Moher?
There is of course no right or wrong way to visit the Cliffs of Moher. But I think the best way to visit this landmark depends on your travel party. For instance the viewpoint at Moher Tower at Hag's Head is only accessible if you have a rental car. The official viewpoint can however be reached by bus/public transportation.
Also there is of course more infrastructure around the official viewpoint (café, souvenirs and visitor center with information on the cliffs). The "Cliffs walking trail" is simply a mud trail next to the cliffs. And there are no hand railings either to prevent you from falling off said cliffs. So maybe if you have small children, the official viewpoint is a better option. This is also the case, if you are accompanied by someone who is not sure-footed or can't climb over the field boundary walls.
The alternative at Hag's Head however is a great option for people on a budget who do have a rental car. And also if you wish to just simply enjoy this nature landmark in peace. When we visited there were not many other tourists in this spot, we literally had the cliffs all to ourselves. I don't know how it is during the summer though.