A Guide to renting a car in Ireland
One of the best ways to explore the beautiful country of Ireland is by doing a road trip. We rented a car for a period of ten days in order to explore as much of Ireland as possible. Head to Our Ultimate Ireland Road Trip Itinerary for more information on our route!
In this blog post we want to share some of the things you might want to know before renting a car in Ireland as well as our experience doing so. We will touch upon the requirements to rent a car, the cost of doing so and the process of picking-up and dropping-off your car at Dublin Airport among other things.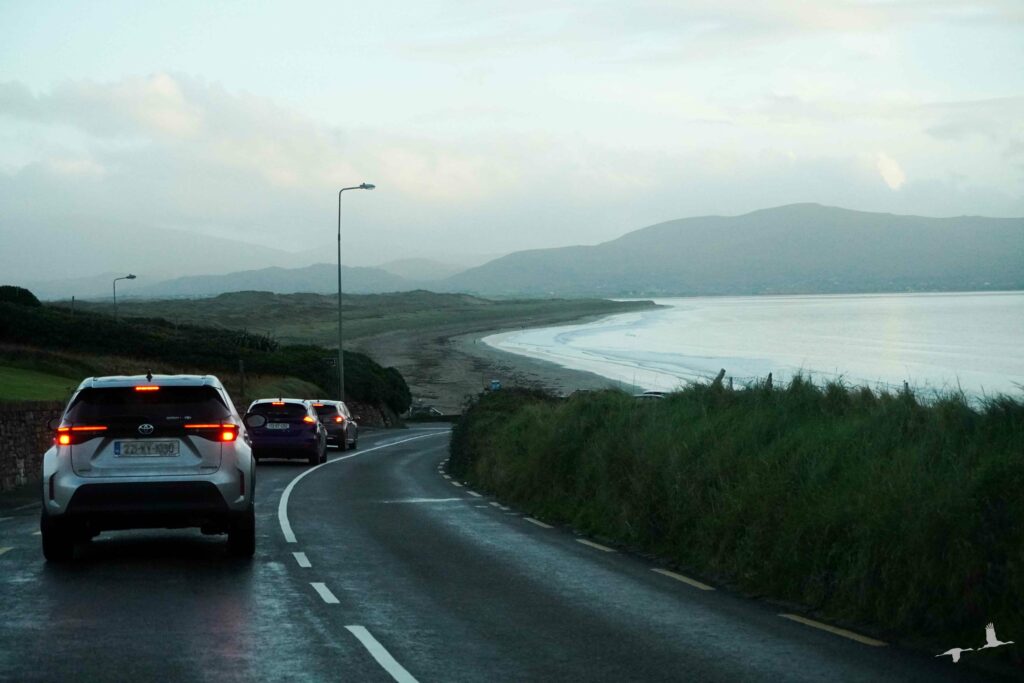 What are the requirements for renting a car in Ireland?
You decided that you would like to rent a car in Ireland in order to do a little road trip. Now, first things first, what are the requirements you must meet? Well quite obviously, you will need a valid drivers license. If you are from the UK or a country within the EU, which was the case for us, the driving license from your home country will be enough. However, if you are from a country which checks neither of those boxes, you will need an international drivers license.
Also there are your typical rental car conditions to be met:
You need a credit card with a high enough spending limit, so that the deposit can be blocked on the card for the duration of your rental
a valid ID/passport
Ideally you are over 25, because a lot of the rental companies are not willing to rent to someone under 25
Our rental car
Our rental car was a blue Suzuki Ignis. We rented a manual car, since they are usually quite a bit cheaper than renting an automatic one in Ireland. We had unlimited mileage and our rental car insurance was fully comprehensive including refund of the excess. This offer also only required a deposit of 270€, which is quite a bit less than the 1000€ deposit on some of the other offers we looked at. We booked our rental car from Thrifty, through a (German) website called Sunny Cars.
Renting a car from Dublin Airport
Our pick-up and drop-off location was both times Dublin airport. The process is actually quite easy once you get your head around it.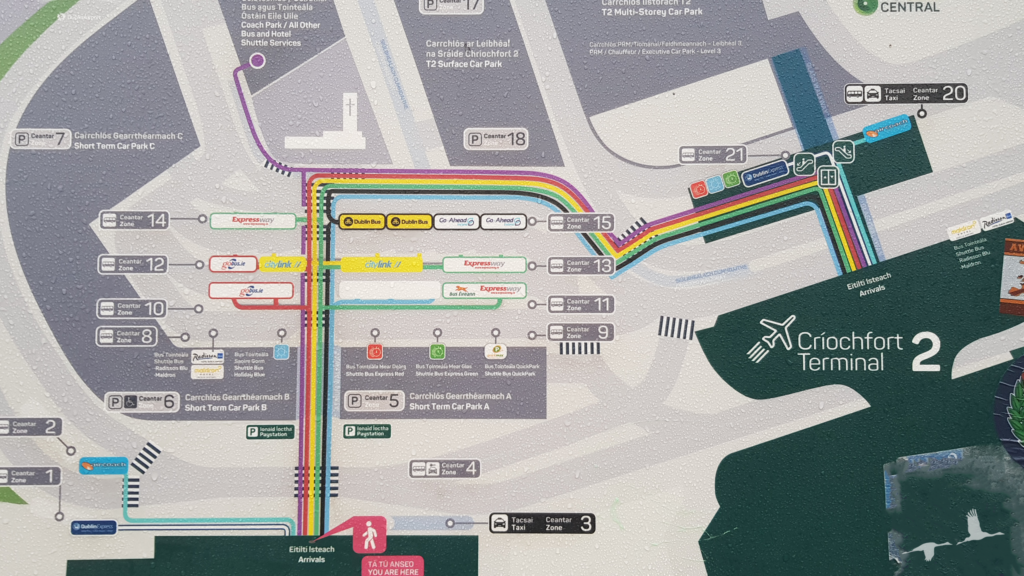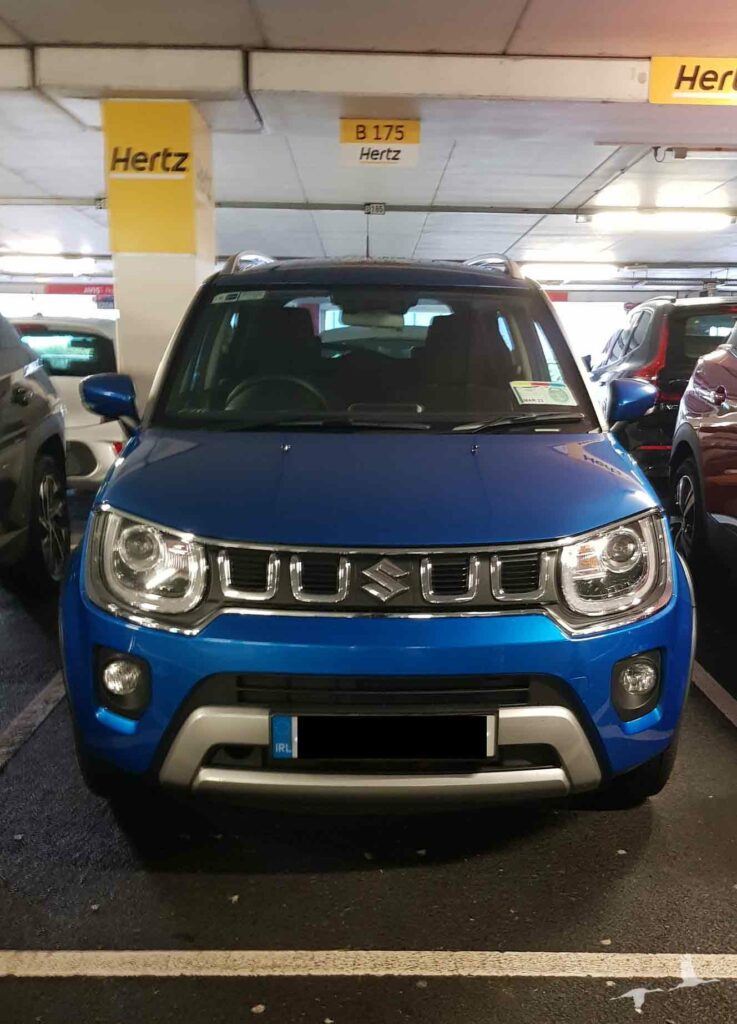 Pick-up
Most rental car companies have a desk in Terminal 1 as well as in Terminal 2. In Terminal 1 you will find rental car companies in the main arrivals hall, whereas in Terminal 2 they are located in a multi-story car park nearby. You can reach said car park by heading to the first floor of the Terminal 2 arrivals hall and then making your way through the passage that will take you to the building on the other side of the road. There are "Care Hire" signs you can easily follow.
Even though we landed at Terminal 1, the instructions e-mail we got from our care hire company advised us to go to the Terminal 2 desk, so that's what we did. We wrote a separate guide on How to get from Dublin Airport to the city center for everything related to getting from an to Dublin Airport.
Once at the desk we simply showed our booking confirmation, all the required documents as well as a credit card for the deposit. Once everything was settled, we were off with the key to our rental car in our hands. Since the car hire companies in Terminal 2 are located in a car park, you simply need to make your way to the allocated parking slot of your car in that same building!
Drop-off
The drop-off location is a little more complicated to find. On the day of your rental car pick-up, you should be handed a map that shows you how to reach the drop-off location of your specific car hire company. They are all located in the same area (On Google Maps: CQCH+C3 Dublin, Irland). The drop-off locations for rental cars are approximately a 5-minute drive (around 2 km) away from the airport terminals. After dropping-off our car, there was a free shuttle ready to take us and a few others that dropped of their car at the same time to our respective terminals.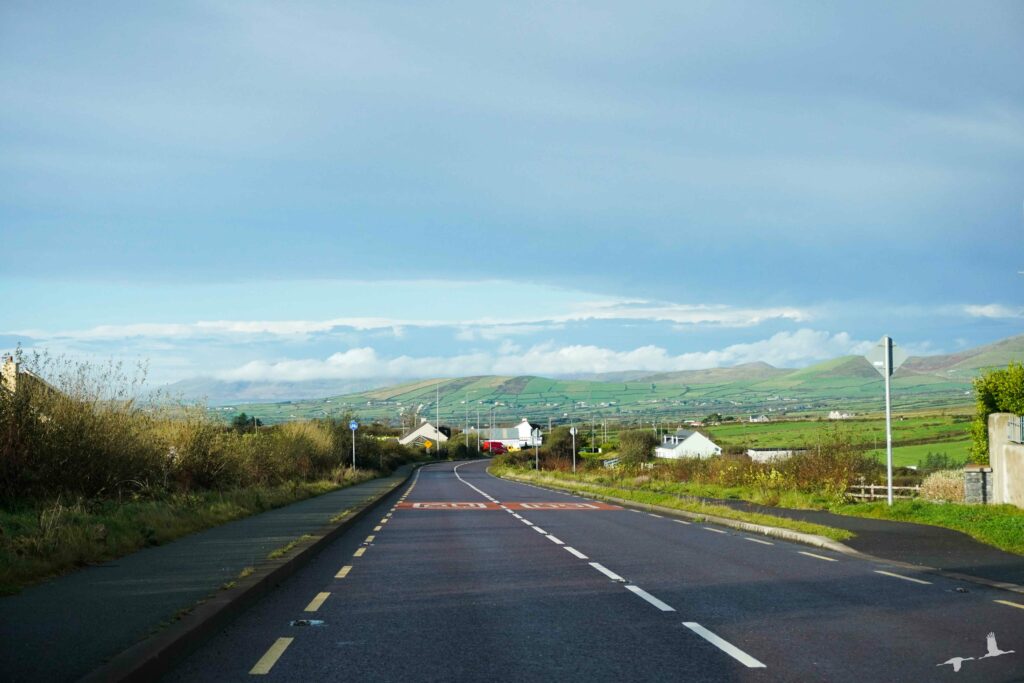 Note: Head to our Ireland Page to find all our Ireland guides including our itinerary, cost as well as sightseeing and hiking guides!
Driving in Ireland
First, some of the more technical stuff: Speed limits differ depending on the road type you are driving on. Motorways have a speed limit of 120km/h, national roads 100km/h, regional roads 80km/h and within towns and cities the speed limit is 50km/h.
The biggest change for us was the fact that in Ireland, they are …
…driving on the left side of the road
While we have rented a car in several countries before, this was the first time we did so in a country where we had to drive on the left side of the road. In the end, the switch from driving on the right side to driving on the left side was actually not as hard as we thought. The first two days were the most difficult mentally because driving required much more concentration than usual.
Weirdly enough, for us the hardest part was not remembering to stay on the left side of the road. It was moreover to accurately estimate how far away we were from the middle line as compared to the side of the road. We actually ended up driving to much on the left (too close to the side of the road) at the beginning. It took a little practice and regular checking in the mirrors in the beginning but in the end we got a pretty good feeling for it. For anyone that has driven on the left side of the road before, we are actually quite interested if this is something you experienced too and/or what you thought was the most difficult part about driving on the left? Please comment below, we would love to know!
What helped us a lot was the fact that we decided to not drive long distances on our first day. From Dublin Airport we made our way towards the Wicklow Mountains, which is only a little more than a one-hour drive. We would recommend this to anyone who is not so sure about driving on the left side of the road. Choose shorter driving distances for your first day(s) to give yourself some time to ease into it.
The roads
I don't remember exactly where, but I read somewhere that 'the smaller your car, the better it is for driving in Ireland' and I couldn't agree more. Especially in more rural regions you will encounter roads that seem only wide enough for one car, however for some reason they are two-lane roads with oncoming traffic! In the end we never had a problem to get past other cars, but if you are not used to such roads, driving them might be a bit uncomfortable in the beginning.
As a tip, if you are doing scenic drives like the Ring of Kerry or Slea Head Drive on the Dingle Peninsula, there is often a recommended driving direction. That way you can avoid a lot of oncoming traffic!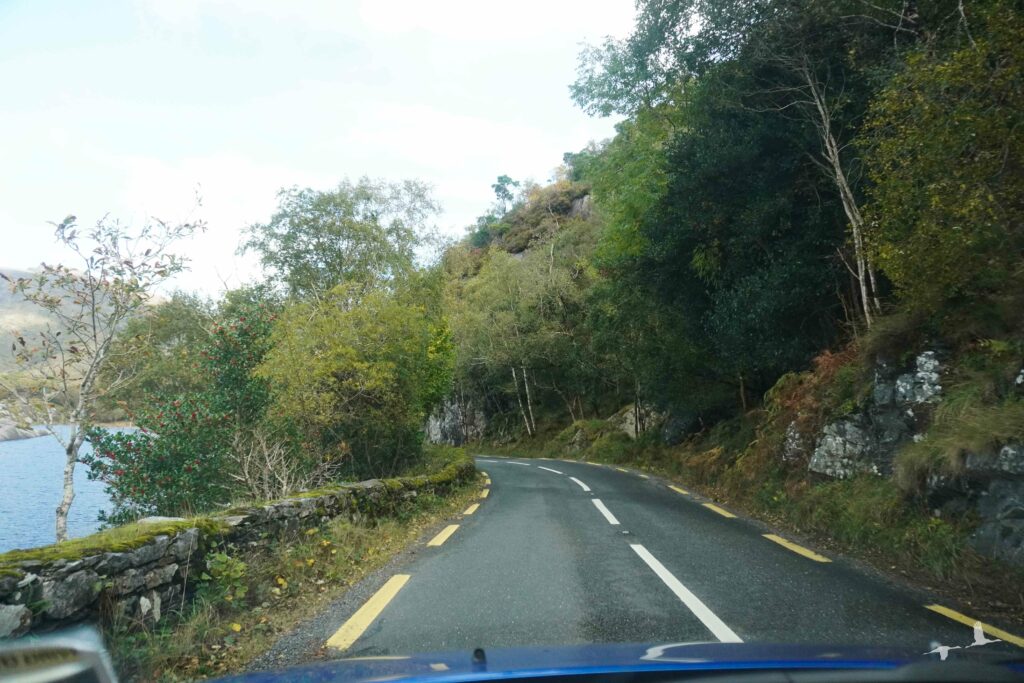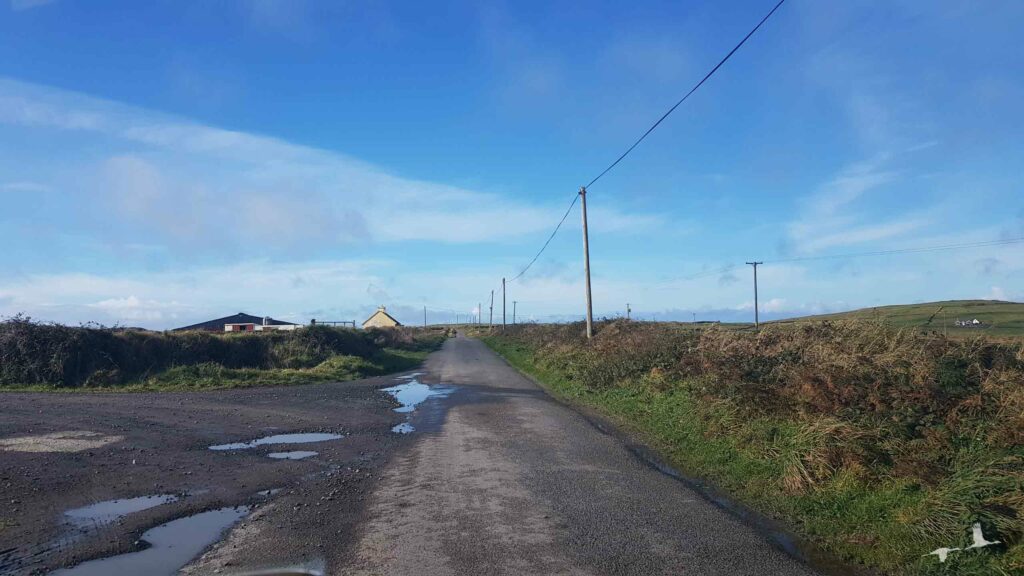 Getting fuel
Before going on the venture of getting fuel, it might be good to first know on which side of the car you fuel cap is, how to open it and whether you need diesel or gas. On our fuel cap there was an "unleaded" sticker so it was rather hard to forget we needed to get gasoline.
In Ireland you put the fuel inside you car yourself and then afterwards you make your way into the petrol station to pay.
What does it cost to rent a car in Ireland?
In short, we paid 571,50€ for 10 days, which are around 57€ per day. You can find a little cheaper options as well, but we wanted a rental car, where insurance-wise everything was covered. We dropped off our car at the same location where we picked it up and we did not cross any country border (i.e. Northern Ireland) as well. Both of these factors can increase you rental fees. Not included in this price are parking fees, toll roads, ferry rides as well as getting fuel. On the entire trip we paid around 160€ for gasoline (October 2022), as well as a total of 33€ in parking and toll road fees. For a more detailed breakdown of all our expenses, head to our article on How much does an Ireland road trip cost?.