How to Spend One Epic Day on the Dingle Peninsula!
The Dingle Peninsula is an absolute highlight on any Ireland road trip and, if you ask us, one of the top must-do things in Ireland in general!
We visited the Dingle Peninsula as part of our 12-Day Ireland Road Trip. And, to this day it is one of our favorite regions we visited during our time in Ireland.
In this epic one day Dingle Peninsula Itinerary, we share how you can spend one amazing day driving around Dingle Peninsula while experiencing stunning landscapes, breathtaking wildlife as well as true Irish culture.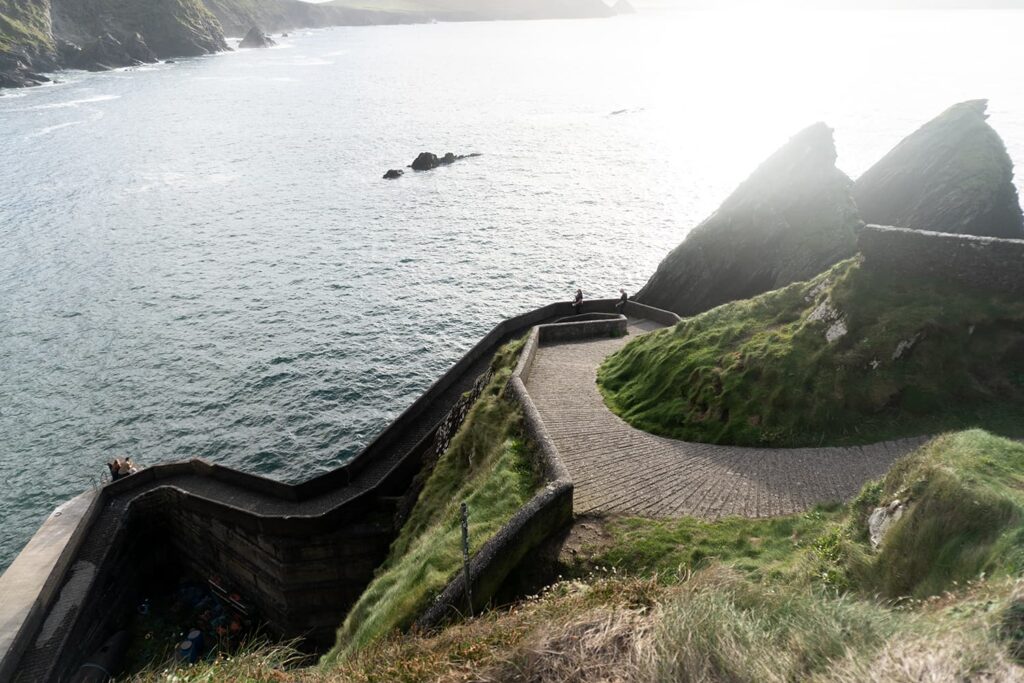 Note: We use affiliate links in this post. They are marked by an *, so you can recognize them in advance. By interacting with these links, you can support us and our website at no extra cost to you! For more information, read our Disclaimer.
Most Epic One Day Dingle Peninsula Road Trip Itinerary
The Dingle Peninsula is a 48 kilometers long stretch of land that reaches into the Atlantic Ocean. It is located in the southwest of Ireland and is home to some amazing sights and stunning views.
Some of you might know this peninsula from its more recent feature in Star Wars, others might have heard of it as a stunning alternative to the Kerry Road! But, no matter where you stumbled upon this region of Ireland we can guarantee you won't regret a visit!
In this epic self-drive Dingle Peninsula Road Trip Itinerary, we share what route you can take, as well as what to see, eat and do while driving around this awesome part of Ireland.
✨ Highlights of this one day Dingle Peninsula itinerary:

- Hike the stunning Dunmore Head featured in Star Wars
- Stand on a breathtaking 5km long white sand beach
- Visit the famous Dunquin Pier
- And our absolute favorite: See dolphins and whales on a Sea Safari!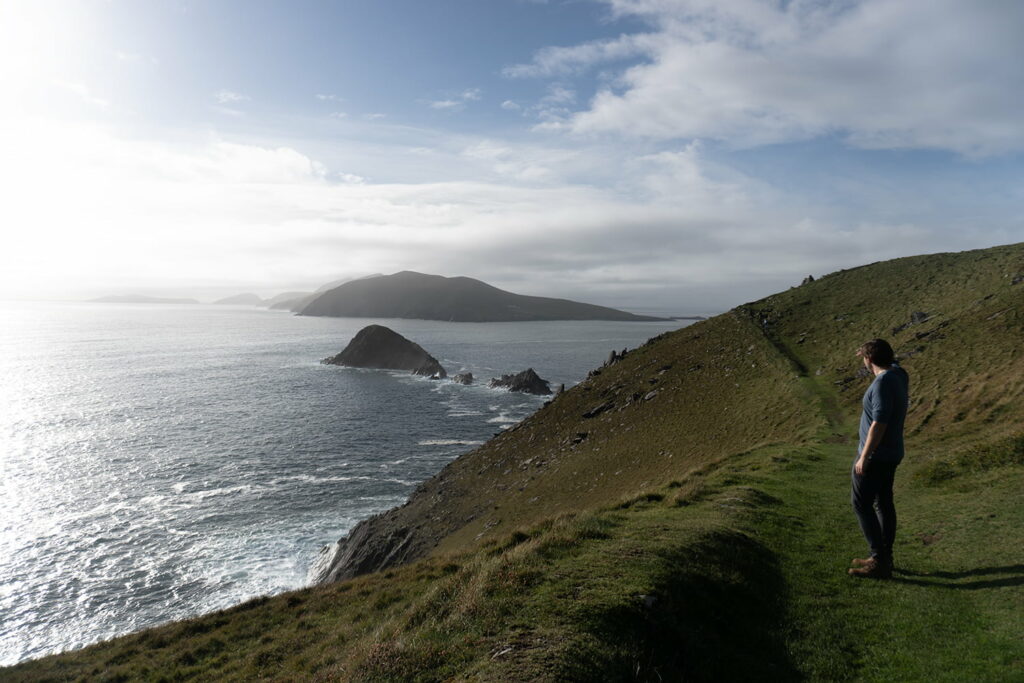 How to get around
The best way to get to Dingle and explore the Dingle Peninsula is by renting a car. Most of the highlights of this peninsula, apart from Dingle itself, are hardly reachable otherwise.
That's why you will need a rental car to be able to follow this itinerary!
One of the perks of exploring Dingle Peninsula with a rental car is the ability to stop wherever you want to! And to top it off, you can spent as much time as you wish in each spot.
Don't have a rental car yet?

Book your rental car now*!🚗

As a tip: If you visit during the summer months, we highly recommend you don't leave booking a rental car to the last minute!
How much time do I need to see Dingle Peninsula?
One of the most frequently asked questions is whether one day is enough to see Dingle Peninsula or not. If you were wondering the same thing, we can reassure you that one day is actually the perfect amount of time to see most of the things Dingle Peninsula has to offer!
Whether you wish to stay one night in Dingle or not is actually up to you. But, we will dive a little deeper into this question at the end of this post!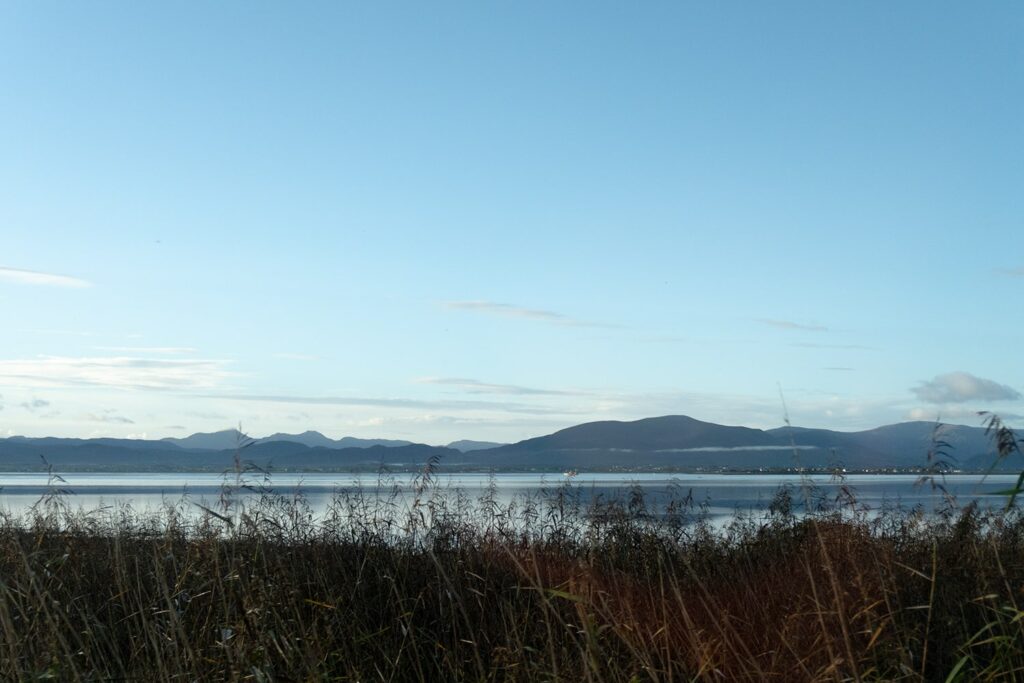 One-Day Dingle Peninsula Road Trip Itinerary
We designed this one day itinerary in a way that you can integrate it easily into whatever itinerary you have already planned so far. So whether you plan to stay one night in Dingle or not, this itinerary is applicable in both scenarios.
The map below shows the route you will be taking around Dingle Peninsula. For instance, we did not stay the night in Dingle and the whole day trip took us about 8-9 hours from start to finish.
So, now, let's get into this one-day Dingle Peninsula itinerary – which is what you all came here for in the first place!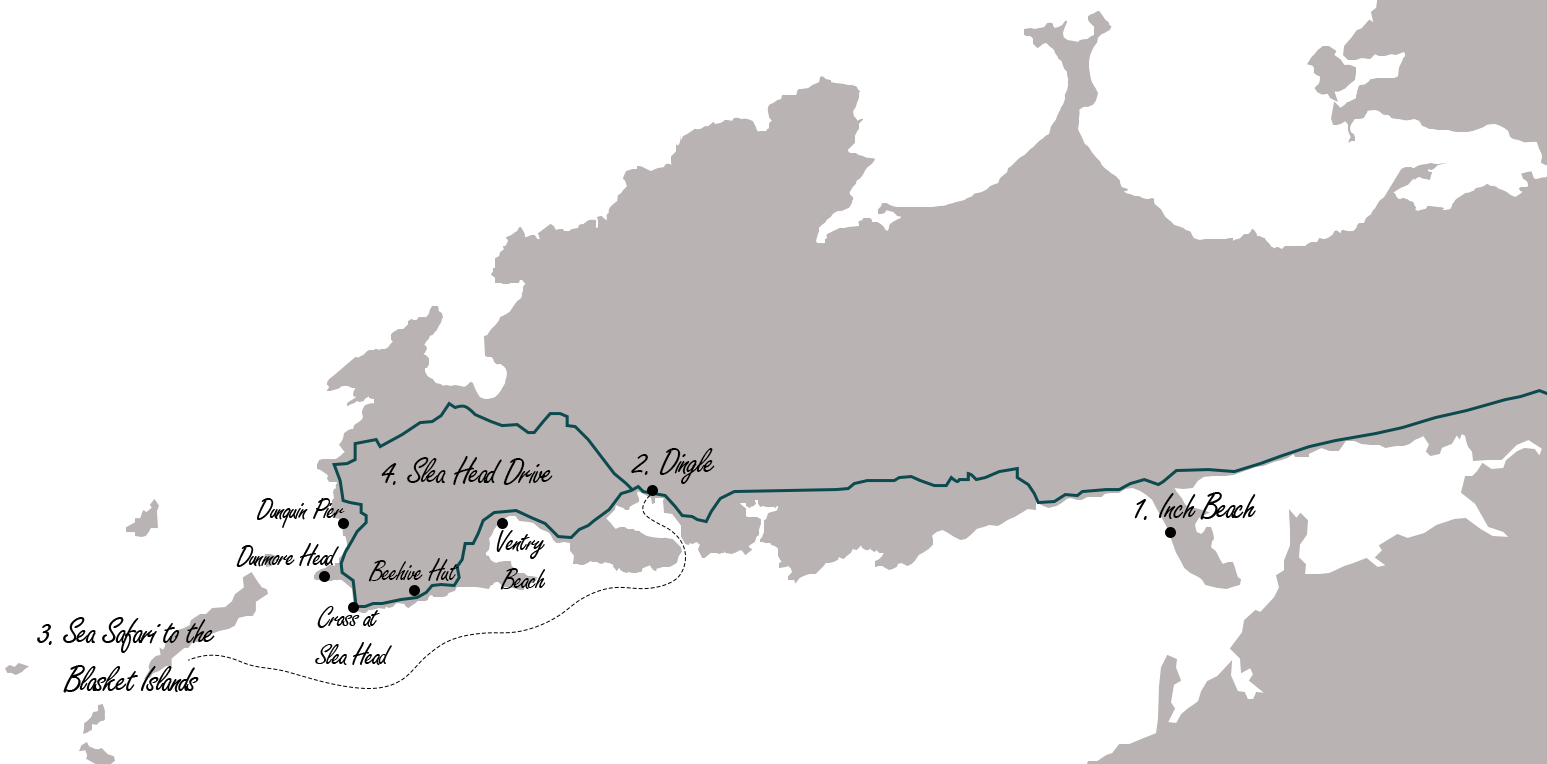 Driving on the Dingle Peninsula and Getting to Dingle
Dingle Peninsula can be reached from Castlemaine by taking the R561. The drive from Castlemaine to Dingle takes around 40 minutes one-way. So, head out early to make the most of your day on Dingle Peninsula!
If you are lucky and the weather is nice, you will have the most stunning views of Killarney National Park to your left when making your way towards Dingle! Make sure to stop at least once along the way to marvel at the breathtaking backdrop!
1. Take a walk on Inch Beach
Your first official stop of the day will be Inch Beach. This beach is located on another smaller peninsula. However, this white sand beach itself is huge. It occupies the whole length of said peninsula and is an impressive 5 kilometers long.
However, the size of Inch Beach is not its only selling point. The surrounding landscape is quite breathtaking as well. That's why we think that it is a MUST to stop here when visiting Dingle Peninsula.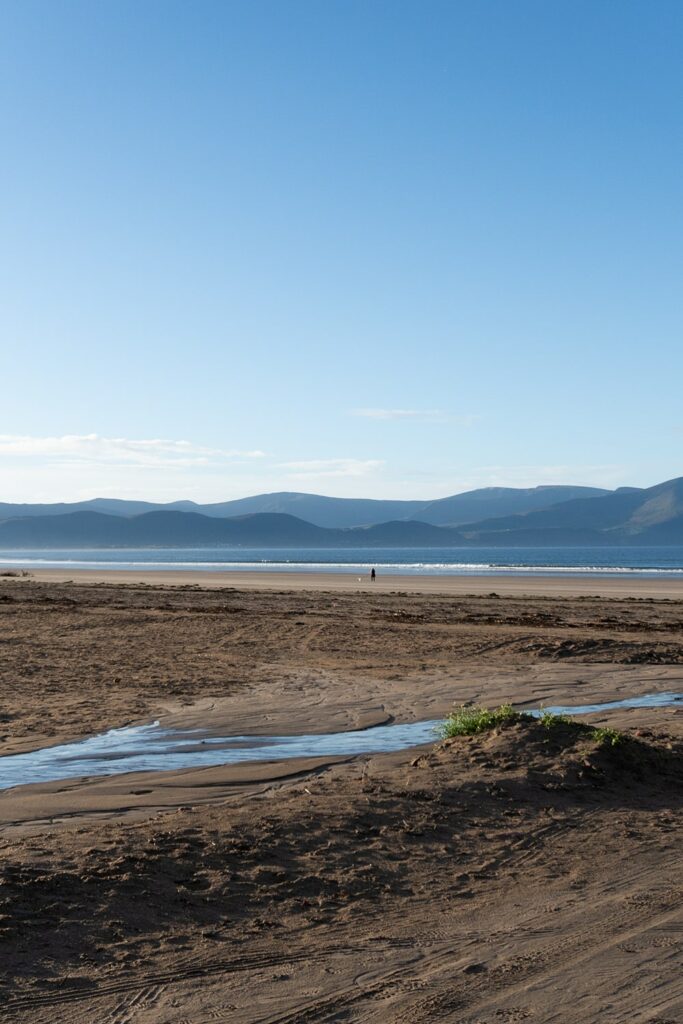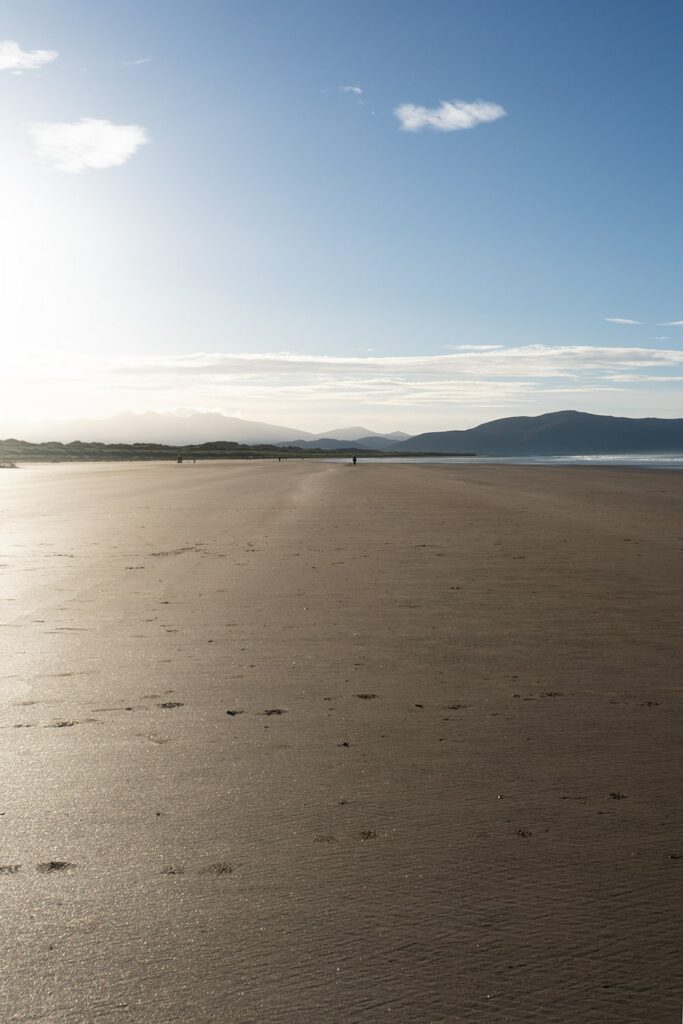 You can either take a walk on the beach or maybe pack your breakfast into lunch boxes and have a little picnic on the beach. We did the latter and can absolutely recommend it. Make sure beforehand that the weather will be nice though.
When following the R561 from Castlemaine, the entrance to Inch Beach is located to your left. There is free parking available.
2. See dolphins and whales on a sea safari
As soon as you make it to Dingle, find a parking spot near the harbor and make your way towards one of the best activities of your time in Ireland, trust us!
This next item on the itinerary was an absolute highlight for us and would definitely make it in our top 5 things to do in Ireland, if we had to make a list.
An unexpected turn of events
To be honest, we kind of stumbled into it. In October there are usually no tours on the Atlantic Ocean due to storms, but since the weather was exceptionally nice we decided to head to the harbor, just in case. When we arrived, there was a boat getting ready. We asked, they had 3 spots left and 5 minutes later we were on the boat leaving the harbor. And it ended up being the best decision ever!
Why you will not regret taking this tour
Dingle Sea Safari is a business run by a local family for generations. They run tours to the Blasket Islands and have been Nr.1 on Tripadvisor for years now. Our guide was very knowledgeable and had many interesting stories to tell about the area and what life is like there (both human and wildlife).
The tour takes around 2.5-3 hours. We made our way to the Blasket islands following the coastline which is characterized by many cliffs, caves and beautiful rock formations. The Great Blasket Island is home to a huge seal colony and we got to see many sea birds as well. One island is inhabited by a really unexpected animal but we won't reveal which one here;).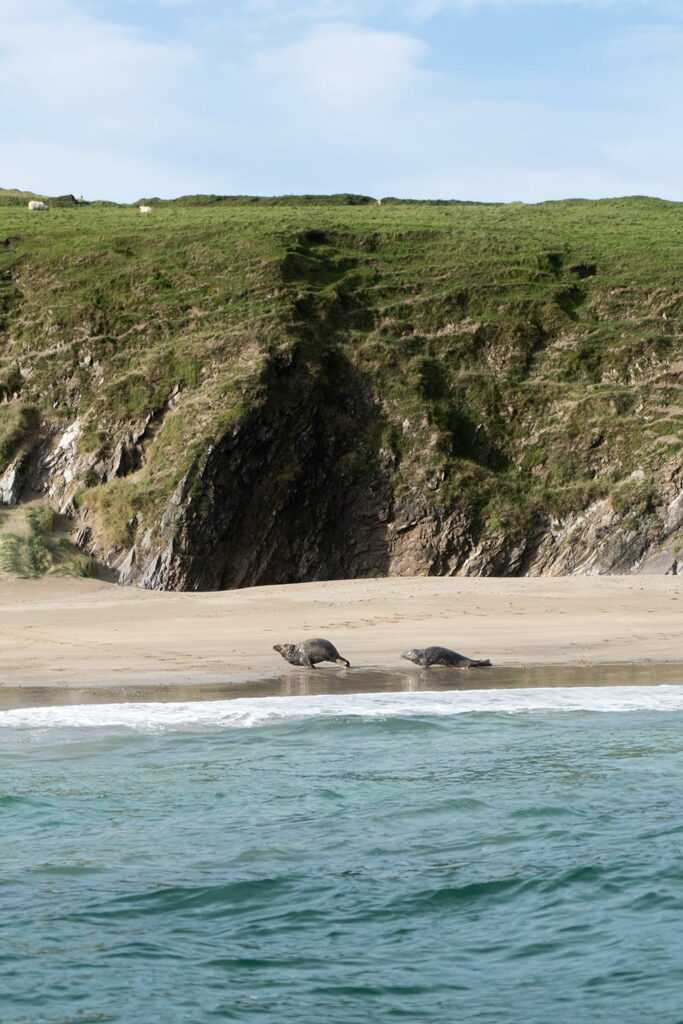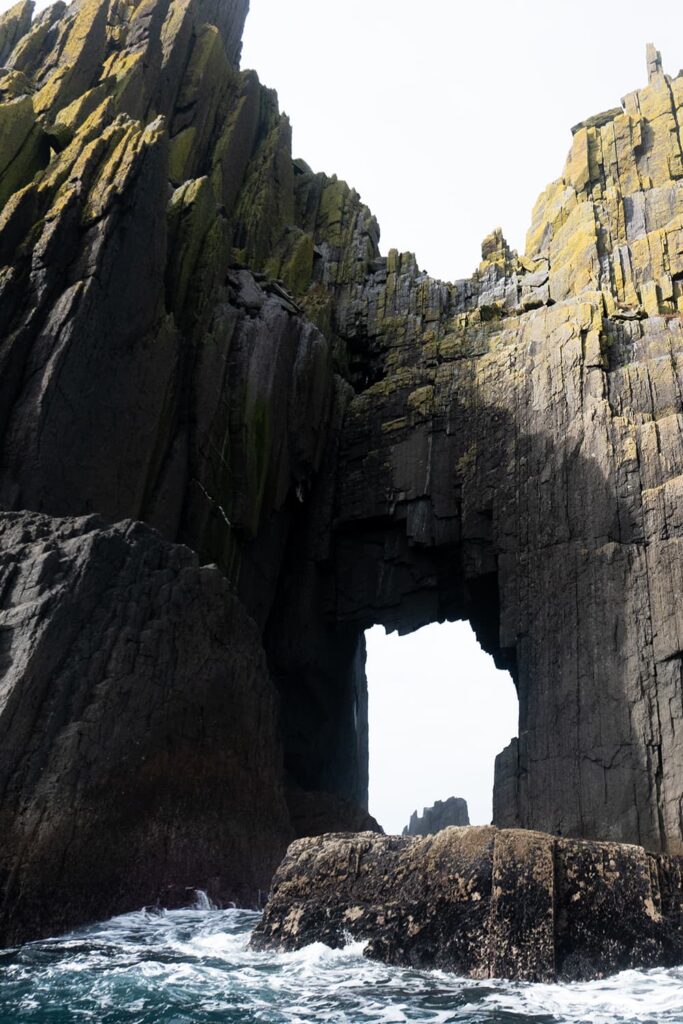 Then we headed towards the open North Atlantic Sea for dolphin and whale-watching. We saw numerous dolphins and there was a humpback whale as well. We just happened to look the wrong way when it surfaced and then it was gone (I guess we had used up our luck of the day by that point).
The time flew by and when it was time to head back, we were a little sad that the tour ended.
We think this tour is an absolute must for all wildlife and nature lovers out there. It is also a great way to learn about local life here and support an amazing local family business in the process.
This tour can be booked via Viator, which is convenient for us since we could get an affiliate link for them. But for some reason it costs nearly 30€ more on Viator than it does if you book directly through the Dingle Sea Safari website. So do yourself a favor and just book it on the Dingle Sea Safari website (it should be 65€ per person, which is what we paid on site for this tour as well).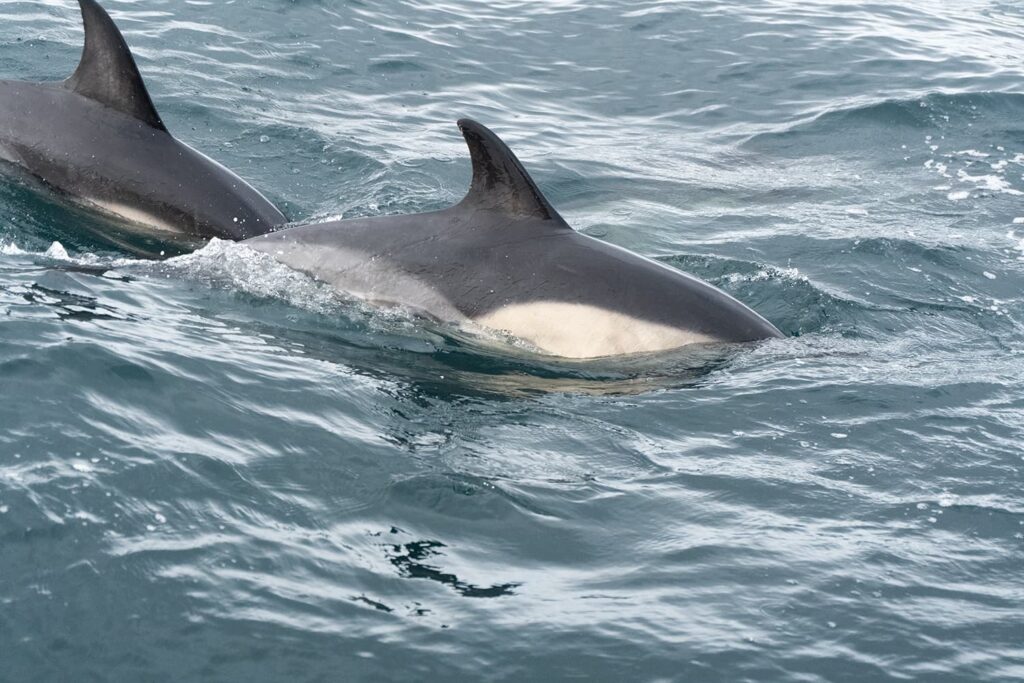 3. Eat Lunch in Dingle
After having spend 3 hours on the Atlantic Ocean, you are probably quite hungry and on the lookout for lunch. Just across the street from the harbor you will find a small courtyard with a few food trucks.
The one you will be looking for is called Dingle Ahoy! Fish and Chips. They prepare their meals with fresh fish from Dingle Bay. Some picnic tables are set up around the food truck, so you can opt to sit down to eat there.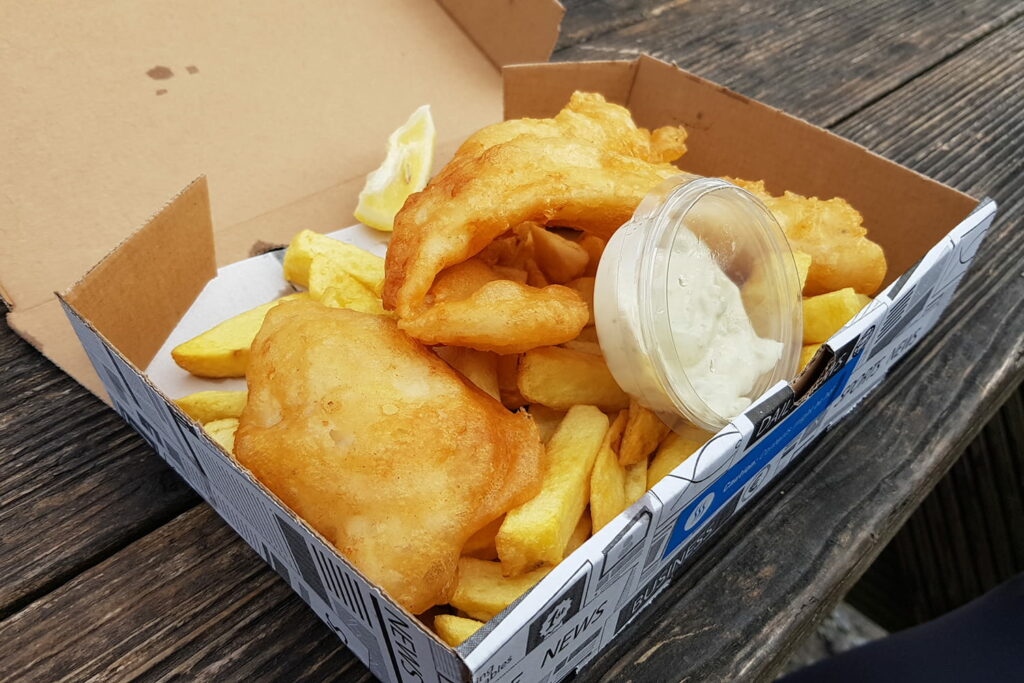 After lunch, take some time to explore the town of Dingle. Dingle itself is characterized by many colorful buildings. It is everything that you would imagine when picturing a small Irish fishing village. There are a few souvenir shops around and other food options as well if fish and chips is not what you are looking for;).
4. Do the Slea Head Drive
The Dingle Peninsula is actually quite well known for its most scenic drive called Slea Head Drive (along route R559). Some of the landscapes along this drive are actually quite famous.
So in the afternoon, you will be heading towards the starting point of the Slea Head Drive. In this section we will be going over some of the highlights of the Slea Head Drive that we think you should not miss!
Just a heads-up: Due to some very narrow roads, it is actually recommended to do the Slea Head Drive clock-wise. Like this, oncoming traffic can be avoided on the narrow parts of the drive. So be sure to stick to the recommended way!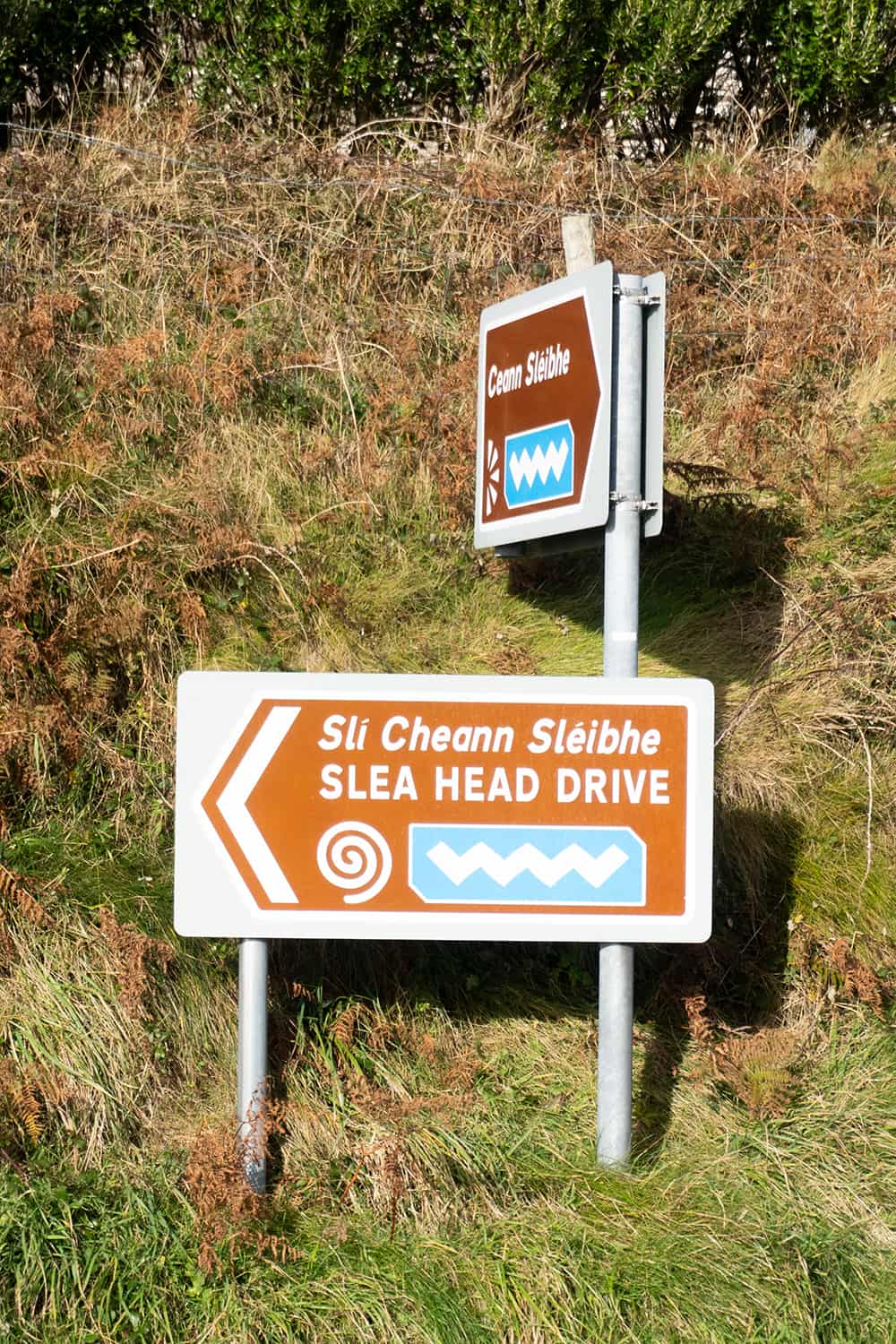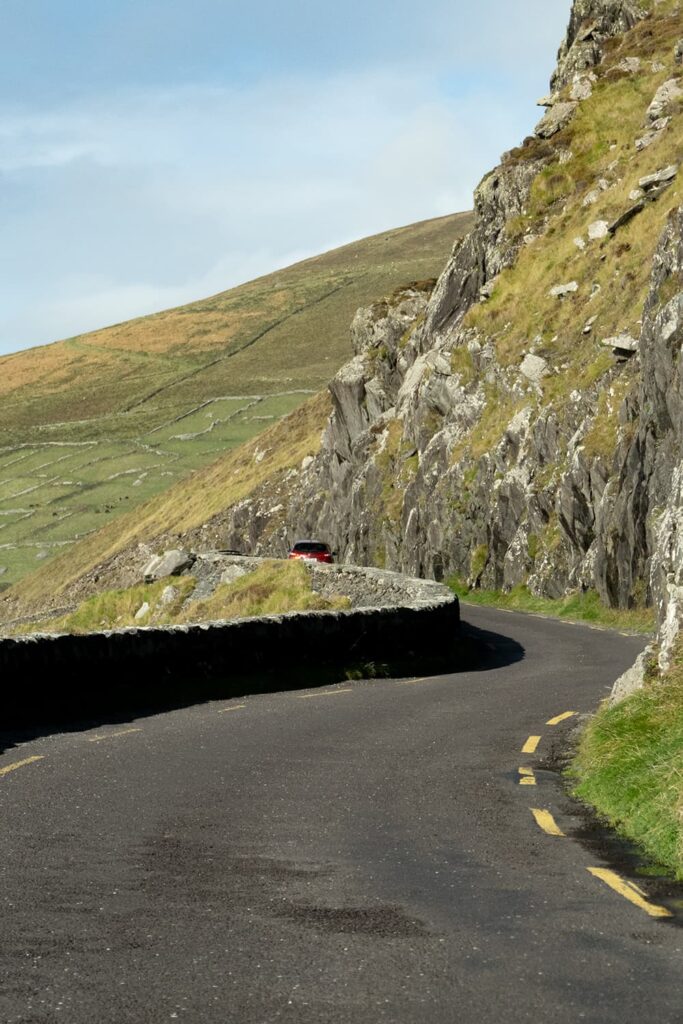 1. Ventry Beach
Shortly after taking the Slea Head Drive road, you will reach a beach called Ventry Beach. There is free parking right next to the entrance of the beach. You can either take a walk or just spend some time in the sand taking in the views.
If you are interested in pottery, there is a lovely little shop called Penny's Pottery not far from the Ventry Beach parking lot.
2. Beehive Huts
When continuing on the Slea Head Drive, you will soon notice several signs advertising so-called "Beehive Huts". They are a form of housing, which were built by stacking stones on top of each other in a ring-form.
Their exact origin is not known, but they were probably built somewhere between the 8th and 12th century. If you want to read a little more about these peculiar huts, the Atlas Obscura website has a more detailed article about them.
Along the drive there are several spots where you can stop and visit the Beehive Huts.
3. Cross at Slea Head
The next stop is Slea Head. There is a huge cross located next to the road on Slea Head. However, what makes this place truly worth visiting is actually the view on to the Atlantic Ocean and the rocks at the bottom of the coastline.
On the opposite side of the road from the cross there is a small spot where you can park. However there is only room for 2-3 cars to park at the same time. So make sure to only stop for a short period of time.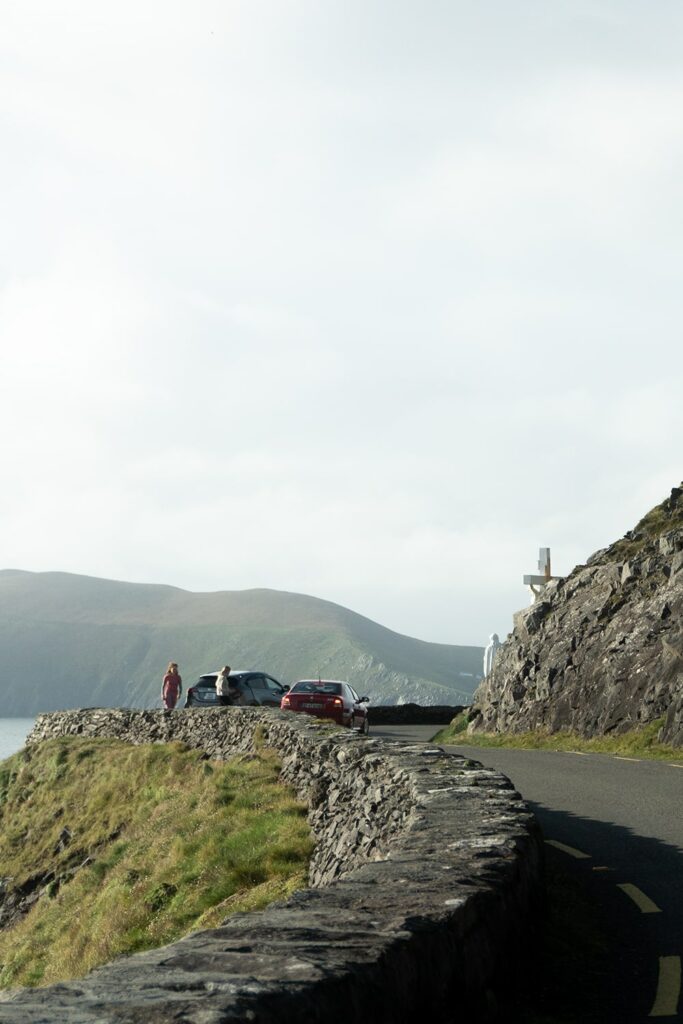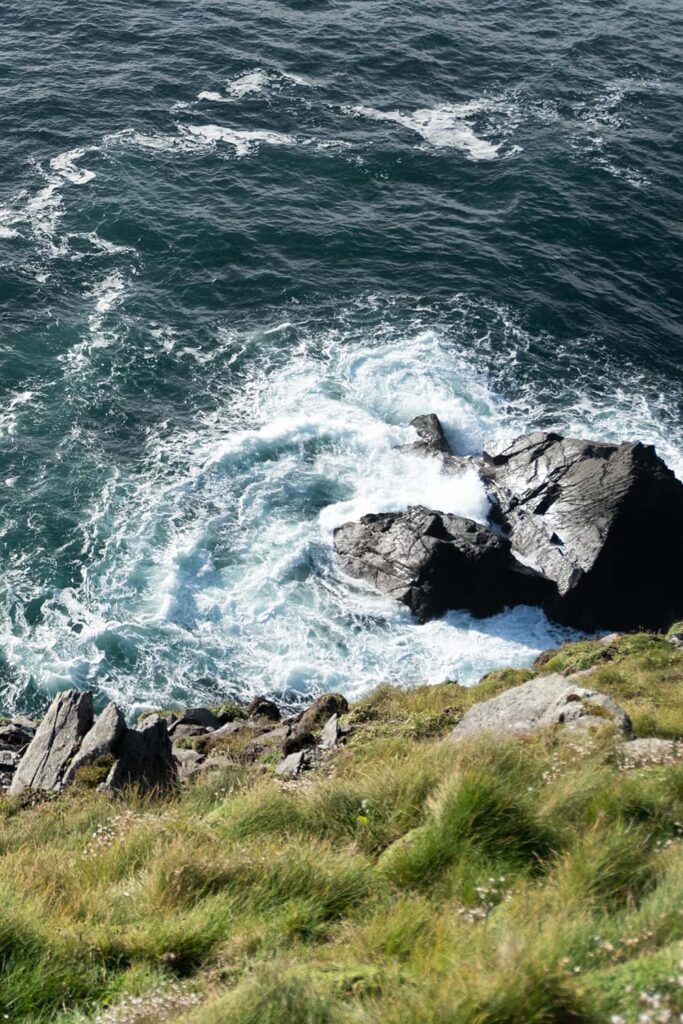 4. Dunmore Head
Dunmore Head has recently become quite popular. It was used as a filming location for Luke's island hideout in one of the recent Star Wars movies. That is also why you will see quite a lot of Star Wars advertisement signs along the Slea Head Drive.
Whether you are a Star Wars fan or not, Dunmore Head is really beautiful and definitely worth a stop. It is home to some really breathtaking views! There is free parking at the bottom as well.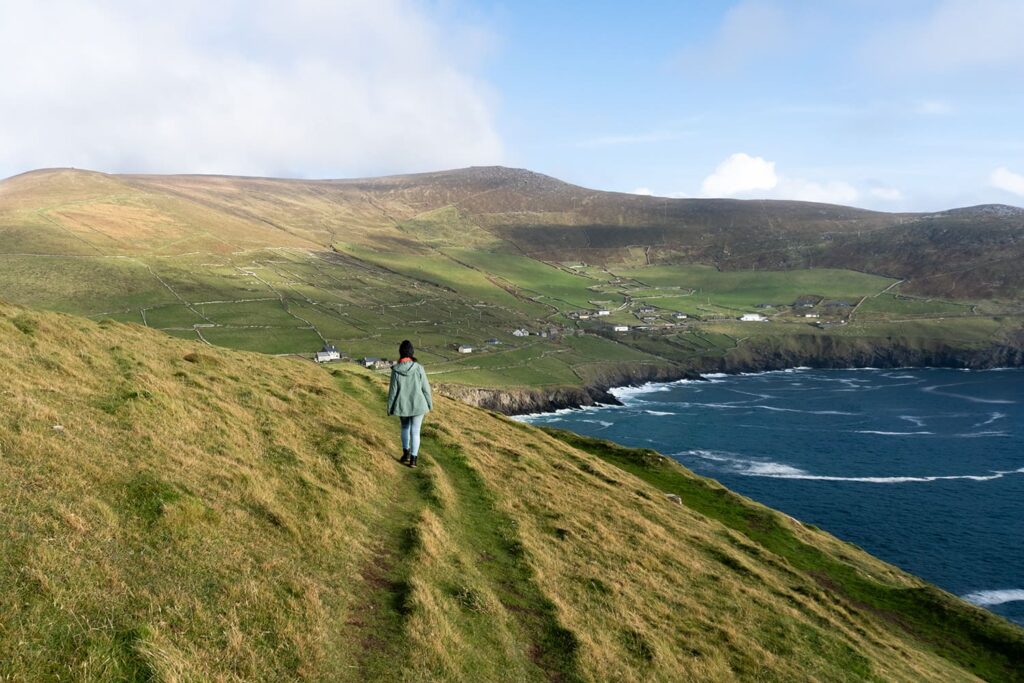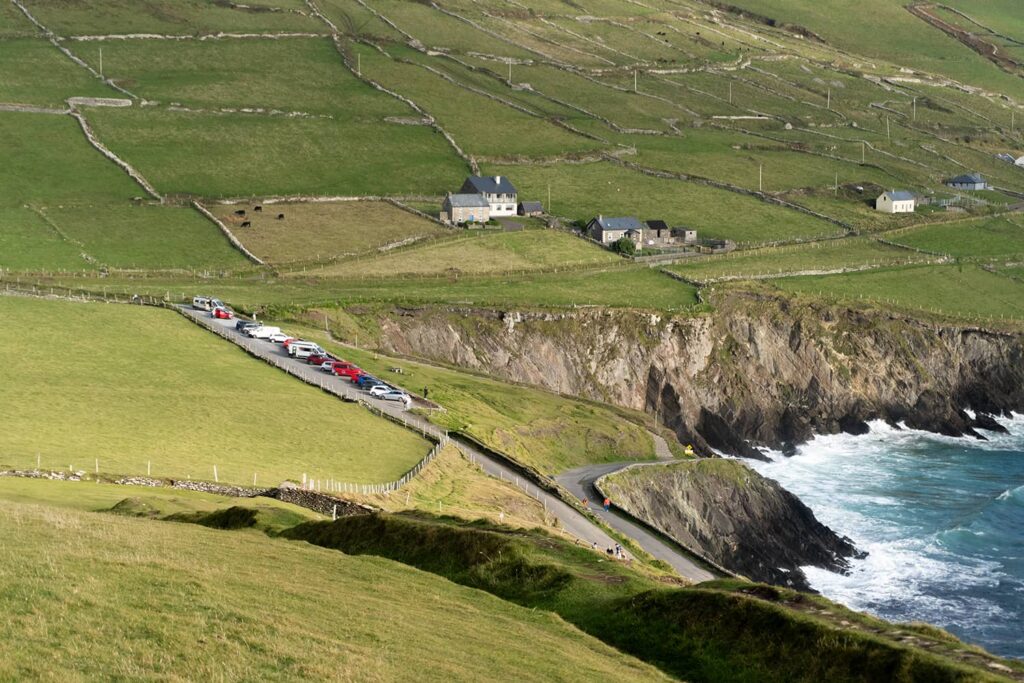 From the car park, follow down the paved road until you reach a sharp bend. Here you will find a gate, which is the starting point of a small walk up the hill towards Dunmore Head.
Next to the gate is a donation box. The owner of the land asks for a 1€ donation per person in order to access the walk. Sadly we saw quite a number of people who entered the walk without donating anything.
The number of tourists that access the walk damage the land quite a bit, so we thought it was only right to pay the requested donation in return out of respect…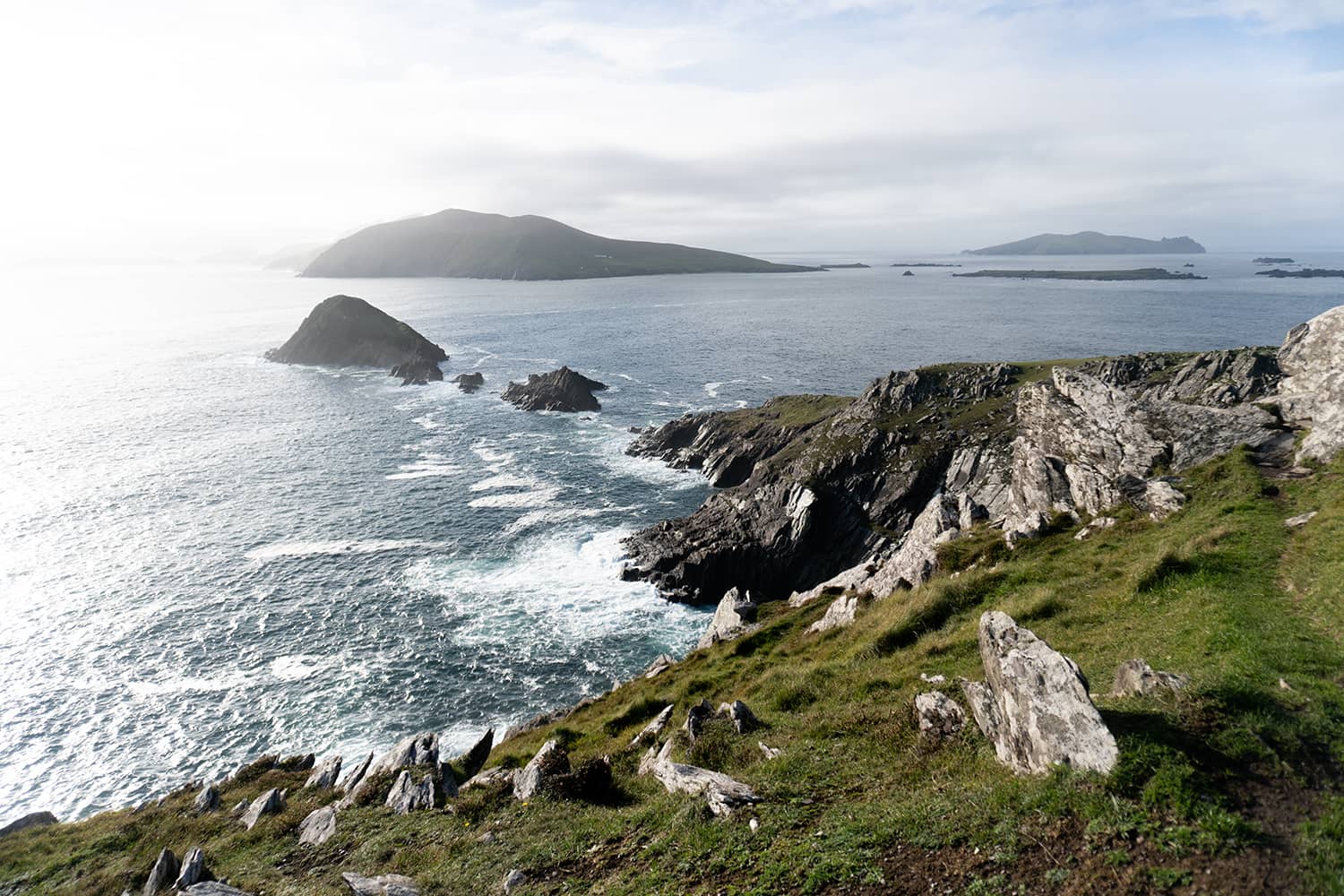 5. Dunquin Pier
The last big stop of the Slea Head Drive is Dunquin Pier. When you look up Dingle Peninsula on Google Images, Dunquin Pier is most certainly one of the first images to pop up.
During the summer months, a ferry runs between Dunquin Pier and the Great Blasket Islands. For more information on that ferry, head to the Blasket Island Ferries website.
But, most tourists visit Dunquin Pier due to the unique walkway that leads down to the pier. And it truly is quite impressive. There is free parking next to the road leading up to the walkway.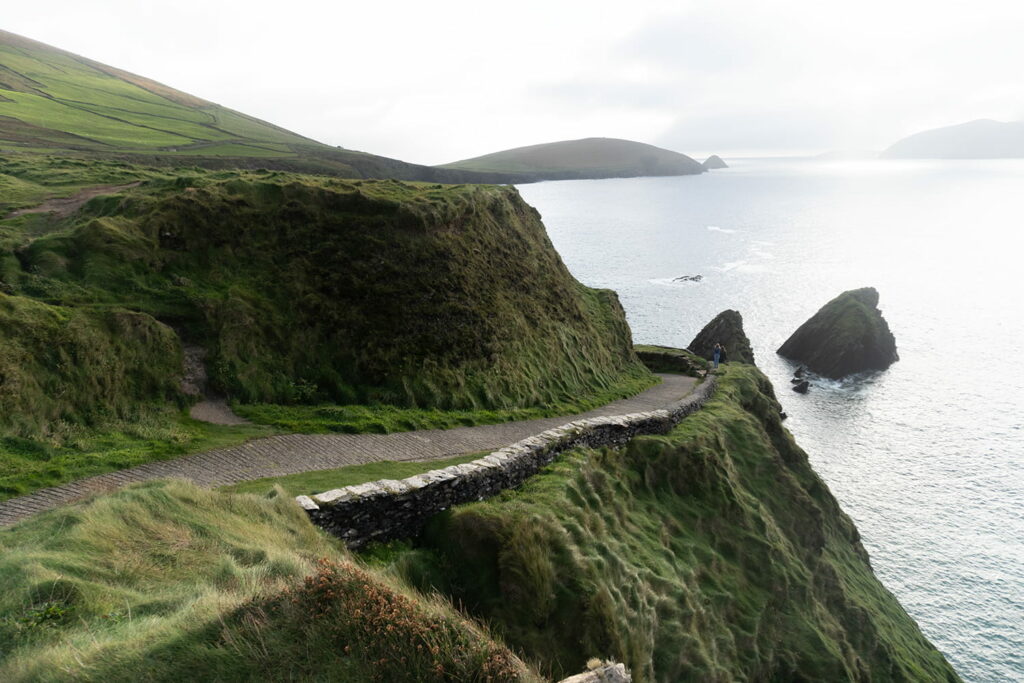 6. Scenic views on the drive back to Dingle
From here simply follow the Slea Head Drive road back towards Dingle. You will continue to find stunning views on the whole drive back! Make sure to stop a few more times along the way to soak in every bit of the views that you can!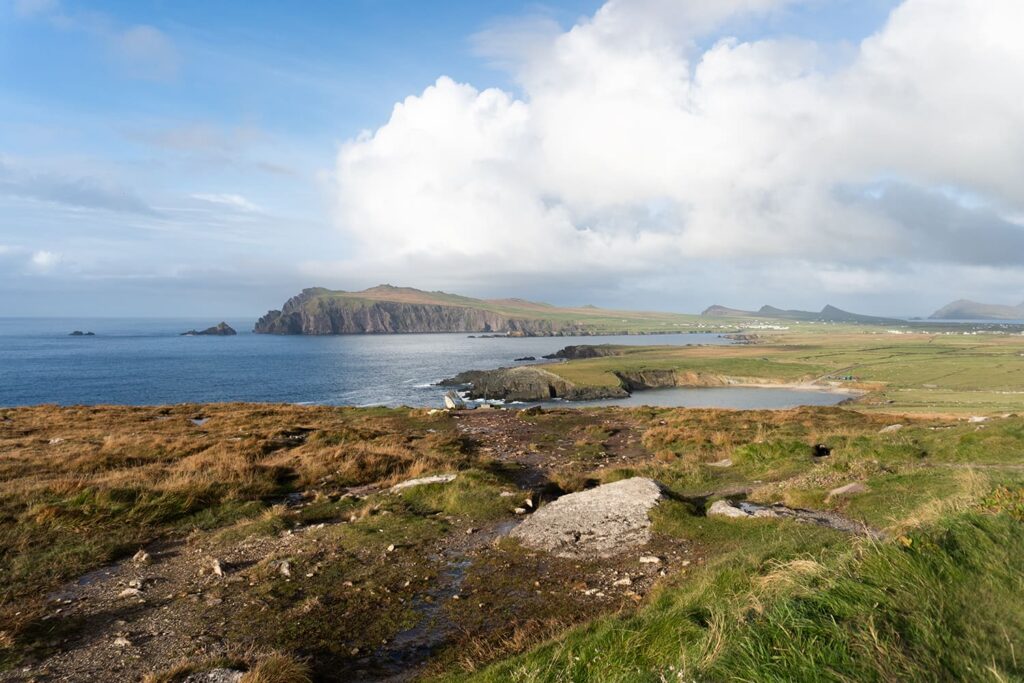 Since the Slea Head Drive is a loop drive, you will find yourself back in Dingle after completing the drive. So now, you have one more important question to answer:
Should I spend one night in Dingle?
Whether you should spend one night in Dingle definitely depends on your interests and priorities. But, we'll try to give you the pro's and con's of both so it will be easier for you to make your decision.
We decided to not stay in Dingle, because we usually try to change accommodations as little as possible. That's why we decided to stay two nights near Killarney and explored Dingle Peninsula as a day trip from there.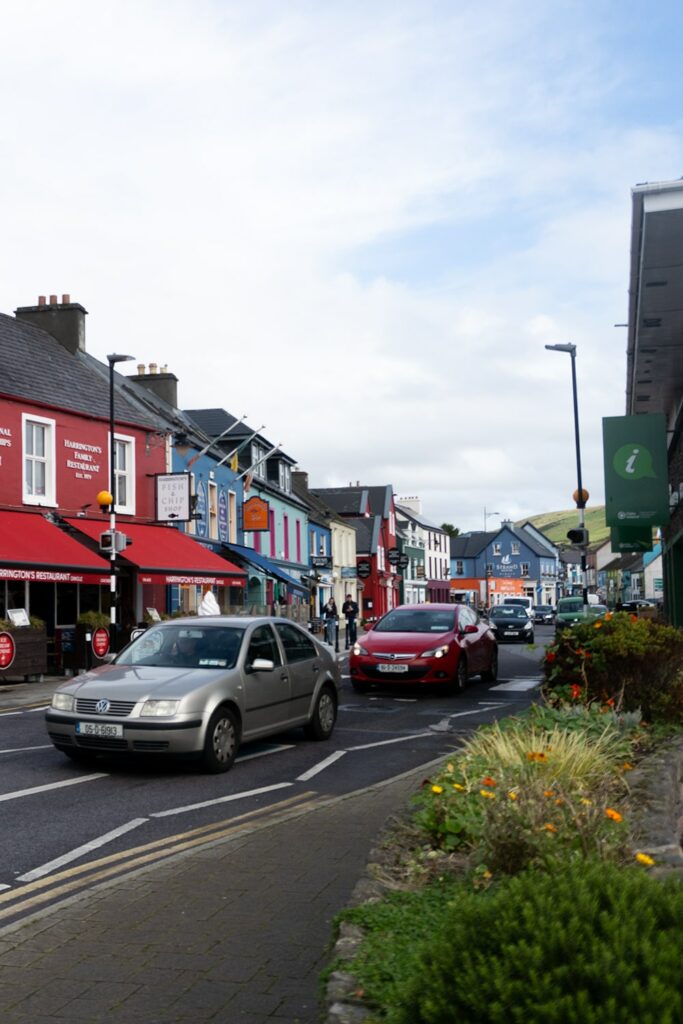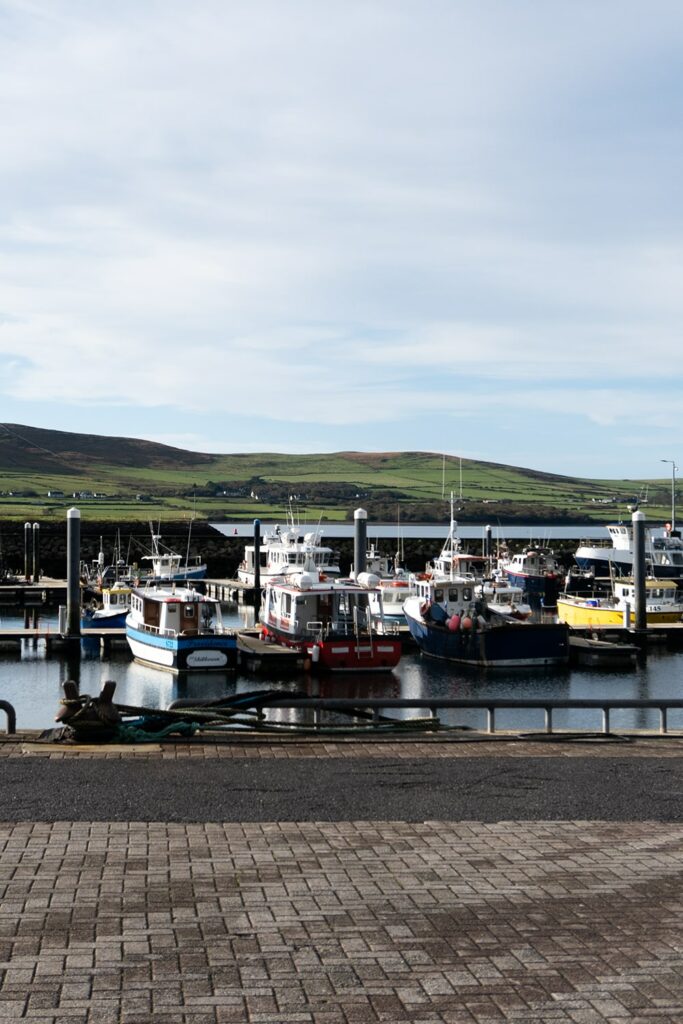 The disadvantage of this is however that you'll do a lot more driving back and forth than if you were to stay in Dingle for one night at the end of your day exploring the peninsula.
If you would like to experience a bit more of Irish culture in Dingle, staying one night here might be an awesome option as well. Dingle is quite famous for its pubs and therefore also home to some amazing ones!
Where to stay in Dingle:

Dingle is home to numerous B&B's with amazing reviews, so it is hard to go wrong here. We would probably go with one of the options down below if we were to stay in Dingle:

🏨 Check out The Quayside B&B* 
   You can find deals starting at 105€/night | Reviews: 9.1 on Agoda
🏨 Check out Adams Townhouse* 
   You can find deals starting at 154€/night | Reviews: 9.3 on Agoda
Want to save this post for later?