How to spend One Day on the Dingle Peninsula
The Dingle Peninsula is a 48 kilometers long stretch of land which reaches into the Atlantic Ocean. It is located in the southwest of Ireland and home to some amazing sights and stunning views. In this guide we will give you all the information you need on how to spend one amazing day on the Dingle Peninsula. We share our route as well as what to see and what to do while there.
We visited the Dingle Peninsula as part of our Ireland roadtrip. For more information on our roadtrip itinerary, head to our Ultimate Ireland Roadtrip Itinerary.
Want to save this post for later?
Save this post to Pinterest to read it later or share it with a friend!
How to get there and how to get around
Via public transportation, you can get to Dingle by bus. The bus line 275 by Bus Eireann runs from Tralee to Dingle, ten times per day. For more information, head to the official Bus Eireann website.
The best way to get to Dingle and explore the Dingle Peninsula, however, is by car. Most of the highlights of this peninsula, apart from Dingle itself, are hardly reachable otherwise. Also it gives you the ability to stop wherever you want to and spent as much time as you wish on each spot. We rented a car at Dublin airport. If you wish to find out more about the process of renting a car, read our Guide on renting a car in Ireland.
If you cannot or do not want to rent a car, you can still book a guided tour to visit the Dingle Peninsula. For instance Get Your Guide provides daytrips to the Dingle Peninsula from Killarney, for around 40€.
Our One-Day Dingle Peninsula Roadtrip Itinerary
The map below shows our route on the Dingle Peninsula. We headed there in the morning (around 9 a.m.) and returned in the afternoon (around 5 p.m.). Since we spend the previous day in Killarney, we drove on to the peninsula from Castlemaine taking the R561. If you are lucky, like us, and the weather is nice, you will be able to get really beautiful views with Killarney National Park in the background to your left. However do not underestimate the distances, the drive from Castlemaine to Dingle takes around 40 minutes one-way.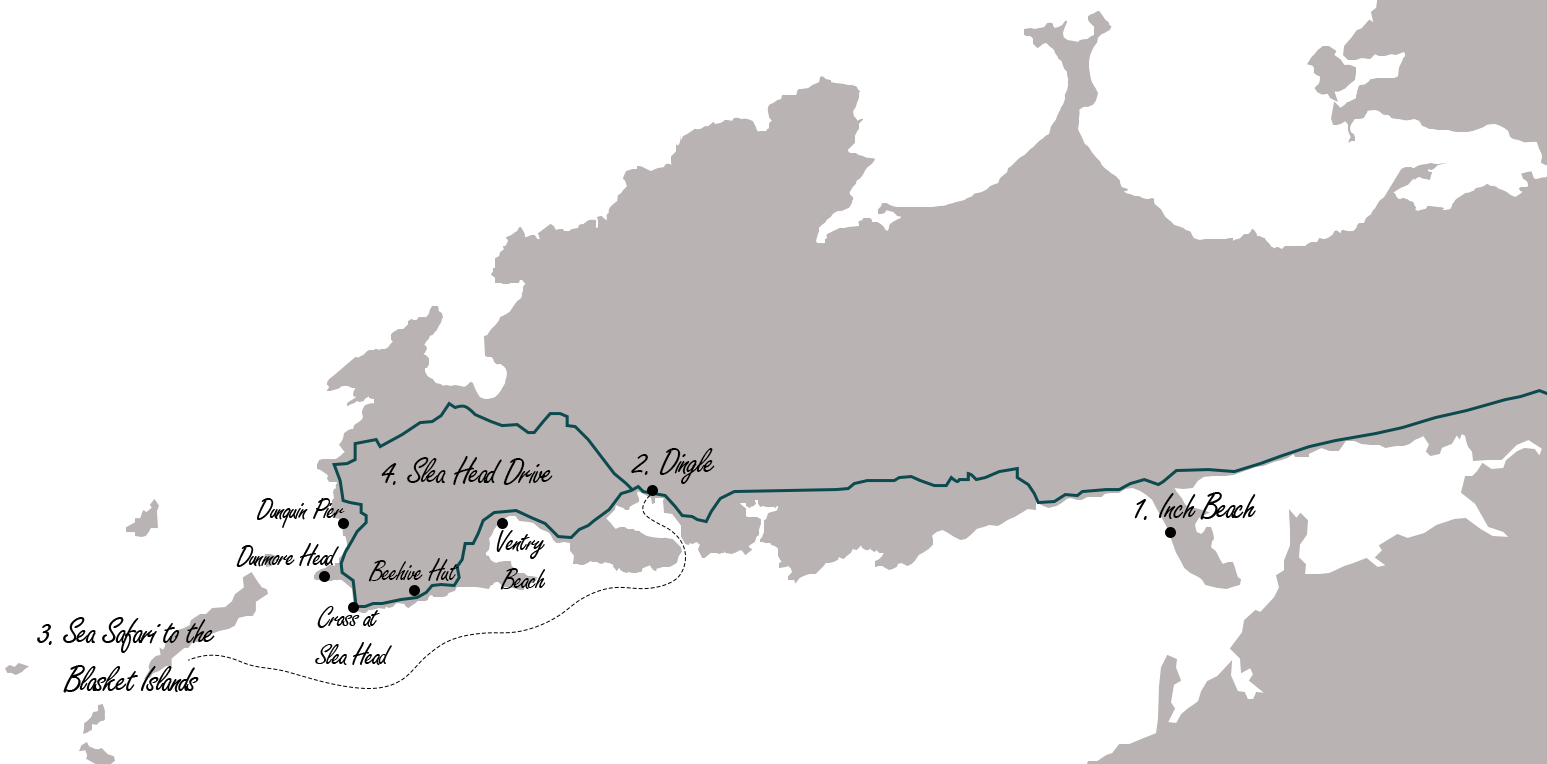 Take a walk on Inch Beach
Our first stop was Inch Beach. This beach is located on another small peninsula. However, the beach is huge, it occupies the whole length of said peninsula. We stopped here to eat the breakfast we brought with us and took a walk afterwards. Inch Beach is absolutely worth visiting! It is a really huge and beautiful beach surrounded by the sea and the green from the surrounding land. We think that it is a MUST to stop here when visiting the Dingle Peninsula.
When following the R561 from Castlemaine, the entrance to Inch Beach is located to your left. There is also free parking available.
See dolphins during a Sea Safari to the Blasket Islands
This next item on our agenda would be the absolute highlight of the day and is definitly among our top 5 things we did while in Ireland. To be honest, it technically wasn't even on our agenda. It was added very spontanously. We knew that we wanted to do some sort of dolphin or whale-watching tour, however, since we were in Ireland in October, most of the tours headed to the Atlantic Ocean did not operate. Due to heavy storms during the winter months, most tour operators actually don't do any tours between October and April.
However, since the weather was really nice that day, we decided to head to the harbour in Dingle, just in case. And we were lucky! Just when we arrived, there was a tour boat getting ready to leave. They had 3 spots left and so in the course of 5 minutes we were on the boat leaving the harbour.
The tour we took is called Dingle Sea Safari Rib Ride. Dingle Sea Safari is a family business and they run tours towards the Blasket Islands. The Dingle Sea Safari Rib Ride tour costs 65€ per person and takes around 2.5 – 3 hours.
We first followed the coastline of the Dingle Peninsula, which is characterized by many cliffs, caves and beautiful rock formations. Then we headed towards the Blasket islands. The Great Blasket Island is home to numerous seals. The local tour guide was very knowledgable and had many great and interesting stories to tell about the area and life there (human as well as wildlife).
At the end of the tour, we headed towards the open North Atlantic Sea for dolphin and whale-watching. Unfortunately we did not see any whales on our tour, but we saw numerous dolphins! Three hours really flew by and we were a little sad when the tour ended. In our opinion this tour is an absolute MUST-DO if you are interested in wildlife, beautiful landscapes as well as getting to know a little more about life in this area of our planet.
When we got back from the Sea Safari tour, it was already after 1 p.m. and so we were on the lookout for some lunch. Just across the street we found a place for take-away fish and chips. It is called Dingle Ahoy! Fish and Chips and prepares their meals with fresh fish from Dingle Bay. Some picnic tables are set up around the booth, so you can opt to sit down and eat there.
Dingle itself is characterized by many colourful buildings. It truly has the charm of a small fishing village. There are some shops and restaurants as well.
The Dingle Peninsula is actually quite well known for a scenic drive called Slea Head Drive (R559). Some of the landscapes along the way are quite famous. So in the afternoon, we headed towards the starting point of this drive. Just a heads-up: Due to some very narrow roads, it is actually recommended to do the Slea Head Drive clock-wise. Like this, oncoming traffic can be avoided on the narrow parts of the drive. So be sure to stick to the recommended way!
Shortly after taking the Slea Head Drive road, we reached a beach called Ventry Beach. There is free parking right next to the entrance of Ventry Beach. Take a walk on the beach or just spend some time sitting in the sand! Unfortunately, it started raining when we were there, so we did not spend much time here.
If you are interested in pottery, there is a lovely little shop called Penny's Pottery not far from the Ventry Beach parking lot.
When continuing on the Slea Head Drive, you will soon notice several signs advertising so-called "Beehive Huts". They are a form of housing, which were built by stacking stones on top of eachother in a ring-form. Their exact origin is not known, but probably somewhere between the 8th and 12th century. If you want to read a little more about these peculiar huts, the Atlas Obscura website has a more detailled article about them.
Along the drive there are several spots where you can stop and visit some of the Beehive Huts.
The next stop is Slea Head. There is a huge cross located next to the road on Slea Head. However, what makes this place truly worth visiting is actually the view on to the Atlantic Ocean and the rocks at the bottom of the coastline. Next to the bend there is only room for 2-3 cars to park at the same time. So you should only stop for a short period of time.
Dunmore Head has recently become quite popular. It was used as a filming location for Luke's island hideout in one of the recent Star Wars movies. That is also why you will see quite a lot of Star Wars advertisement signs along the Slea Head Drive. Whether you are a Star Wars fan or not, Dunmore Head is really beautiful and definitly worth a stop. It is home to some really breathtaking views! There is free parking at the bottom.
From the car park, follow down the paved road until you reach a sharp bend. Here you will find a gate, which is the starting point of a small walk up the hill towards Dunmore Head. Next to the gate is a donation box. The owner of the land asks for a 1€ donation per person in order to access the walk. Sadly we saw quite some people who entered the walk without donating anything. To us this was kind of a sign of lack of respect. The number of tourists which access the walk do damage his land quite a bit, so we thought it was only right to pay the requested donation in return (but maybe that's just us).
Our last stop of the day was Dunquin Pier. When you look up Dingle Peninsula on Google Images, Dunquin Pier is most certainly one of the first images to pop up. During the summer months, a ferry runs between Dunquin Pier and the Great Blasket Islands. For more information head to the Blasket Island Ferries website. Most tourists visit Dunquin Pier due to the unique walkway leading down to the pier.
There are parking opportunities next to the road leading up to the walkway.
6. Scenic views on the drive back to Dingle
From here we followed the Slea Head Drive road back towards Dingle. Underway we continued to meet with some really amazing views! After a small pit stop in Dingle, we headed back to our AirBnB in Killarney, since we still had a 50 minutes drive back.