Everything you need to know when planning a trip to Sokcho
Sokcho is a fishing town on the northeastern coast of South Korea, located only a short bus ride away from the stunning Seoraksan National Park. That's why most people use Sokcho as a base for visiting the latter.
We initially did so as well. However, we absolutely fell in love with Sokcho while we were there! So much so that we decided to extend our stay in this charming beach-side town.
In this travel guide to the city of Sokcho, we give you all the information you need while planning your trip! We cover how to get there, where to stay, how to get around as well as why we think it is worth it to spend some time here!
Note: We use affiliate links in this post. They are marked by an *, so you can recognize them in advance. By interacting with these links, you can support us and our website at no extra cost to you! For more information, read our Disclaimer.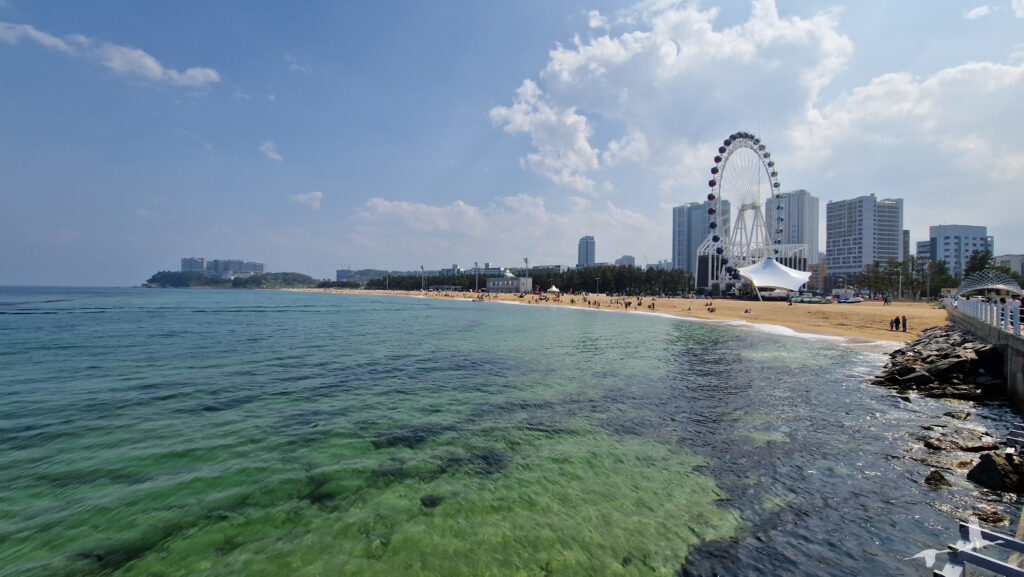 How to get to Sokcho from Seoul
Getting to Sokcho from Seoul is fairly easy. Everyday between 6 a.m. and 11 p.m. there are Express Busses going from Seoul Express Bus Terminal towards Sokcho.
A bus departs every 30 minutes and generally takes about 2:30-3h to get to its destination depending on the traffic. We paid 21.300 KR₩ for a one-way ticket per person which were a little less than 15€ (or £13, or 16US$) at the time of our South Korea trip.
For more information on how to use the bus system in South Korea, where to buy tickets etc.,
head to our:
🖋️ Ultimate guide to South Korea's Express bus system
As a tip: When inside the Seoul Express Bus Terminal, follow the signs that say Gyeongbu/Yeongdong Line to get to the correct terminal for traveling to Sokcho, because there is more than one bus terminal building!
In Sokcho, you will be arriving at Sokcho Express Bus Terminal, which is also where you can get your tickets and catch the bus back to Seoul. We did not book our tickets in advance and that was never a problem. During weekends, peak holiday season or holidays this might be different though.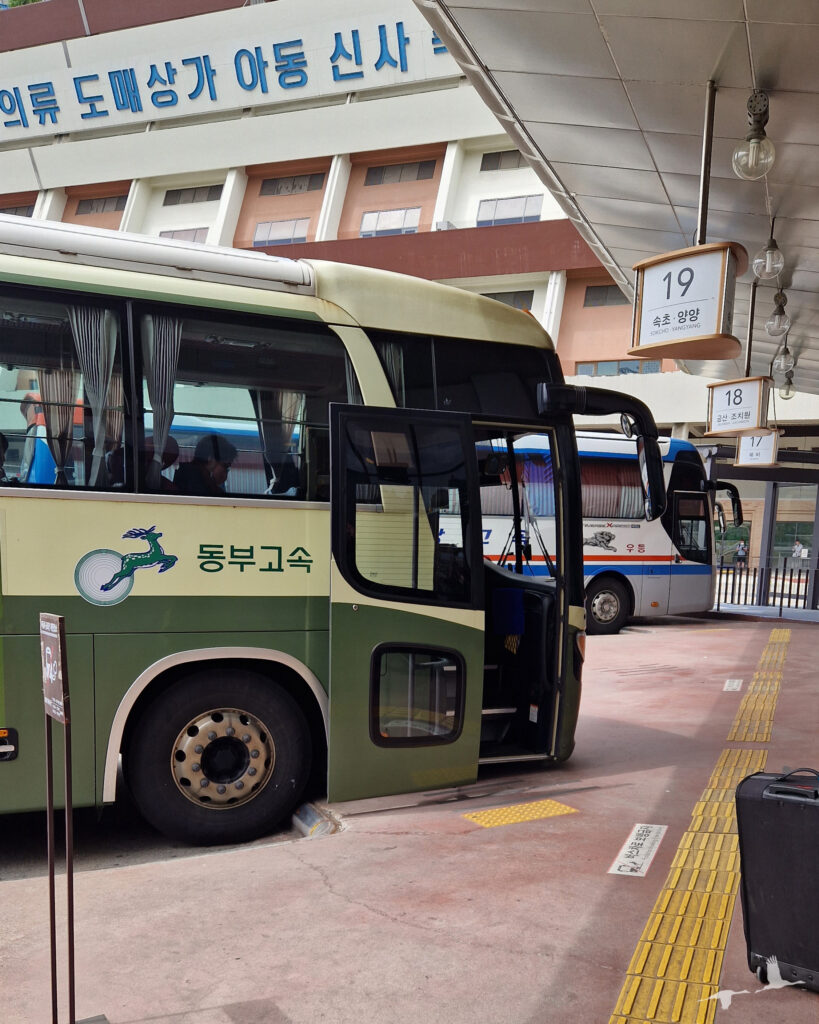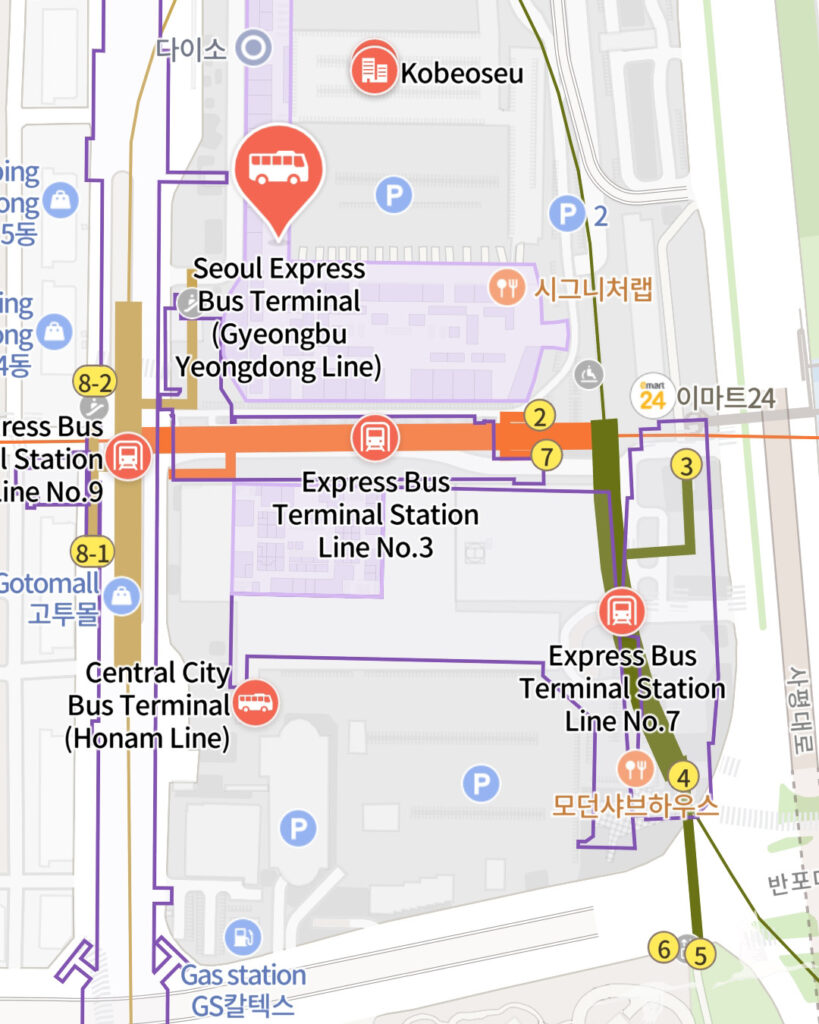 How to get around Sokcho
Sokcho itself is not that huge so most of the things are easily reachable by foot. However, the city also has a bus system that can be used to get around the city.
Especially if you use the bus to get from the Sokcho Express Bus Terminal/Sokcho beach towards the city center of Sokcho there are several bus lines available (such as line 1/1-1, 7/7-1 and 9/9-1).
You can pay for your bus trip in cash when entering the bus, but we highly recommend getting yourself a T-Money Card.
If you don't know what a T-money card is: This card can be used all over South Korea for the subway as well as city busses. When entering the bus, tap the card once against the ticketing machine and then again on the machine next to the back door before exiting.
For more information on how to easily navigate around South Korea, head to:

🖋️ Best 4 Free Apps that will make traveling through South Korea so much easier!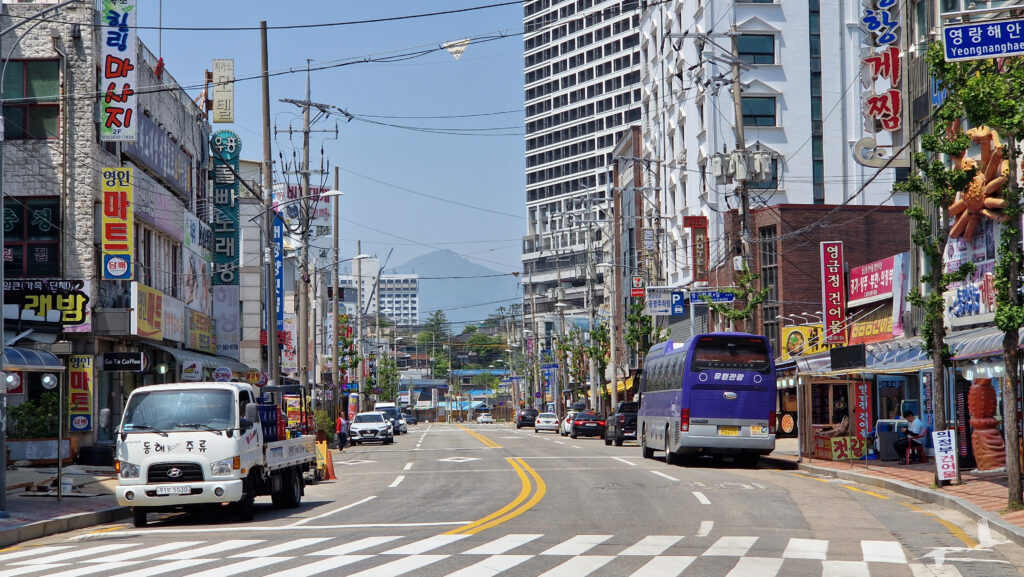 What to see and do in Sokcho
Especially during summer, Sokcho is a stunning beach town with some really interesting things to do!
🏖️ Do a beach picnic and eat their famous Mansuk Dak Gangjeong or, 
🎣 Stroll through the tourist and fishery market on the hunt for some awesome street food! 
🚶🏽‍♀️ Walk the Oeongchi Bada Hyangiro Trail where you can still find some remnants of Sokcho's history with North Korea! 
The city has something for everyone. In order to not go beyond the scope of this travel guide, we wrote a separate more detailed guide on What to see and do in Sokcho.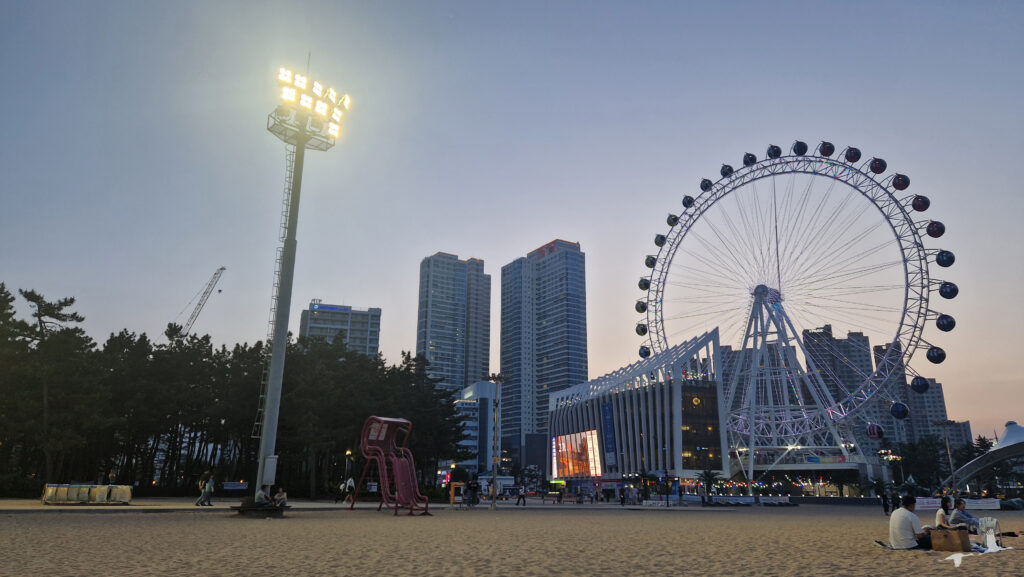 Where to stay in Sokcho
We stayed right next to Sokcho beach and we can definitely recommend this to anyone. Staying here will have two major advantages.
First of all, you are very close to Sokcho Express Bus Terminal which is great as you can simply walk from and to the Express Bus terminal on the day of your arrival and departure.
Second of all you are close to the beach, which is a great place to relax after your hike inside Seoraksan National Park and also a great place to spend the evening.
With that said, we stayed at the Sokcho Chonpines Beach Hotel*, which is located only one street away from the beach! The hotel room was super clean and was well worth the money. All in all we really enjoyed our stay here and can definitely recommend this hotel to anyone! We paid around 50.000 KR₩ (35€, £30, 38$) per night.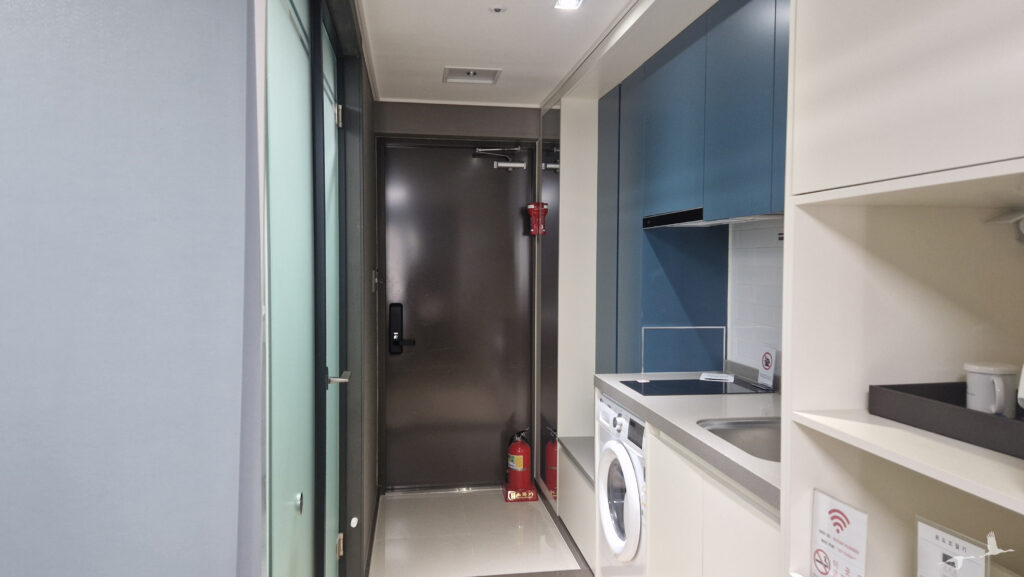 Is Sokcho worth visiting?
In our opinion the answer to this question is definitely a yes! We really liked Sokcho because of its more laid back vibe of a beach town. Life seemed to be a lot more slow paced here as compared to Seoul and from our interactions we found that people were a lot friendlier as well.
I will say though that we probably also liked it here a lot because of the good weather that enabled us to go to the beach. If you are visiting during a colder and more gray season of the year, the experience might be a different one.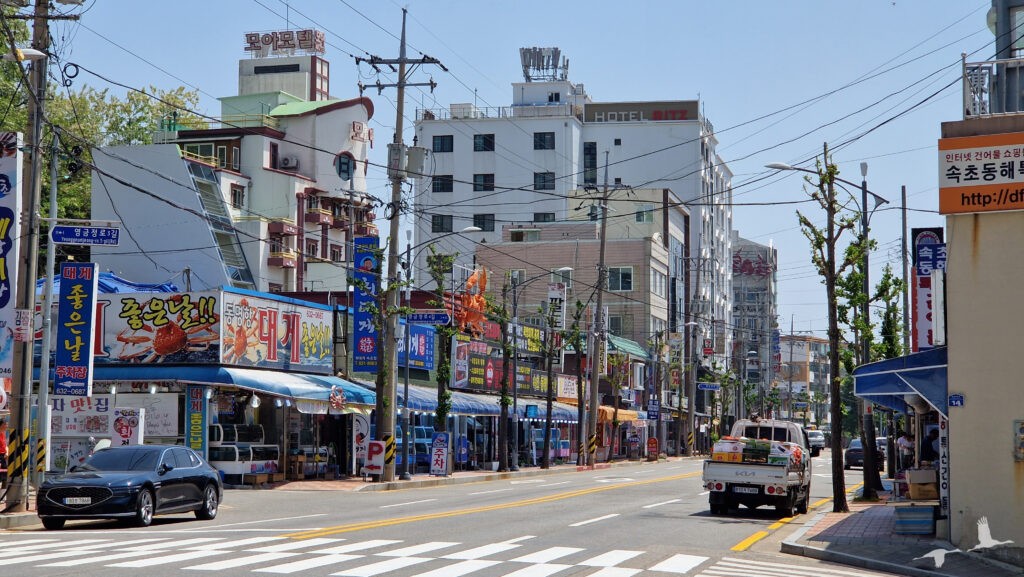 How many days should you stay in Sokcho?
In our opinion you should at least spend two nights in Sokcho. One day for arrival – use the afternoon and evening to explore Sokcho. You can for instance go to the lighthouse, eat at the Sokcho Tourist and Fishery market and then stroll around Cheongchoho Lake Park during sunset.
Then on your full day in Sokcho go hiking inside Seoraksan National Park and spend the evening relaxing at Sokcho beach. On your third day you can either spend the morning exploring more of Sokcho and then take the bus back to Seoul (or to your next destination) in the afternoon. Or you can leave in the morning if there is nothing left for you to do!
Final thoughts
One of the reasons we absolutely wanted to write a travel guide to Sokcho is because we really liked this city! A lot of people only use it as a base to get to Seoraksan National Park, which we get – the national park is stunning!
But we think that especially during spring and summer, it is worth it to allocate at least a little time to the city as well!
Want to save this travel guide to Sokcho for later?