What to see and do in Sokcho
Sokcho is a town on the northeastern coast of South Korea. Among tourists it is probably best known as the base for visiting Seoraksan National Park. However, the city itself has quite some beautiful sights and intriguing quirks as well! In this guide we want to cover some of the interesting things you can see and do while in and around the city of Sokcho! For more information on how to plan your trip to Sokcho, head to: A quick Travel guide to Sokcho!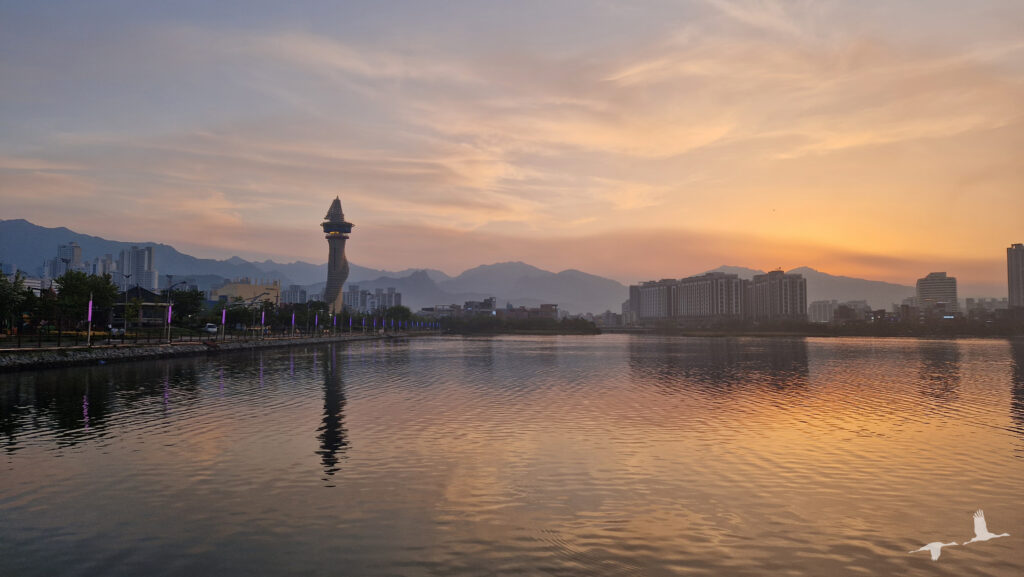 Go hiking inside Seoraksan National Park
Since Sokcho is best known for being the starting point of a trip to Seoraksan National Park, let´s start with that. Seoraksan was designated as a national park in 1970 and is known for its many peaks located 1200 meters above sea level. The national park is home to several hiking trails, a cable car for those that do not wish to hike as well as Sinheungsa Buddhist temple. The admission fee for entering the national park is 3.500 KR₩ per adult, the cable car will cost you 10.000 KR₩ per adult.
We visited mostly because we really wanted to do the Ulsanbawi Hiking Trail after having seen glimpses of the absolutely stunning views here and there. If your are interested in this hike as well, head to our separate guide on hiking the Ulsanbawi Hiking Trail!
Spend some time on Sokcho Beach
Sokcho Beach is quite a popular beach in South Korea! While there are certainly more stunning beaches out there, we can definitely agree that it is a nice place to spend some time at. The beach is a white sand beach and surrounded by the beautiful clear water of the East Sea. All over the beach you will find cute photo spots and sculptures and next to the beach there is a ferries wheel as well!
Be aware though that you are not allowed to swim in the sea in front of Sokcho beach except from July 10th to August 31st. From what we read on the signs there are some strong currants in the sea and swimming can therefore be dangerous. They warn that if you do decide to go in the water you are fully responsible for everything that might happen. During the official swimming period there are lifeguards to ensure everyone's safety which is why swimming is allowed then.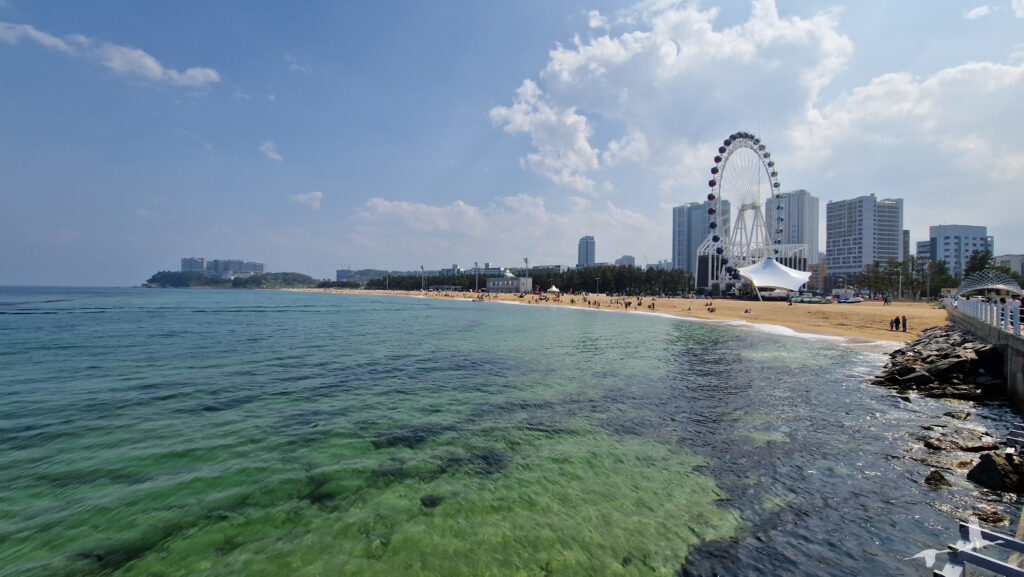 FUN FACT: Maybe you noticed or maybe not, but in this post we called the sea in front of Sokcho the East Sea. That's because that is the name that we read on every sign in Sokcho. Upon a quick search on the internet we found out that there is actually an ongoing dispute about the name of this particular sea between North and South Korea and Japan since 1992. In Japan the sea is called the Japanese Sea, which is also the name that is known around most of the world. However North and South Korea refuse to recognize that name. They brought up several alternative names for this sea, the East Sea being one of them, however to this day Japan refused every one of their proposals.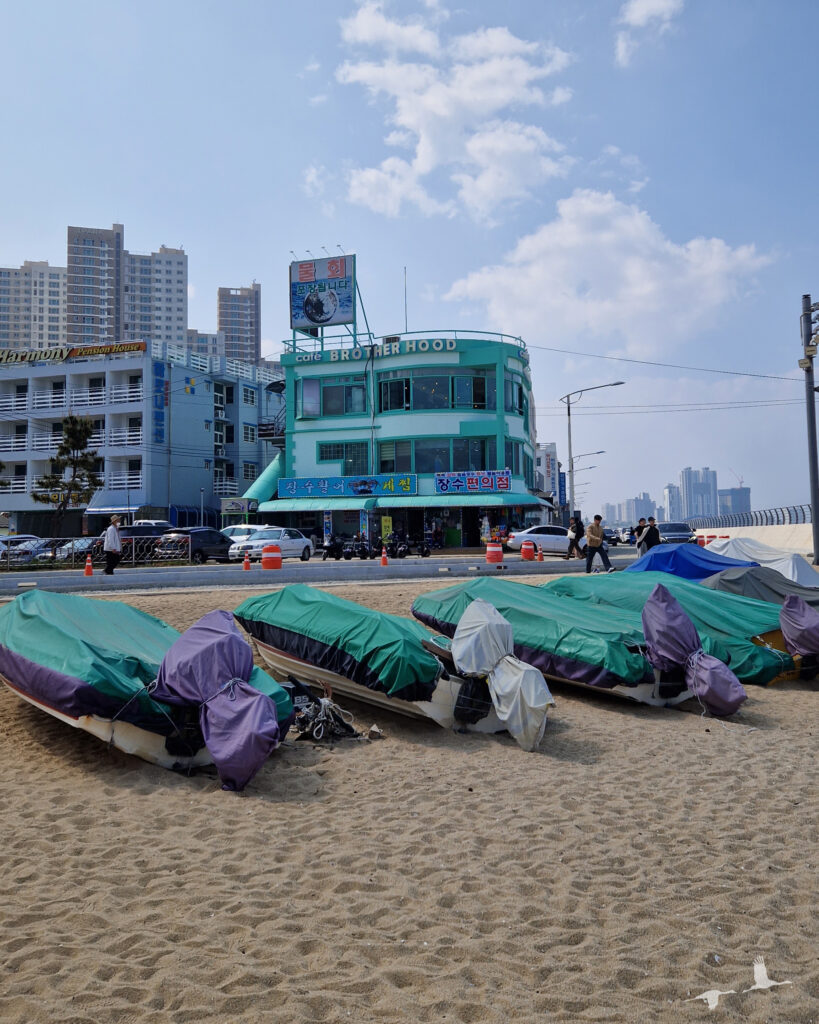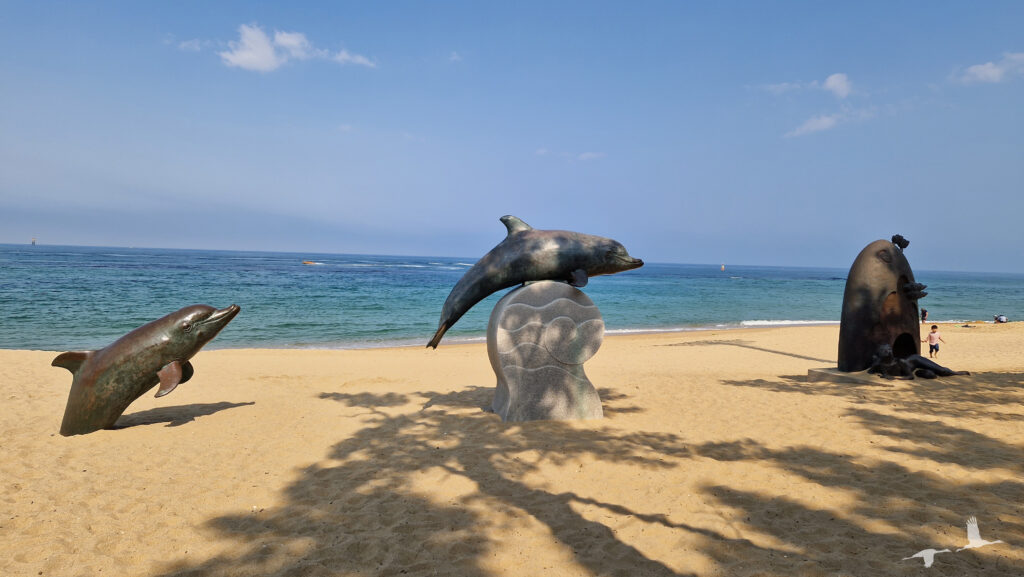 Eat Mansuk Dak Gangjeong on the beach during sunset!
In the evenings we observed many Koreans, be it couples, families or friend groups gather on the beach to watch the sunset, eat and drink or take pictures together. On our last evening in Sokcho we decided to join them and created our own little picnic with their Sokcho famous Mansuk Dak Gangjeong or sweet and sour fried chicken! It's basically fried chicken that is coated in a sweet and sour sauce. When you enter the store they will ask whether you want spicy or a little spicy, hand you a white box with the goods, you pay and off you are. One box is typically enough for 2-4 people depending on how much you eat and costs 20.000 KR₩.
We thought this was rather interesting, but in the evening after dark, the whole beach is lit up by huge spots that you would typically expect at a sports field. It had its purpose though because in Korea during the summer it is dark way earlier than in Europe and like that the time spent sitting on the beach in the evenings can be prolonged.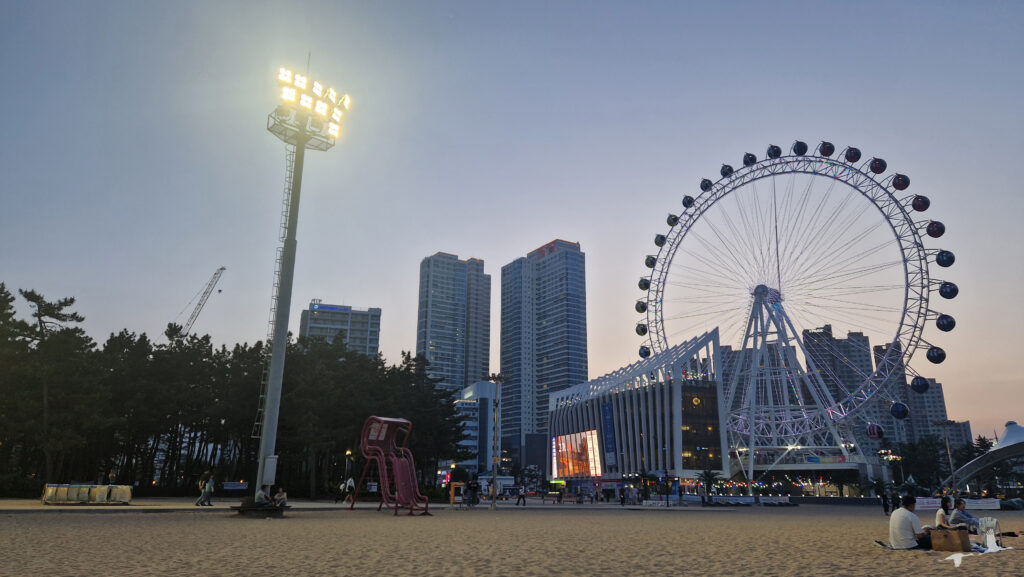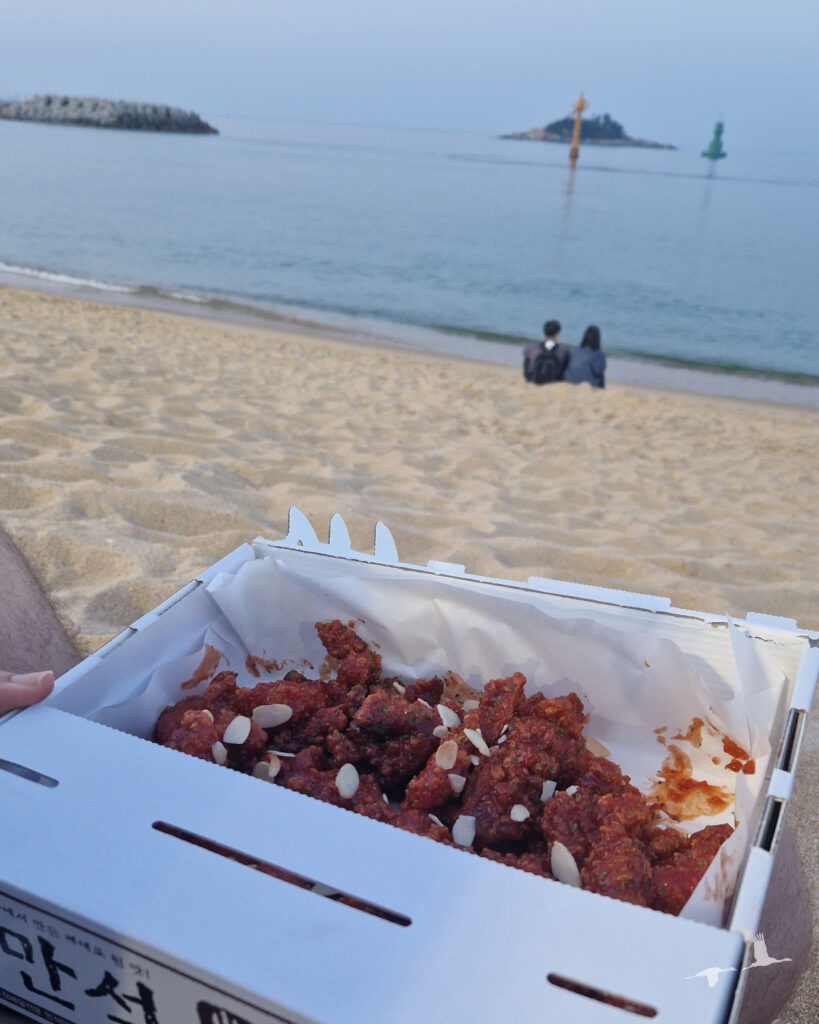 Walk the Oeongchi Bada Hyangiro Trail
On the left side (when looking at the beach from the sea) of Sokcho beach, just down below the Lotte Resort, you will find the entrance to a wooden path that takes you around the small peninsula that the resort is located on. When following the path you will be met with some really stunning views of Sokcho beach and its surroundings! Walking this path is free. It is not a part of the resort, so you are free to go on it!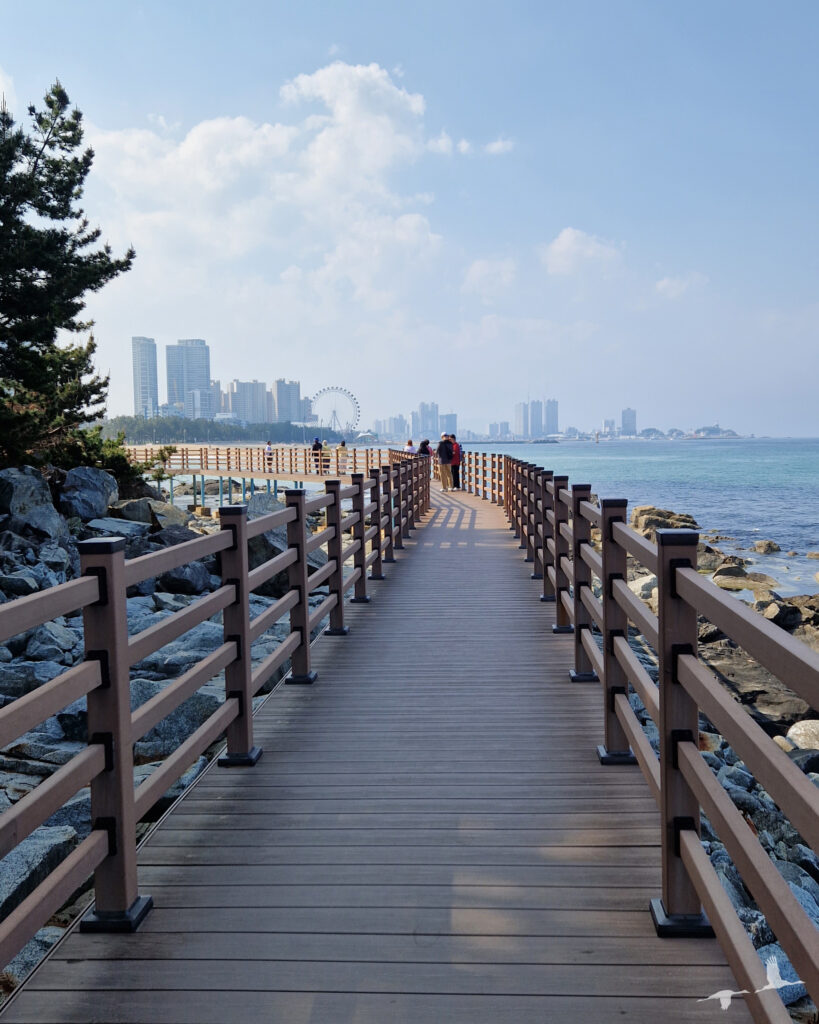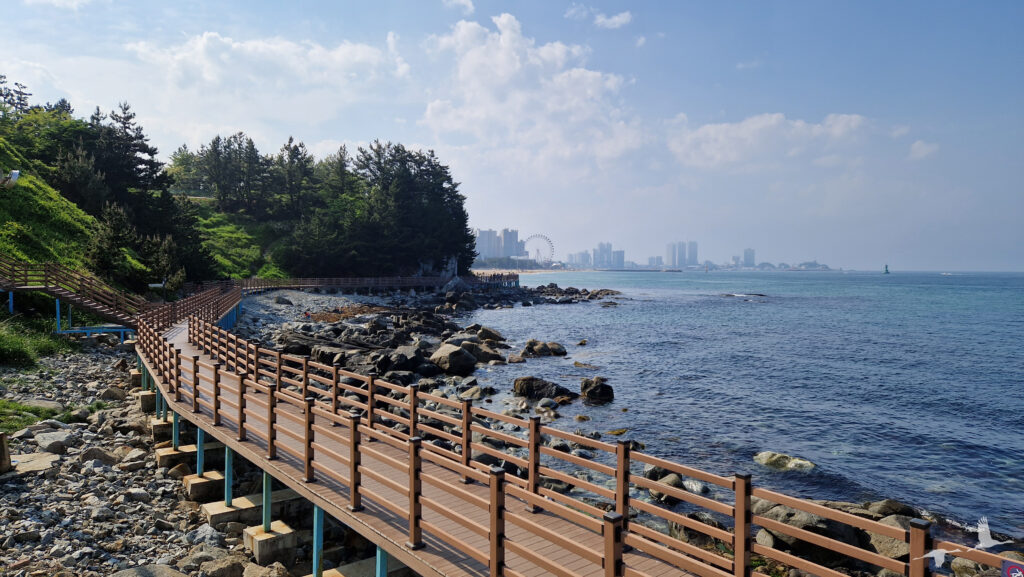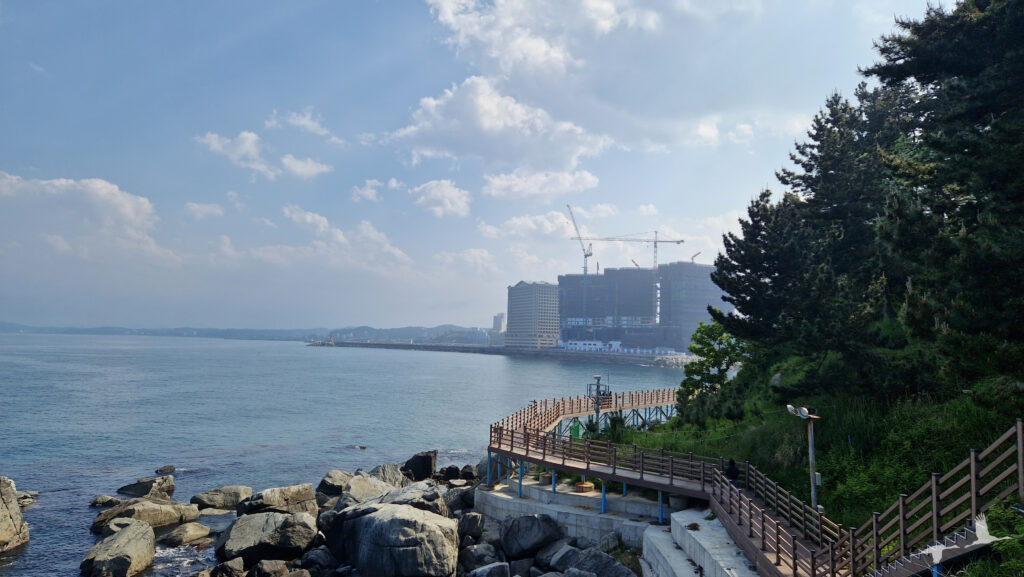 You will find some remnants of the Korean war alongside this path. For instance on a small section you can still find the original barbed wire that South Korea put up to prevent the North Korean military from landing on their shores. From what we read (via Google Translate) on the signs alongside the path, a big part of the East coast of South Korea used to have fencing alongside its shores for that exact reason.
When Korea was initially divided, Sokcho was actually a part of North Korea. It wasn't until the Korean war, that the South Korean military took the city of Sokcho and ever since it has been a part of South Korea. Alongside this path you will find several signs, explaining a little more about the history!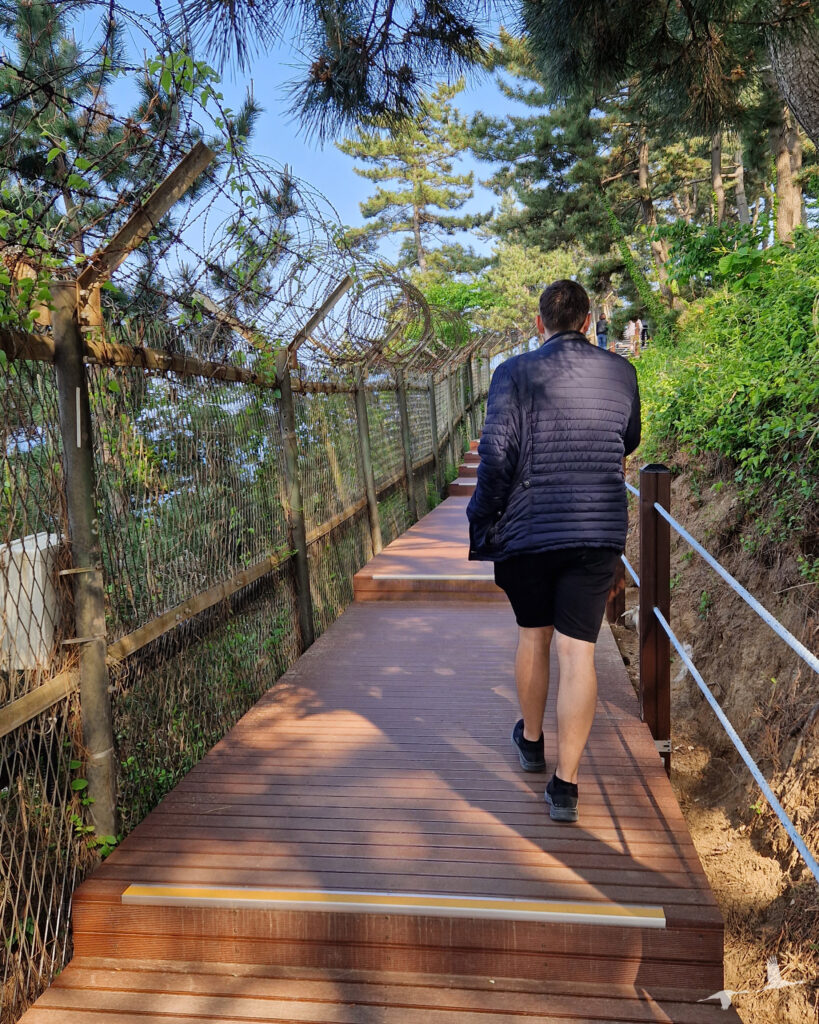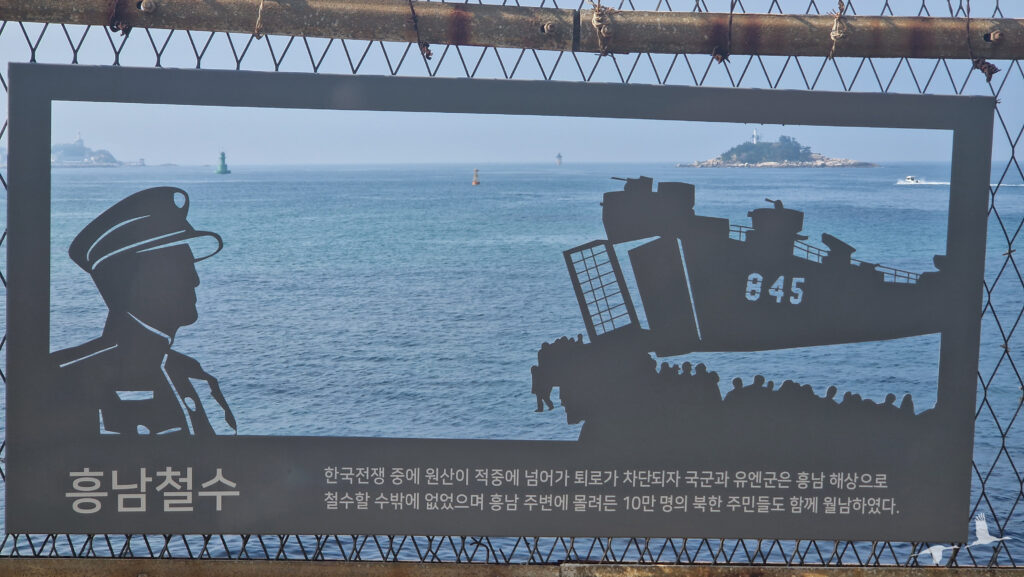 Visit the Expo Tower and Cheongchoho Lake Park
Next to Cheongchoho Lake, which is a natural lake located right in the middle of the city of Sokcho, you will find the Expo Tower, a more than 70 meters high observatory tower, as well as Cheongchoho Lake Park. It is a great place to take a walk with views of the lake and the fishing boats that are anchored here! Especially during sunset, the lakeside walk becomes truly magical! When it becomes dark, a lot of the surrounding buildings and structures start to light up in beautiful colors which is really charming as well. In true Korean fashion they also have several beautifully illuminated photo spots and sculptures located inside the park. Cheongchoho Lake Park is free of charge, however the Expo Tower costs 2.500 KR₩ per adult.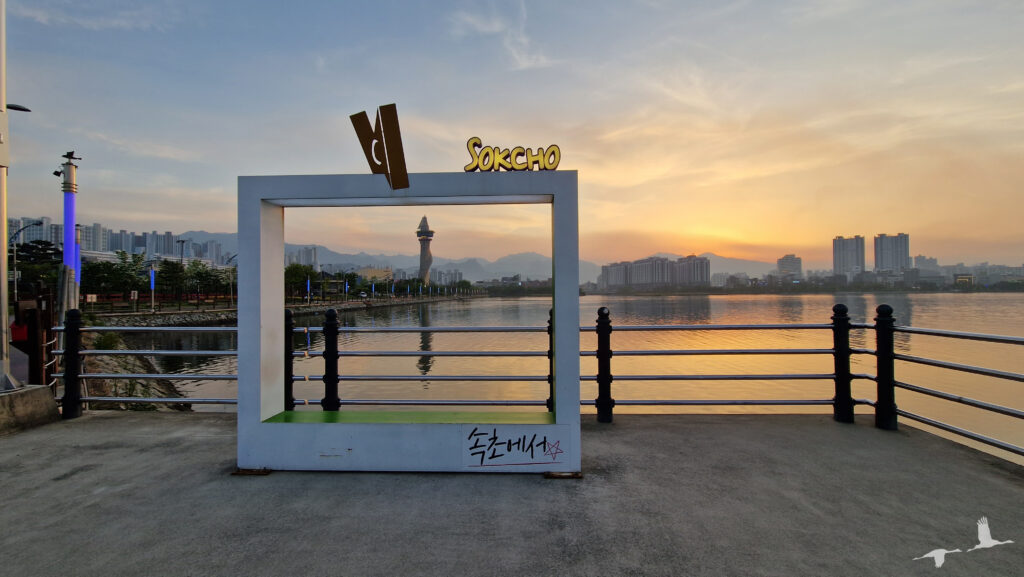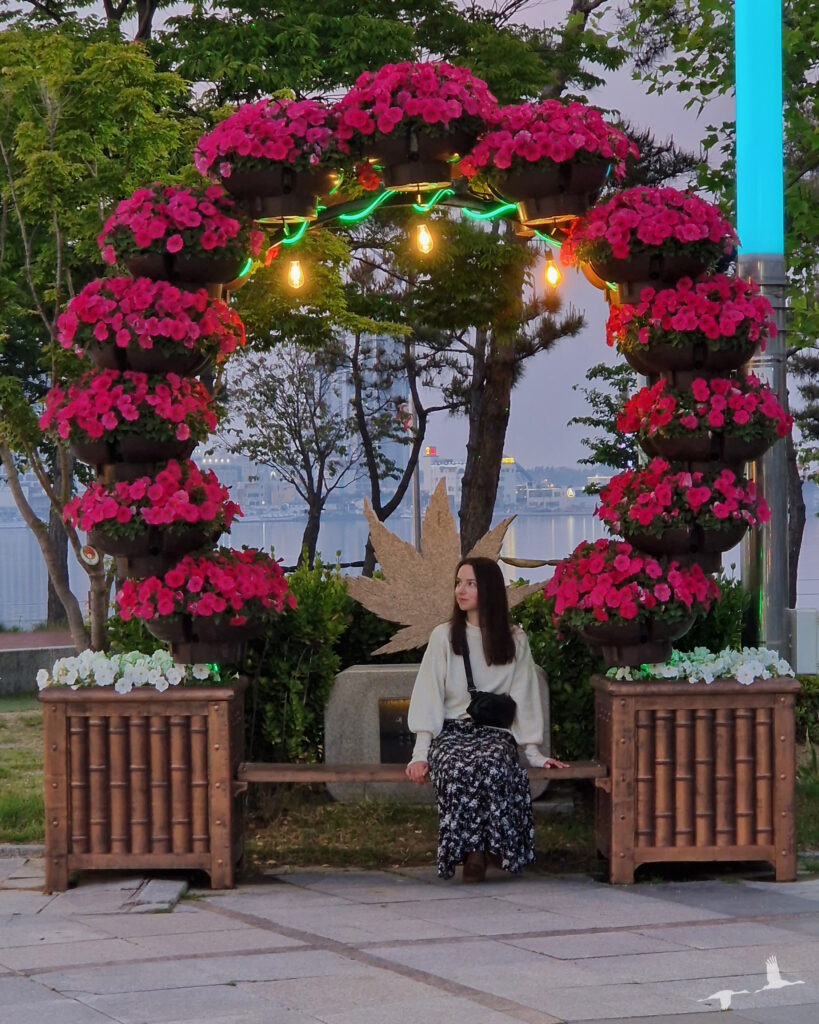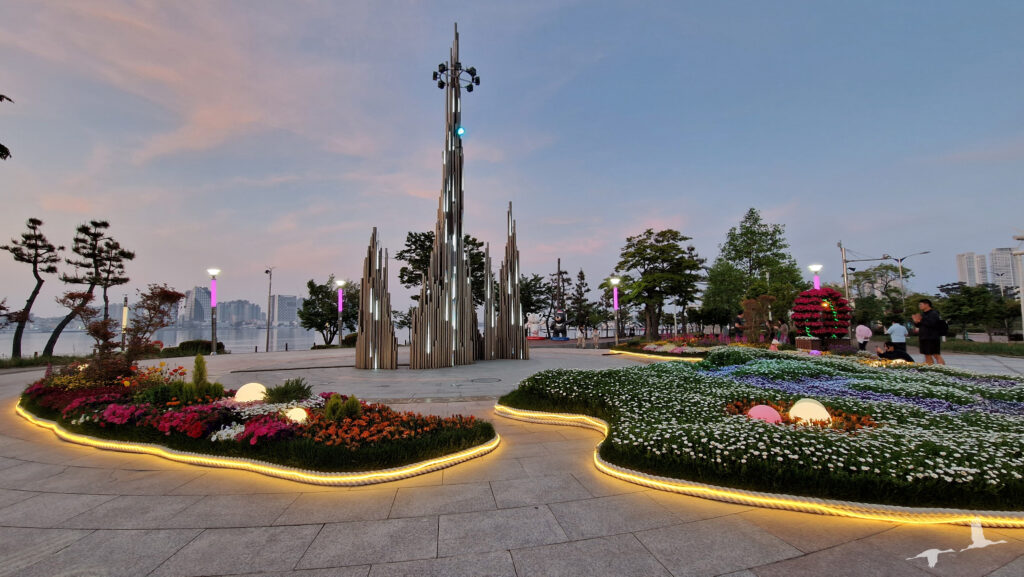 Find Street Food at Sokcho Tourist and Fishery Market
Located inside the city center of Sokcho you will find the Sokcho Central Market, also known as the Tourist and Fishery market. This market is frequented by locals as well as tourists. The market is divided into several sections that specialize on different goods. The most interesting one for tourists is certainly the street food section. Here you can find various kinds of street food, most of them contain sea food of some sort. You can either order for take-away or some stalls have a seating area behind them where you can eat on-site.
A lot of the street food contained some sort of sea food. Especially crab meat seemed to be really popular! We tried fried shrimps as well as fried crab meat. They also sell for instance Kimchi pancakes, gimbap and some sort of North Korean sausage. There are also quite a lot of stalls selling the sweet and sour fried chicken we talked about earlier!
Stroll around Sokcho Lighthouse and Yeounggeumjeong Pavilion
To the north of the city lies Sokcho lighthouse, which was built in 1957. It is actually listed as the Nr.1 attraction in Sokcho city and is still in operation to this day. It does not only have the function of a lighthouse though. You can visit the lighthouse as an observatory during the day. From the top you will have gorgeous views over the East Sea, Sokcho city as well as the nearby Seoraksan National Park. Admission is free of charge.
Just below the lighthouse lies Yeonggeumjeong Pavilion, which can be reached via a 50 meters long bridge over the East Sea. The admission to the pavilion is free of charge as well. To get to both of these sights you will have to walk through a pretty local street. The street was packed with shops selling fresh fish and seafood. Many had freshwater tanks in front of their shop doors!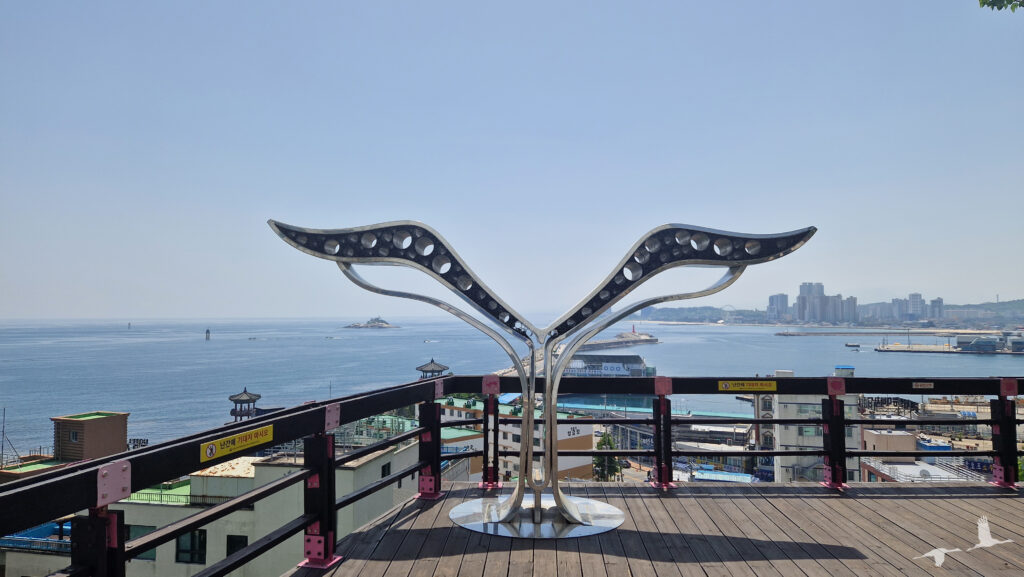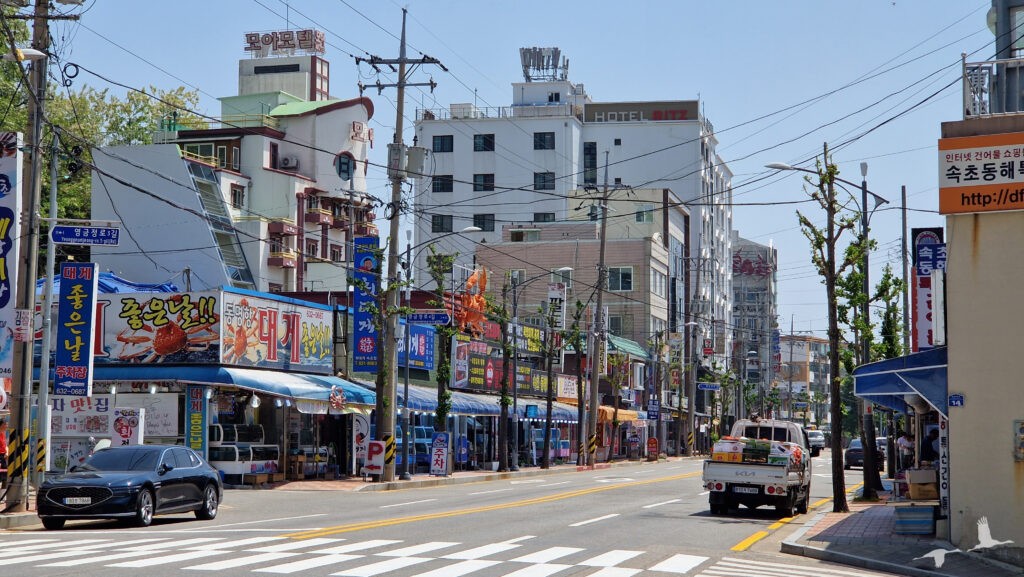 Visit Naksansa/ Naksan Temple
Naksan Temple is a Buddhist temple located in between Sokcho and Yangyang. It is well known for its beautiful location on the shore of the East Sea! In the end we decided not to visit this temple since it is located a little more outside of Sokcho and we wanted to spend that time otherwise. However we wanted to leave it on this list in case it might inspire you to visit Naksan temple! In case you do, please let us know if it is truly as breathtaking as the pictures make it out to be!