De Zaanse Schans – How to plan a Daytrip from Amsterdam
De Zaanse Schans – How to plan a day trip from Amsterdam
'Zaanse Schans' is actually a neighborhood in Zandaam, a town only a few kilometers north of Amsterdam. The Zaanse Schans neighborhood is well-known for its numerous windmills and beautiful wooden houses. Interestingly, most of the structures in this part of the town were not originally built here. They were relocated from other parts of the Netherlands in order to be able to preserve them.
In June we took a short trip to Amsterdam, mostly because of a concert that took place in the city. However when looking for an accommodation, we were met with quite hefty prices within the city and so we decided to dodge them by spending the night in Zaandam instead. Since we were so close we decided to visit the Zaanse Schans and were absolutely amazed by this neighborhood! Therefore, in this guide, we want to show you how you can easily visit the Zaanse Schans from Amsterdam!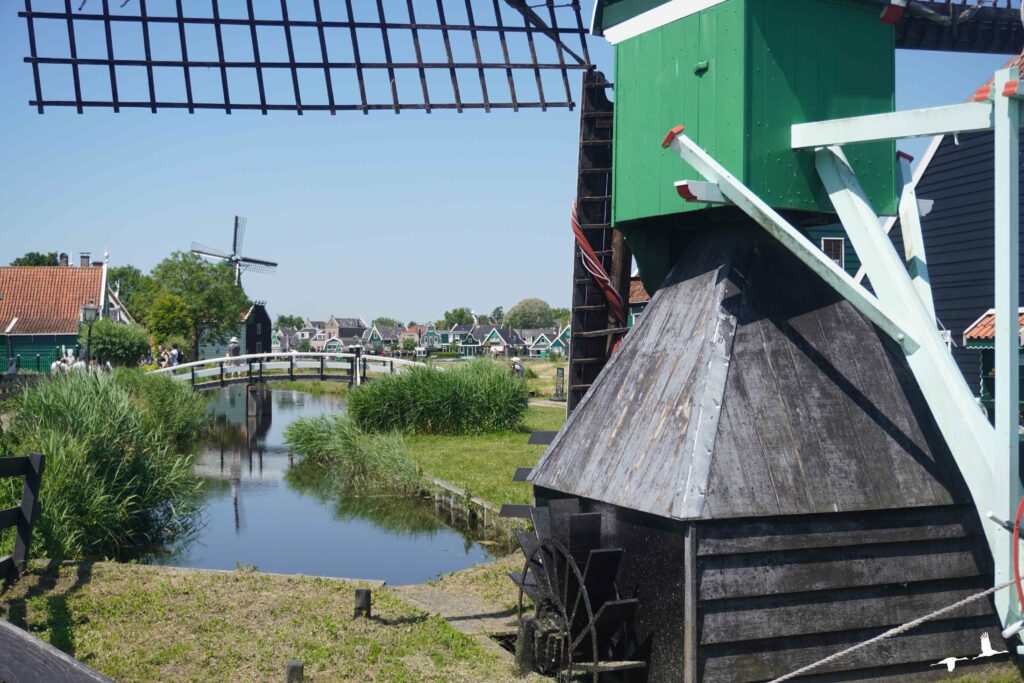 How to get there
The quickest way to get to the Zaanse Schans from Amsterdam on public transport is by train. From Amsterdam Centraal, catch the sprinter train towards Uitgeest. In about 17 minutes it will get you to the station Zaandijk Zaanse Schans, where you get off. For more information on the train, head to the official Nederlandse Spoorwegen rail service website. From here you either get to the entrance of the Zaanse Schans neighborhood by foot, which is about a 1-kilometre (12-minute) walk. Or alternatively you can rent a bike near the train stop (on Google Maps: FR94+JC Koog aan de Zaan, Niederlande) and do the rest of the trip by bike.
Alternatively, there is a bus (bus line Nr. 391) that runs directly from Amsterdam Centraal towards the Zaans Schans. This will take a little longer as the bus takes about 45-minutes for the route, however it will save you the 1-kilometre walk/bike ride if you are not into that.
You can also get there by car, but I would not necessarily recommend renting a car in Amsterdam just to go to the Zaanse Schans. If however you are doing the Zaanse Schans as part of a Netherlands road trip, there is a parking lot next to the Zaans Museum. Just be aware that it is quite expensive to park here (between 11 -15€ depending on the season).
What to see and do
Since the Zaanse Schans is a neighborhood with actual people still living there, the entrance to this area of town is free. You will realize quite quickly though that the neighborhood does not necessarily feel like a residential area, but rather like a themed park.
Walk around the neighborhood and take in the views
This is probably a very obvious thing to do. But, the biggest charm of the Zaanse Schans is to just walk around and take in the views. The houses are beautifully painted in mostly shades of green and their gardens are well maintained. With the river Zaan in the background and the numerous little canals that cut through the land, this area does make for some really stunning views!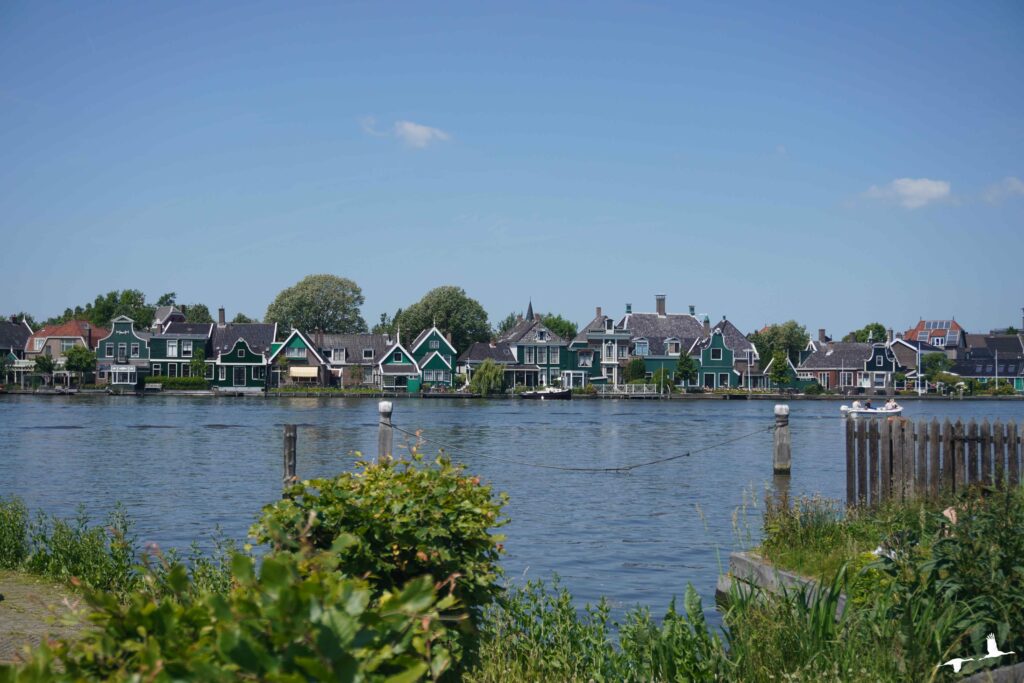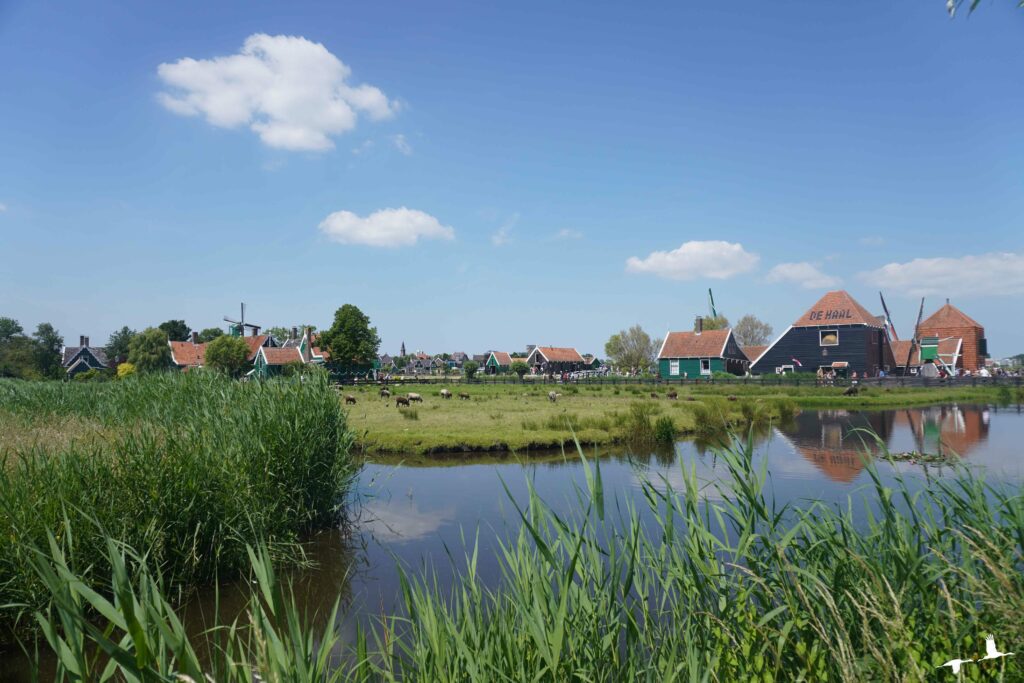 Marvel at the windmills
When following the "Kalverringdijk" road you will get to the windmills, which are placed alongside the Zaan river course. Today the windmills have various usage. Some of them can be visited, some for free, some for an entrance fee. On the official Zaanse Schans website, you can find an overview of all the windmills, what they are used for and whether you can visit them or not.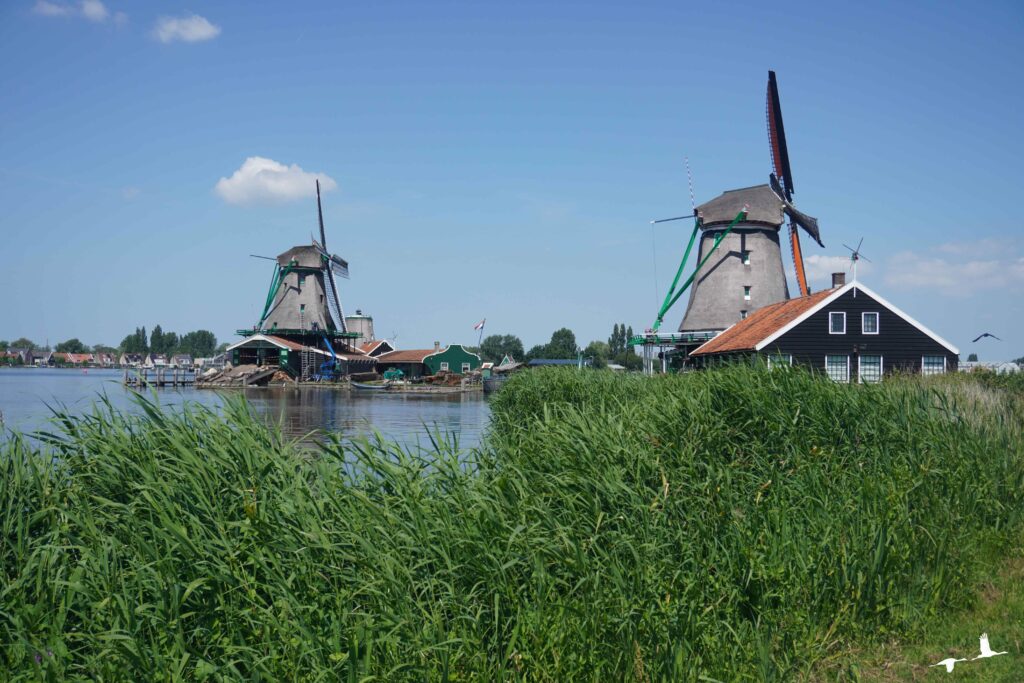 Visit some of the workshops and shops
Most of the houses inside the Zaanse Schans neighborhood contain some sort of workshop or shop. Our favorite one is the "Wooden Shoe Workshop". Inside you will find a huge display of clogs. Also from time to time there is a small demonstration of how clog shoes are made. Of course the second part of the building is a shop where you can buy clogs in various sizes.
Another very interesting shop is centered around cheese. They have a selection of cheeses with various different herbs and spices and you can try samples of all of their cheeses for free. Then there are also some souvenir shops. Another shop we quite liked sells soaps made by using traditional methods.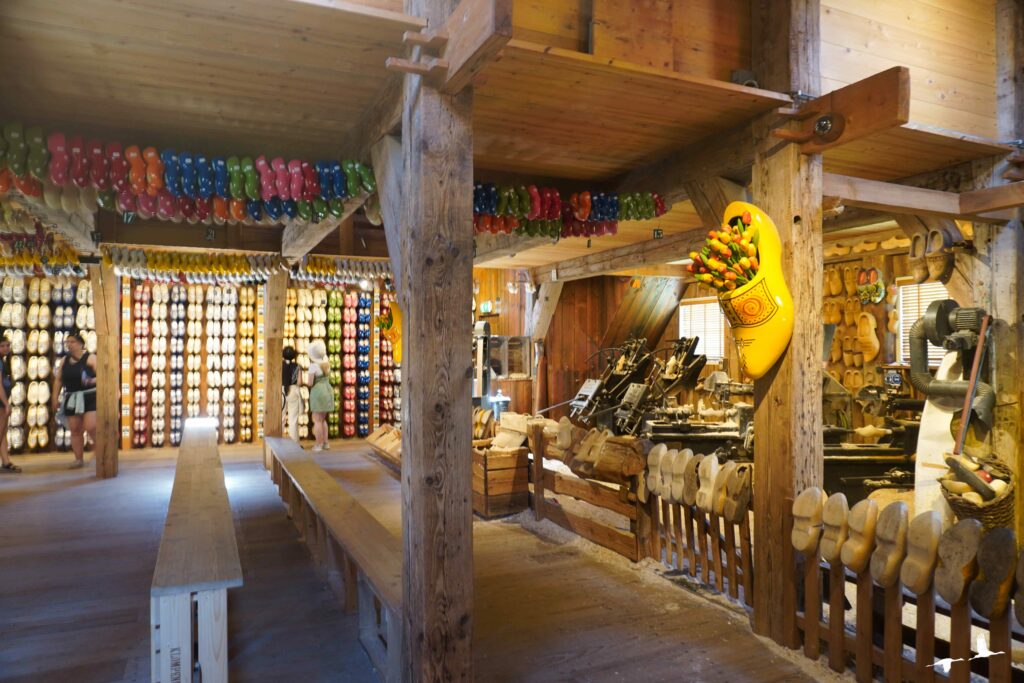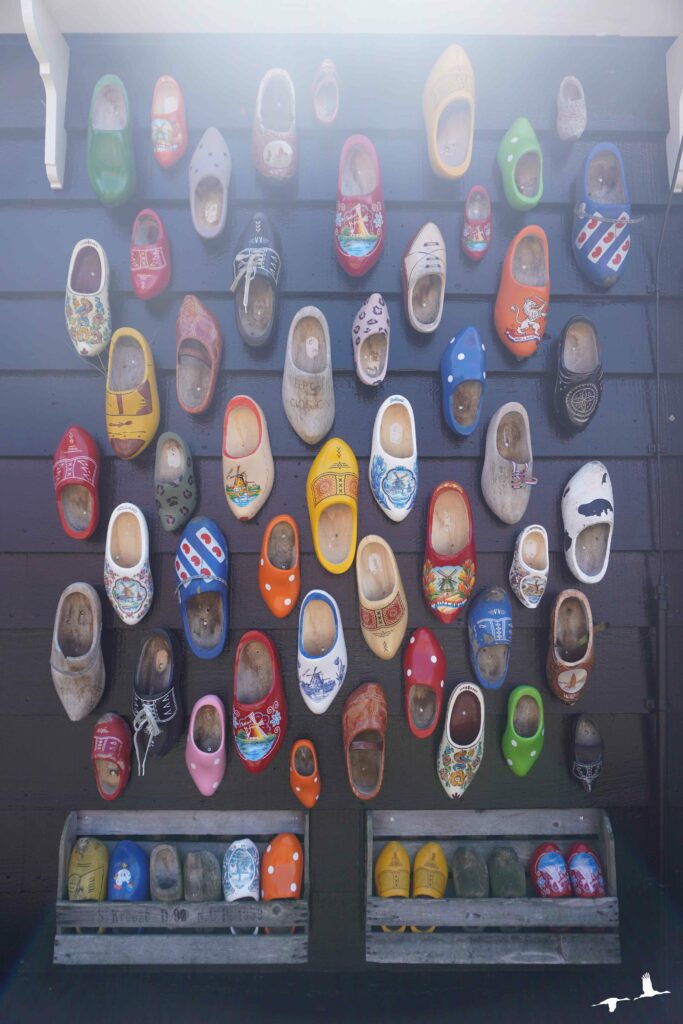 Visit the Zaans Museum
The Zaans Museum contains a few different exhibitions all centered around different aspects of life in this region of the Netherlands. We did not visit the museum so we can't give any recommendation on whether it is worth it or not. However it might be interesting for those seeking to get a little more background information on the region.The entrance fee for an adult is 14,50€ per person. For more information on the Zaans museum, head to their official website.
Is De Zaanse Schans worth a visit?
So, finally, is a trip to the Zaanse Schans worth it? In our opinion, the answer to this question is definitely a 'Yes'! Especially, if you are doing a city trip to Amsterdam. A visit is a great way to get a glimpse into what life in the Netherlands used to look like and get to know a little more about some of the traditions of this country. This neighborhood is really stunning and we quite enjoyed our time here. It is a great place to spend 2-3 hours in, depending on what you wish to see and do while here!