A quick guide to Düsseldorf
A quick guide to Düsseldorf
Note: We use affiliate links in this post. They are marked by an *, so you can recognize them in advance. By interacting with these links, you can support us and our website! For more information, read our Disclaimer.
In terms of sightseeing, I would say that Düsseldorf is not necessarily a must do city. Don't get me wrong, it has some sight-worthy places, but when when compared to cities like Hamburg or Munich it is just not that impressive. And I know that this is probably not the best opening phrase to a guide to Düsseldorf, but bare with me for a moment. Düsseldorf is the capital city of North Rhine-Westphalia (NRW), which is the state in Germany with the most inhabitants. The first mentions of Düsseldorf as a city reach back to 1159. During World War II, unfortunately many parts of Düsseldorf were destroyed, which is also why there are not that many historic buildings.
Since we both studied in Bonn, which is located only an hour train ride from Düsseldorf, we did go there several times during our time living in Germany. Which is mostly due to the fact that we simply enjoy the city of Düsseldorf quite a bit. It is a great city to spent 1-2 days in, doing some sightseeing, but mostly for shopping and eating out. A few weeks ago we returned to Düsseldorf in order to do exactly that and in this guide to Dusseldorf we would like to tell you a little about what a great time in Düsseldorf looks like for us!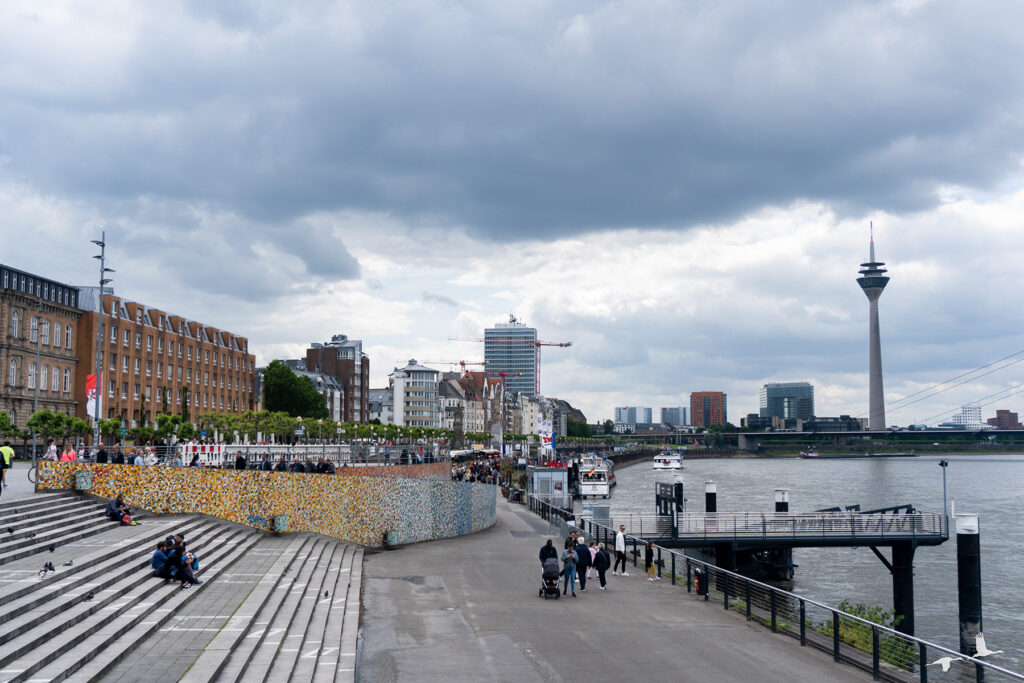 The Old Town of Düsseldorf
The Old Town is the second smallest quarter of Düsseldorf. Here lies the historic, political and cultural center of the city. After the Second World War many buildings in this quarter were rebuilt with their historic front. There are several art galleries, as well as a huge pedestrian zone with shops and restaurants. From the end of November until Christmas there is a beautiful huge Christmas market located throughout the streets of Old Town.
After leaving our hotel we strolled around the still very empty streets of this quarter, since shops generally don't open until 10 a.m. We ate breakfast at one of the cafés located inside the Old Town of Düsseldorf. The Café is called BIRDIE&CO. Deli (Mittelstraße 6, 40213 Düsseldorf). We found this location on a local food blog called Mr. Düsseldorf (the blog is in German though). The same goes for all the food recommendations that follow down below.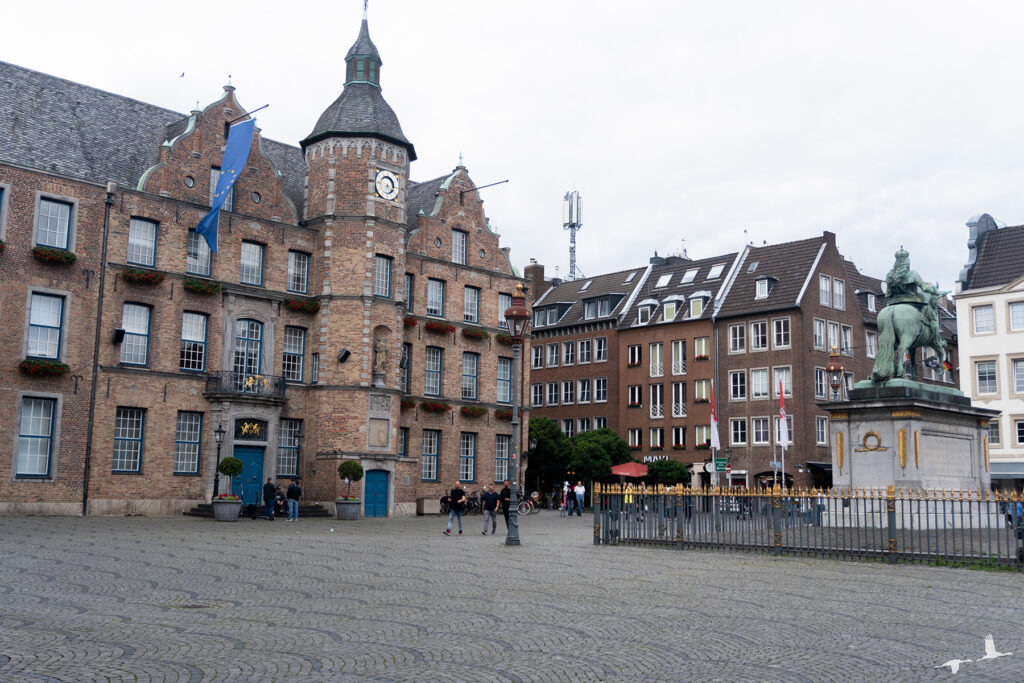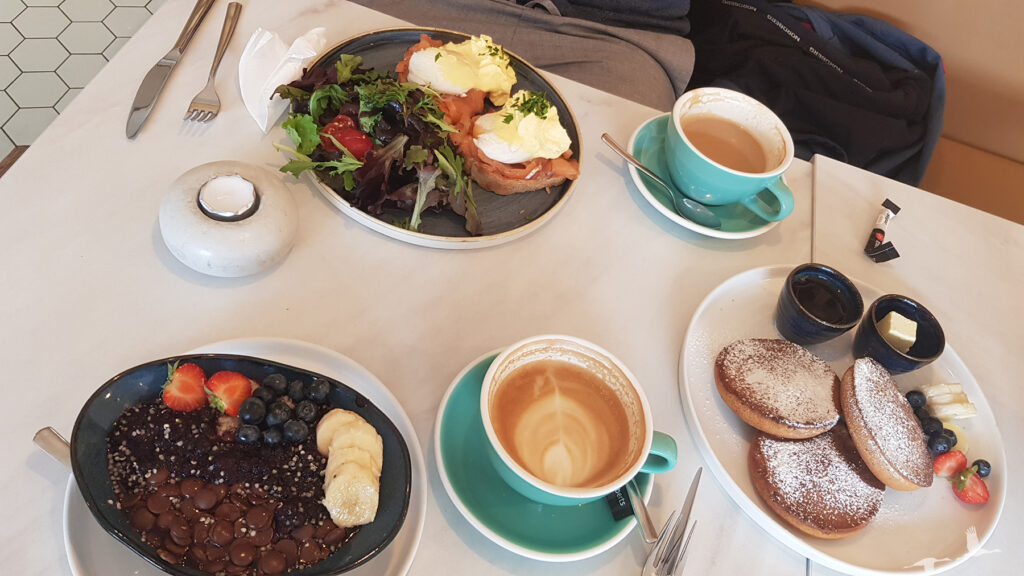 Walk or relax by the river
Düsseldorf is located on the Rhine river, but also on the Düssel, the river that gave Düsseldorf its name. Literally "Düsseldorf" means village next to the Düssel (Düssel=name of the river; dorf = village). Even though today Düsseldorf is not really a village anymore. The riverbanks of the city are widely covered by grass, which is a nice contrast to the usually fortified riverbanks of other cities. Due to the fact that these wast meadows exist, during the summer, many locals gather here to enjoy the sun, do a picnic or just relax. There is also a promenade alongside the Rhine located on the riverside of the Old Town.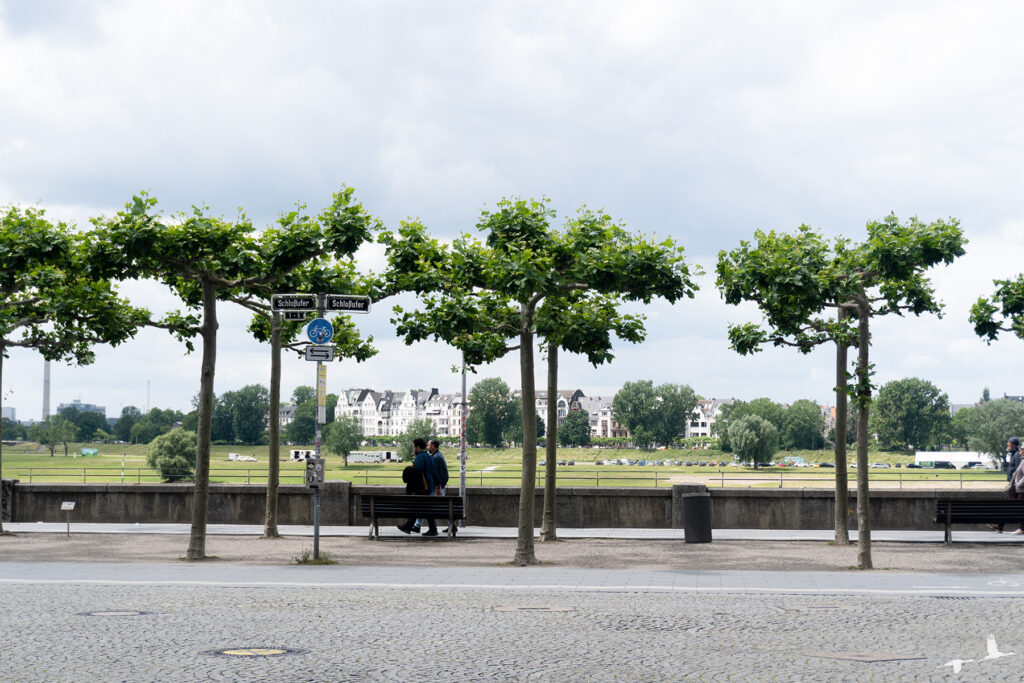 Enjoy the views from Rhine Tower
The 240 meters high Rhine Tower was completed in 1982 and is the tenth highest tower in Germany. It was built as a telecommunications tower that also serves as an observation deck. From there you have a great view over the whole city and the Rhine river. In the distance you can also observe planes during take-off and landing from the Düsseldorf airport (which is the third largest airport in Germany). There is a café on top and tables all around the observation deck, so you can enjoy a beverage while taking in the views.
Tickets to get to the observation deck cost 10€, however if you visit before 11 a.m. or after 10 p.m. tickets are only 6€ per person (go to the official Rhine Tower website).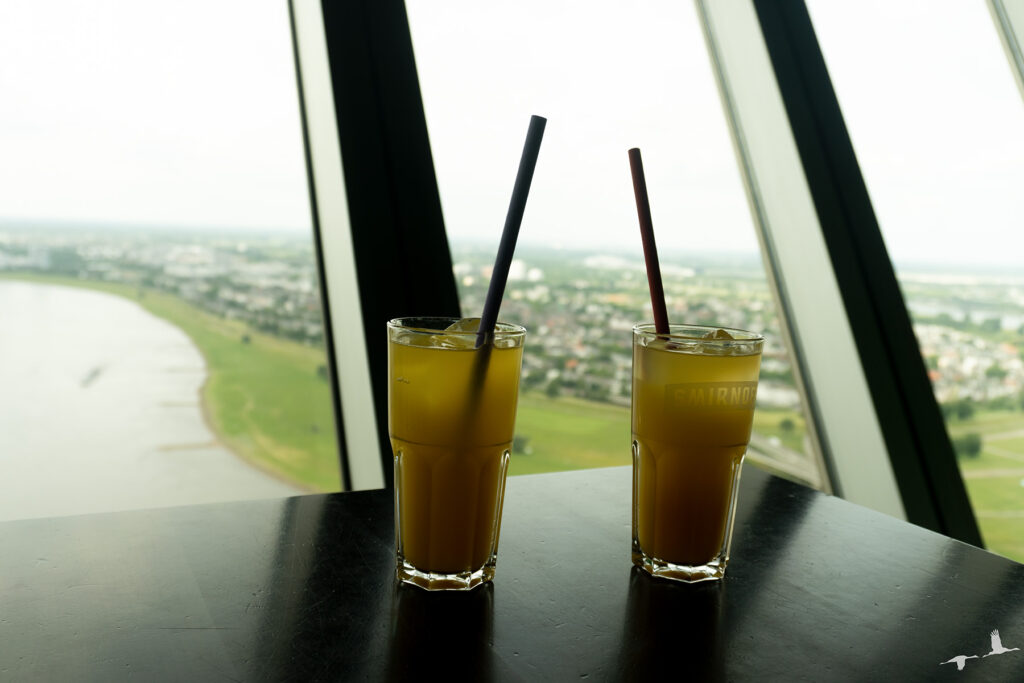 Find a piece of Japan in Little Tokyo
The biggest Japanese community in all of Germany lives in the neighborhood of Little Tokyo. Little Tokyo is focused on the Immermannstraße and the Klosterstraße, which are located in between the main railway station and the city center. Since its Japanese community the most dense Japanese community in all of Europe, this neighborhood has many Japanese shops, grocery stores and restaurants. Here you can find really authentic Japanese food. We ate some delicious ramen at a restaurant called Takumi (Immermannstraße 28, 40210 Düsseldorf, Deutschland). Also, there is a bakery we like to visit every time we are in Düsseldorf for their melon pan. It is called Bakery Taka (Immermannstraße 36, 40210 Düsseldorf, Deutschland), the owners are very nice, but be aware that usually everything is sold out quite early during the day.
Every year on a Saturday in May or June the city of Düsseldorf organizes a "Japan Day". During that day numerous stalls on various themes around Japan (food, travel, art, …) can be found alongside the Rhine river.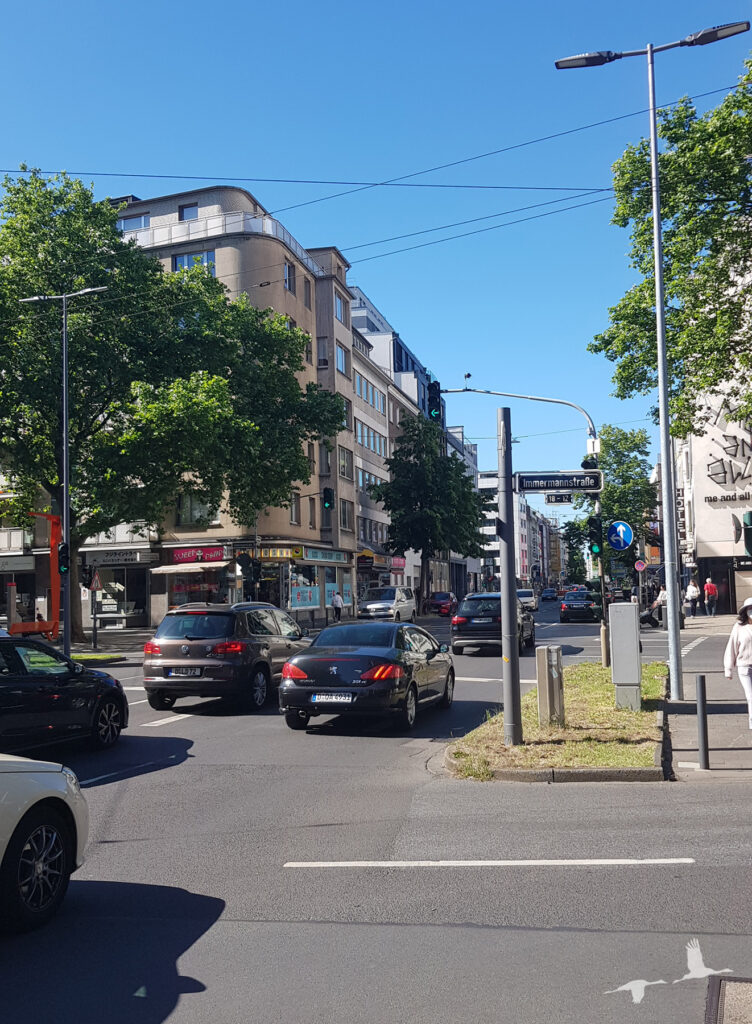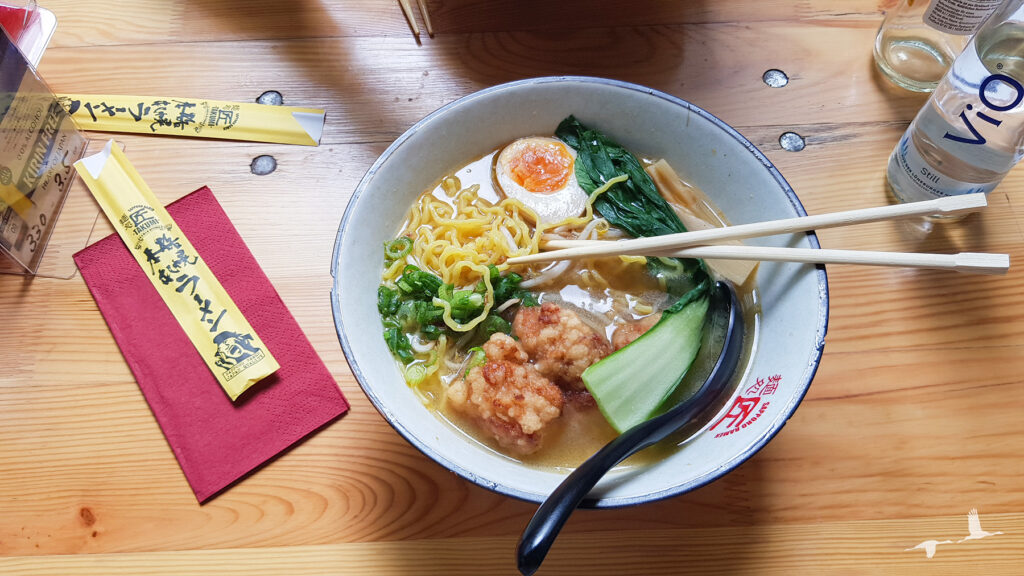 Königsallee
The "Königsallee", also known as "KÖ" is a boulevard that is very well known as a luxury shopping street. Nearly all well known luxury brands have a shop somewhere around here. Even if you don't have the money to shop here it is still a great place to window shop and stroll around. In the middle of the street is a pond with numerous beautiful bridges leading over it.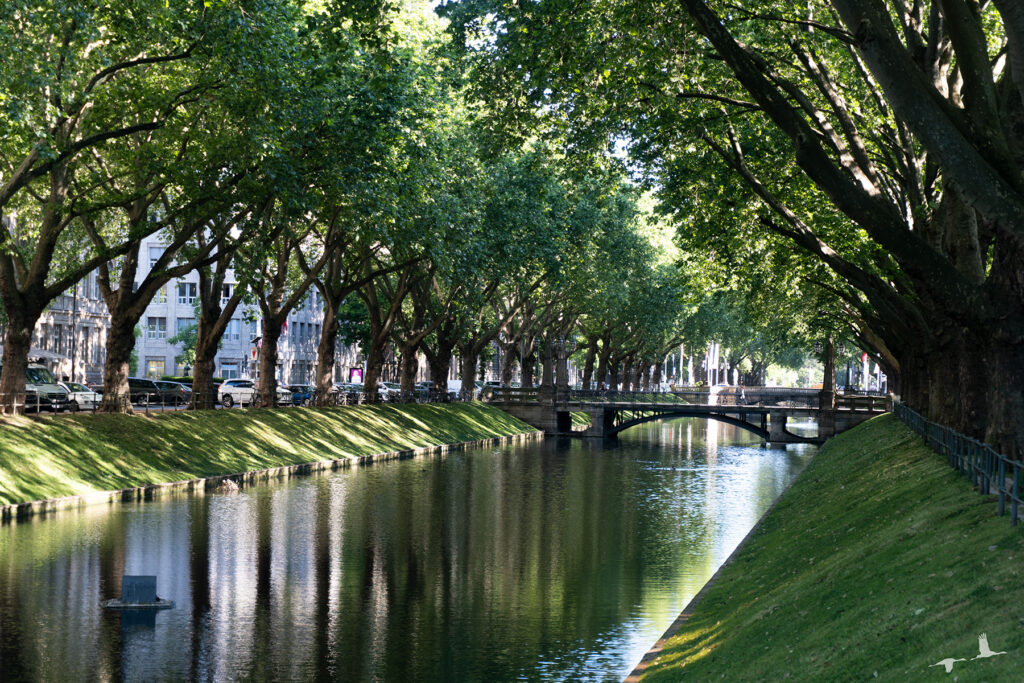 Find some green in a park
In the northern part of the city you can find numerous parks. One of them is the "Hofgarten". Here you find a lovely pond with numerous ducks, swans and geese. There is some shadow for hot days and it is a great escape, if you wish to see some green after seeing so much gray in the city. We strolled around for some time before making our way towards the "Schadowstraße", to do some shopping. On the way we stopped at a restaurant called "Hans im Glück" (Gustaf-Gründgens-Platz 9, 40211 Düsseldorf) for lunch. This restaurant is part of a German Burger franchise. When living in Bonn we liked to eat there occasionally (my favorite is the "Beherzter" which is a really great vegetarian burger).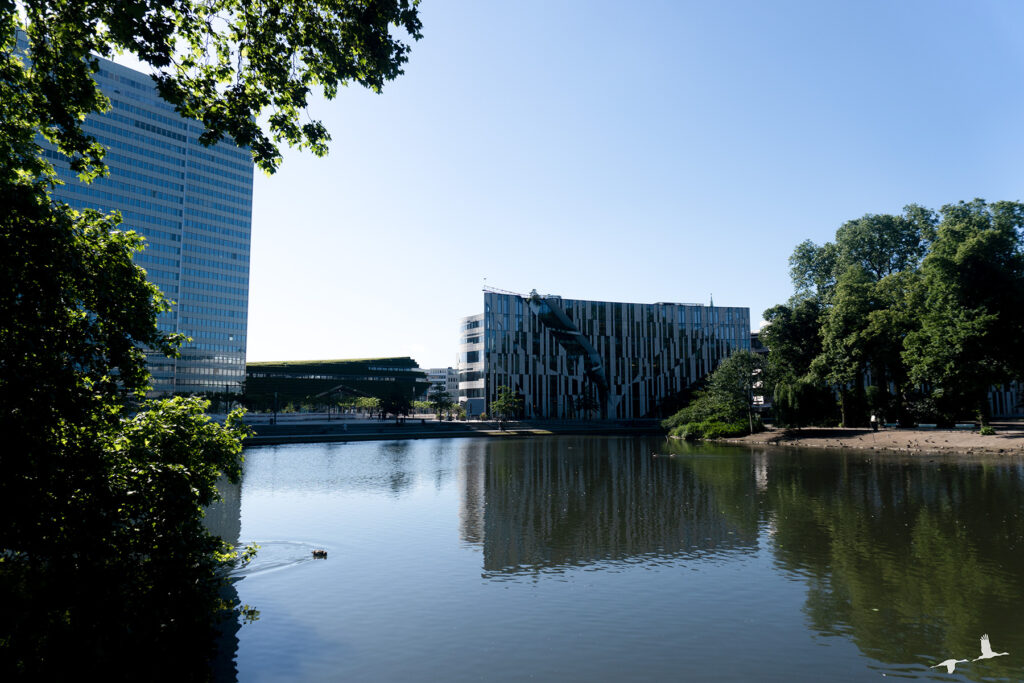 Schadowstraße
In contrast to the luxury shopping street "Königsallee", Düsseldorf also has the "Schadowstraße". Here you can find the more affordable shops and brands.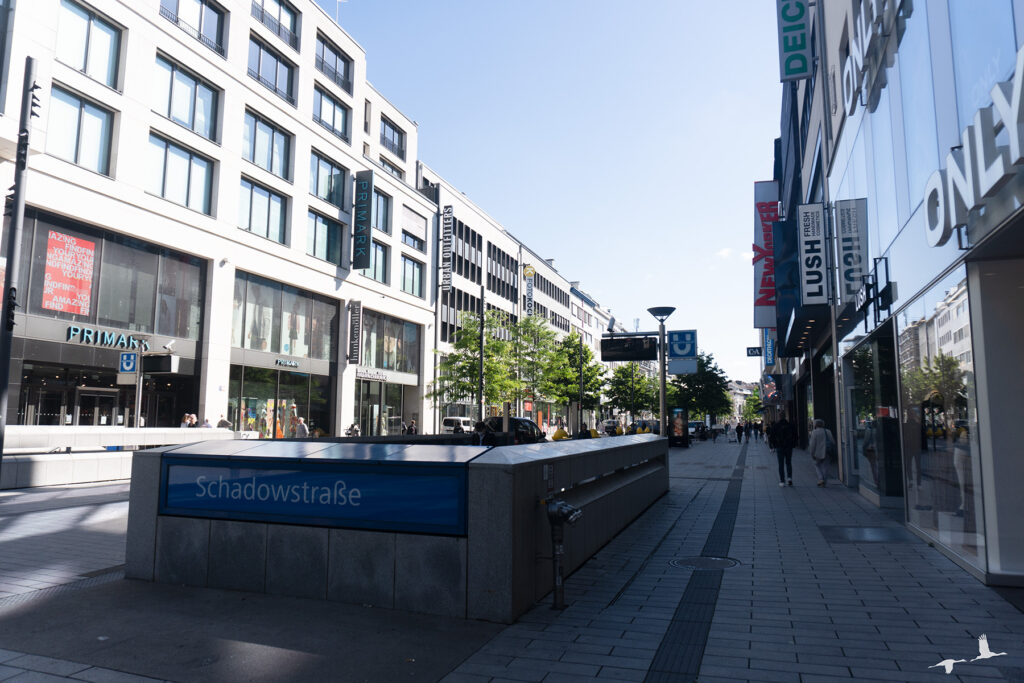 Where to stay in Düsseldorf
Originally we were only supposed to stay in Düsseldorf for one night but decided to stay a second night spontaneously. This is why we actually stayed in two separate accommodations.
NH Düsseldorf Königsallee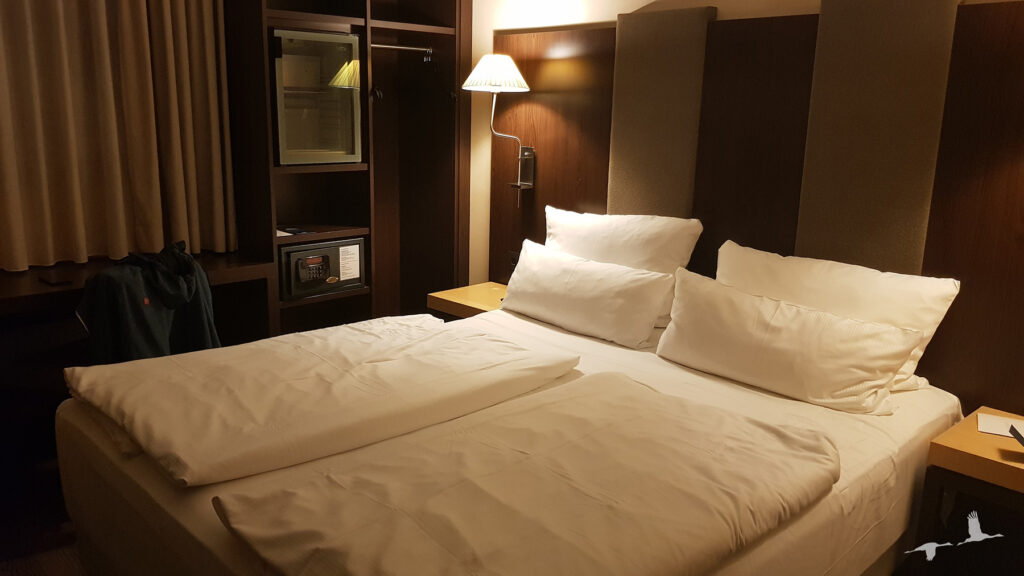 We added the first night spontaneously so we booked the NH Düsseldorf Königsallee* Hotel only hours before we arrived. The room was clean, quiet and had everything your typical hotel room has. The hotel itself only has parking if your car is under a certain height (I do not remember the exact number) which ours was not, but we had no problem finding a car park nearby. The hotel is located not far away from the Königsallee.
Square Rooms 20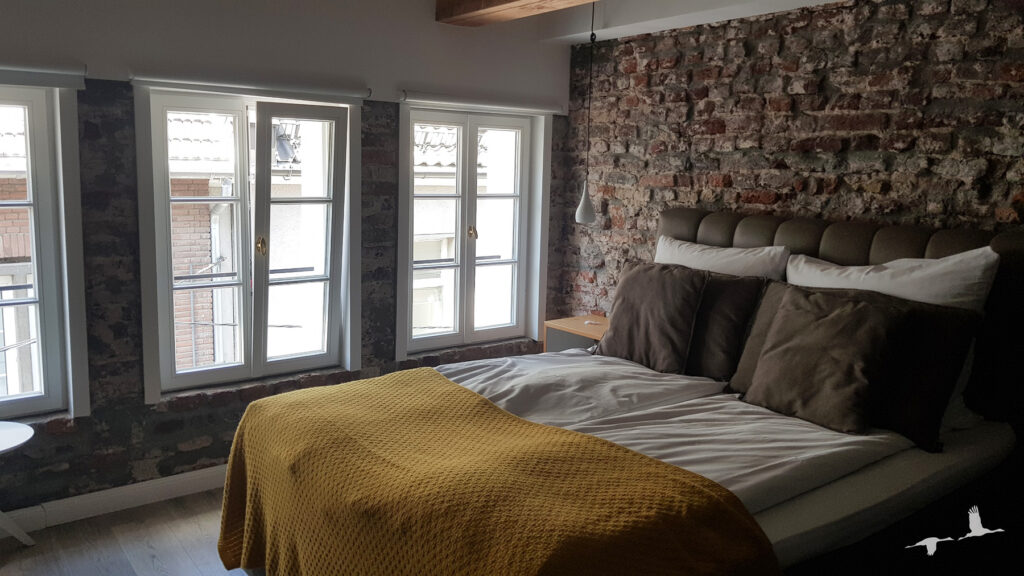 The second night we spent in a small guesthouse called Square Rooms 20* in the old town of the city. The building is rather old, but they renovated it quite nicely to fit the rental rooms inside. Since the building is old, the staircase is super narrow, which is not ideal for huge bags or kids, so bear that in mind. Also the guesthouse is located only a street away from the party street of Düsseldorf so it gets quite noisy in the evening. The owners are prepared though: there are free earplugs. The room also has a free minibar. Despite the noise in the evening we really liked what the owners created inside this beautiful old building!