Dublin is the capital city of Ireland. Architecturally speaking it might not be the most stunning city. However, it is a city with great charm, a cozy atmosphere, friendly locals and plenty of hidden gems. In this guide to Dublin, you will find all the information you need to plan your next trip to Dublin.
Note: We use affiliate links in this post. They are marked by an *, so you can recognize them in advance. By interacting with these links, you can support us and our website at no extra cost to you! For more information, read our Disclaimer.
Fun Facts
Usually this section consists of fun facts that we gather mostly from the Internet. But this time our source is actually a bit more interesting! When we were in Dublin, an old man asked us where we are from and so we stopped and talked to him for a while. We learned that he is retired and in his free time he likes to give free tours to tourists because he is very much a fan of history and everything around it. So, down below you will find some facts and stories we learned from him!
The name Dublin means black pool and was given to the city due to the black pool which used to be where Dublin is now.
When new buildings are built in the Old Town of Dublin, there has to be an archeologist on site to make sure that no old structures are found and destroyed during the construction work.
A popular sport in Ireland is Hurling, which has its roots in ancient Gaelic Ireland. There is an annual championship in hurling. The Final is played in a giant stadium in Dublin. The sport is known to be rather brutal when it comes to tackling and fouls. The UNESCO classified this sport as an element of cultural heritage.
Near Denmark, five Viking ships were excavated in 1962. One of these ships, the second largest Viking long ship ever to be found, was built in Dublin with wood from the Wicklow Mountains.
The first Special Olympics held outside of the US were organized in Dublin. There were tens of thousands of volunteers from all over Ireland to help and host the athletes.
How to get to the city from the airport
I assume that most of you will get to Dublin by plane – as did we. There are several ways to get to the city center. The best way to do so depends highly on your travel party. We wrote a more extensive guide on How to get from Dublin airport to the city center, which will help you find your optimal way of transportation between city and airport!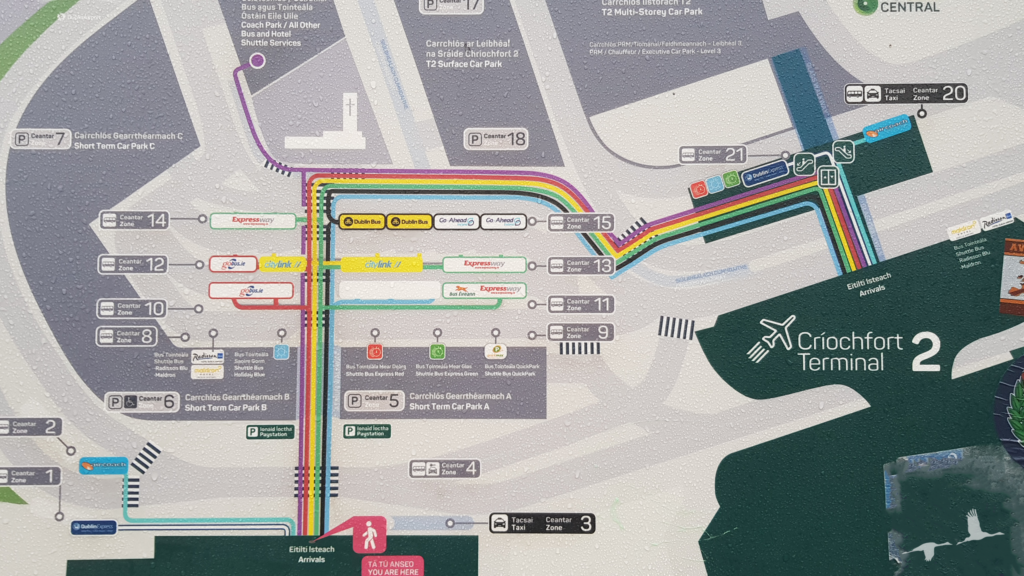 How to get around Dublin
By Foot
The city center of Dublin is actually not that big, which makes it quite easy to just walk everywhere. When doing sightseeing and shopping we did everything by foot. This is also a great way to get a feeling of the city. However, there are some attractions like the Guinness Storehouse or the Phoenix Park, which are located further outside. Here, it makes sense to make use of the other ways of transportation Dublin as to offer.
By Tram
Dublin city has two tram lines, the Red and the Green Line. The tram system itself is called Luas. The city is divided into zones and ticket prices depend on how many zones you travel through. A single ticket for an adult costs between 1,70€ and 2,60€ depending on how far you travel. The tickets can be bought in ticket machines located at every tram stop and are valid up to 90 minutes from the purchase time. You can find more information and a map with all the stops on the Luas website.
By Bus
Dublin Bus is the local bus operator of Dublin City. In terms of ticket prices, bus ticket prices are calculated similarly to the tram tickets. This means that the price of your ticket depends on how many zones you pass through and cost between 1,70€ and 2,60€. Bus tickets can be bought from the bus driver. Be aware though that you will have to pay the exact amount in coins. They don't accept bills or cards for payment and they won't give you any change either.
We did not know that beforehand, so we have a story where the bus driver wouldn't accept a 5€ bill and none of the nearby shops wanted to exchange it for us. Since it was already dark we ended up taking a taxi, which was way more expensive.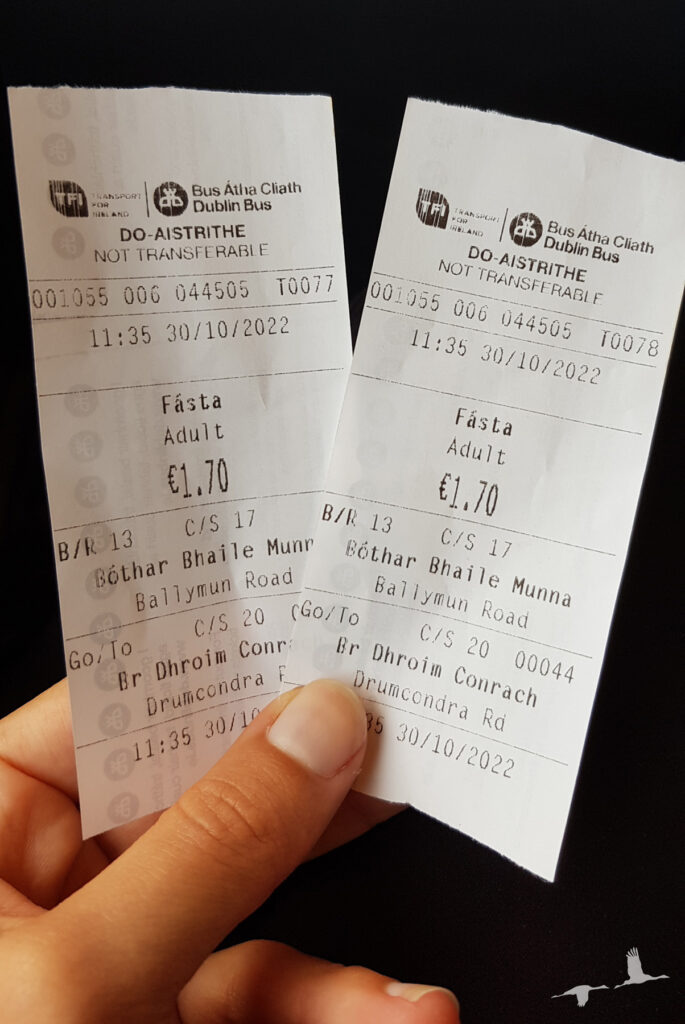 By Taxi (or Uber)
Lastly you can also take a taxi. Since this is the most expensive way of transportation I would not resort to it unless absolutely necessary. There is an initial charge of 3.80€ and then roughly 1.14€ per additional kilometer. On Sundays as well as between 20h and 8h the rates are higher though and you pay an additional fee of 1€ per additional passenger.
However, if you need to go somewhere that is hard to reach with public transportation or later in the evening when less busses operate it is still a good option to have.
Where to stay in Dublin
…in the city
During our stay in Dublin city, we stayed at the Academy Plaza Hotel* near O'Connell Street. The room was clean and had everything we needed for our stay. The location was also ideal for us since we were in the city center within a 10-minute walk and O'Connel Street is a great place to be close to in term of public transportation connections. We would stay here again anytime!
…at the airport
For our last night in Dublin, we wanted to stay near the airport. Therefore we booked a room for a night at the Metro Hotel Dublin Airport. The room was actually very nice and quite modern. Everything was clean and the staff friendly. If you wish to go into the city from here, there is a bus stop not far away from the hotel and for 1.70€ per person you can get to the city center quite easily.
The hotel offers a free shuttle to the airport. You can book the shuttle at the reception when checking in! If you wish to stay near the airport in Dublin we highly recommend staying at this hotel.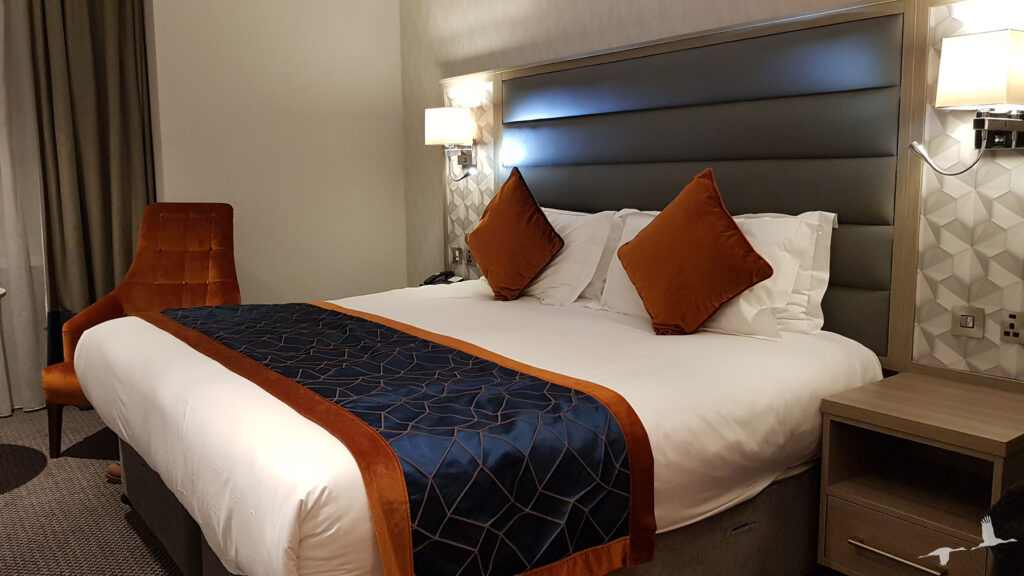 What to do in Dublin
Dublin has unique things to offer in terms of sightseeing. There are not that many fancy monuments like in Rome for instance, however the city has some hidden gems in terms of experiences. A lot of them are also indoors, which is great in a city where it rains quite often. Down below, this guide to Dublin contains a list of our favorite experiences this city has to offer.
1. Listen to Irish Myths at the Leprechaun Museum
We came across this museum by chance when looking for things to do in Dublin on Google Maps. Since we are huge fans of everything that has to do with myths and legends of a country, we decided to book this experience. And we were not disappointment!
The museum is not a museum in a traditional sense. You book a tour and together with you guide and group you make your way through the different rooms of the museum and the guide tells you different stories in each one. The tour is a great way to get a glimpse into Irish mythology. You get to know some of the creatures their legends and myths are centered around and an idea on where the stories came from.
They offer two different tours, a daytime tour and a nighttime tour. The daytime tour gives a great overview of their mythology in general, whereas the nighttime tour focuses on the more twisted and dark tales. We booked the daytime tour.
The daytime tour is around 45 minutes long and costs between 10-16€. The nighttime tour is 60 minutes long and costs 18€. You can find more information on their official website.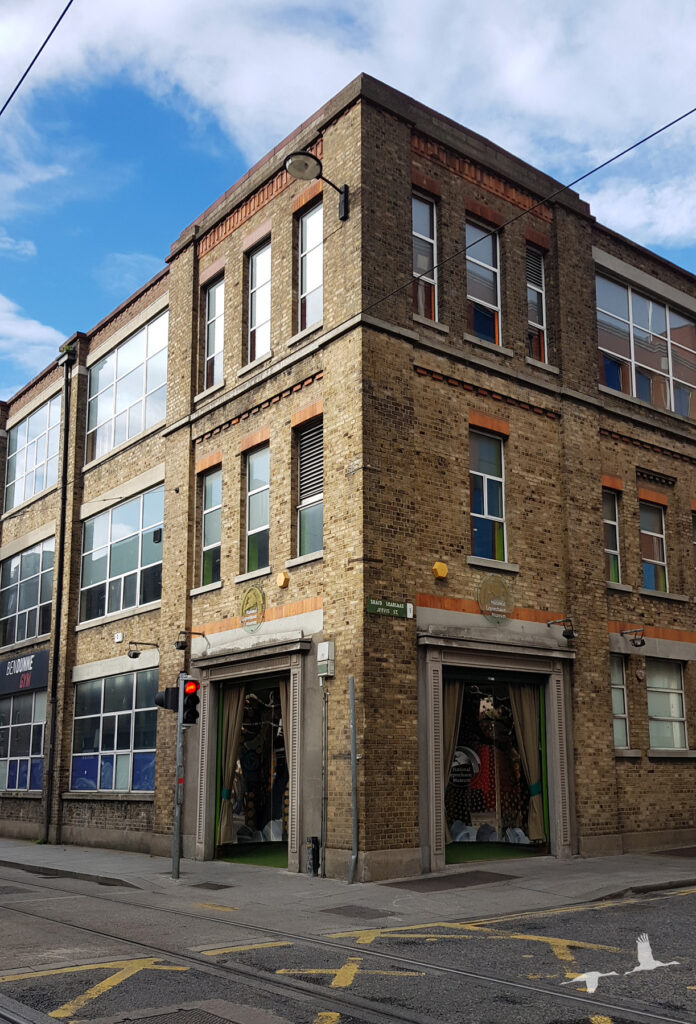 2. Enjoy a drink at the Temple Bar District
The Temple Bar district is known as the nightlife district of Dublin city. Here you will find numerous bars, pubs and restaurants as well as the famous Temple Bar itself. Many pubs offer life music performances in the evenings. The district becomes very lively at night and no visit to Dublin is complete without at least stepping into this district once.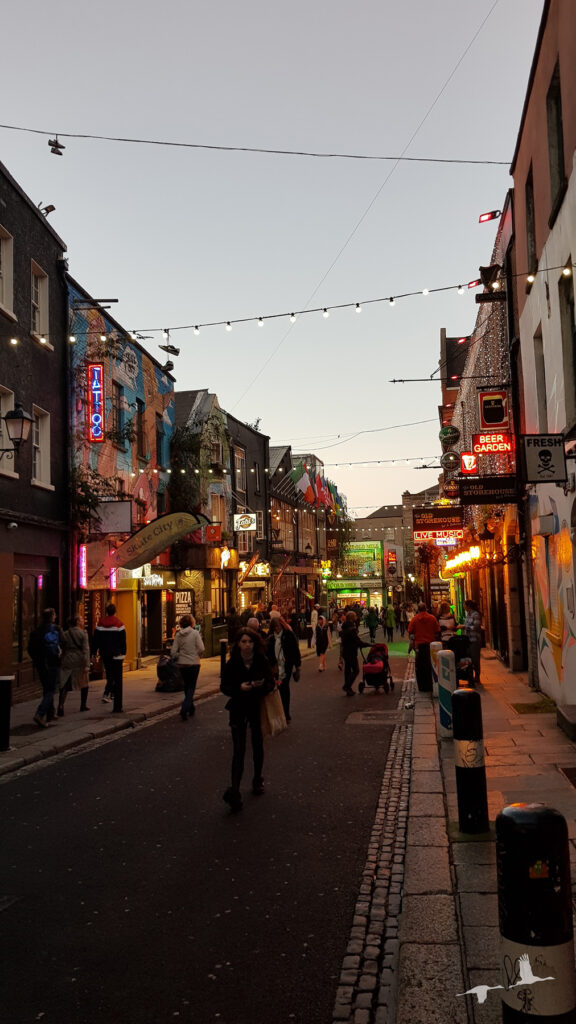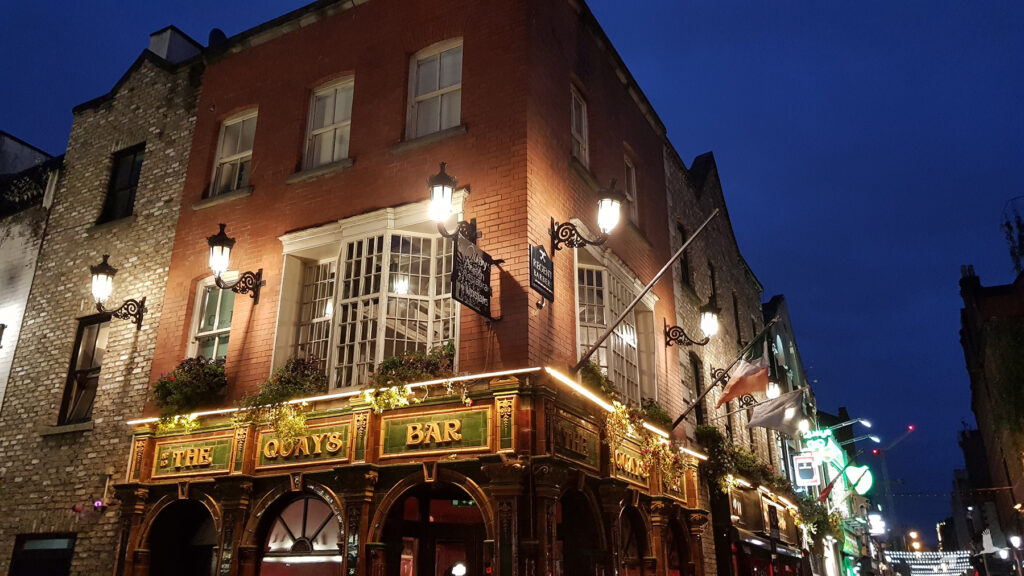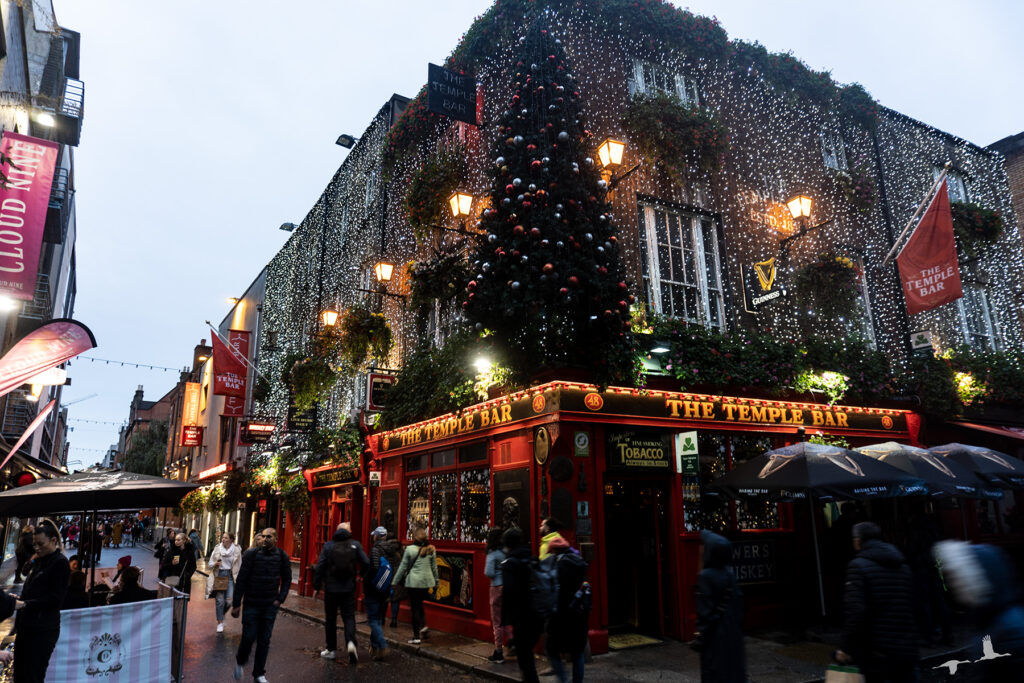 3. Visit Dublin Castle and Gardens
Dublin Castle was founded in the 13th century and served many purposes of the years. Today the inauguration of the President of Ireland is held here as well as several State receptions. Visiting the Castle Gardens as well as the inner courtyard of Dublin Castle is free. If you wish to visit the State Apartments, self-guided tours cost 8,00€.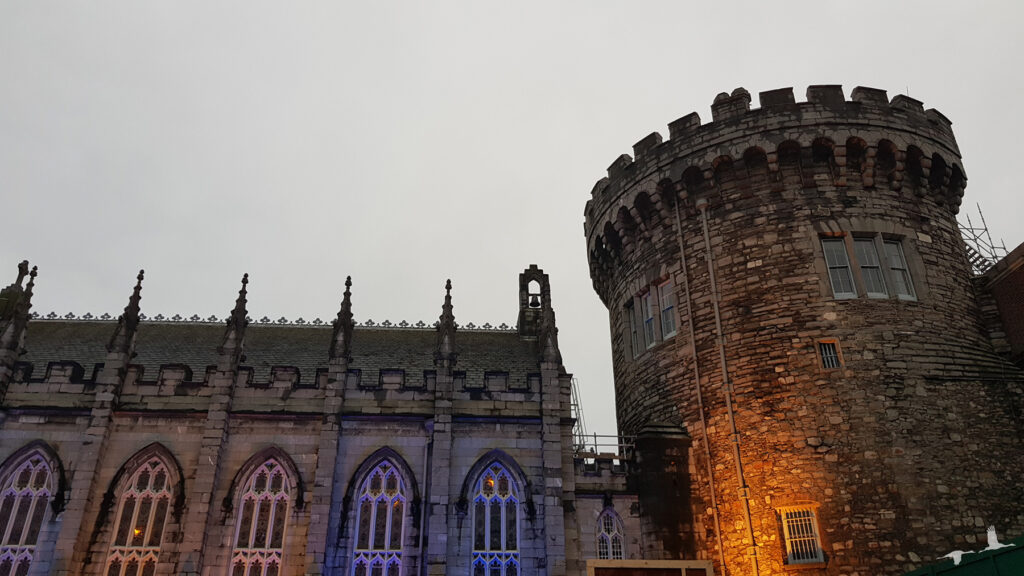 4. See Samurai armor at the Chester Beatty
Visiting the Chester Beatty exhibition was actually a tip from the same man we got our Dublin Facts from. And we are glad we did. Sir Alfred Chester Beatty was a very successful businessman at the time as well as a collector. His collection includes numerous old manuscripts, paintings and other art from all over the world. You can even find samurai armor on display. After his death he entrusted his collection to the Irish people.
Today his collection can be seen in the Chester Beatty building on the castle grounds. Admission is free however there is a donation box in the entrance hall for those who wish to do so. We really enjoyed this exhibition and can recommend it to anyone who has an hour or two to spare.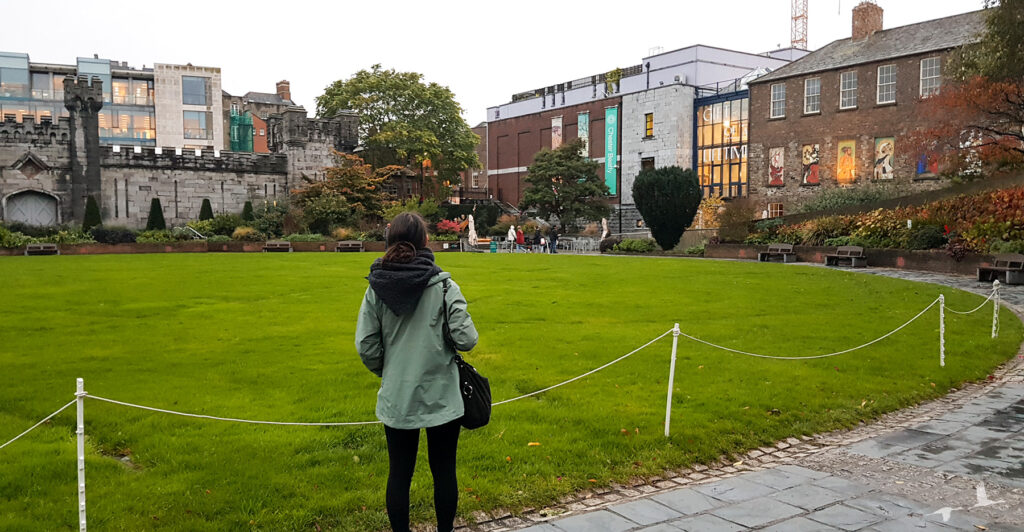 5. Visit the Guinness Storehouse
When looking at most "Top 10 To-Do" lists of Dublin, the Guinness Storehouse is usually the first or at least among the first three items on the list. On several floors, you will find interactive exhibitions telling the story of Arthur Guinness, the brewing process of the beer as well as some interesting advertisements they had over the years. The last floor has a sky bar, where you can drink a Guinness with a great view over Dublin.
The standard ticket for this experience costs 31€ (the price includes a Guinness at the bar on the top floor). It is definitely not a cheap experience, so I would only do it if you are really interested in it and not because you think you have to since it is number 1 on all the to-do lists on the internet. But it can be a great way to spend an afternoon in Dublin.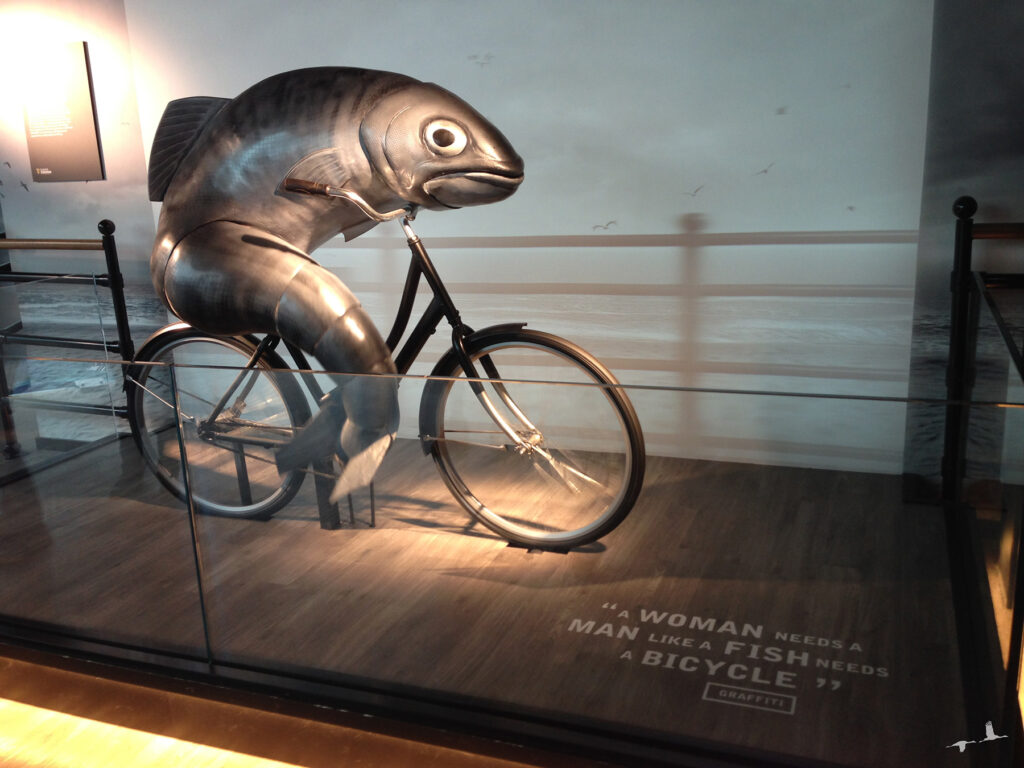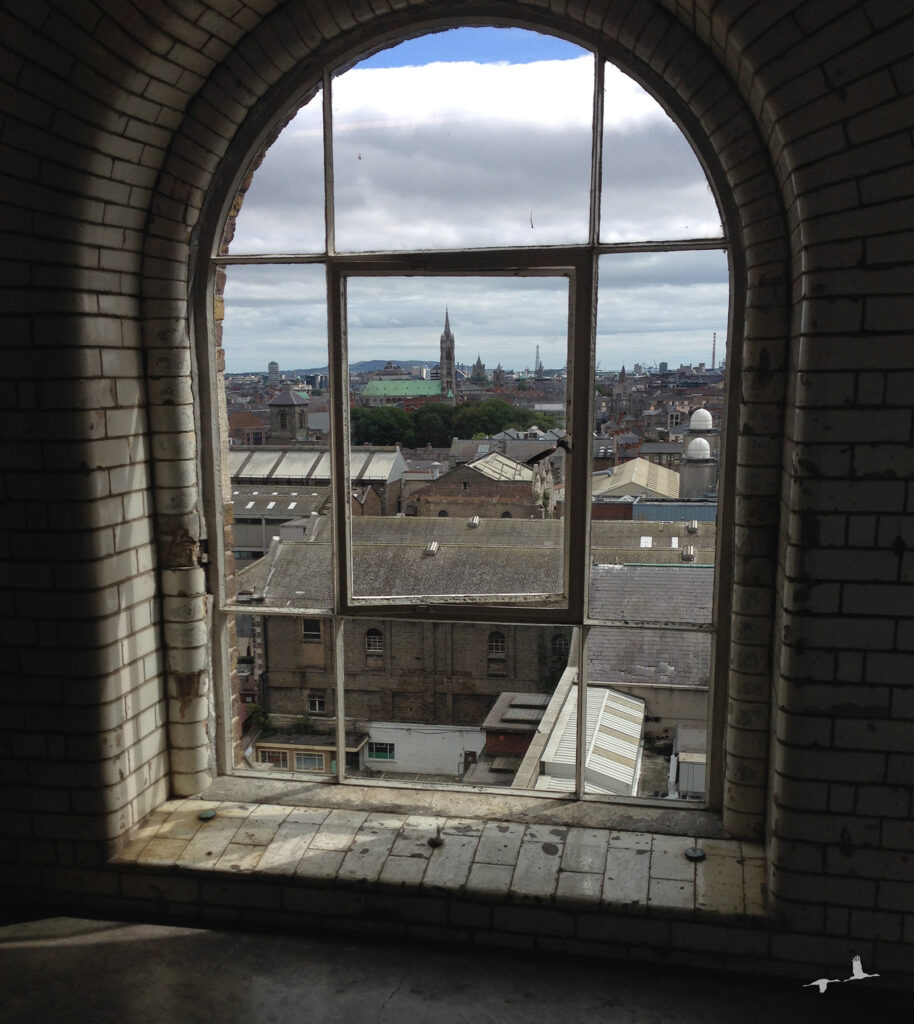 6. Visit Kilmainham Gaol
Kilmainham Gaol was built in the 18th century and used to be a prison. Especially during the struggle for Irish independence, many were imprisoned and executed here. This is why it became a symbol of oppression for the Irish and was decommissioned as a prison shortly after the Irish Independence. Today this former prison is a museum, telling the story of some of its inhabitants.
The outlay of the prison is actually quite interesting and definitely worth a visit. The entrance fee for adults cost 8,00€ per person.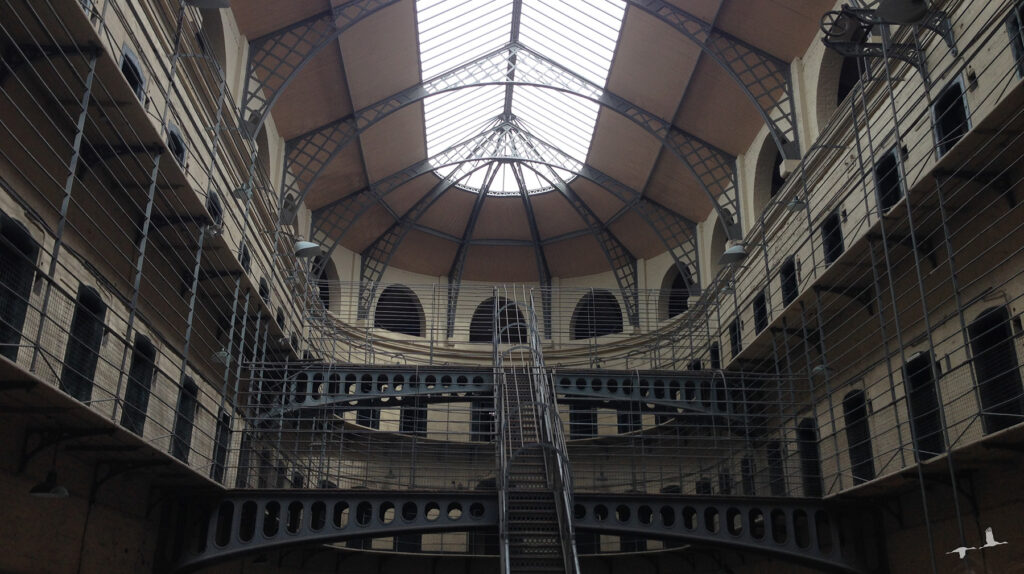 7. Go shopping
Dublin is actually a great city to do some shopping. The city is home to most of the big brands, but offers some more unique shopping experiences as well. If you are looking for bigger brands, Grafton Street is a great place to go, as well as Henry Street, where you will also find the entrance to the Jervis and Ilac Shopping centers. The St. Stephens Green Shopping center is the most unique looking shopping center. It looks like a giant greenhouse.
If you are looking for smaller more individual shops, the streets in between Grafton Street and South Great George's Street are a great place to explore. Here you will find a mix of smaller shops, normal brands and restaurants. Also there are several small arcades like for instance George's Street Arcade or shops hidden in inner courtyards like in the Antique Gallery for you to explore.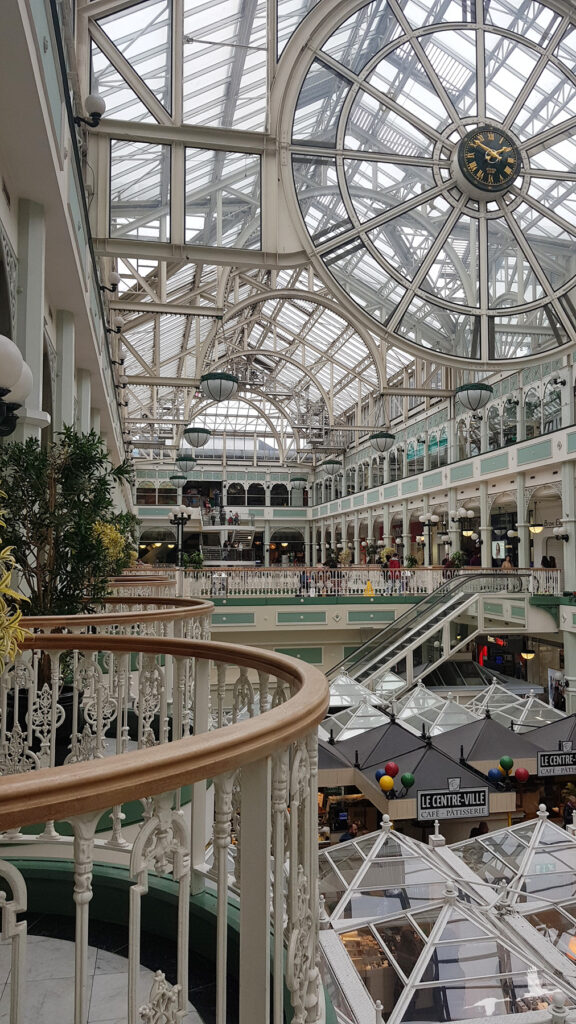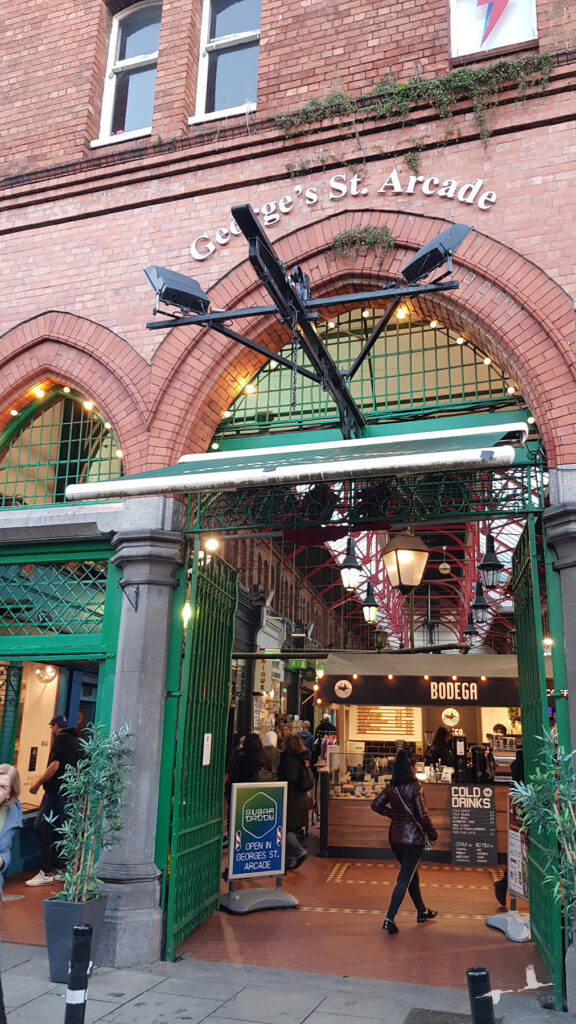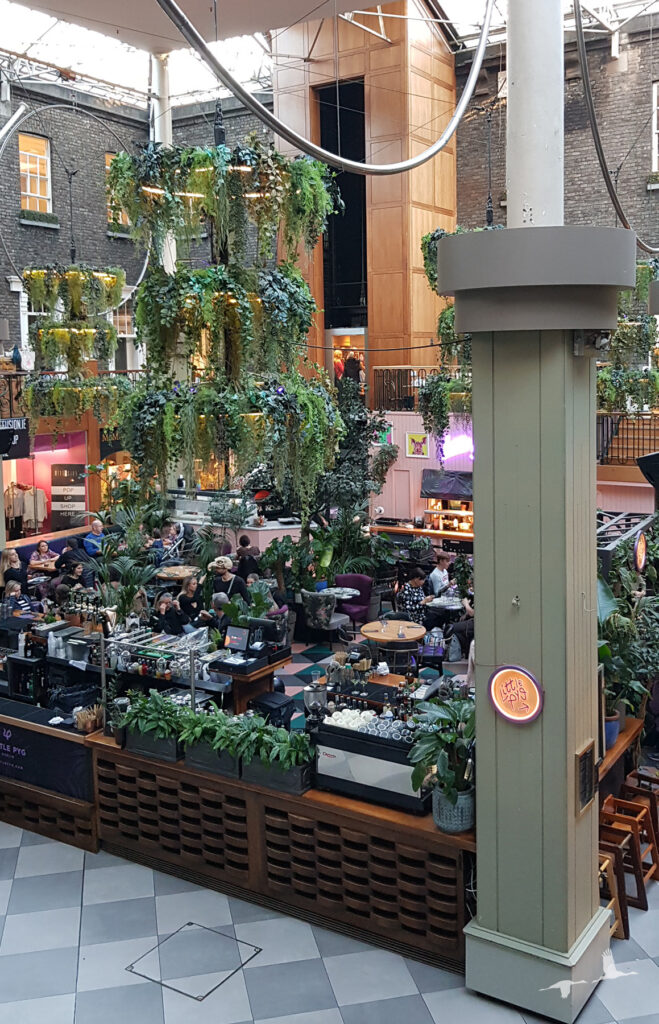 8. Look for colorful doors
Especially in the areas around Merrion Square Park and St. Stephens Green Park, there are numerous buildings with beautiful doors in many different colors. Stroll around these quarters and search for the most picturesque door!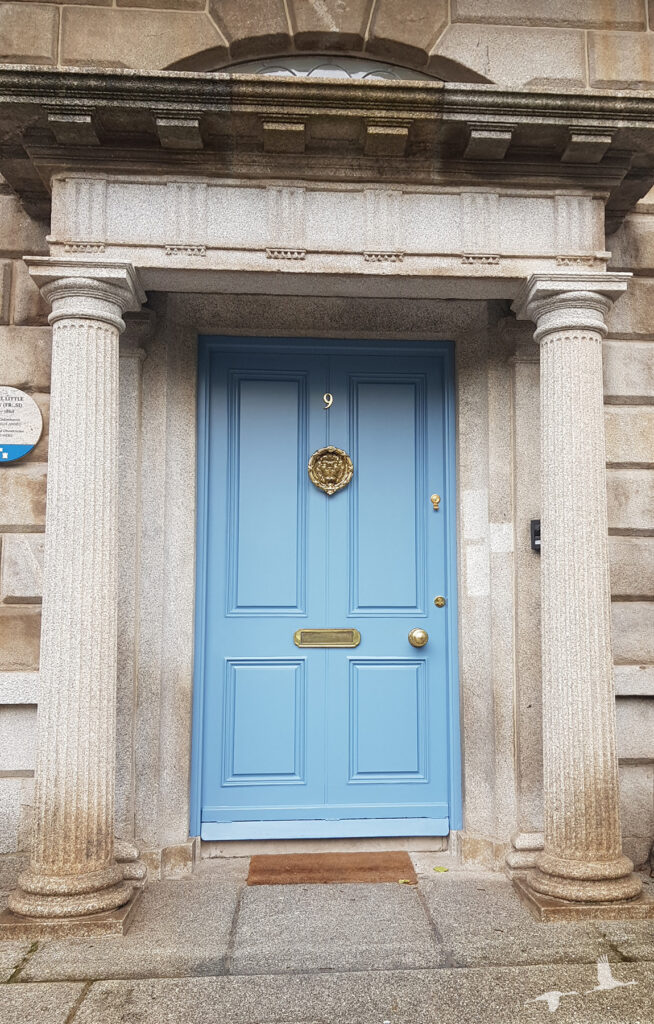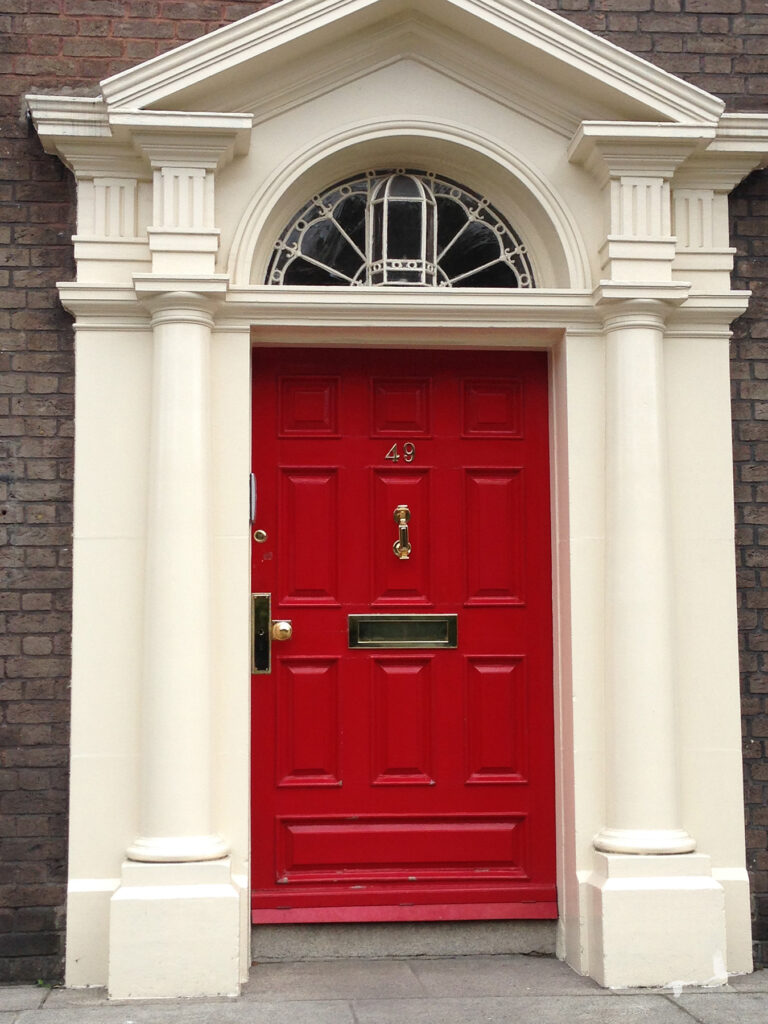 9. Stroll around the parks of Dublin
Located in the same area as the colorful doors are two beautiful parks, the St. Stephens Green Park as well as the Merrion Square Park. Stroll around these beautiful patches of green to get a break from the city. It is a great place to observe some ducks and, well, seagulls which seemingly took over the parks. We even spotted one young seagull swimming among the ducks and behaving just like one of them.
A little further from the city center, you will find Phoenix Park, one of the biggest urban parks worldwide! There are a number of sights and monuments spread throughout the park as well as a group of deer living there permanently.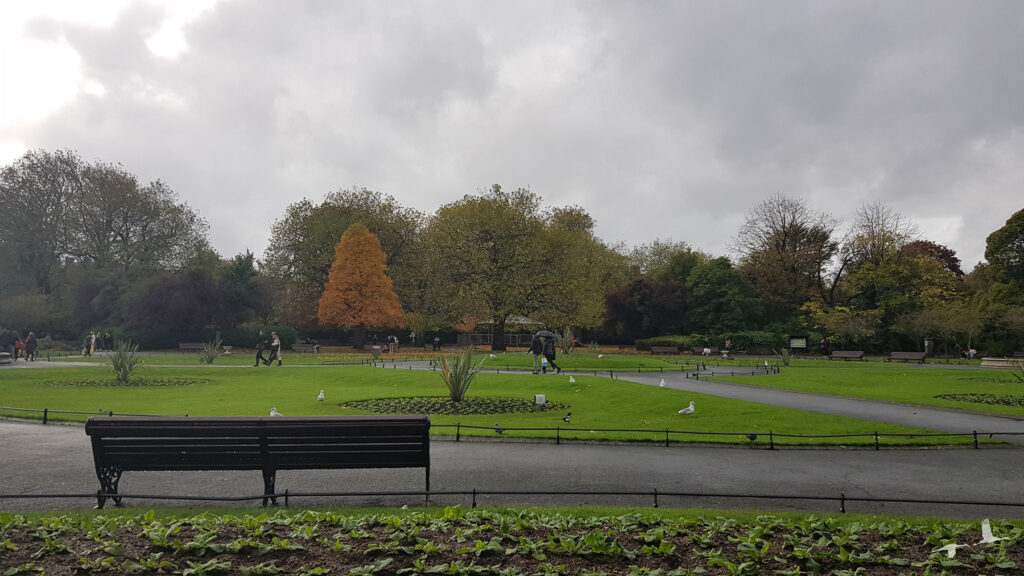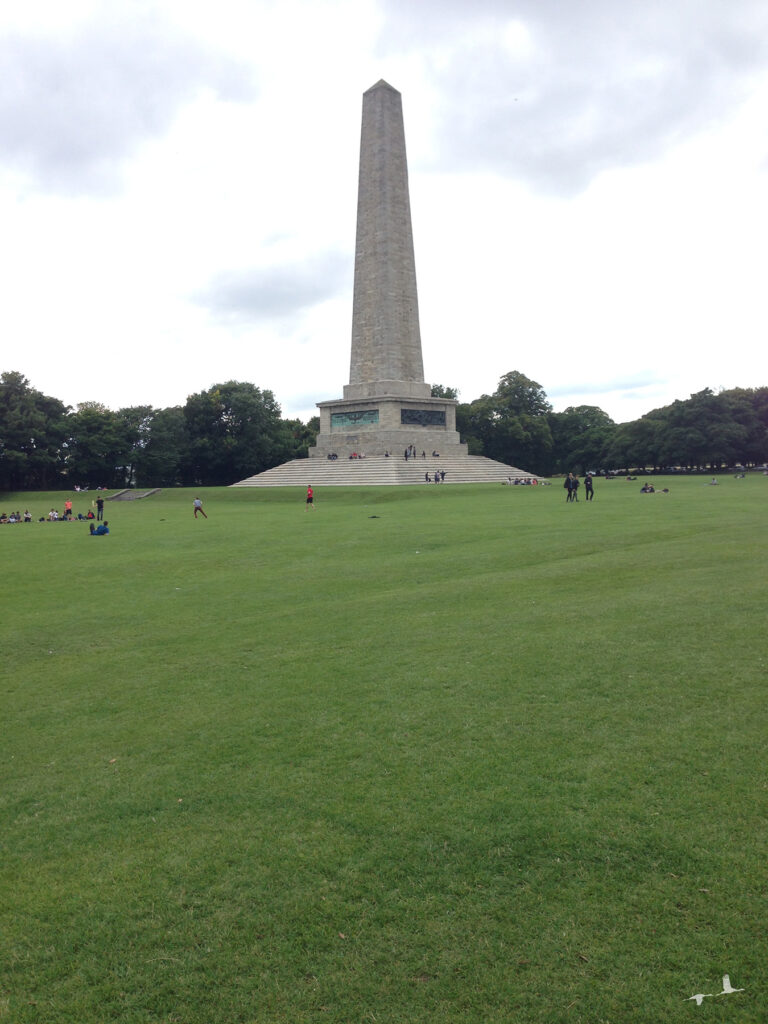 10. Visit Trinity College
Trinity college is Ireland's most prestigious university. It was founded in the 16th century and is a sister college to the University of Cambridge as well as the University of Oxford. The Trinity College campus is open to the public and many tourists visit each day.
A highlight of Trinity College is its old library and the Book of Kells. The Book of Kells is Ireland's greatest cultural treasure and the old library one of the most beautiful libraries worldwide! While strolling around the campus is free, a visit to the Book of Kells and library cost 18,50€. You can book your tickets online beforehand.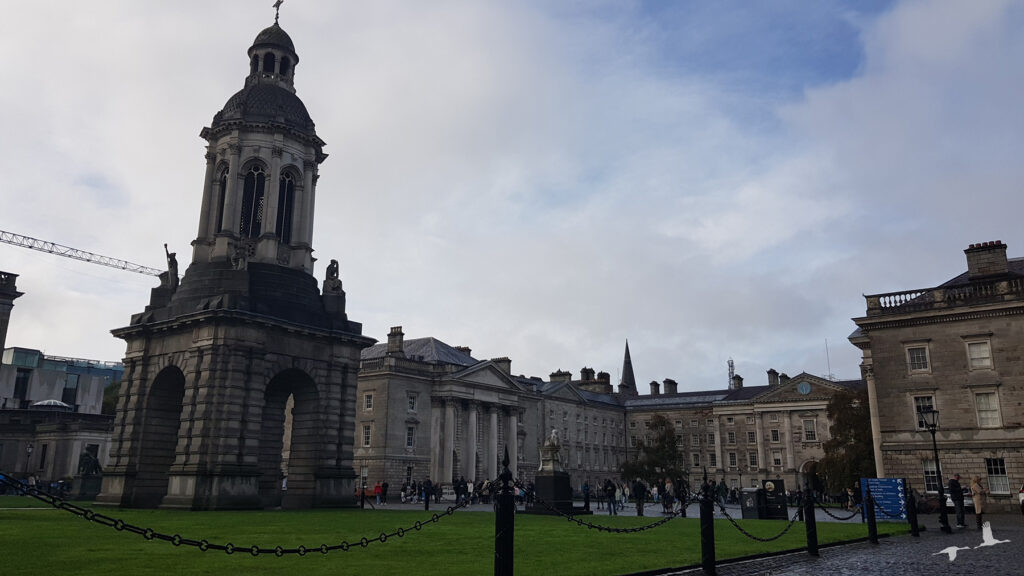 11. Stroll around the Liffey and cross Ha'penny Bridge
The river Liffey flows through the city center of Dublin. It has always been of great importance for trade. Especially in the evenings, strolling around the Liffey makes for some great views. Along the riverbanks there are some sort of footbridges with benches on its sides. It is a great place to sit down and relax in between sightseeing and shopping during the day.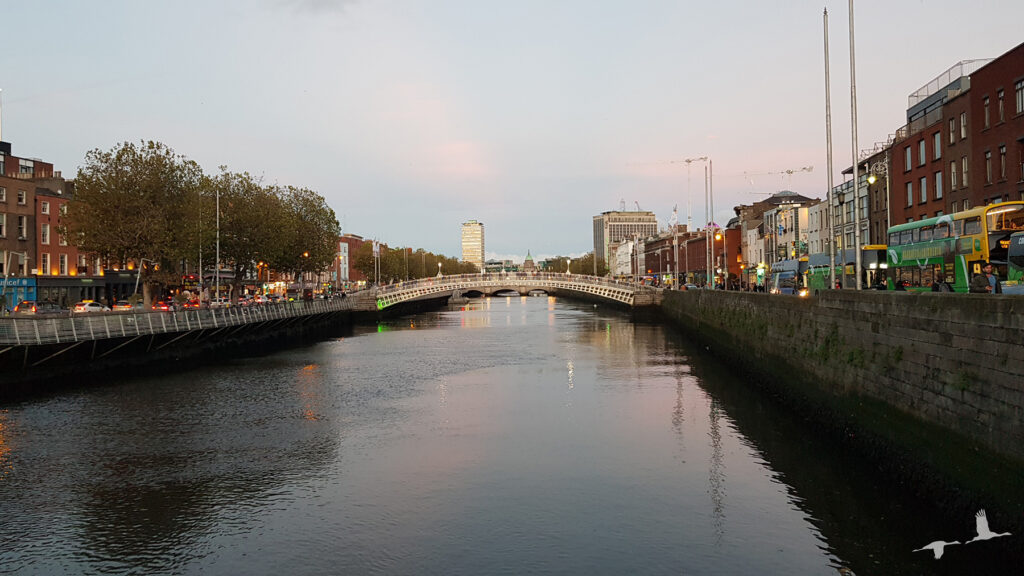 And this concludes our guide to Dublin. Dublin is a city we thoroughly enjoy spending time in and we hope that this guide helps you plan the ultimate city trip to Dublin as well!