What to see and do in Rome
Note: We use affiliate links in this post. They are marked by an *, so you can recognize them in advance. By interacting with these links, you can support us and our website! For more information, read our Disclaimer.
Rome, the capital city of Italy, is known for its rich history, good food and warm weather. We stayed in Rome for 5 days in September and tried to absorb as much of this city as possible. We tried a variety of delicious foods, strolled around Roman ruins, churches as well as beautiful side streets and ate our weight in gelato in order to survive the 36°C temperatures. Of course we did not manage to do everything we wanted to, because you never do. But we did see quite a bit. Since the city of Rome is huge and can be quite overwhelming when visiting for the first time, we put together this sightseeing guide to Rome with some of our favorite things we did when visiting this amazing city.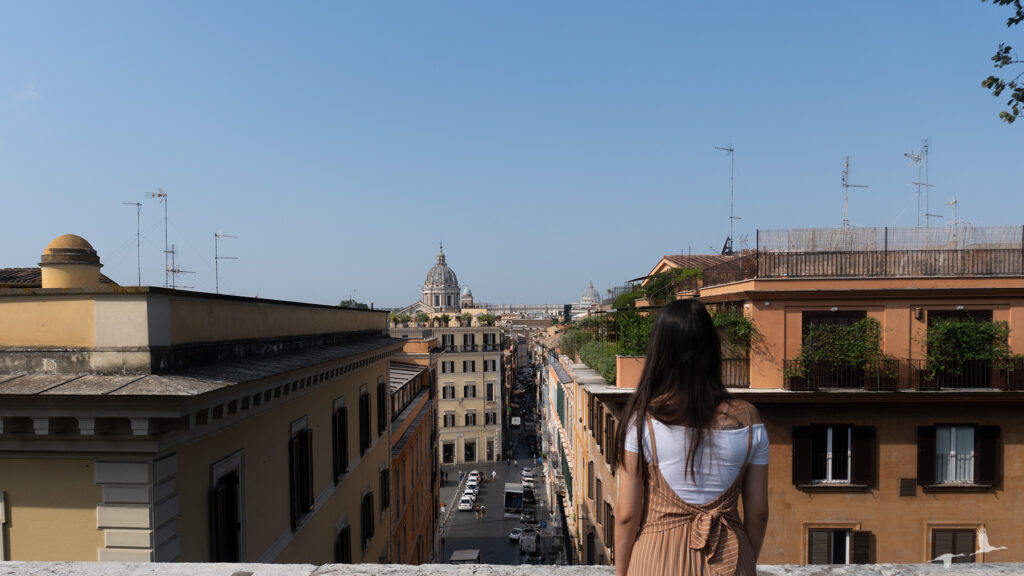 Visit Piazza Navona
So, let´s start right away with one of our favorites: Piazza Navona! Interestingly Piazza Navona was built by the Romans as an athletics stadium, which also explains its elongated form. After the fall of the Roman Empire, houses where built where the stands used to be and eventually it became Piazza Navona as we know it.
Our hotel was not that far away from this beautiful Piazza, so we passed by every day on our way to whatever destination we tried to reach that day. Our favorite gelato shop is located in a street just off the Piazza and so we would sit down by the fountains at least once a day and enjoy some gelato, which leads us to our second must do!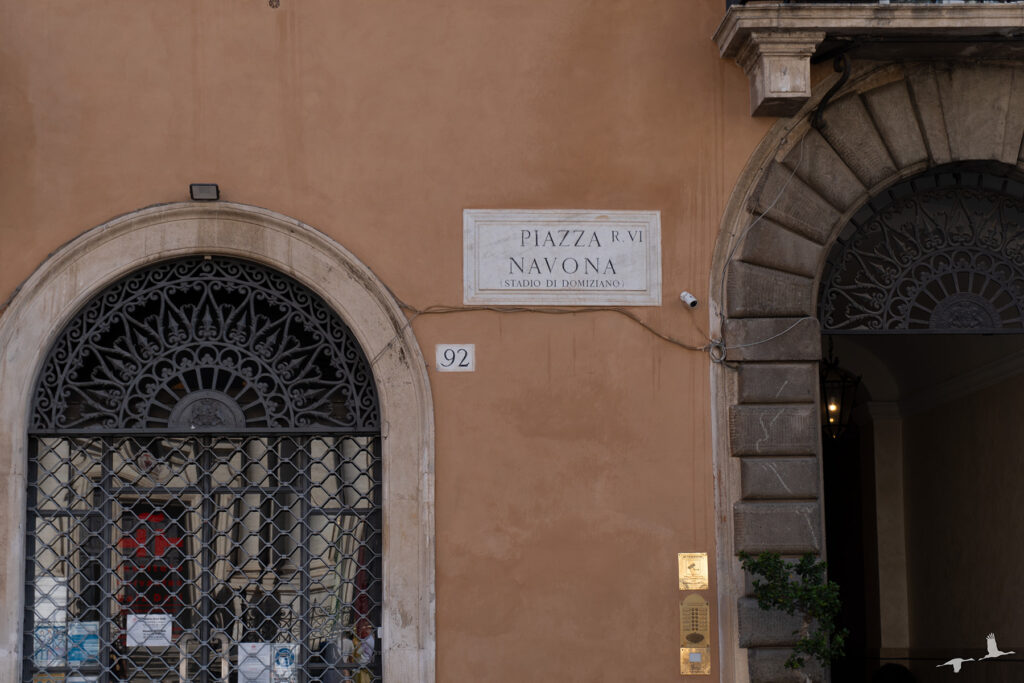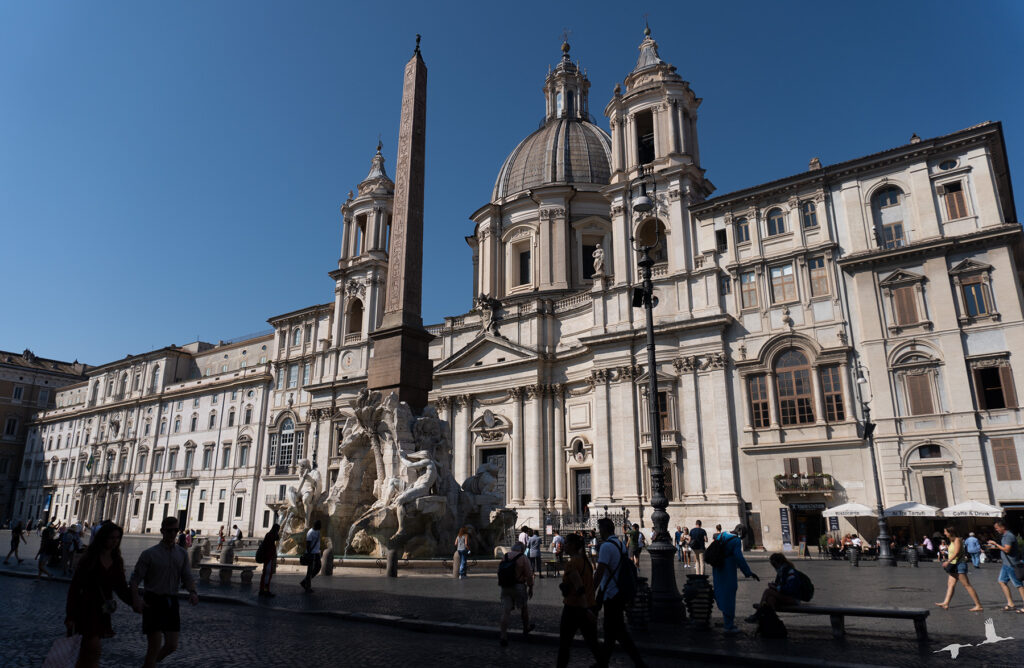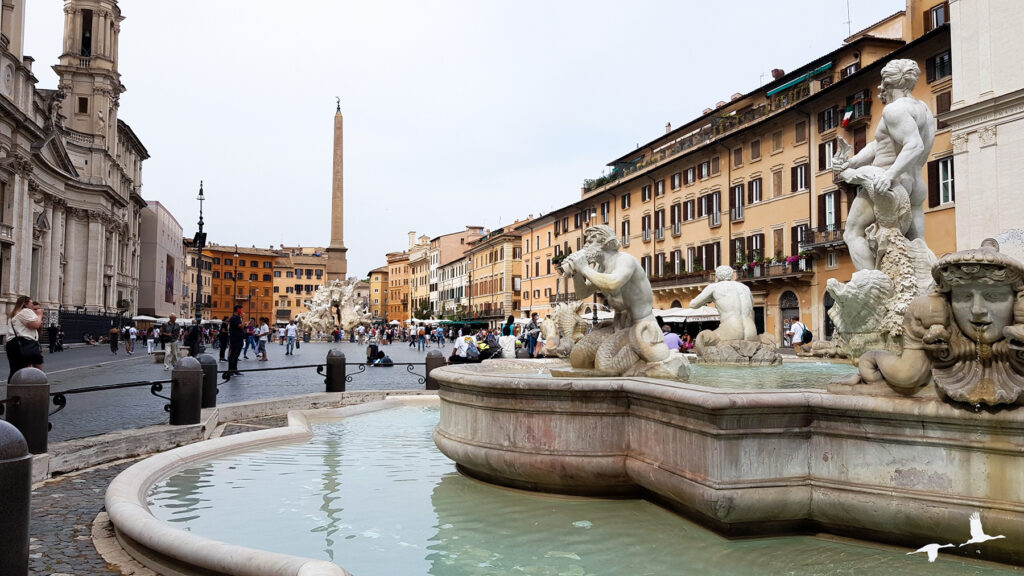 Enjoy some gelato
In Italian "gelato" literally means "frozen" and you can find gelato pretty much everywhere. When roaming the streets of Rome we would pass a lot of gelato shops per day, many of them having quite unique flavors in their assortment. Some even had lines in front of them no matter when you walked by. 
However for some reason we chose one particular gelato shop that would end up being our go-to for the rest of the trip. Our favorite gelato shop is called "Ice Crome" and is located on the Via del Governo Vecchio. We went there every day and tried as many flavors as possible during our stay in Rome. Flavors range from traditional chocolate and vanilla to more sorbet like flavors such as raspberry and lemon as well as more unique ones such as tiramisu and coffee. We really recommend this place! (my google research tells me that this shop is permanently closed, I really hope that it´s not true, so if someone knows otherwise, please let me know!)
Climb the Spanish Steps
Interestingly these steps were not commissioned by the Spanish, like the name might imply – actually it was the French that were involved in the built of these iconic steps and their official name is "Scalinata della Trinità dei Monti". They connect the French monastery "Trinità dei Monti" with the Piazza di Spagna down below, which got its name from the Spanish embassy that used to be located there in the 17th century. Somehow the steps then ended up being called the "Spanish Steps" afterwards. They are quite impressive, but also very well visited by tourists. On top of the stairs you get really great views over the city.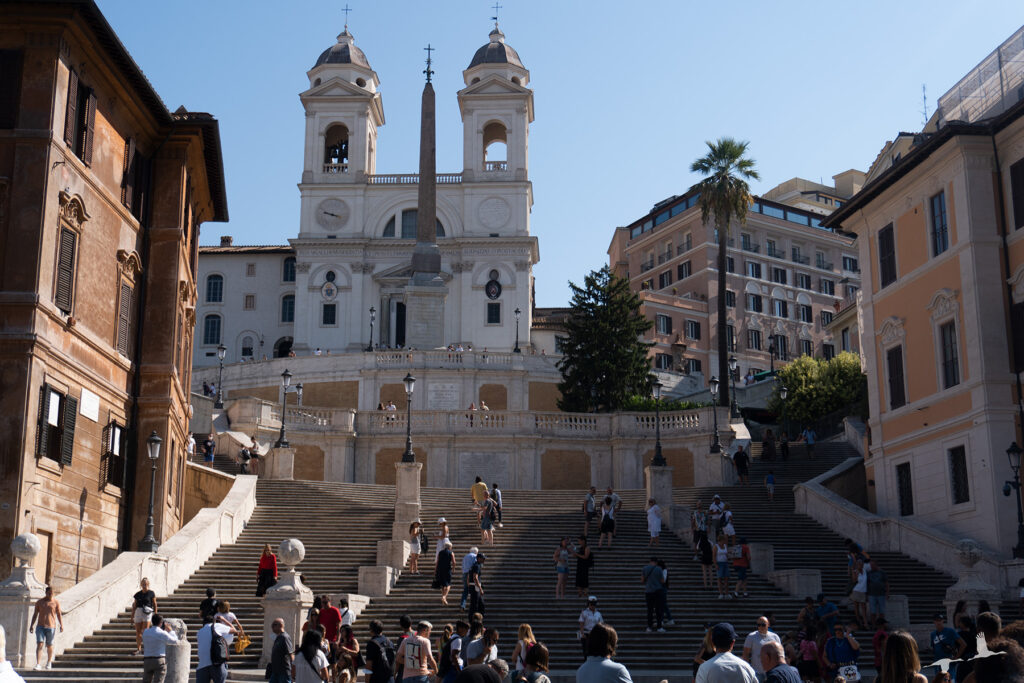 Enjoy the views from the hills of Rome
Speaking of viewpoints – due to its location, not only the plateau on top of the Spanish steps, but many other locations make for some great viewpoints. When talking about Rome and its founding story a lot of emphasis is put on the fact that Rome is built on 7 hills – the Palatine, Aventine, Capitoline, Esquiline, Quirinal, Viminal and Caelian Hill, all located east of the river Tiber. Each of the hills used to have its own settlement before the founding of Rome.
This fact comes in rather handy if, like us, you enjoy finding viewpoints and unique lookouts. Two of the photos below were taken not far away from the Spanish Steps. The third photo was taken from the Giardino Di Sant'Alessio, next to the Basilica dei Santi Bonifacio e Alessio. This place is located not far away from a famous photo spot where you can take a photo of the St. Peter's Basilica through a keyhole. We actually went there for that exact photo but due to a long waiting line decided to not go through with it. However I like our alternative photo spot just as much!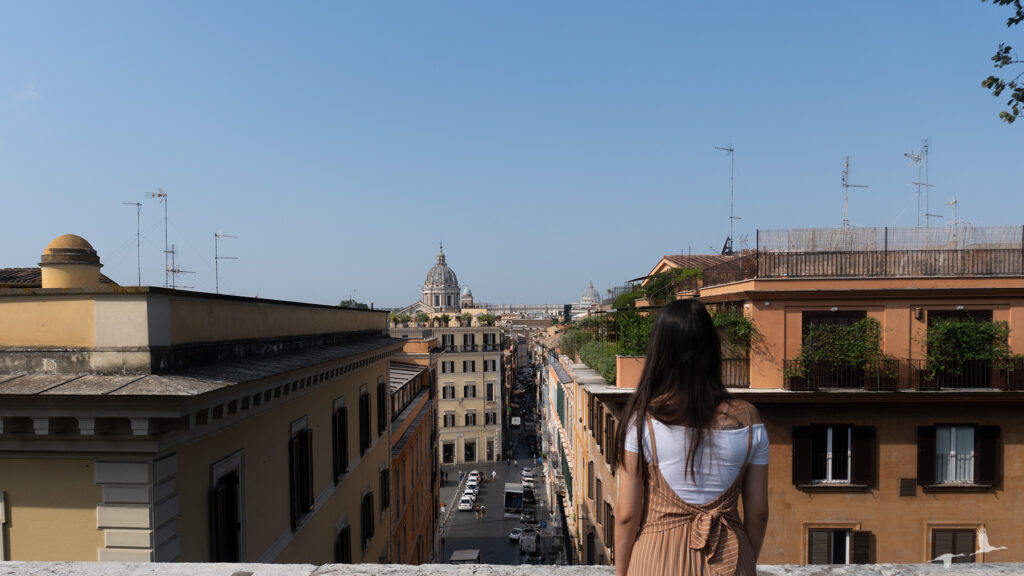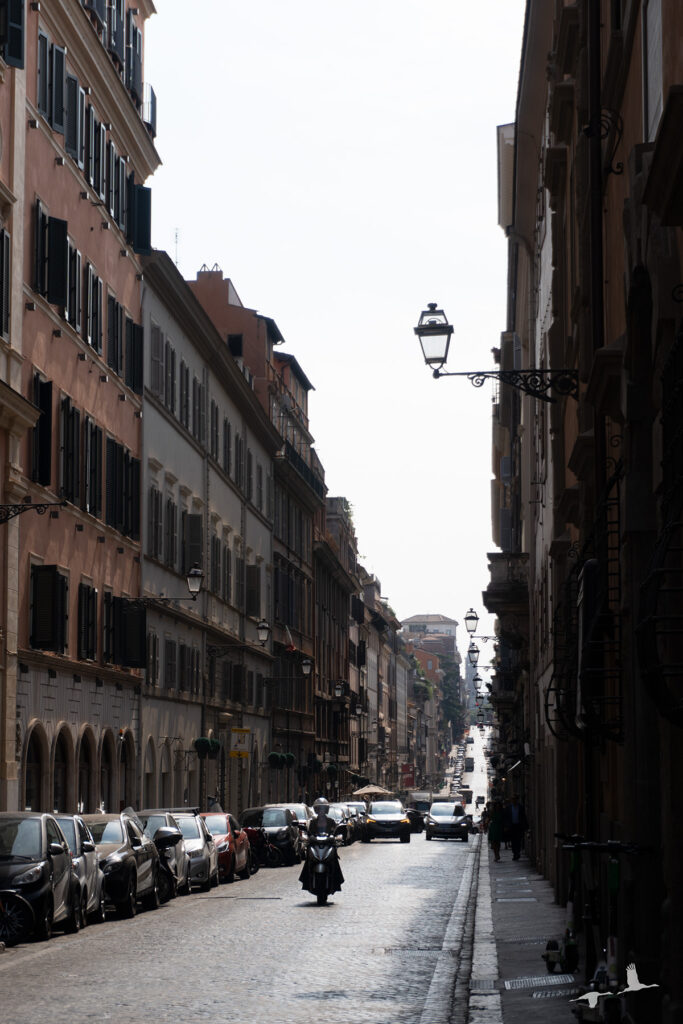 Stroll around Villa Borghese
This estate came into life in 1580 when the Borghese family bought it as an estate for producing wine. Over the years it became bigger and bigger as they bought more land around it. They even built their own art museum on their property. In 1901 the manor and all of the land was bought by the country and was opened for the public not long after. 
When strolling around the former Borghese manor, it is quite striking how big it is. Most parts are laid out as a park. There is a small lake located next to what looks like a Greek temple (Tempio di Esculapio). You can rent a boat here. Villa Borghese also contains the Galleria Borghese and even a zoo. We spent most of our time strolling around and enjoying some shade on a park bench.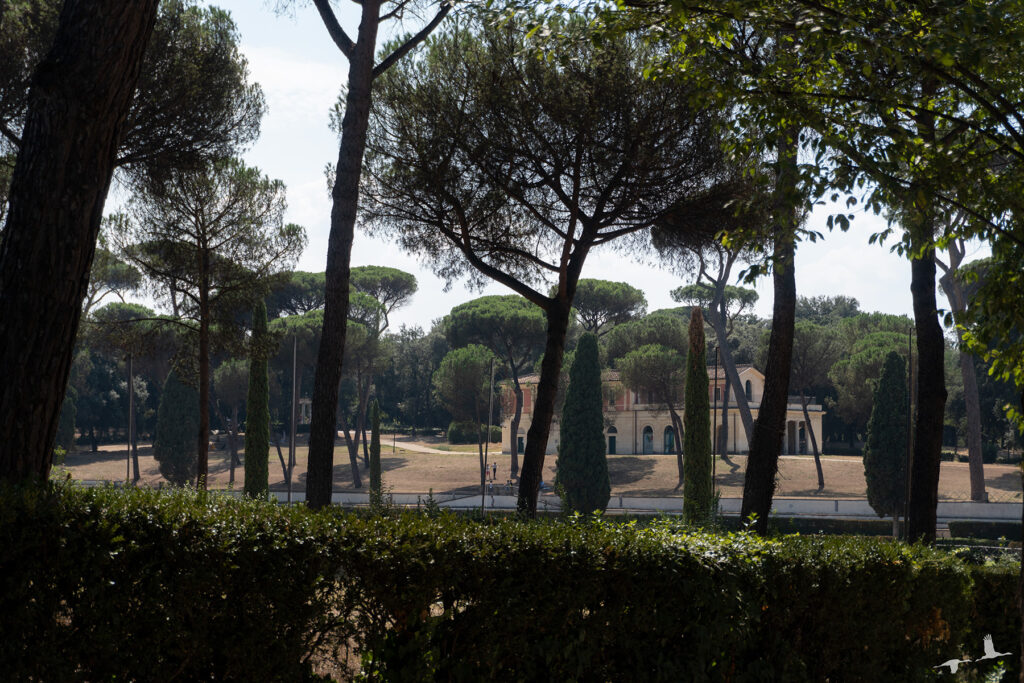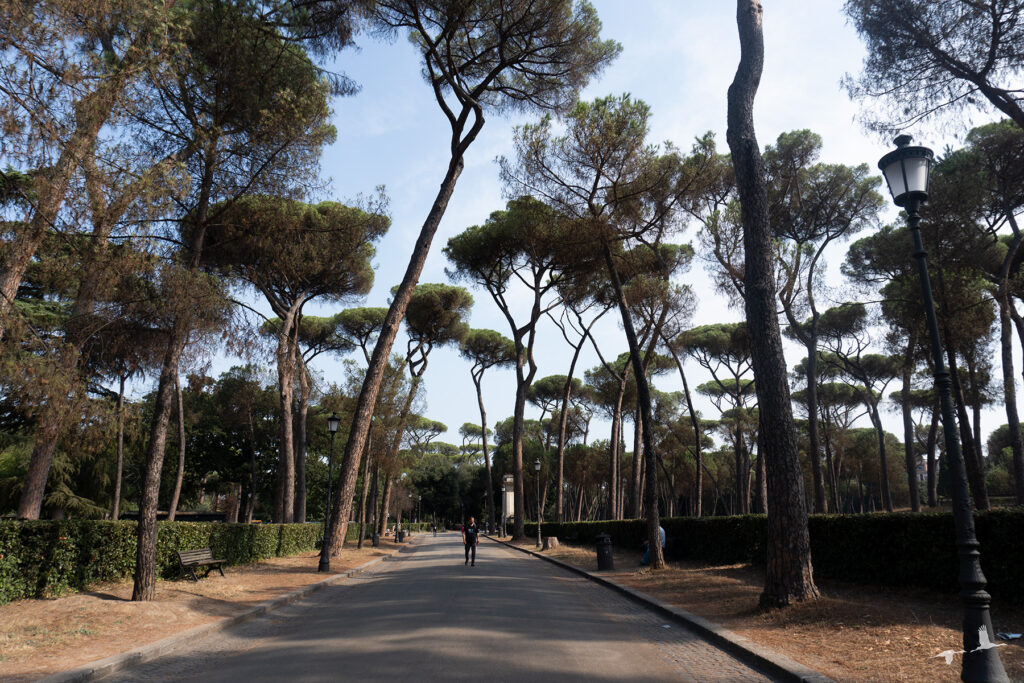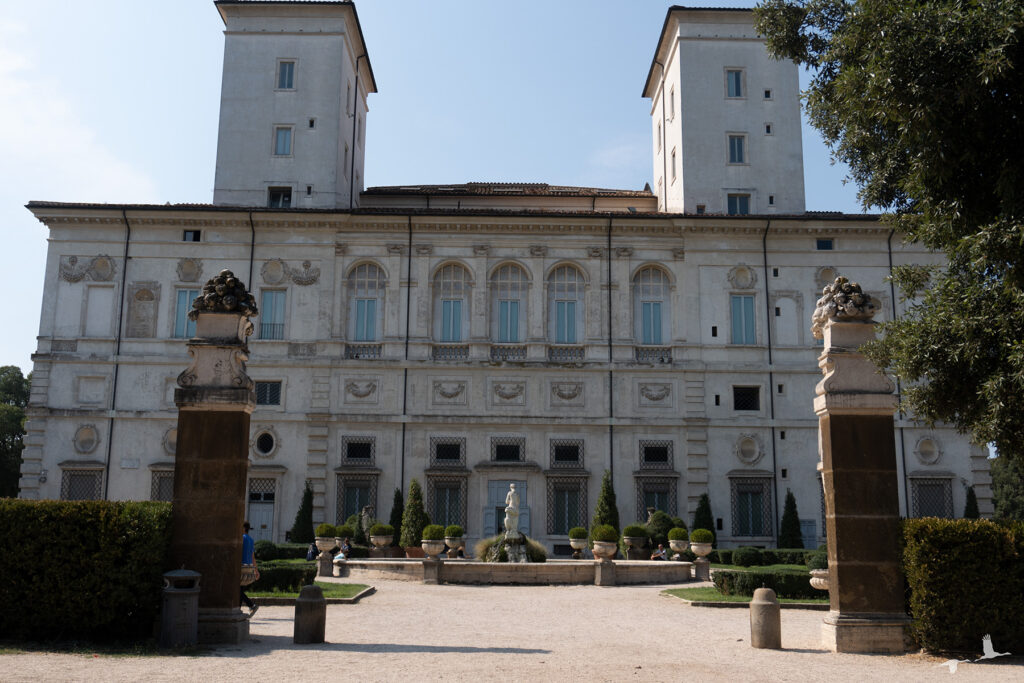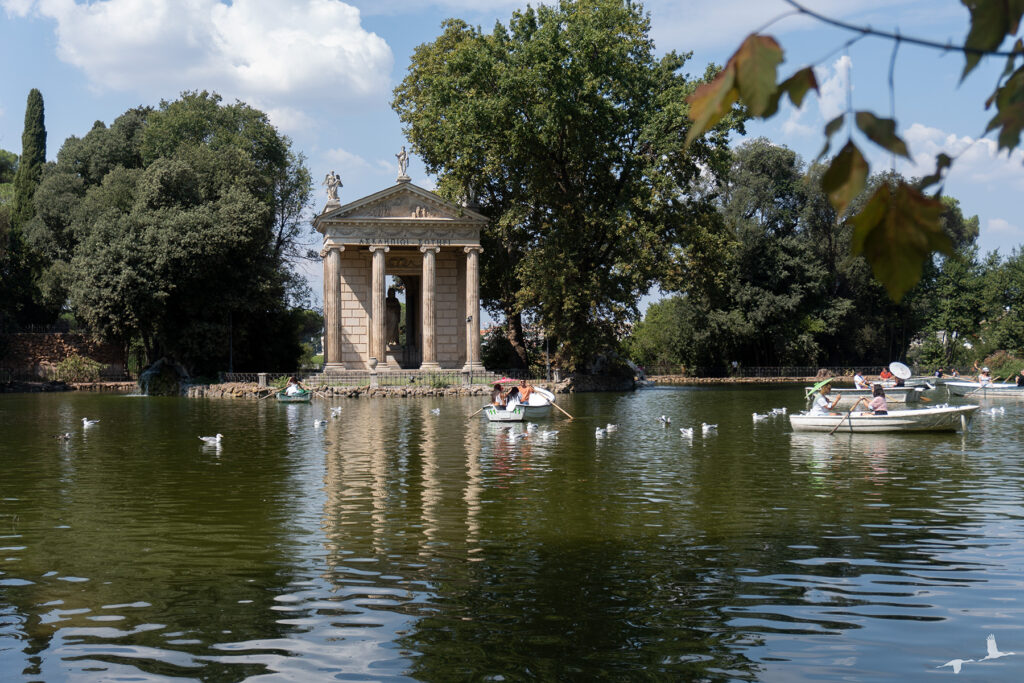 Visit Fontana delle Rane in Coppedè
This place is a little less known, but can be found in several blog posts about "hidden gems" in Rome. It is a district called Coppedè, which includes several buildings and palaces built around 1916 in a more unusual, "fairytale-like" style. In the center of the district piazza figures the Fountain of the Frogs, which is named after the twelve frogs that adorn it. It was built in 1924 to mirror the architecture of the surrounding buildings. We were most impressed by the Arch of the Palaces of the Ambassadors, which is essentially the entry gate to Coppedè. Unfortunately they did some construction on the Arch when we were visiting.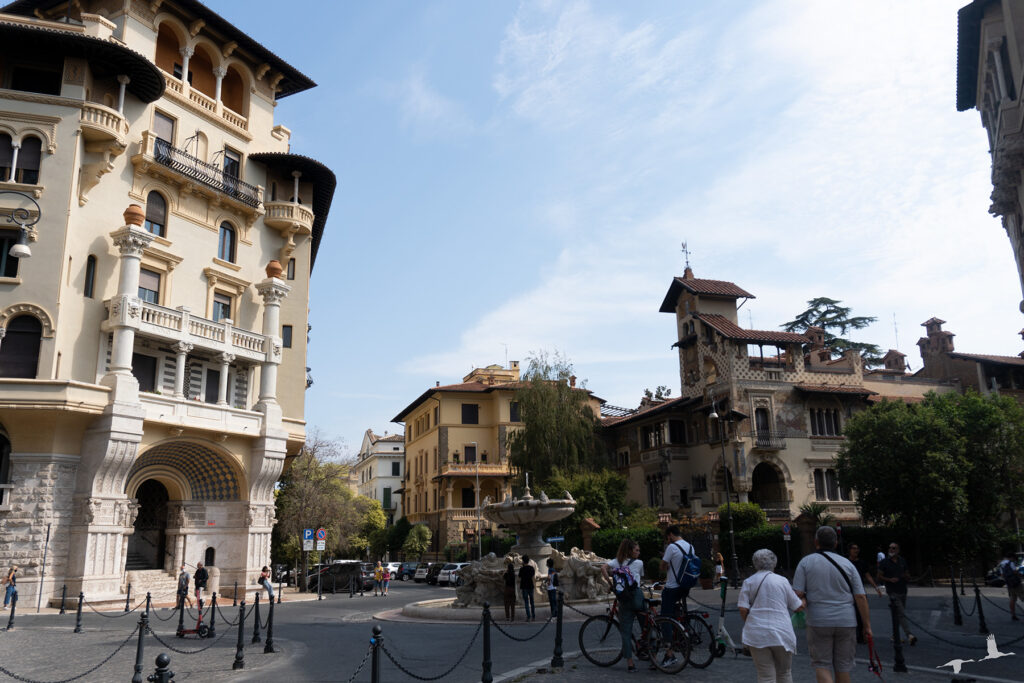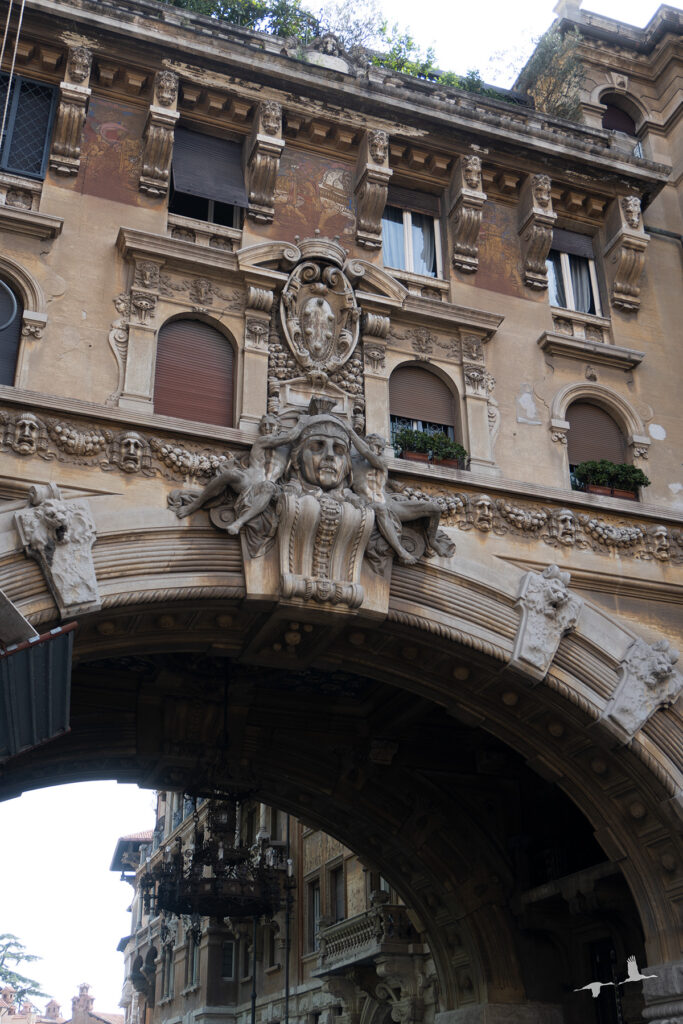 Visit Piazza del Popolo
Below Villa Borghese you will find Piazza del Popolo which also means "People´s square" in Italian and is located at the former northern gate of the city of Rome. Here lay the starting point of the Via Flaminia, a major road leading to Ariminum. The Piazza is well known for its sister-churches "Santa Maria dei Miracoli" and "Santa Maria in Monte Santo" which where completed in 1600.
If you are looking for a great spot to overlook the whole piazza, head up Viale Gabriele D'Annunzio which is located behind the Fontana della Dea di Roma!
Eat some delicious pastries for breakfast
Usually our mornings looked somewhat like this: we would leave our hotel early in the morning, while it was still a little chilly, but the sun had already begun heating the atmosphere. Then we would walk towards whatever we wanted to visit that day and stopped somewhere for some coffee and a croissant. In Rome you will find croissants filled with cream nearly everywhere. They are pretty amazing!
Prior to our Rome trip I had read about a local bakery that does amazing pastries, so one morning we decided to go there for our breakfast. The bakery is called "Regoli Pasticceria" (Address: Via dello Statuto, 60, 00185 Roma RM, Italy). They are definitely no hidden gem because when we arrived there were already numerous tourists. Their system to order is a little confusing, pastries are ordered on the left inside the Pasticceria and coffee on the right inside their Gelateria Caffè, it is also different depending if you wish to have it for take away or eat there.
We ordered to eat on the spot, but there are next to no tables so we had to stand on the sidewalk while juggling our coffee mug and pastries. In hindsight I would just order some pastries for take-away in their Pasticceria and take them somewhere more quiet to eat (for instance to the Piazza Vittorio Emanuele II, just down the street). I do get though why there where so many people, the pastries where definitely worth it!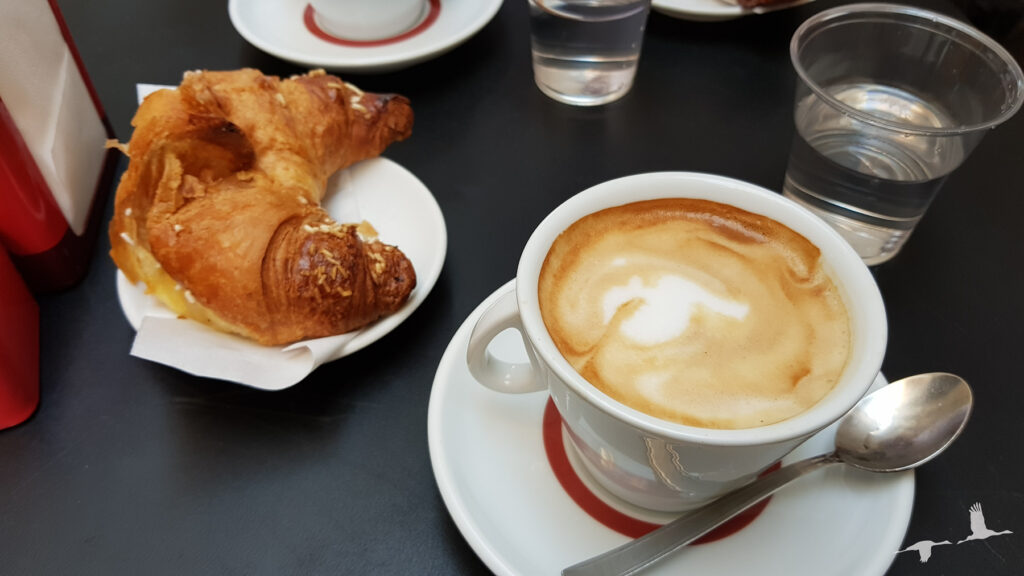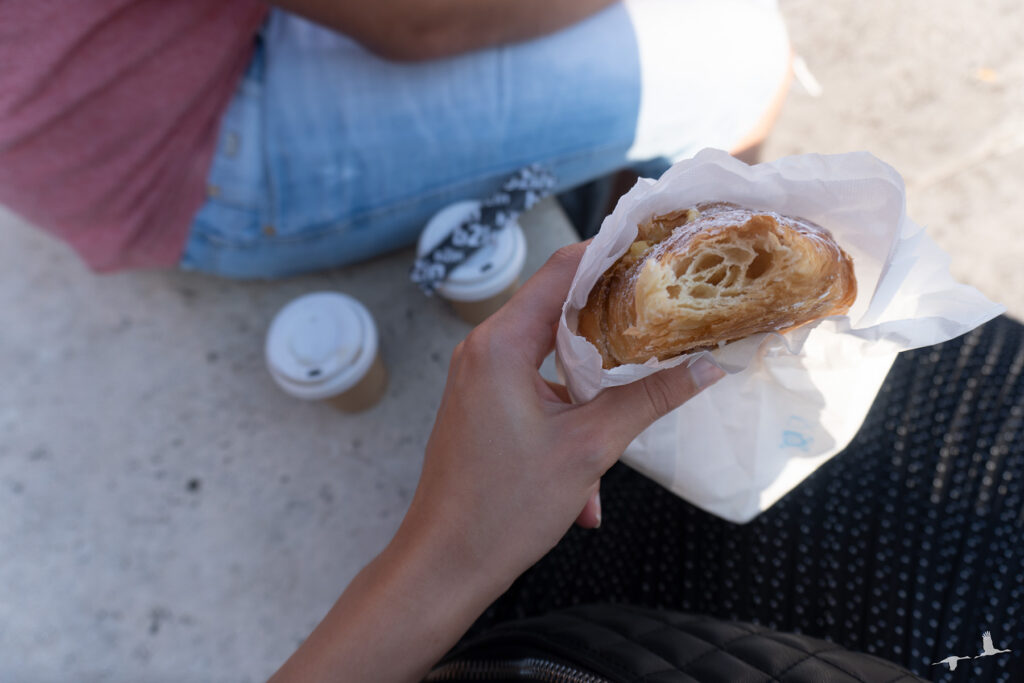 S. Maria Maggiore Church
The S. Maria Maggiore is one of the four major papal basilicas in Rome. The church was consecrated in 434 to the Virgin Mary. While there where several additional construction projects it maintained the core of its original structure. The inside of the church is quite grand and I would say it is one of the more beautiful churches we have seen so far!
Santa Maria degli Angeli e dei Martiri
While we are talking about churches, another church that we thought was rather interesting is the Santa Maria degli Angeli e dei Martiri! This church was built into the ruins of an ancient Roman public bath, which explains its appearance. In 1563 the ruins were converted into a church under the supervision of Michelangelo.
What makes this church interesting is the median that is engraved with a stunning precision into the floor. The astronomer and philosopher Francesco Bianchini was responsible for this feature in 1703. The meridian is able to tell the arrival of the solstices and equinox, as well as a calendar.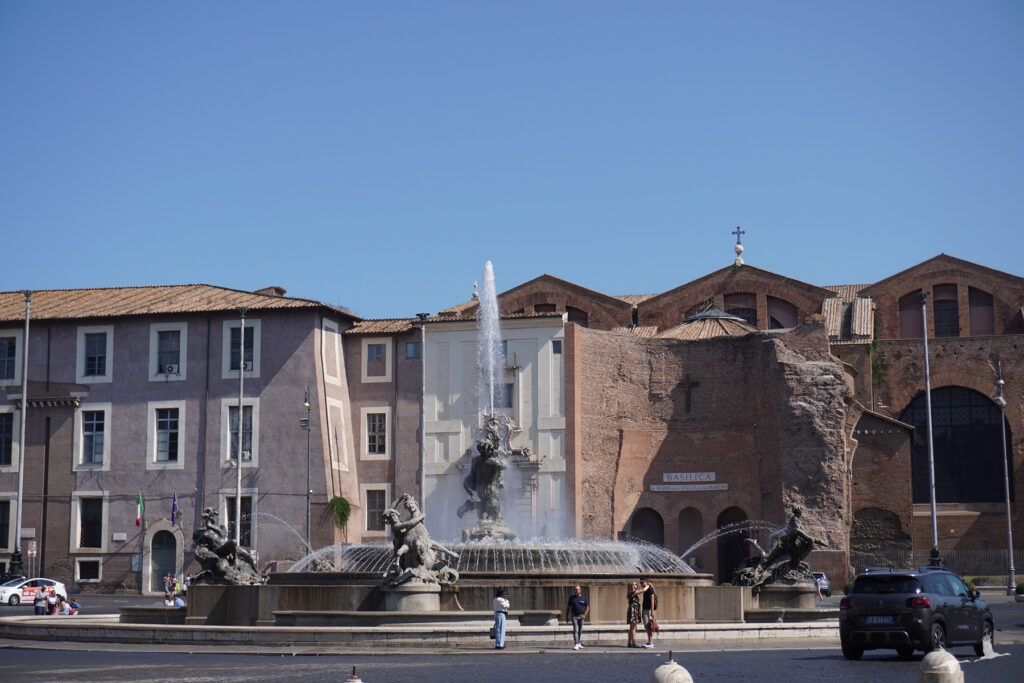 Toss a coin into the Fontana di Trevi
The Fontana di Trevi was built in the 18 century and is centered around a statue of Neptun, the Roman god of water. It is nestled between several buildings and therefore it gets crowded pretty fast. However the fountain is definitely worth a visit as it is quite impressive. Furthermore the Trevi Fountain is famous for a tale which states that if you toss a coin into the fountain you will definitely return to Rome one day.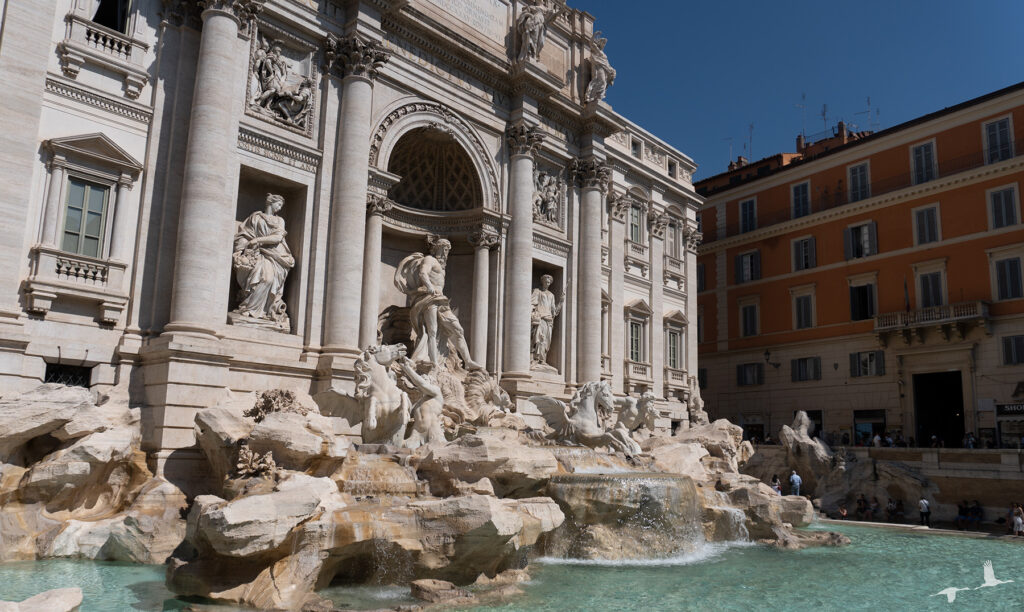 Drink an Aperitivo at Happy Hour
The word "Aperitivo" is derived from the Latin word "aperire" which translates to "open". What it means is to "open"/prepare your stomach for dinner, which is usually done with an alcoholic beverage and some salty snacks on the side.
Due to this tradition in the early evening, many restaurants have signs out promoting their happy hour, where you can get an aperitif for a little cheaper than what they normally cost throughout the day. A staple at every restaurant and also a favorite of ours was usually an Aperol Spritz, which we would enjoy before looking for a restaurant to eat dinner.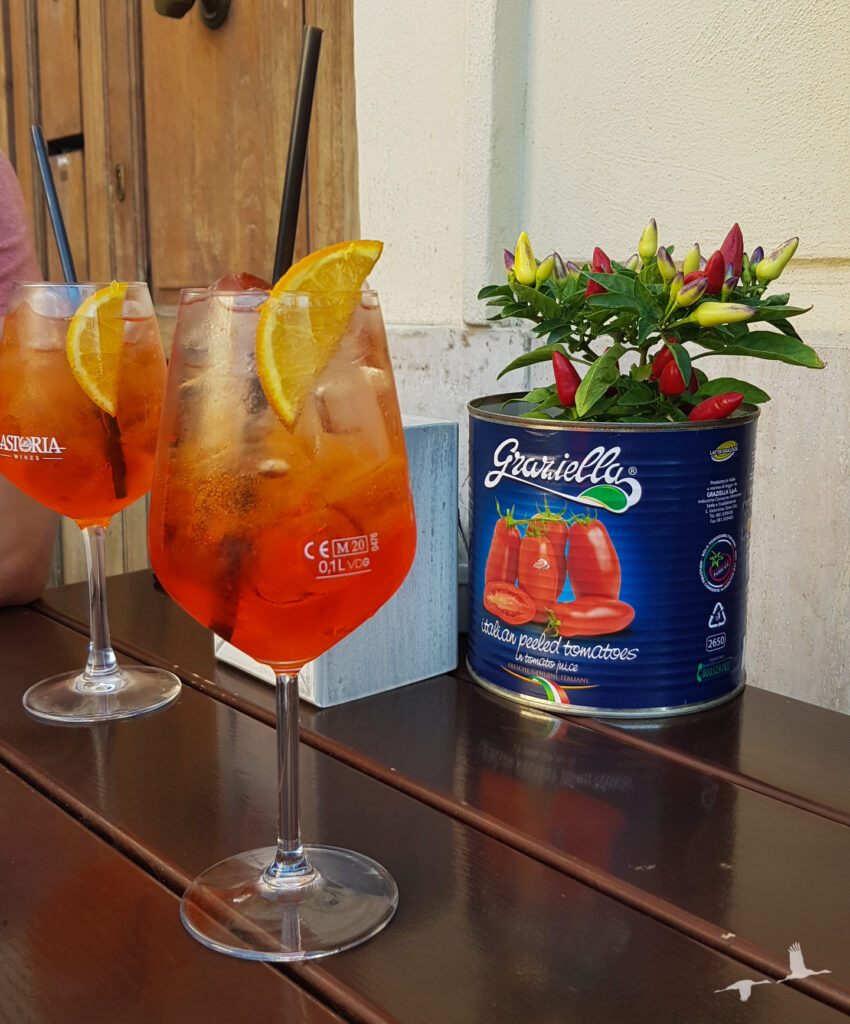 Visit the Colosseum
This is probably the most well-known and first thing that comes to mind when talking about Rome – therefore it of course has to be on our list as well: the Colosseum. An amphitheater built by the Romans to host their popular gladiator games according to their "bread and games" policy. 
We visited in the late afternoon. Due to that and probably due to the pandemic as well there were not that many people inside the Colosseum. We were able to stroll around at our own pace and even sat down for quite some time, enjoying the sight of this antique structure, imagining what it must have felt like thousands of years ago.
As a small tip: Buy your tickets in advance on their website. Around the Colosseum there are many people trying to tell you that you need to buy tickets from them or that you need a guide. Others sell way overpriced water. We bought our tickets the day before on the website and if you are under 25 (which we were at the time), there is an option to get a ticket for 2€ per person which also includes the Forum Romanum – as opposed to the 16€ that a normal ticket costs. To get to the website where we bought our tickets, click here!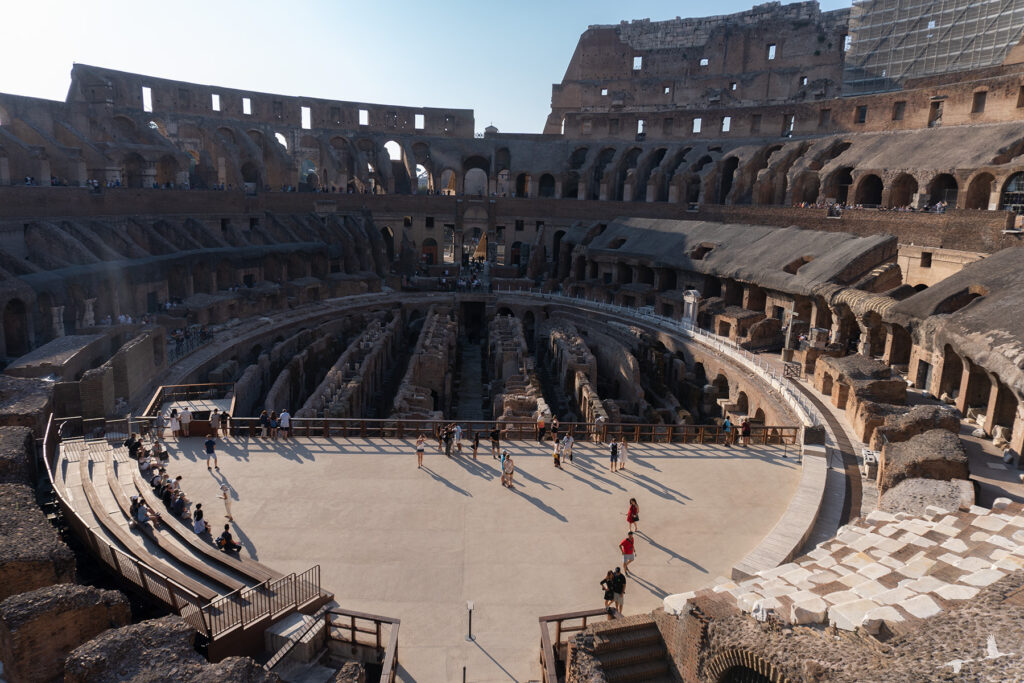 Stroll around the Forum Romanum
For over a thousand years the Forum Romanum was the center of life in Rome. Over the years always new buildings were added which is why even among the buildings on site there are in part huge age gaps. Interestingly enough the Forum Romanum was built on a former swamp. During the 6th century A.D. the entire area was drained with one of the first drainage systems worldwide. Afterwards it became the political, economic and religious center of Rome.
After the fall of the Roman Empire, the Forum Romanum lost its purpose and was slowly forgotten and buried over the centuries. Even though its existence in itself was never completely forgotten, the ruins weren't excavated until the 20th century. There is hardly any better place to imagine how life must have looked like during the Roman Empire than here! From the Palatine Hill you can have an amazing view over the whole site! The area in itself is huge! While the ruins in the front are the most well known, there are also numerous really interesting sites at the back of Palatine Hill.
It is easy to spend a few hours inside the Forum Romanum. Just be aware that there is hardly any shade in most areas so do bring sunscreen and a sunhat or maybe come here earlier in the morning on very hot days.
In order to enter the Forum Romanum we bought a combo-ticket for the Colosseum and the Forum Romanum which I explained further at the section above.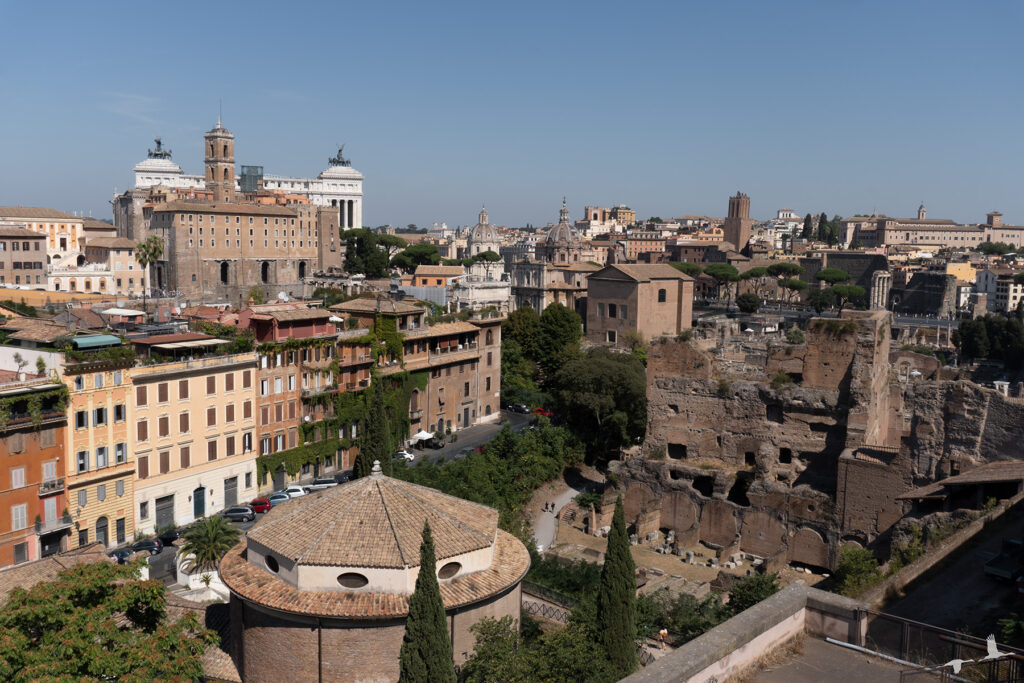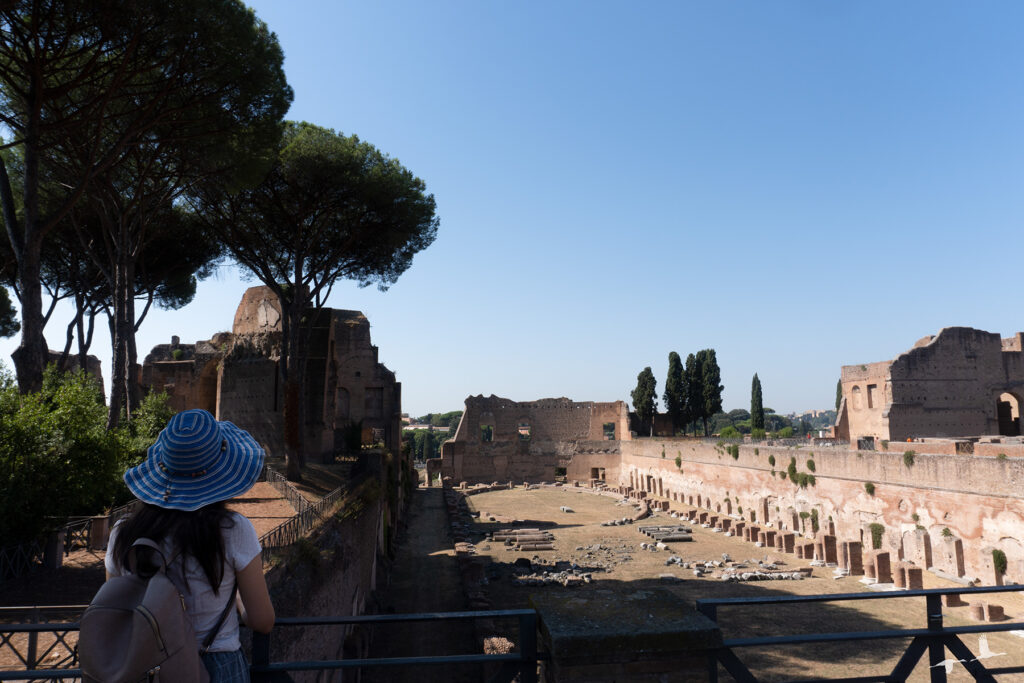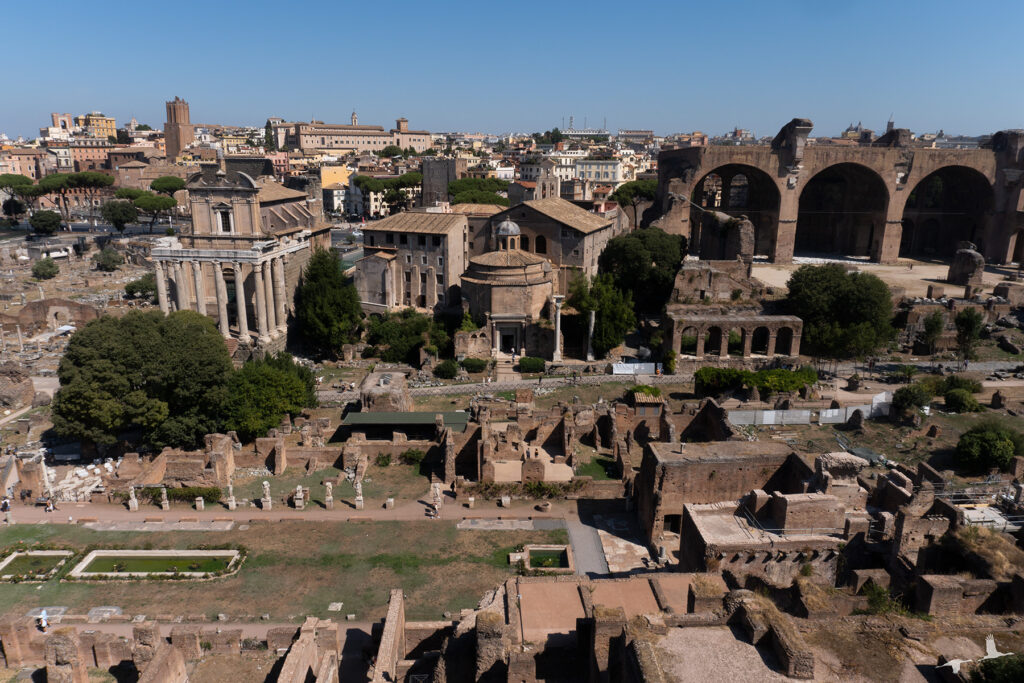 Drink a glass of Wine
The first traces of wine in Italy date back to around 4000 B.C.! Even today Italy is one of the biggest wine producing countries worldwide. So there is nothing more rewarding than sitting down on the terrace of a restaurant after a long day of exploring the city and relax with some wine and pizza. This is exactly what we decided to do after our visit of the Colosseum. We found a small wine bar called "Divinostilia food&wine bar" located in Via Ostilla just around the corner from the Colosseum. They offer a great assortment of wines and we enjoyed the rest of our evening just sitting there and talking – while taking in the fact that we were drinking good wine in the streets of Rome just across from the Colosseum!
Walk the Via dei Fori Imperiali at night
After we finished our pizza and wine, it was already way after sunset so we headed back to our hotel. But let me tell you, the walk back was very much worth it. In order to get back towards the city center we walked down the Via dei Fori Imperiali. At night, parts of the Forum Romanum, the Colosseum and the Capitol are lit which can be seen while walking down the Via dei Fori Imperiali. There are musicians on the streets and the combination of street music inbetween these thousands of years old structures creates a really beautiful atmosphere.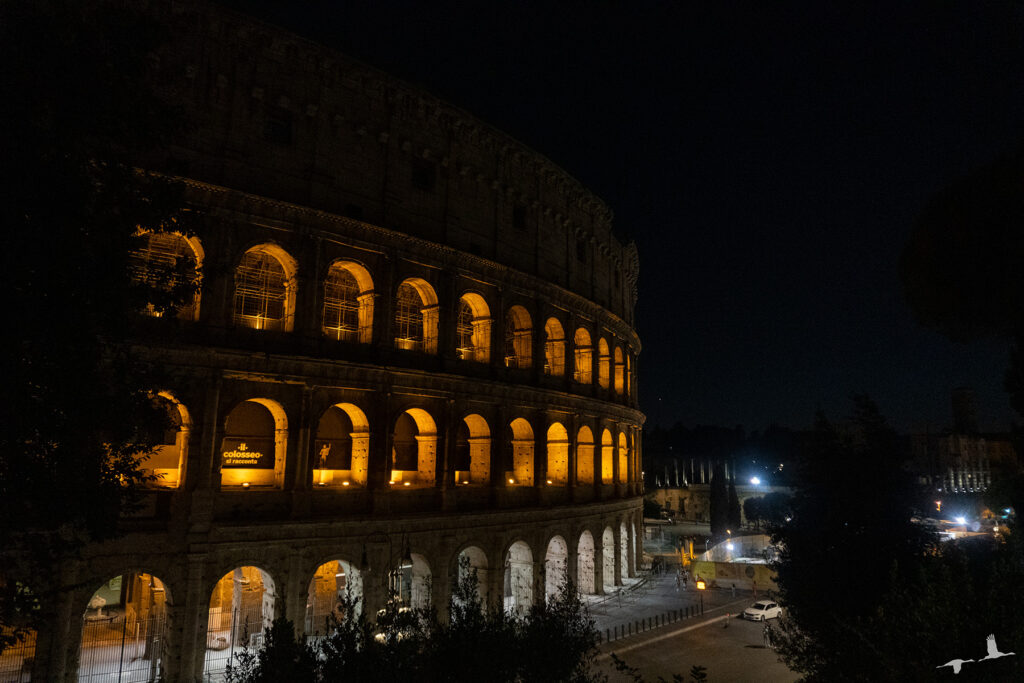 Enjoy strolling through the streets of Rome
Since there are so many sightseeing spots in Rome, it is sometimes easy to overlook the smaller things. However, this is a real shame because there are so many really beautiful streets in Rome! Sometimes sightseeing in this city can also just be: walking around random streets and absorbing the atmosphere of the city.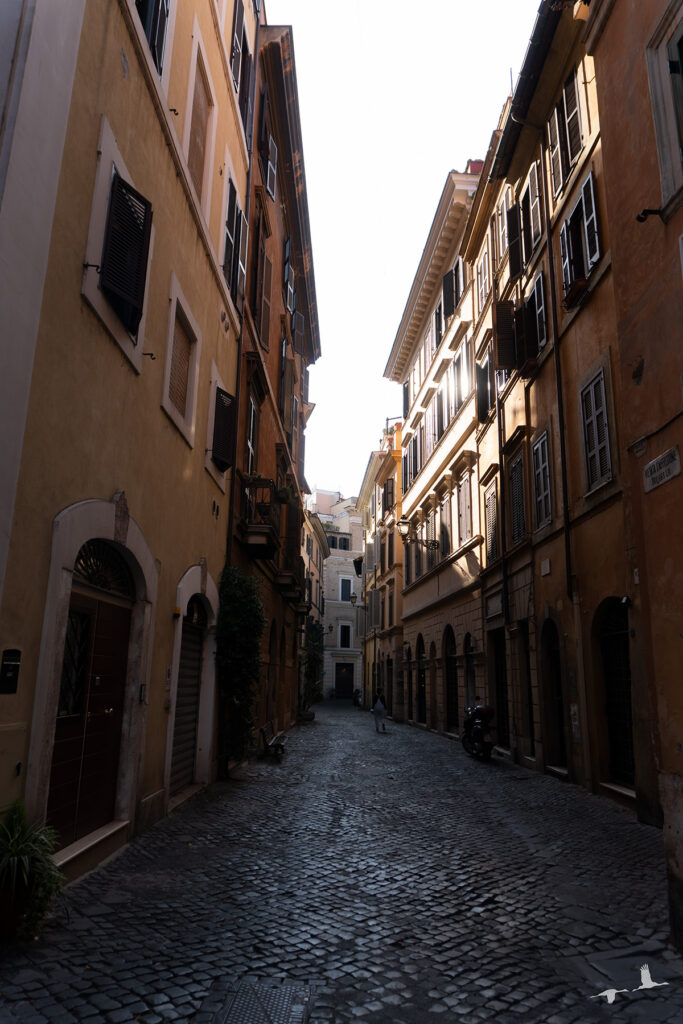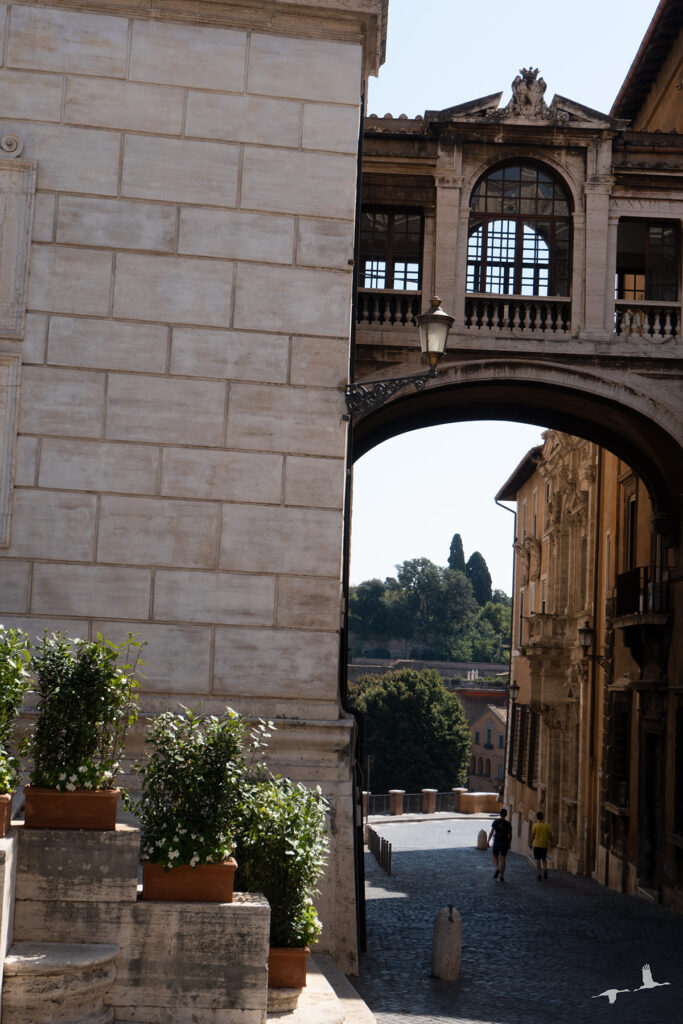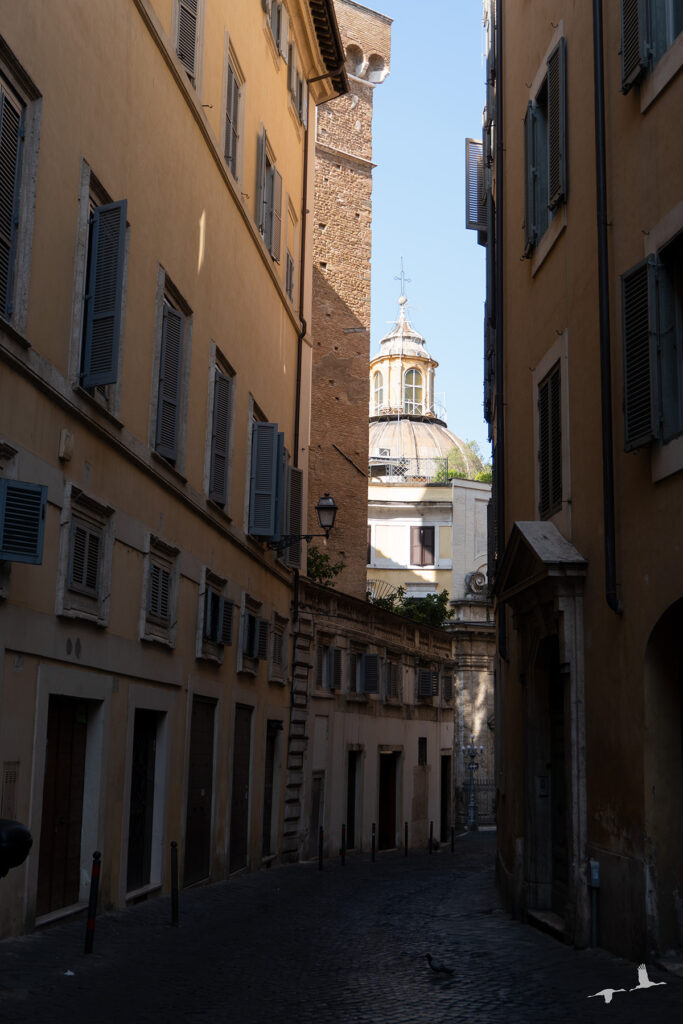 Visit St. Peter's Basilica and enter a new country
As most of you probably know, an entire country is located inside the city of Rome: the Vatican. Admittedly, with an area of 49 hectares total it is a rather small country – by area and by population it is the smallest country in the world! Nonetheless it is well worth a visit.
Some of its most well known sights are the St. Peter's Basilica as well as the St. Peter's Square, which are both named after Peter, one of the apostles of Jesus. During the summer the St. Peter's Square can get quite crowded with huge waiting times to enter the Basilica. The inside of the St. Peter's Basilica is very grand, it truly is an impressive church!
Another highlight of the Vatican is the Sistine Chapel. You have to book tickets in advance, which we did not do and so we ended up not visiting, but it is definitely on our list when we visit Rome again in the future.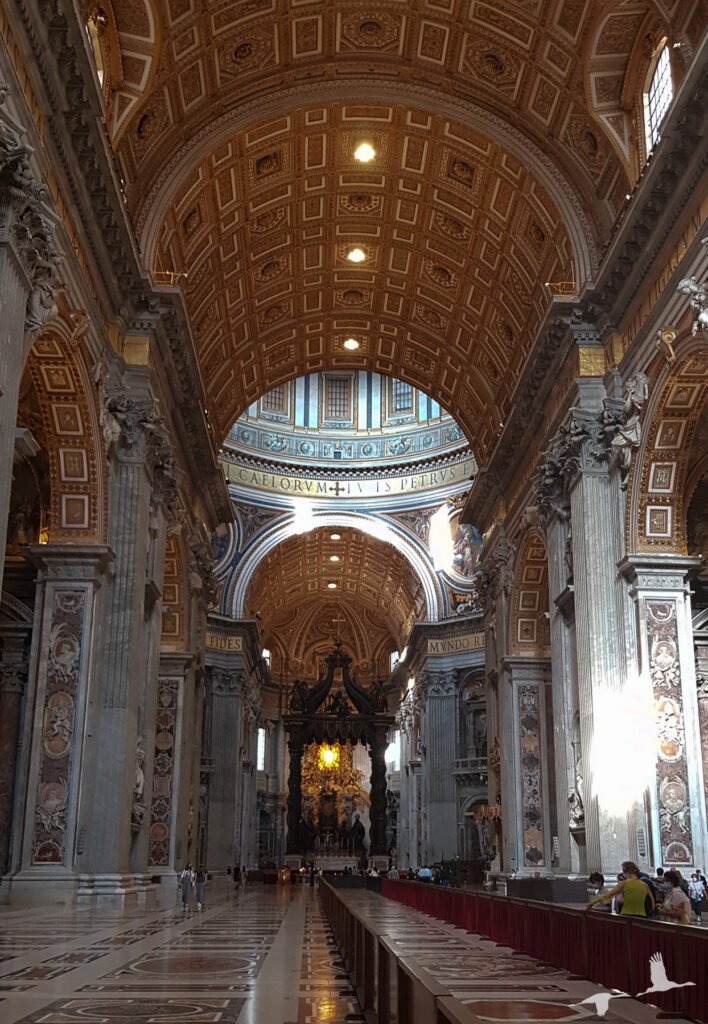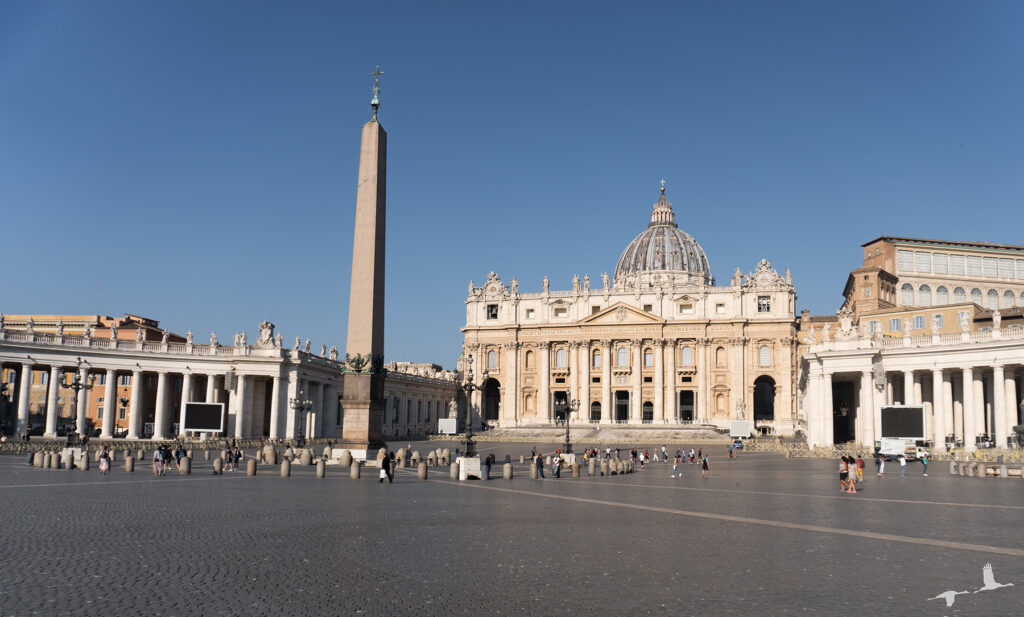 Cross Ponte Sant'Angelo
The Ponte Sant'Angelo was built by the Roman Emperor Hadrian in 134 A.D. During the Middle Ages, the bridge was used by pilgrims in search of Saint Peter. The angels were added later by Bernini and his pupils in the 17th century.
Today the bridge is a pedestrian bridge. Since our hotel was located not far from the Ponte Sant'Angelo we ended up strolling on and around the bridge quite a number of times. You don´t only get great views of the Tiber and the Castel Sant'Angelo, but also towards the St. Peters' Basilica.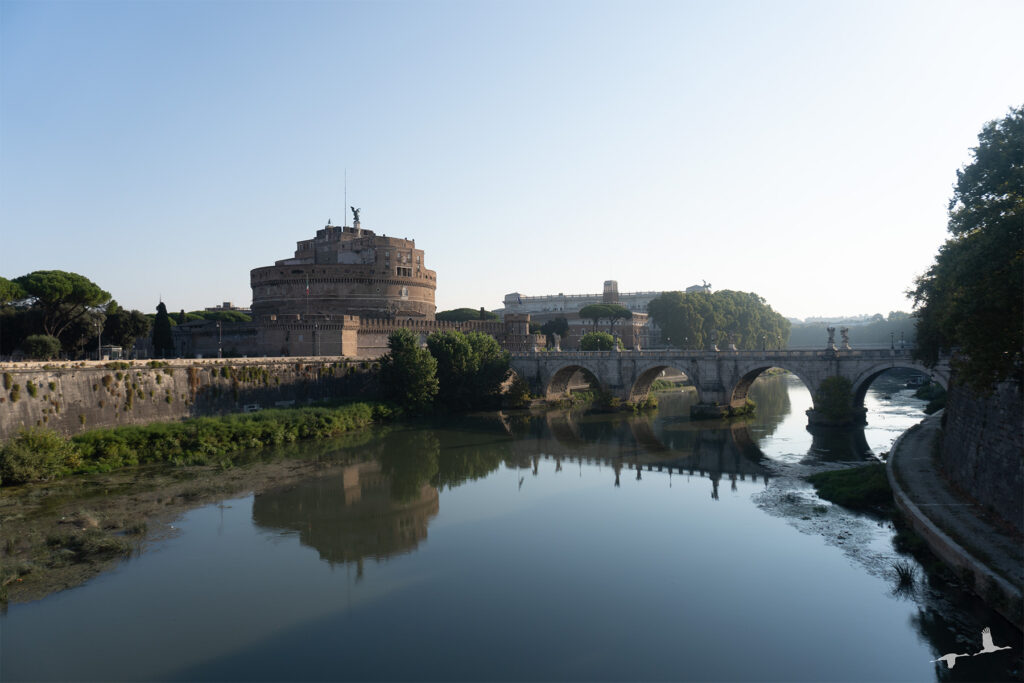 Eat heaps of delicious food!
Since Italy in general is known for its really delicious food, we were very excited about what would be awaiting us in Rome in terms of cuisine. That's why a sightseeing guide to Rome cannot be complete without at least some food recommendations inside. We had some really good experiences and some okay experiences. Like everywhere there are quite some tourist traps, but also some real gems. If you really want to find the hidden gems I always recommend looking for a local food blog, since they can naturally try way more places than a tourist in 5 days and therefore know all the good addresses. But, in order to add our two cents, I just wanted to mention some of the restaurants we tried and really liked:
Ditirambo for their caprese salad and their carbonara was quite good too. It is located near Piazza Campo de Fiori, here you can find numerous other restaurants as well! Address: P.za della Cancelleria, 74, 00186 Roma RM, Italien
Saltimbocca ristorante near Piazza Navona for their Bruscetta starter. Out of the four we especially liked the one with artichokes on! I also ate a delicious lasagna there. Address: Via di Tor Millina, 5, 00186 Roma RM, Italien
Divinostilia food&winebar for their pizza and wine ! Located near the Colosseum. Address: Via Ostilia, 4, 00184 Roma RM, Italien
Take a walk by the river at night
Since we stayed so close to the Tiber, we ventured out to take a walk alongside the river nearly every evening after dinner. Similar to the Via de Fori Imperiali, there where still quite some people out and about! And street musicians were scattered alongside the riverbanks. The most beautiful side to walk on in the evenings is the riverside where the Castel Sant'Angelo is situated. From here you also have a clear view down the road towards the Saint Peters' Basilica!
And finally, have a good night's sleep in a small Roman guesthouse
A lot of guesthouses, hotels and rentals in Rome are tucked away in side streets. Often from the street you only see a giant wooden door. Thus, from the outside it does not look like it's the entrance to an accommodation at all. What makes it even more fun is that a lot of these buildings have one of these tiny cage lifts you would usually see in films.
We stayed in the Rezidenza dell'Angelo guesthouse. The location was great! Close to Piazza Navona (great area for restaurants) and Ponte Sant'Angelo (for great evening walks). Even though the reception was tiny and they only offered breakfast in a café down the road, the room itself was pretty spacious and clean. We liked it a lot here and would definitely come back anytime. For those interested you can check out our accommodation through the following link: Go to La Rezidenza dell'Angelo*.